Coating/​Laminating/​Bonding
Successful Techtextil for smart coatings provider
Textildruckerei Mayer showcased its latest smart coating solutions at this year's Techtextil trade show that concluded in Frankfurt last month.
18th June 2019
Innovation in Textiles
| Meßstetten-Unterdigisheim
Cerapur coatings offer a wide range of colour and design options. © Textildruckerei Mayer
Textildruckerei Mayer showcased its latest smart coating solutions at this year's Techtextil trade show that concluded in Frankfurt last month. The company presented its HTL eConnect, a printed infrared heating surface, Cerapur ceramic coating and Duofirm deformable rigid textiles.
Michael Steidle, Managing Director of Heinrich Mayer, was impressed with the high quality of visitors. "Very few wanted just to 'have a look' and most approached us with explicit requirements," he said. "A manufacturer from South America, for example, was specifically looking for a reinforcing material for his work shoes. Shortly afterwards his competitor from a neighbouring country came to us with the same requirement."
Trade visitors to the Heinrich Mayer stand came from South America, Asia, Europe, and even New Zealand. "A company from Baden-Württemberg also found what it wanted at our Techtextil stand. It was a coating with a printed sensor and LED lighting for protective clothing," added Mr Steidle. "We will now be working with that customer on a customised solution."
Imaginative solutions
Heinrich Mayer produces coatings with a goal to combine textiles and electronics to their mutual benefit. The family firm Mr Steidle and his wife Claudia have run in the second generation since 2002 was originally a classical textile printing company. Now, technical textiles account for the lion's share of sales.
A visitor to the Mayer stand at Techtextil takes a close look at HTL eConnect. © Textildruckerei Mayer
The company presented its imaginative solutions at the fair in Frankfurt, including the HTL eConnect heating lighting coating. "HTL stands for high-temperature lighting and everything of which the smart textile is capable. What is special about it is that all of its properties are printed," the manufacturer explains. "They include the tracks, the sensor technology and the infrared surface heating. The wiring and the LED lighting are printed, using a conductive adhesive – that too is an in-house development."
The demonstrator at Techtextil used a finger sensor to control the infrared heating, which reaches a temperature of up to 85° C and an energy efficiency that is about 15% higher than that of standard filament heating and can be further increased by a reflecting material printed on the reverse.
The Mayer team demonstrated the robustness of HTL eConnect by maltreating the printed surface with a pair of scissors, which had no effect on the heating. "Trade fair visitors were especially interested in HTL eConnect on account of its energy efficiency, its individual design and its ruggedness, and we have already applied for a patent for this innovation," added Mr Steidle.
Easily malleable yet hard
Duofirm, the second Mayer solution on show in Frankfurt, makes use of the malleability and light weight of a textile material. Textildruckerei Mayer prints a material that hardens the fabric to the degree required on the front and back of spacer fabrics.
HTL eConnect is a coating for high-temperature lighting. All the material's properties are printed. © Textildruckerei Mayer
The special characteristics of Duofirm include the textile carrier material that Textildruckerei Mayer uses. "The spacer material is voluminous yet lightweight because the spacer threads are its core," said Mr Steidle. "For another, Duofirm can be printed individually in-house before hardening.
Engineering uses of Duofirm include enclosures or casings. Textildruckerei Mayer sees potential for its innovation in other industries too – where weight and individual shaping are important: caravan and automobile construction, for example.
Multitalented ceramic coating
The third Techtextil exhibit was Cerapur ceramic coating, an established solution used in the automotive and furniture industries. The company has patented the robust composite, consisting of the ceramic coating, the carrier material and a rubberised layer that completes the smart textile. The carrier material, the properties of the composite and the use to which it is put depend on what the customer wants, Mr Steidle explained. "We are flexible where that is concerned. Cerapur can be flame-retarding, antibacterial or can shine in the dark. Or whatever the customer requires."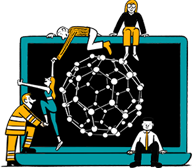 Business intelligence for the fibre, textiles and apparel industries: technologies, innovations, markets, investments, trade policy, sourcing, strategy...
Find out more