Opinion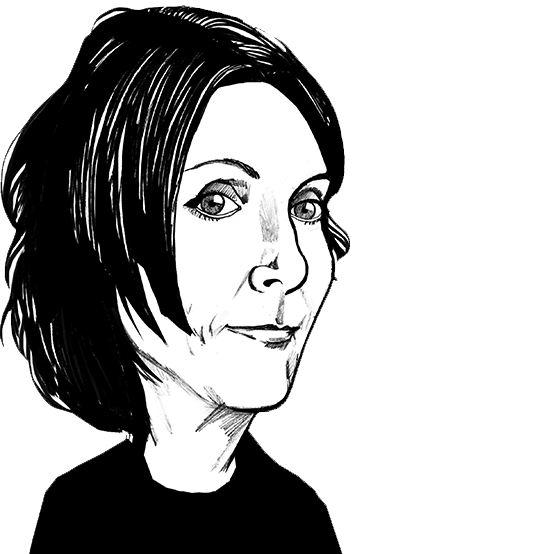 Sustainability a must-have at Performance Days 2019
Anne Prahl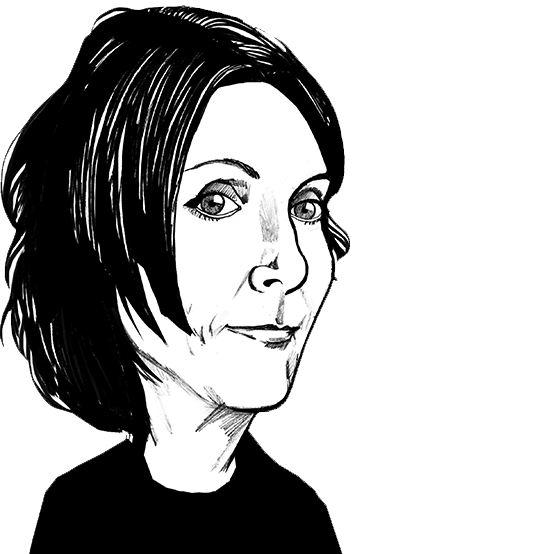 The move to feature only fabrics and accessories with proven sustainable credentials in the Performance Forum was very much welcomed by visitors.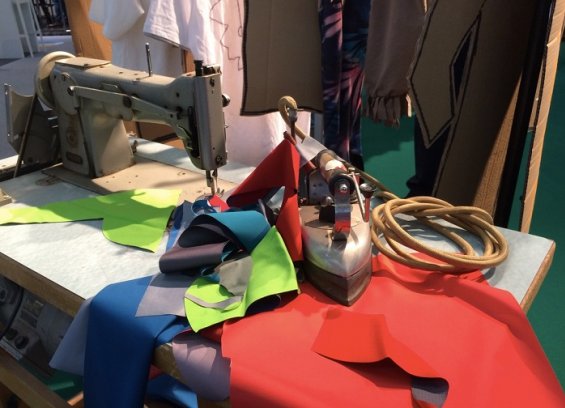 25th November 2019
Anne Prahl
| Munich
Trend forum at Performance Days November 2019. © Anne Prahl
Judging by many conversations at the show, the move to feature only fabrics and accessories with proven sustainable credentials in the Performance Forum was very much welcomed by visitors. The forum presented a diverse selection of functional fabrics and components, including recycled, recyclable, biodegradable, natural and bio-based qualities, as well as fabrics, trims and insulation that utilise lower impact manufacturing and colouration technologies. In addition, a dedicated jury made up of organisers, specialist consultants and representatives from sports and outdoor brands further selected highlights, which were showcased as part of the 'Jury Picks' display.
'Jury Picks' at the trend forum at Performance Days November 2019. © Anne Prahl
As many attendees head to the forum as a starting point to their visit, the focus on sustainability set the tone for the rest of the show, subsequently any exhibitors without obvious sustainability aspects looked out of place. In addition the popular expert talks covered themes including traceability, standards and sustainability claims, the use of sustainability data and tools, as well as the complex subject of designing for recycling.
100% recycled & recyclable fabrics
An impressive range of recycled fabrics, produced with raw materials and fibres recovered from production waste, ocean waste and post-consumer waste was presented at the show. In the baselayer sector, fabric mills are increasingly offering 100% synthetic recycled polyamide or polyester qualities and it has become much easier for designers to choose fabrics that combine sustainability aspects with the consumer's demands for good moisture management, cooling or warming effects, UV protection, odour control and quick-drying.
However, in an industry that has started the journey into circularity, where products can be recycled at end-of-life, and in line with the importance of the mono-material design approach debated during the expert talks, it was surprising to see so many blends featured in the performance forum, as these make recycling more difficult and less economically viable in the absence of commercial recycling technologies.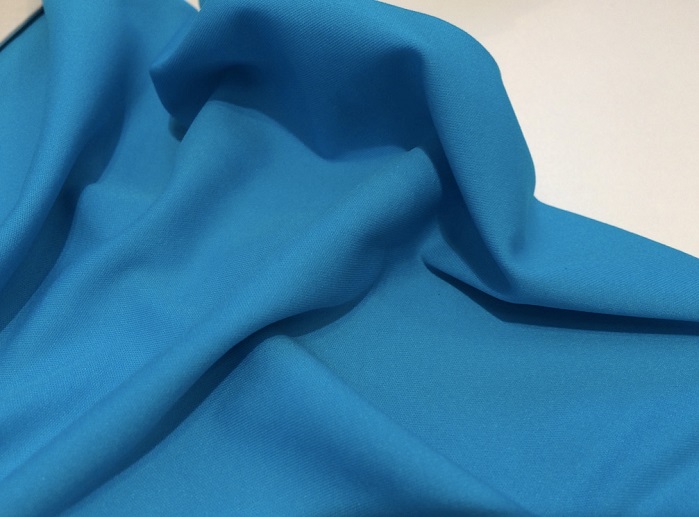 ECLAT 100% garment recycled polyester at Performance Days November 2019. © Anne Prahl
One of the few baselayer mono-material fabrics was Eclat's 100% garment recycled, bluesign approved polyester, which offers stretch and quick drying features. This fabric was produced in collaboration with Chinese regenerated fibre company Zhejiang Jiaren New Materials Co. Ltd, who have adopted the Eco CircleTM chemical cyclic regenerative system technology owned by Teijin to produce polyester fibres from polyester production waste, leftover materials and discarded garments.
Looking at 2.5 and 3-layer and lightweight and down-proof sections, the choice for mono-material fabrics was much greater and included recycled polyamide and polyester, as well as a handful of bio-based qualities such as 100% nylon made from castor bean and 100% EVO bio polymer. The importance of merging technical innovation with future recyclability was highlighted by the fact that the Performance Award went to Teijin Frontier for their recycled polyester 3-layer laminate, which is 100% recycled polyester, including the membrane and provides a water column of 20,000 mm with high breathability and PFC-free DWR.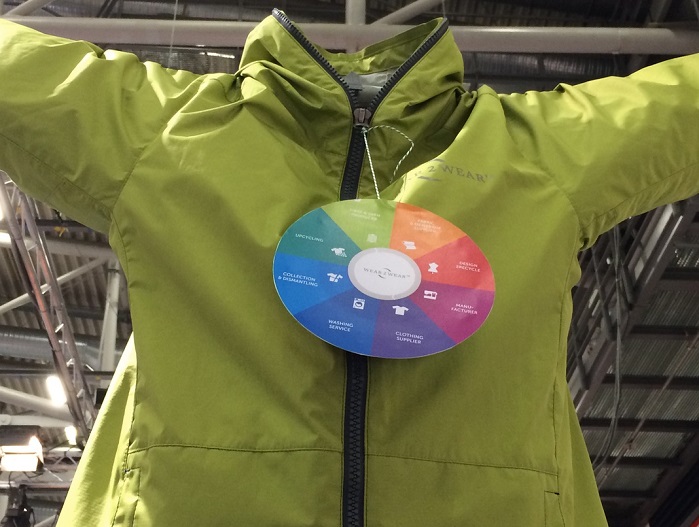 wear2wear jacket at Performance Days November 2019. © Anne Prahl
Claims of fabric recyclability were everywhere, as many exhibitors advertised their materials as 100% recyclable due to their 'pure' mono-material composition. However, while many of these fabrics are recyclable in theory, the industry is still lacking the choice of viable and easily available recycling technologies to make closed-loop recycling a reality. A great example of how the closed-loop approach can work was the functional 'wear2wear' jacket showcased on the Sympatex stand. The jacket was developed by a team of 'Design2Recycle' experts as part of the wear2wear European industry partnership, which collaboratively explores approaches and systems to close the loop on textiles. In addition to the fully recyclable, non-PTFE, non-PFC and climate-neutral Sympatex membrane, cords, zips and velcro fasteners were also produced from 100% polyester to enable easier recycling of the entire jacket at end-of-life.
Bio-based and natural layers
Driven by designers' demands for alternatives to synthetic fabrics, suppliers have responded by increasing their development of bio-based and natural fabrics suitable for sports and outdoor use.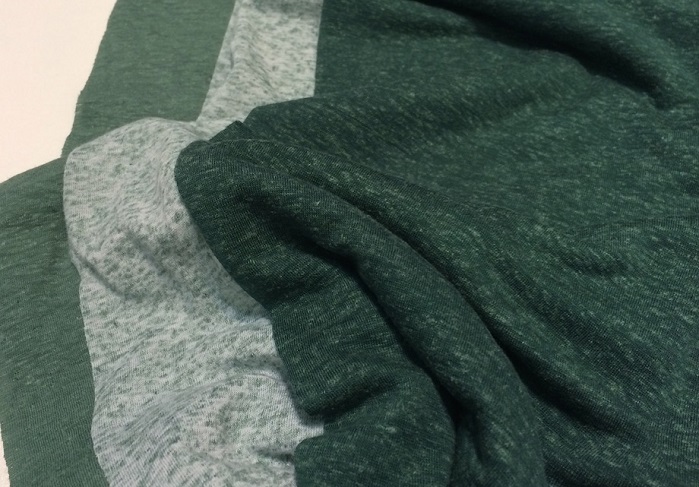 Omniteksas selection of hemp blends at Performance Days November 2019. © Anne Prahl
More unusual fibres included nettle, ginger, tea and mint, while fabrics made from hemp saw a sharp increase. Omniteksas attribute the growing interest in hemp-based fibres to the plant's lower environmental impact compared with cotton; the company state that hemp requires only 2300 litres of water to grow and produce 1kg of material for textiles, while cotton requires and estimated 10.000 litres. Hemp is also able to grow on the same land continuously for 14 years without soil depletion or yield reduction.
Utenos Trikotazas presented an appealing range of jersey qualities, including a fabric made with 95% Greenwarm ginger and 5% elastane, which provides antibacterial, odour neutralising and warming properties. Other single jersey qualities included 100% tea based and 95% mint with 5% recycled Roica elastane.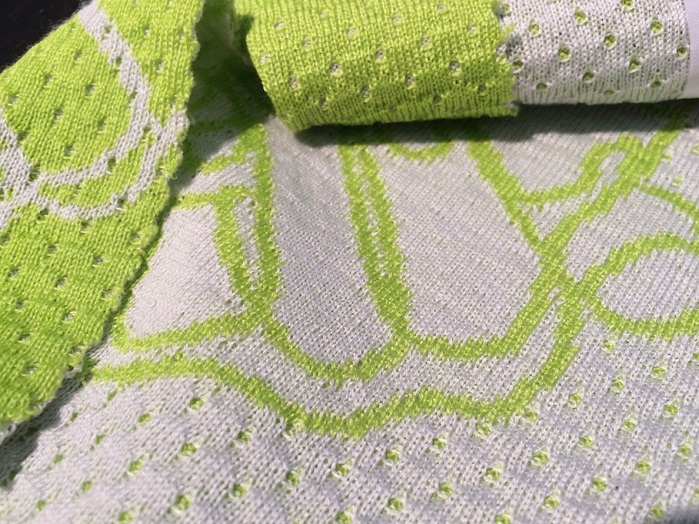 Schoeller GmbH & Co 40% Tencel and 60% Wool at Performance Days November 2019. © Anne Prahl
Another popular fibre at the show was Tencel, which was used in many different blends. Sidonios presented a 67% organic cotton and 29% Tencel Refibra fabric, which combines upcycled cotton production waste with new virgin Tencel Lyocell fibres. Schoeller GmbH & Co's Tencel and wool micro-mesh midlayer combines striking aesthetics with a soft hand-feel and offers thermo regulation and insulation, UV protection and odour management.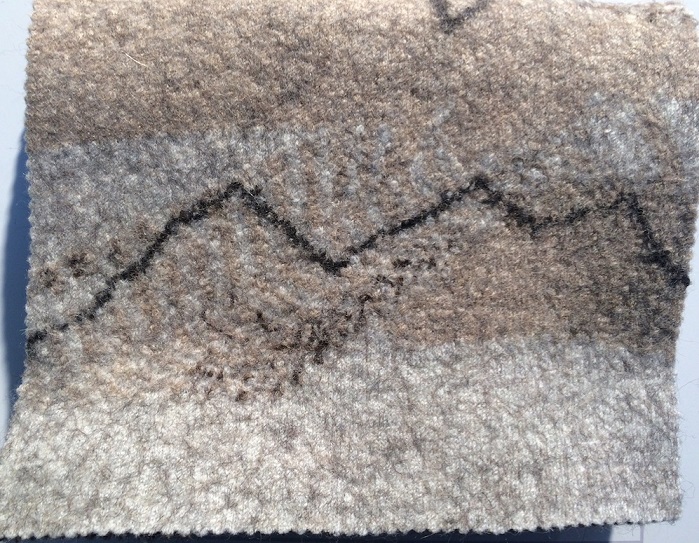 Schoeller GmbH & Co 70% Merino Wool and 30% fine alpaca at Performance Days November 2019. © Anne Prahl
Another midlayer quality by Schoeller GmbH & Co won the Eco Performance Award due to its combination of undyed organic merino with fine alpaca. This approach highlights the opportunities to use more environmentally friendly dyeing methods or indeed, tapping into the range of raw materials' natural colours. The fabric is both recyclable and biodegradable and thanks to its knitted and felted construction and inherent benefits including odour management, thermo regulation and UV protection, is suitable to be used as a softshell,
Hybrid performance
Hybrid functionial fabrics, where different types of natural and synthetic fibres are combined to engineer ultimate performance and comfort, are going from strength to strength. While such innovation is great for the end-user, these types of materials will make it harder to recycle or compost the garments at end of life, as recycling technologies for blended textiles are still in the development and testing phase.
Thygesen & Birk 83% recycled PES, 16% merino wool and 1% EA at Performance Days November 2019. © Anne Prahl
Knitted and warp knitted manufacturer Thygesen & Birk's recycled polyester and merino stretch quality is a perfect candidate for eye-catching performance baselayers, as it provides insulation, odour management and quick-drying features and is also suitable for printing. The company are experiencing a significant rise in demand for recycled options in the performance sector and this direction in the market is reflected in their collection of cationic dyed sportswool, as well as other polyester-based articles.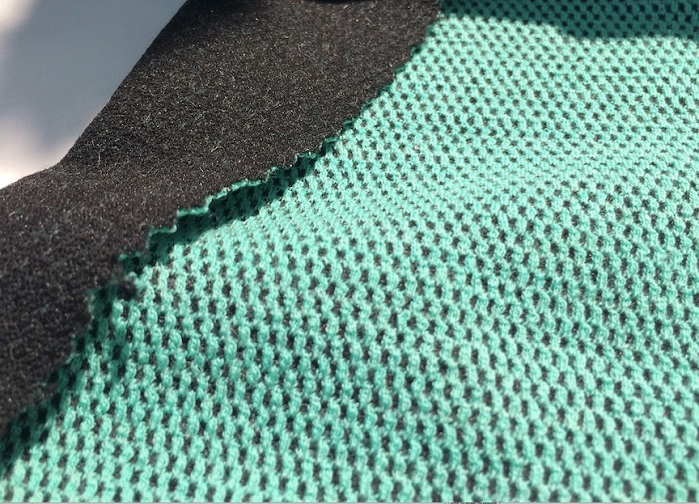 Omniteksas 42% recycled PES, 52% RWS wool at Performance Days November 2019. © Anne Prahl
Omniteksas' organic Merino wool and recycled polyester dual structure fabric is designed to provide durability and optimal moisture management and further boasts superior insulation properties, as well as a very soft hand-feel.
Hans Global Textile has been showing their SeaWool fabric and SMAWARM insulation, made from discarded oyster shells and post consumer PET bottles for several seasons. Both qualities have had a great response from the industry, thanks to their natural benefits similar to wool, such as anti-static, wrinkle-resistant, antibacterial, odour-blocking, insulating warmth and softness next to the skin.
Hans Global Textile Ltd. Seawool fabric with 'Khaki Tech' energy print at Performance Days November 2019. © Anne Prahl
The company's latest development is their 'Khaki tech' printing technology, which combines oyster shell waste powder with printing ink to produce a functional pattern, which helps to prevent muscle soreness after training and exercise by speeding up the blood flow and carrying more oxygen to the muscle.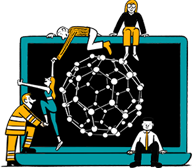 Business intelligence for the fibre, textiles and apparel industries: technologies, innovations, markets, investments, trade policy, sourcing, strategy...
Find out more