Opinion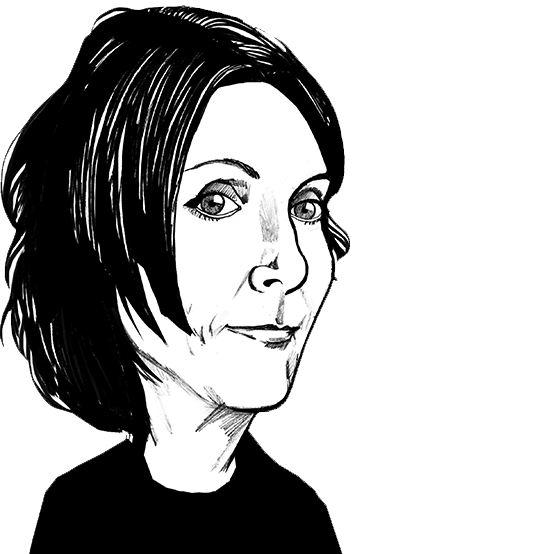 Sustainable material and process innovation at ISPO Munich
Anne Prahl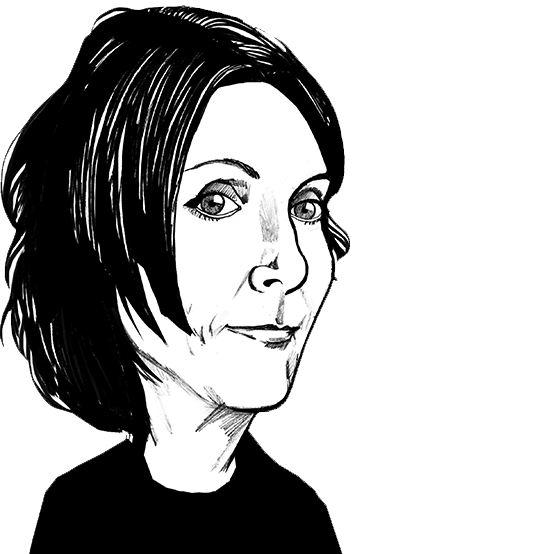 Sustainability has become increasingly important at ISPO and this trend continued to develop.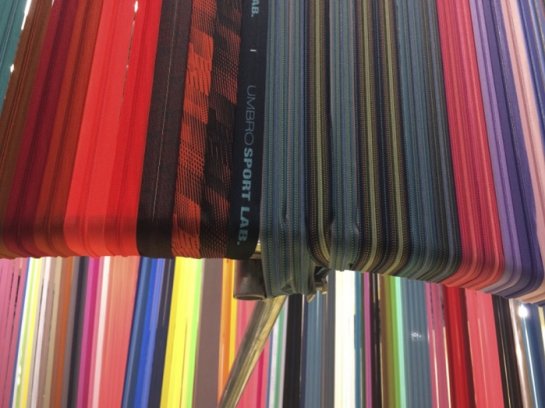 15th February 2019
Anne Prahl
| Munich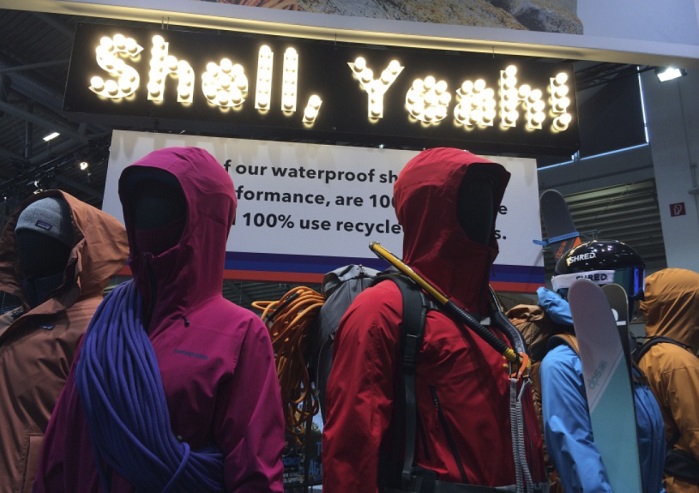 Patagonia shell jackets display. © Anne Prahl
Sustainability has become increasingly important at ISPO and this trend continued to develop, as a growing number of brands and suppliers presented more environmentally friendly and low impact materials and production processes at this year's event. This is a positive indication that the industry is willing to take more responsibility for the manufacture, use and end-of-life of their products and is beginning to make sustainability a significant element of the innovation process.
Reused and recycled materials
The most obvious material trend continued to be the use of recycled materials, as many outdoor and snow sports brands are following in the footsteps of recycling pioneer Patagonia, whose collection comprises reclaimed cotton, recycled polyester and nylon and recycled wool and down products. Recycled fabrics are no longer reserved for outer layers, as brands presented products with recycled fabrics ranging from base, second and mid layers to padding and insulation, as well as trims.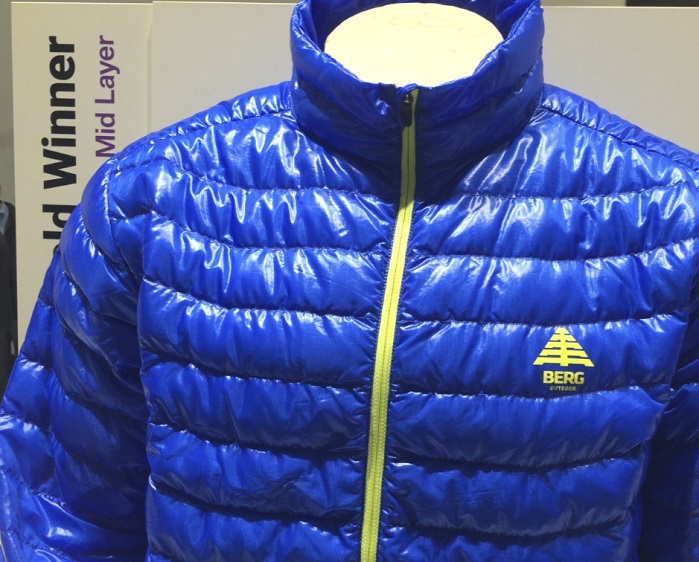 Berg Outdoor jacket. © Anne Prahl
Quilted and padded jackets continued to be everywhere, both in technical performance and urban collections. Styles are being updated through the use of recycled fabrics and fillings, such as Invista's 'Thermolite T-Down Eco Made' 100% recycled synthetic insulation and Primaloft Silver Active Thermoplume, made from 55% post-consumer recycled content. Berg Outdoor's insulated, extra lightweight and packable jacket Geres Zero Gravity stood out for its use of surplus second-grade parachute fabric and recycled zips, while providing desirable features, such as extreme tear resistance and water repellency.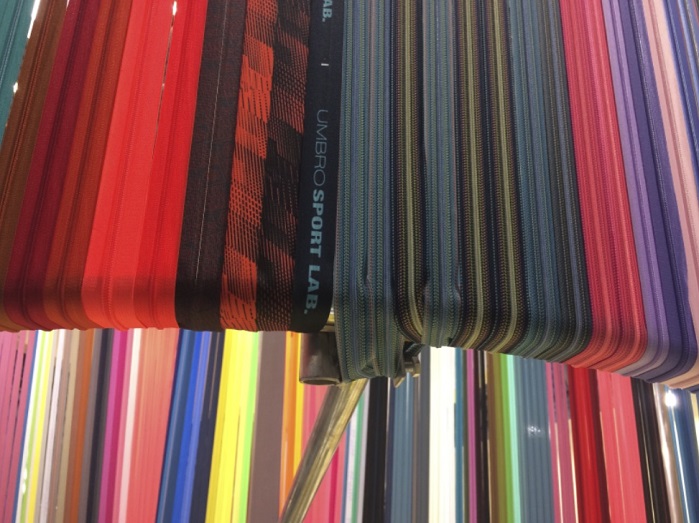 Welltern Enterprise Co. repurposed and recycled zips. © Anne Prahl
For designers on a mission to create lower impact products, we finally have a variety of recycled options to choose from, including zips, d-rings, buttons, buckles and woven labels. As part of their 'eco-friendly' collection, YKK presented their NATULON zippers made from chemically recycled post consumer polyester, which are described as perpetually recyclable. Welltern Enterprise Co. showcased their eye-catching collection of repurposed zips, which are made from leftover materials from previous production, including dyed yarns, painted sliders and enforcement tapes. The company also presented recycled zips using GRS certified materials from post-consumer PET bottles.
Bio-based and biodegradable materials
Another strong trend at the show were bio-based and biodegradable materials. These materials are often mentioned in the same breath but it is important to remember that bio-based materials are not necessarily biodegradable. In addition, there are opposing views regarding the concept of biodegradability for high quality performance garments, as the industry is currently more focused on a truly circular approach, where products are designed to last longer and materials can be reused and recycled at end-of-life.
However, in response to designers' growing demands for cleaner textiles, biodegradable fabric collections are steadily increasing in numbers and traditional bio-based materials, such as wool, are experiencing increased innovation activity, in order to cater for more diverse activities and end-uses.
Lavalan wool padded jacket. © Anne Prahl
Baur Vliesstoff, who produces Lavalan, a natural and high performance insulation fleece for the fashion, outdoor and snow sports sector, showcased the natural benefits of wool-based padding, including water-repellency based on the waxy cuticle of the wool fibre acting as a barrier. Houdini also tapped into the advantages of the natural fat in wool, as they described their wool Lana Shell jacket and pants as water resistant, without the use of any chemicals.
Looking towards more futuristic bio-based material innovation, outdoor company Vaude are part of the collaborative European EFFECTIVE project, which is developing and testing bio-based nylon 6. Vaude are looking to commercialise sustainable garment solutions based on the fabrics manufactured by Carvico, which will utilise bio-based nylon 6 NTF yarns produced by Aquafil.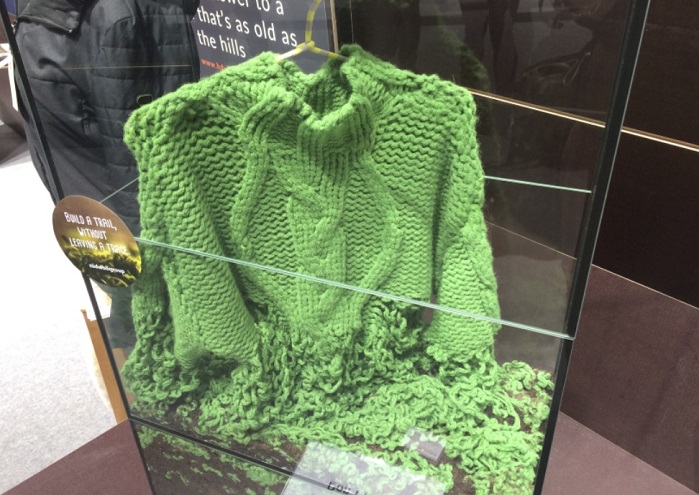 Südwolle biodegradable wool display. © Anne Prahl
Südwolle Group promoted the biodegradability of wool as part of the eco system's natural cycle by exhibiting their 'Build a trail, without leaving a trace' story. The collection includes merino wool blends with hemp, lyocell, linen, silk and biodegradable polyamide Amni Soul Eco, as well as blends finished with the company's pioneering Naturetexx Plasma technology to enhance the fabric's performance and durability.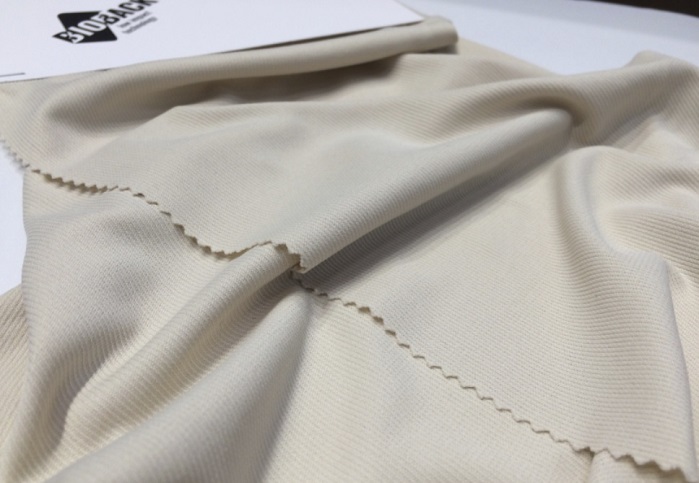 M.I.T.I. BioBack biodegradable nylon 'Bio Dust'. © Anne Prahl
Italian textile producer M.I.T.I. presented their low impact technology BioBack as the key component of their Greenperforming 2.0 concept, which houses the company's commitment to developing sustainable solutions. Fabrics in this collection provide the same wicking and breathable performance as regular products but are made with Amni Soul Eco from Fulgar, which is fully biodegradable. To provide stretch qualities, the company add ROICA V550 yarn, which has the Cradle-to-Cradle Gold Level material health certificate, as well as being a Hohenstein Environment Certified product that biodegrades without releasing any harmful substances.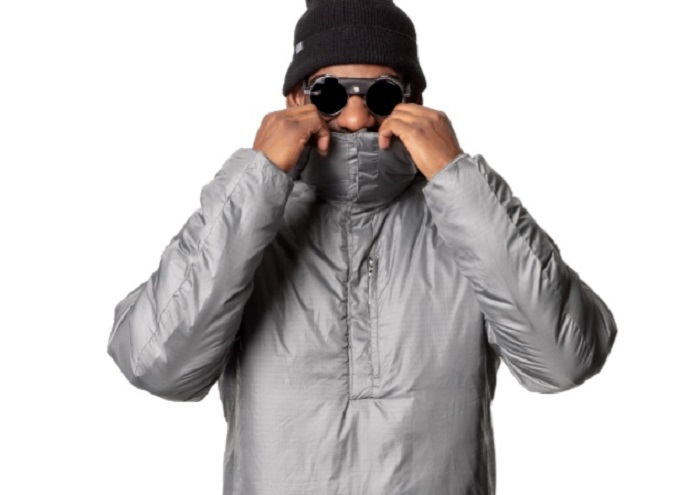 Houdini 'The Alchemist' project prototype. © PrimaLoft
The Alchemist project is a collaboration between Houdini and PrimaLoft and utilises PrimaLoft Bio, a 100% recycled, biodegradable synthetic padding. This material was developed for product longevity first but breaks down safely at end-of-life, when exposed to landfill or marine environment. The fibres used in the material attract naturally present microbes, which eat the fibres to leave behind only water, methane, CO2 and biomass.
3D knit and print developments
Seamless knitting technologies are often commended for their waste reduction potential and innovation in this segment continues to evolve.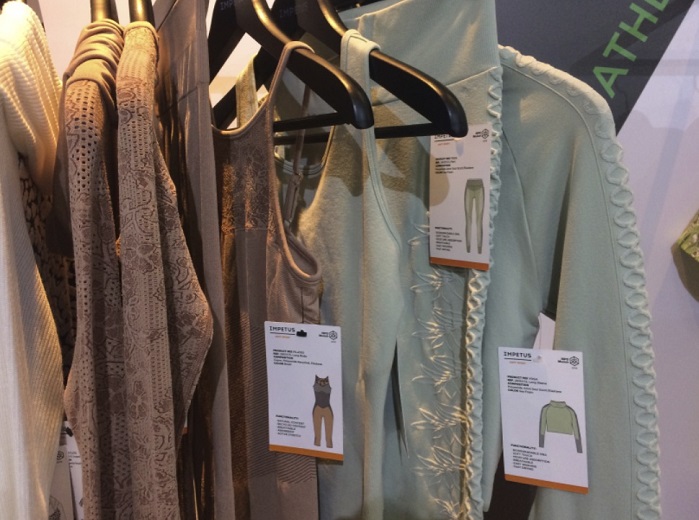 Impetus Soft Sport collection. © Anne Prahl
Portuguese seamless manufacturer Impetus displayed their soft sport collection, which makes use of a range of natural, biodegradable and recycled materials to produce functional pieces for yoga and pilates. Most noticeably, the company creates beautifully textured and soft to touch surfaces, while providing performance features, such as moisture management, breathability and easy-care.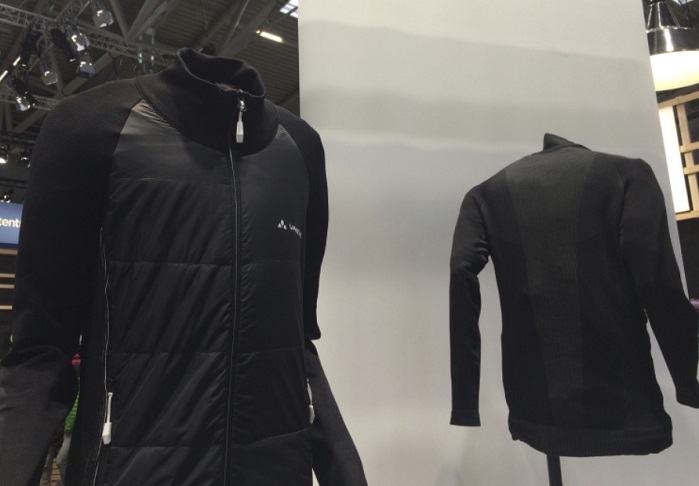 Vaude Larice LesSeam Jacket. © Anne Prahl
The Larice LesSeam Jacket was designed for ski touring and combines a seamless circular knitting process with the company's Comfort Mapping concept. This results in a breathable and insulating hybrid layer that provides comfort due to minimum use of seams and optimum temperature regulation achieved through the strategic combination of a variety of material structures. In addition to minimising waste during the manufacturing process, the polyamide yarn used to create the fabric, as well as the Primaloft Silver Insulation Eco, contain recycled content.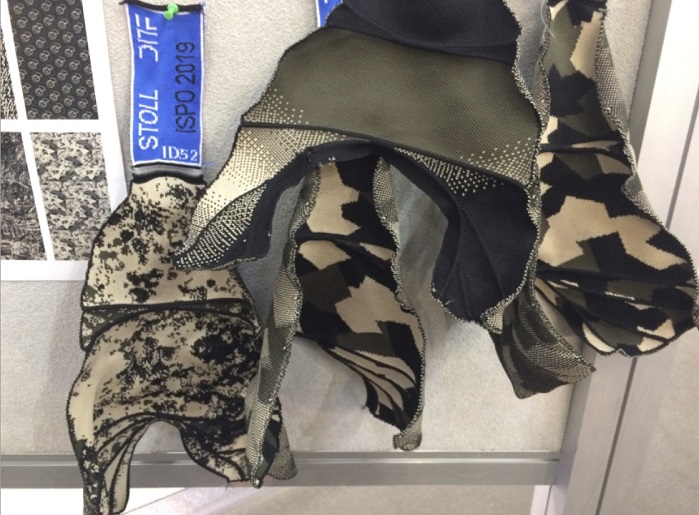 Stoll automated knitted footwear uppers. © Anne Prahl
As seen in recent years, seamless knitting continued to be strong for footwear uppers and flat knitting machine manufacturer Stoll's display as part of the ISPO Textrends Microfactory, highlighted opportunities for more efficient prototyping and the design and manufacture of customised products, both for footwear and apparel.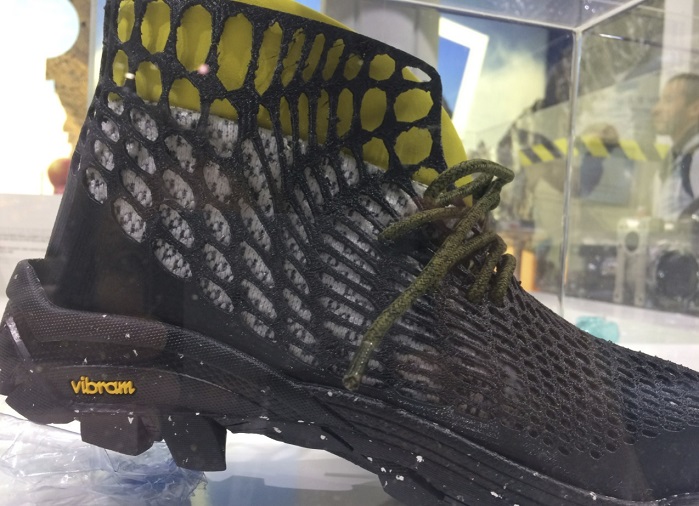 Sympatex and Vibram 'Shoe 4.0' concept. © Anne Prahl
Looking at 3D printing, Sympatex's 'Shoe 4.0' concept in collaboration with Vibram showcased proposals for a viable raw material circular economy. The shoe is made from recycled soles and an outer 3D printed structure crafted from recycled PET waste, which encases a waterproof recyclable polyester inner shoe.
This concept illustrates how the waterproof shoe of the future can be made from recycled and recyclable materials by utilising a modular design approach and breaking the raw materials down at end-of-life for recycling.
Cleaner colouration processes
Judging by some of the products and technologies presented at ISPO, the industry is waking up to the urgent need for cleaning up the dirty processes involved in the manufacture of apparel and footwear.
Sheico Group dope dyed yarn process. © Anne Prahl
As the sports, snow sports and outdoor sector relies on strong and vibrant colours for synthetic performance fabrics, colouration technologies have been a particular focus for improvement and we have seen an increase in the use and development of dope or solution dyeing technologies recently.
At the show, this included companies like e.dye Waterless Color System, Cordura TrueLock Fiber and We aRe SpinDye, as well as the Sheico Group, who displayed their dope dyed yarn process to great effect. Welltern Enterprise Co. also presented a dope-dyed zip collection, where colour pigment is premixed into the polyester pellets, requiring less energy and water consumption than traditional piece dye.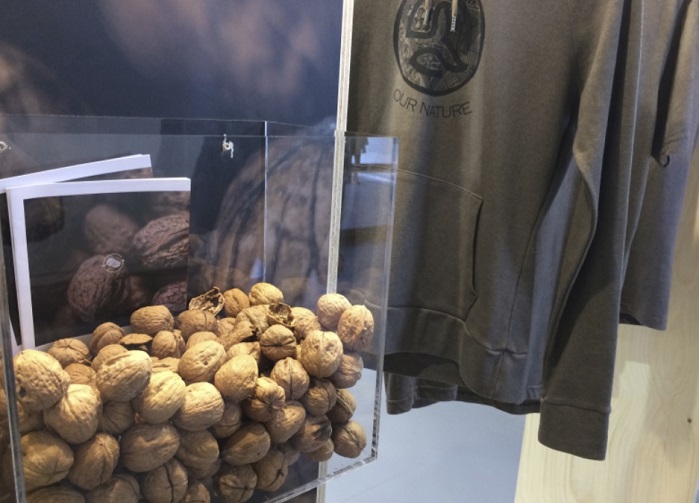 Ternua Nut Cycle collection with EarthColours by Archroma. © Anne Prahl
Another approach to developing cleaner colouration methods is to look towards nature and bio-based ingredients for inspiration. In collaboration with Archroma, Ternua explored the company's EarthColors method of synthesising dyes to produce deep shades of natural colour, transforming walnut waste, a by-product of the local gastronomic industry, into fully traceable, biosynthetic dyestuff.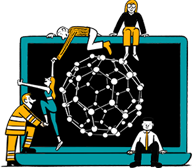 Business intelligence for the fibre, textiles and apparel industries: technologies, innovations, markets, investments, trade policy, sourcing, strategy...
Find out more