Fibres/​Yarns/​Fabrics
Top-flight programme for contract sector at Heimtextil
Every year, over 3,000 exhibitors showcase their products and materials for the textile furnishings market at Heimtextil in Frankfurt.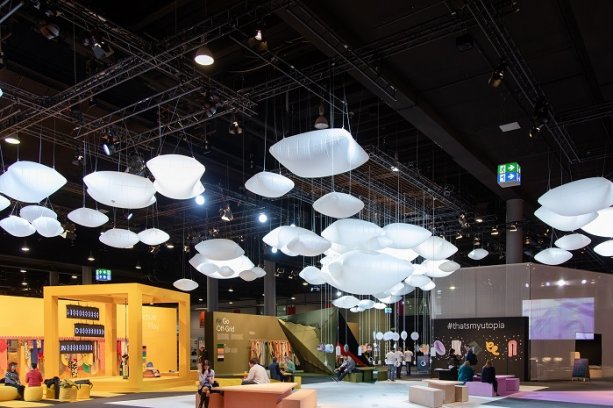 18th November 2019
Innovation in Textiles
| Frankfurt
Trend Space at Heimtextil 2019. © Messe Frankfurt Exhibition GmbH / Jochen Gunther
At Heimtextil 2020 next January, interior designers, architects and experts from the hotel trade will be able to draw upon an even greater, more extensive range of offerings for their projects.
Every year, over 3,000 exhibitors showcase their products and materials for the textile furnishings market at Heimtextil in Frankfurt. It is the world's largest trade fair for home and contract textiles. Some 370 of those exhibitors specifically target with their products for the contract sector, interior designers, architects and experts from the hospitality sector, who will find precisely the kind of solutions they are looking for in the cornucopia of textiles at Heimtextil.
The range of products in this area will be accompanied by a multi-faceted programme of specialist lectures, given by internationally renowned experts, themed tours of the show, a materials library and an exclusive exhibition format. Heimtextil will be including both the exhibits and the programme of events under the heading Interior.Architecture.Hospitality by Heimtextil. In 2020, it will be even more extensive and thus will, once again, become a hot spot for the contract textiles market, organisers report.
Diversity
For Heimtextil 2020, the Interior.Architecture.Hospitality LECTURES will have, as their overarching theme, Diversity. In a series of top-flight lectures, internationally distinguished architects, interior designers and experts in the hotel business will present some of their projects and discuss issues relating to the current building scene and to interior architecture and design. The lectures will be selected and organised by well-known partners of the show, AIT-Dialog and hotelforum.
The theme of the lectures for 2020 picks up on the current social and cultural challenges faced by the industry. Diversity pervades all areas of our lives and is to be seen particularly in architecture and urban design. The debate about affordable housing, new concepts for domestic dwellings and changes to the fabric of urban society is more urgent than ever before. Libraries become meeting places and hotels constantly reinvent themselves as places for people to live long-term.
And the younger generation of architects, too, are struggling with new ideas and unconventional approaches to a changing architectural scene. In the context of Interior.Architecture.Hospitality by Heimtextil, the individual event formats will deal with diversity at different levels within the fields of architecture, interior design and urban building. A rich diversity of materials, modern technologies and deliberate attempts to think outside the box open up countless possibilities.
Each day, there will be a different overall theme for the lectures.
Diversity: Libraries as places of knowledge and social interaction
The development of the cultural and media landscape in the digital age, when almost any item of information is readily available anytime and anywhere, means that libraries must reinvent themselves – conceptually and strategically as well as architecturally. But what exactly are the implications of this change for architecture and interior design? What expectations do users have and what new concepts are perhaps already waiting in the wings – maybe even across national borders? These are the questions that will be addressed in the lectures organised by AIT Dialog on the afternoon of the first day of the trade fair.
Diversity: Changing nature of urban dwellings
Whether people live alone or with others, whether they flat-share or house-share or live together in dwellings that house several generations, whether they live in some kind of mixture of partly rented and partly privately owned accommodation, or in collectively funded vertical stacks of partially prefabricated flats (sometimes referred to as residential shelving) – new forms of dwelling develop almost automatically from people's needs and wishes, are then transformed by professionals into practical concepts and finally interpreted in architectural form. On the second day of the trade fair, the AIT Dialog lectures will open the door on a host of exciting approaches. The crucial question is: What direction will these various types of home take in the future?
A trend seminar and workshop, run by the Association of German Interior Architects / Designers (Bund deutscher Innenarchitekten - bdia) on 8 January, will, under the heading A Common Reality, deal with the potential of interior-design textiles to foster moments of social interaction and conviviality.
Diversity: Space to live and socialise long-term
There is now a host of different types of temporary and affordable longer-term accommodation, ranging from budget hotels, private homes and platforms such as Couchsurfing and Airbnb to micro apartments and serviced apartments. Architecture and interior design face an exciting task that throws into question the whole issue of frequent travel – not least with reference to the climate debate.
Talents: Stimuli and perspectives for the developers of tomorrow
Young architects always seek inspiration from both the unusual and the familiar, they think holistically, globally and with the future in mind, they test themselves, while always keeping the human being in the centre of the picture. Diversity and the wish for change is what the younger generation and their work is all about, whilst, in spite of all these efforts, they continue to respect the achievements of their chosen role-models – the established architects that have gone before.
The Interior.Architecture.Hospitality TALENTS session, on Friday, is aimed principally at students, new graduates and recent entrants to the profession. They are invited to attend lectures by distinguished architects and interior designers, to make contact with both experienced experts and newcomers to the profession and to present their own visions for the future.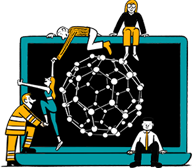 Business intelligence for the fibre, textiles and apparel industries: technologies, innovations, markets, investments, trade policy, sourcing, strategy...
Find out more