4th February 2019, Mönchengladbach
Capturing Uzbekistan's most modern spinning mill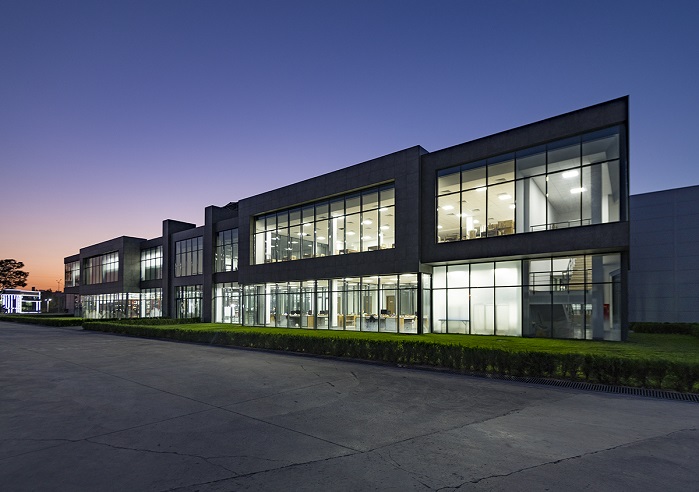 Bakan Tex is one of the world's most modern spinning mills. © Truetzschler
Equipped with a complete Truetzschler preparation line including a combing line with automatic lap transport, Bakan Tex is one of the world's most modern spinning mills. In order to show the company's customers what exactly Truetzschler contributes to this ultramodern yarn production process, the market leader in spinning preparation in the cotton and man-made fibre sector went to Tashkent to capture its machines in action.
"Uzbekistan is a country with an Eastern European flair in Central Asia full of turquoise cupolas, vibrant markets and hospitable people. But there is one other thing that is omnipresent: The trails of the ancient silk road," said Michael van den Dolder, Marketing Manager.
Forty-two tonnes of quality cotton yarns are produced every day at Bakan Tex. © Truetzschler
Today, Uzbekistan is among the top 10 cotton producing countries: Cotton is grown on almost 80% of the agricultural area. Every year more than three million tons of cotton are produced. This makes cotton the country's number one commodity. For two years the government has made intensive efforts to expand the textiles and apparel industry. The aim is to keep the entire value chain in Uzbekistan – from raw cotton via yarn to the finished textiles.
An important part of this value chain is Bakan Tex. Opened in 2018, the newly built headquarters and production facility cover an area of 6,4 hectares, where 42 tonnes of quality cotton yarns are produced every day – tendency rising. "When we arrived at the facility, we understood why people were calling it the most modern mill. Everything – from the reception desk in the lobby to the building as a whole – was ultramodern. Now we were even more curious about entering the production facilities," continued Mr van den Dolder.
"As reliability and best product quality are the core of the corporate philosophy at Bakan Tex, the company has to rely on a machine supplier that lives up to the same values. Therefore, Bakan Tex chose to implement a highly modern preparation line from Truetzschler."
"Since last year, the heart of the mill consists of two Bale Openers BO-A, three complete blow room lines with three Foreign Part Separators TS-T5, 30 Cards TC 15 with T-MOVE and Jumbo Cans, five Draw Frames TD-9T, one Draw Frame TD 9, four Superlap TSL 12, 24 Combers TCO 12 and 13 Autoleveller Draw Frames TD 8."
This article is also appears in...