Fibres/​Yarns/​Fabrics
Carrington Textiles supports UK fashion's switch to PPE
Carrington Textiles has been able to supply over 30,000 metres of specialised healthcare fabric to big fashion names including David Nieper, John Smedley, Maria Grachvogel and Reiss while the UK unite to fight COVID-19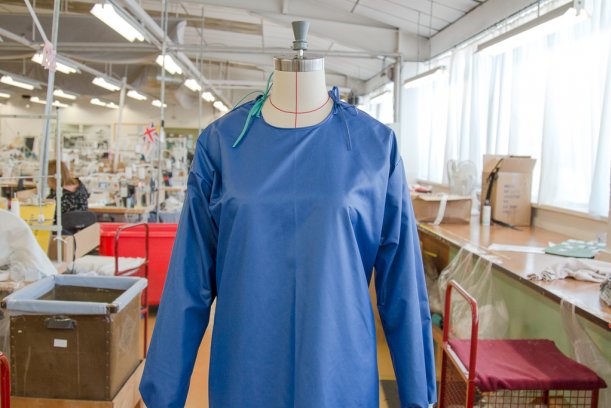 6th May 2020
Innovation in Textiles
| Adlington, Lancashire
As well as helping local sewing groups around the UK with donations to make scrubs, Carrington Textiles has supported fashion brands around the country as they repurpose their production lines to make personal protective equipment (PPE) for the NHS and wider healthcare sector.
Over 30,000 metres of at least seven specialised poly-cotton healthcare fabrics in over 10 different colours have been supplied to these fashion labels as they adapt their production facilities for making scrub suits, surgical gowns and clinical hoods, while the whole nation unites in the battle against COVID-19.
The fabrics are industrially launderable which means garments can be reused avoiding the environmental impact disposable PPE can cause.
Here a snapshot of some of the brands Carrington has been able to provide fabric to:
David Nieper
A family business with 5 factories based in Derbyshire, that has been designing and manufacturing high-end womens fashions for almost 60 years, David Nieper is working with all the major Midlands hospital trusts including Derbyshire, Leicestershire and Nottinghamshire to provide frontline staff with high quality PPE.
The company which has just been awarded the Queen's Award for Sustainable Development has also worked in partnership with the University Hospitals of Derby and Burton NHS Foundation Trust to produce a re-usable surgical gown which can be washed up to 100 times, reducing the need for disposable gowns. Last month some of its designers, cutters and seamstresses returned to their posts to make scrubs, gowns and clinical hoods to NHS trusts around the UK.
Over 18,000 metres of Carrington Textiles fabric from its stretch range Xtraflex and Idra, as well as one of its best-selling poly-cotton products for healthcare Undara, were supplied to David Nieper as the company turned its production lines to produce much-needed PPE.
Christopher Nieper OBE, CEO David Nieper Ltd commented: "Sourcing the right fabric has been a crucial element in getting the right PPE to our doctors and nurses on the frontline.
As soon as Boris Johnson announced the lockdown, we came to Carrington Textiles and bought almost all the fabric on the shelves. We didn't have any orders for scrubs at that stage, but we knew we had to help in the national effort. We were delighted to work with the team who have been able to supply great quality textiles as and when we need it.
Our doctors and nurses on the frontline deserve the best - it has been fantastic that British textile businesses working together have been able to contribute to the national effort."
© Carrington Textiles.
John Smedley
For over 236 years John Smedley has been creating 'The World's Finest Knitwear' at its home in Lea Mills, Derbyshire, with the brand holding the Royal Warrant from Her Majesty the Queen as a seal of its quality.
From this week, John Smedley will be opening a special area of its factory that will be dedicated to creating medical grade fabric scrubs garments for the NHS, care homes and other businesses in need. All garments will be donated free of charge to local hospitals, GP surgeries and care homes in the East Midlands and London areas as part of the Emergency Design Network.
The fabrics John Smedley has selected for this task are two of Carrington Textiles most popular products for healthcare, Cooltex Lite and Teredo, of which they received more than 1800 metres for their first order.
"On seeing the need for hospital approved garments across the NHS, we immediately wanted to help mitigate the crisis and were able to quickly join forces with the Emergency Design Network to create approved patterns and source the relevant fabrics. We chose to work with Carrington Textiles for this, knowing that their fabrics are of the highest quality and would be more than suitable for usage across all areas of the NHS. The team were incredibly insightful and helpful to work with and were delighted to be launching our scrubs this week," said Jess McGuire-Dudley, Design & Marketing Director at John Smedley.
Maria Grachvogel
A British fashion designer with boutiques in London and Singapore, Maria Grachvogel designs for many famous faces under her own label and is well-known for her shows at London Fashion Week.
Maria repurposed her team in London and using Carrington Textiles stretch poly cotton Salo, the designer was able to create scrubs for local hospitals.
Maria Grachvogel comments: "I decided to set up FashionforNHS as a response to the overwhelming need for PPE in hospitals. As a designer with facilities to make, I was keen to be able to help and support as were many of the factories we work with. The need for scrubs is in the 1000's because there are many more medical staff now handling the pandemic, there is also the need to change and wash them more frequently because of the virus."
"I felt this was something we could easily develop and make. We therefore researched and developed the pattern from a sample received from a hospital. We are then collaborating with the brilliant designer factories that usually make our clothing to make the production as well as my own sample machinist and production manager, who has coordinated everything."
"There have been 3 main factories producing, Gosha London, Maes London and PHD Designs in Manchester and cutting has been handled mainly by VisgUK. We have also been using Freightbrokers to handle all the deliveries, who have been transporting for free to the hospitals."
"I have been blown away by the warmth and generosity of all involved as everyone has given their time and resource over the last month voluntarily. I have also greatly appreciated the helpful advice of Tony Raisbeck at Carrington Textiles, who guided me carefully on the best fabrics to choose."
"We have been supplying a number of GPs, trusts and London hospitals including St Marys and Homerton University Hospital ICU, who have all been very happy with the exceptional quality of our work and commented on how comfortable the fabric was."
Reiss
Fashion brand Reiss in response to the shortage of PPE for the NHS, has also taken steps to utilise its supply chain, stores and partners to help support the production and distribution of scrubs to hospitals across the UK.
Over 5000 metres of Carrington Textiles best-selling poly-cotton Teredo were supplied to the fashion retailer to produce the garments.
One of Europe's largest textile suppliers to the workwear market with bases in the UK, mainland Europe and Asia, Carrington Textiles supports many of the world's largest employers – spanning sectors from heavy industry to health. Formed in Lancashire, UK, in 1891, the company continues to lead the industry in personal protective equipment.
Carrington Textiles' current product range includes sustainable, workwear, flame retardant, waterproof and defence fabrics, with properties that include anti-microbial, antistatic, high visibility, water repellency as well as protection against chemical splash, electric arc and ultraviolet radiation.
Operating in 81 countries worldwide and with an international network of sales representatives, customers include the NHS, McDonalds, BUPA, TATA Steel, Shell, Coca Cola, Airbus, Jaguar Land Rover, BP and Arcelor Mittal, to name just a few.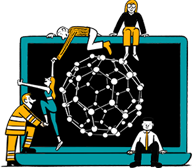 Business intelligence for the fibre, textiles and apparel industries: technologies, innovations, markets, investments, trade policy, sourcing, strategy...
Find out more