28th February 2018, Uxbridge
Coats delivers strong results in 2017
Coats, a leading industrial thread manufacturer and a major player in the Americas textile crafts market, has reported revenue growth of 4% to US$ 1,510 million in fiscal year 2017, driven by Apparel and Footwear (up 5%) and Performance Materials (up 12%), with some offset due to a weak performance in North America Crafts.
"Coats delivered a strong performance in 2017. Momentum in industrial continued throughout the year in key apparel and footwear markets, where we continued to take share, and we saw double-digit growth in hi-tech end-uses in performance materials," commented Rajiv Sharma, Group Chief Executive, Coats.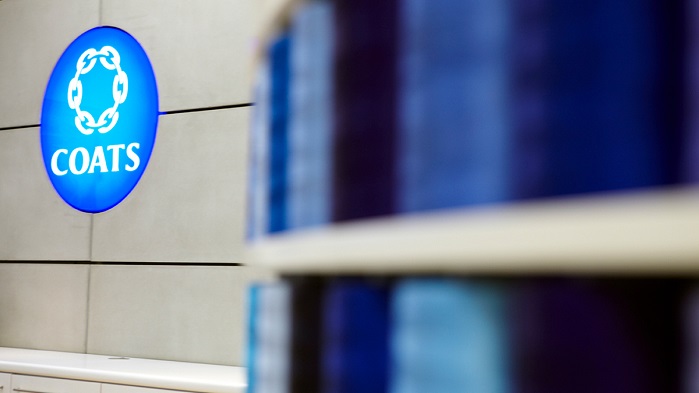 "This was partly offset by North America Crafts where market conditions remained weak. In an environment of rising input costs, we were able to grow our operating margins, through realising price increases, productivity and procurement gains, as well as tight control of our cost base. Following this strong performance in 2017 we have announced a full year dividend per share of 1.44 cents, which represents a 15% year-on-year increase."
Adjusted operating profit increased by 11% to US$ 174 million (reported US$ 167 million, up by 9%); Group operating margin was up 70bps to 11.5%. Adjusted EPS grew by 30% to 6.4 cents (reported EPS of 5.8 cents, up by 35%) as a result of higher operating profits, a further reduction in effective tax rate and a reduction in finance costs. Adjusted free cash flow increased by 12% to US$ 87 million, which includes a US$ 10 million year-on-year increase in capital spend predominantly in the second half year, as anticipated.
Investment in growth initiatives
In 2017, the company launched its Connecting for Growth programme supporting the next phase of Coats' growth. The programme is expected to deliver US$ 15 million net annualised operating cost savings.
"Through our continued strong financial delivery and investment in growth initiatives we have built a solid base for the future," said Mr Sharma. "However, the markets in which we operate are constantly changing. Our customers require an increased emphasis on speed, quality, value, innovation and corporate responsibility. To accelerate our transition from the industrial to the digital age, we launched the Connecting for Growth transformation programme, which will support our next phase of growth. We expect this programme to deliver increased productivity, with targeted net annualised operating cost savings of US$ 15 million by 2020."
Coats also completed the Performance Materials acquisition of Patrick Yarn Mill in December 2017. "As with our previous acquisitions of Gotex, Fast React and GSD, we look forward to leveraging Coats' unrivalled geographic footprint, breadth of global customer relationships and strong corporate brand to support Patrick Yarn Mill's expansion," added Mr Sharma.
Outlook
"We enter 2018 in a strong position, with continued momentum in our apparel and footwear and hi-tech performance materials businesses. Whilst market conditions in our North American crafts business are expected to remain challenging, our new management team has commenced implementation of a refocused strategy," said Mr Sharma.
"We expect 2018 adjusted operating profits to benefit from the incremental full year contribution from the Patrick Yarn Mill acquisition, and the anticipated first year benefits from the Connecting for Growth programme. As such, 2018 adjusted operating profits are expected to be slightly ahead of previous management expectations. We will also continue to focus on cash flow generation in order to allow us to continue to reinvest in both organic and inorganic growth opportunities."
This article is also appears in...