17th September 2013, Heerlen
DSM among leaders in DJ Sustainability World Index
Royal DSM, the life sciences and materials sciences company, is once again amongst the leaders in the chemical industry sector in the Dow Jones Sustainability World Index. Since 2004, DSM has four times ranked among the very top leaders in the sector and has six times held the worldwide sustainability leader position in the Materials industry group.
Feike Sijbesma, CEO and Chairman of the DSM Managing Board, said: "We are very proud to once again be amongst the leaders in the Dow Jones Sustainability World Index. At DSM, sustainability has evolved beyond compliance or corporate social responsibility. For several years now, it has been a business driver based on our core values, contributing to our mission to create brighter lives for people today and generations to come."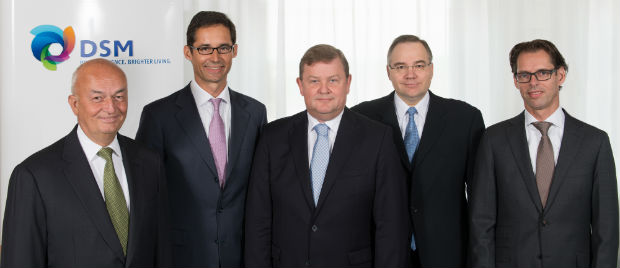 "By integrating sustainability into how we do business and by providing products and solutions that positively contribute to solutions to the world's current and future challenges, we are creating value for all stakeholders."
ECO+ products
DSM launched some major ECO+ products in the first half of 2013. According to the company, it increased the share of ECO+ solutions in its Innovation pipeline to 93% in the first half of 2013, which is above the 2015 aspiration of 80%.
The share of ECO+ products in DSM's running business portfolio was 41% in the first half of 2013, well on track towards the 2015 goal of 50%.
Social responsibility
Earlier this year DSM announced plans to help provide effective nutrition interventions to 50 million beneficiaries, including pregnant or lactating women, children under the age of two, per year by 2020. This commitment is part of DSM's endorsement of the Global Nutrition for Growth Compact, which aims to provide 500 million beneficiaries with effective nutrition interventions by 2020.
At the 2013 World Economic Forum in Davos, DSM and the United Nations' World Food Programme signed an agreement to extend their existing partnership for three years to combat hidden hunger and malnutrition in the developing world.
DSM and World Vision, a global development organisation, also announced a partnership this year.
DSM
Royal DSM is a science-based company active in health, nutrition and materials. By connecting its competences in life sciences and materials sciences, the company is aimed at creating sustainable value for all stakeholders.
DSM offers innovative solutions for global markets such as food and dietary supplements, personal care, feed, pharmaceuticals, medical devices, automotive, paints, electrical and electronics, life protection, alternative energy and bio-based materials.
This article is also appears in...