21st November 2019, Ismaning
Performance Days 2019 comes to successful conclusion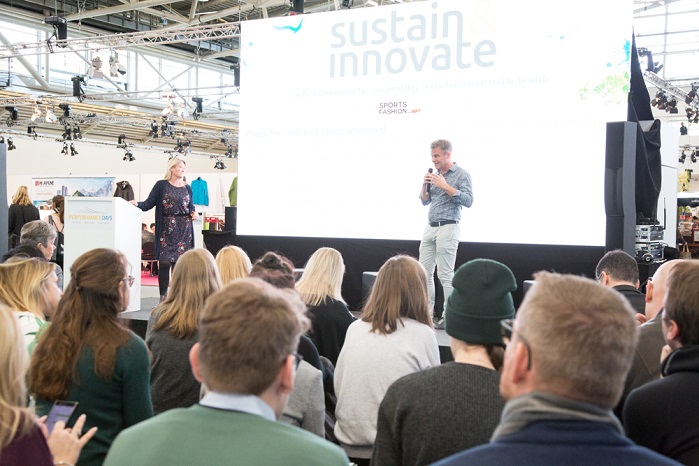 First sustain&innovate conference. © Performance Days
Performance Days, which has just come to an end in Munich, has just written another success story, organisers report. This year's Focus Topic Green Evolution – Innovations for a Sustainable Future proved highly popular, as did the first sustainability conference sustain&innovate on the second day of the fair.
With a number of 3,064 visitors and 297 exhibitors, the fair and its exhibitors enjoyed an all-round successful event. The proven concept of presenting not only the most important companies, but also an extensive supporting programme, as well as providing a top-quality, cutting-edge Trend Forum every season has once again been particularly well received.
Brand-new
The popular Performance Forum once again displayed the most important innovative fabrics and proved "revolutionary": all 240 fabrics on display were selected not only for their trendsetting features, but also and above all for their sustainability. "And this will remain the case," organisers explain. "As from this season onwards, only sustainable fabrics will be eligible for the coveted tables of the Performance Forum."
Of the 240 fabrics, the 24 best in terms of sustainability were also presented and explained at the Performance Wall, as well as the winners of the Performance Award and the Eco Performance Award, which have set new standards in terms of function and ecology. Important sustainable fabric highlights were also presented by (among others): Hemp Fortex, Long Advance, LMA, Merryson, Pontetorto, Polartec, Shinkong, Sympatex, Schoeller (Award) and Schoeller Textil, Tintex and Teijin Frontier (Award). Among the newcomers in the category of particularly sustainable fabrics were Ecosensor by AsahiKasei, Stotz and WA. Cloth Hybrid.
The show attracted 3,064 visitors and 297 exhibitors. © Performance Days
Among others, ACG, Laurema, Nilorn, Welltern and YKK were a source for sustainable accessories, and PrimaLoft and Lavalan for sustainable insulation.
First sustainability conference
Together with the trade journal Sportsfashion by SAZ, this November Performance Days hosted sustain&innovate, the first sustainability conference for the sports and functional textile branch. The first edition of this specialist conference exceeded all expectations, with talks by international specialists attracting even more listeners than the programme on the first day.
A particular highlight was the expert keynote talk by Dr Antje von Dewitz, Vaude, who reminded the textiles branch just how important ecological activism is for our future and that of our children. Specialist journalist Charles Ross also impressed the audience with his interview with Nicholas Allen from Patagonia, as did host Ulrike Arlt, editor-in-chief of Sportsfashion, who spoke with Dr Rüdiger Fox from Sympatex, as well as with Vanessa Mason and Jochen Lagemann from sponsor PrimaLoft.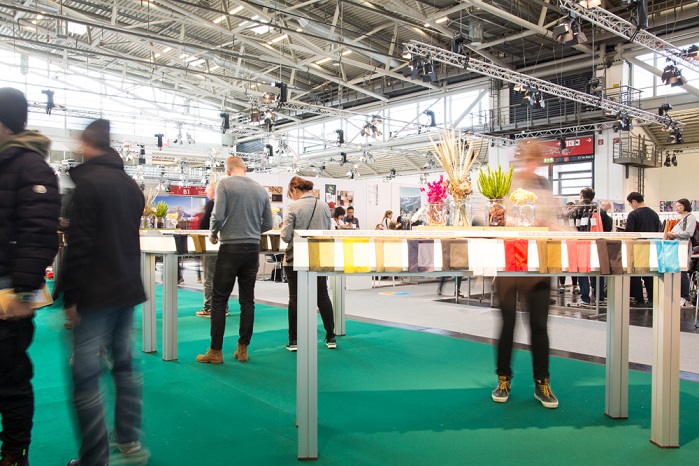 The popular Performance Forum once again displayed the most important innovative fabrics. © Performance Days
It comes then as no surprise that Jochen Lagemann gave the trade fair and the conference top marks: "For us, Performance Days is always a particularly important and effective fair, at which we have numerous quality appointments. It's nice to see how Performance Days continues to grow and is becoming more and more international. We now have our entire European sales team at the fair. In our opinion, the sustain&innovate conference is a great format as a platform for even greater expression on issues of sustainability. The talks and rounds of discussion were very interesting with positive feedback from visitors. We are glad that we were able to make our contribution as a driving force in innovation and sustainability."
This article is also appears in...