Fibres/​Yarns/​Fabrics
Team DSM unveiled as pro cycling's newest elite team
Royal DSM has announced a strategic partnership with Team Sunweb that will see the professional cycling team transformed into Team DSM for the 2021 season onwards.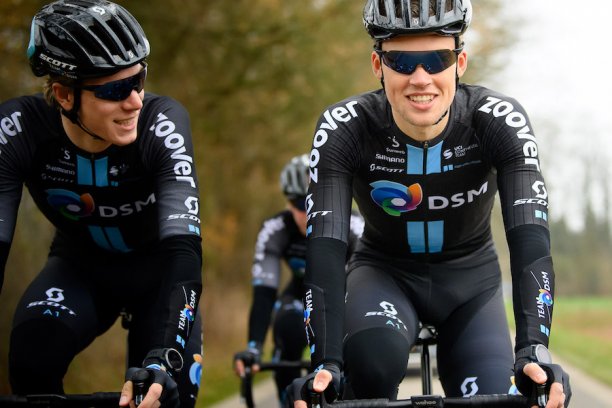 7th December 2020
Innovation in Textiles
| Heerlen, Netherlands
Royal DSM has announced a strategic partnership with Team Sunweb that will see the professional cycling team transformed into Team DSM for the 2021 season onwards.
Fresh from winning multiple stages of the Tour de France and dominating the podium of the Giro d'Italia in 2020, one of the top ranked and most exciting young teams in professional road cycling will be known as Team DSM from 1 January 2021.
Through the partnership DSM says it hopes to galvanize wider public action around the importance of the health of people and of the planet, in line with the company's purpose-led, performance-driven strategy.
Building on an existing innovation partnership with DSM that has grown over the past half-decade, Team DSM will continue to 'Keep Challenging' by taking its nutrition, equipment and personal care to a whole new level. DSM will support the Men's, Women's and Development programs equally to become the best that they can be – inside and out.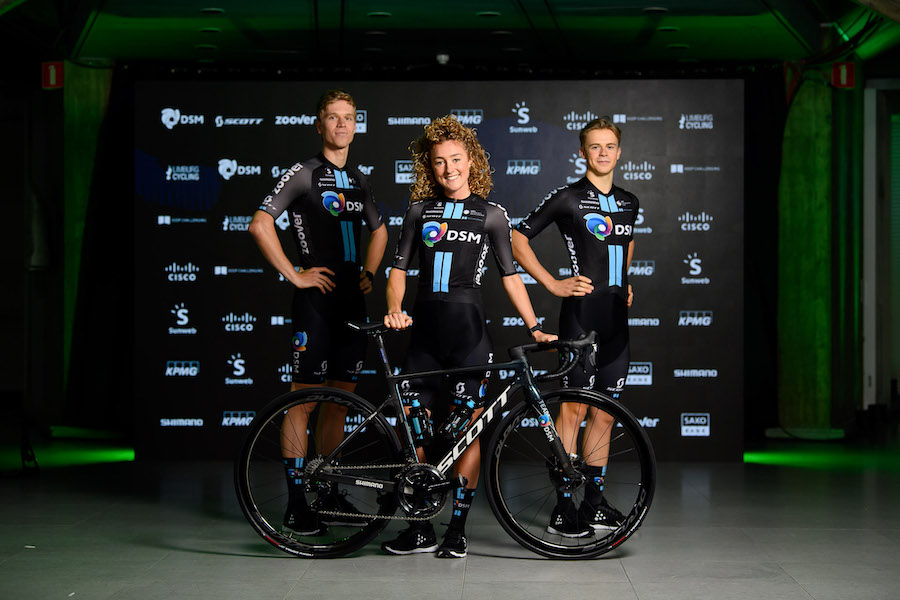 In stepping up this partnership, DSM and Team DSM will also undertake several joint activities, including:
- Develop and produce the team's very own race apparel, in cooperation with technology partner Bioracer, to set new standards in protective race wear that utilizes peak performance materials.
- Develop personalized, sustainable sports nutrition for each rider using the latest scientific knowledge, data insights and ingredients, in cooperation with sports nutrition partner Sanas.
- Provide additional investment to increase the intensity of fully independent anti-doping testing in the team, executed by 'Dopingautoriteit' (Dutch NADO), according to WADA standards.
The team's new colours were revealed today for the first time at an online launch event hosted in DSM's Virtual Innovation Center. Team DSM will proudly maintain the team's distinctive two-stripe 'Keep Challenging' design but this time in DSM's bright blue, emblazoned on an 'instantly recognizable standout new black kit'.
Team DSM also level-up their two- and four-wheel rides with the introduction of Scott bikes and Volvo cars. Sunweb will remain the team's partner.
Team Sunweb CEO (as from 1 January 2021, Team DSM CEO), Iwan Spekenbrink said: "This is truly a dream. The involvement of DSM at this scale will definitely help us set new standards with the best nutrition and materials giving us a competitive edge inside and out. We share so much in common with DSM; a passion for innovation and sustainability, high ethical values and much more. The bike is a beautiful symbol of sustainable health and we are very keen to support DSM in ensuring more people recognize there are solutions to some of the world's biggest challenges. For a sports team like ours, having the chance to elevate our relevance from sporting excitement to contributing to big global themes is something we are very, very proud of and is definitely an ambition for all of us."
DSM Co-CEO Geraldine Matchett, added: "This partnership goes beyond an exchange of products and expertise alone. There are considerable challenges ahead for the world in terms of people's health as a result of poor nutrition and this will only be exacerbated by climate change. It is not too late for scientific solutions so, by becoming synonymous with such a young, successful, principled team, we hope to trigger wider action for more sustainable living and health through nutrition. This partnership will help further our mission to create brighter lives for all through our scientific and innovation power. I am really excited for the road that lays ahead for Team DSM."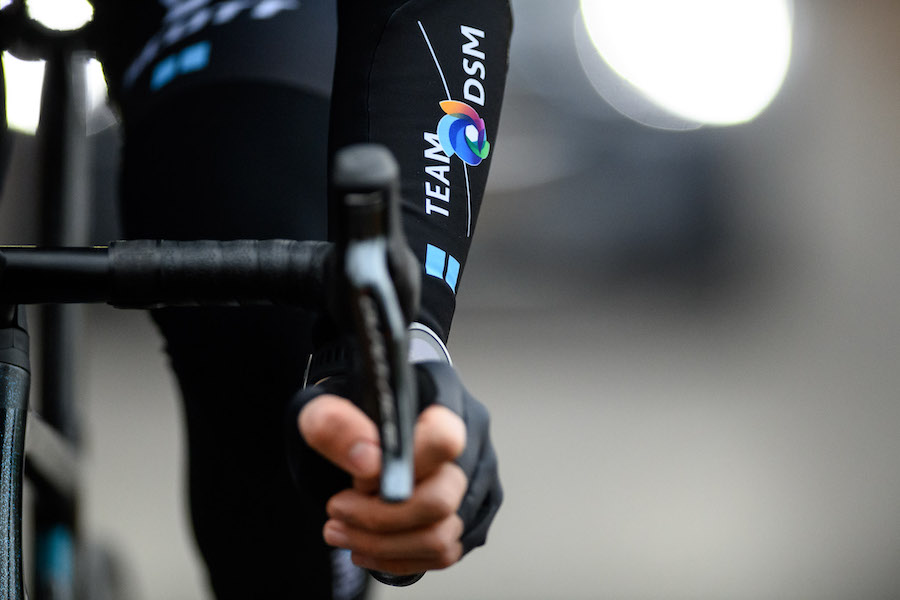 DSM Co-CEO Dimitri de Vreeze said: "For us it's a very natural next step having already worked closely together for half a decade. We see our purpose-led, performance-driven approach matched in this team. Our culture is all about being courageous, caring and collaborative and this complements Team DSM's advocacy on issues like doping, safety, the environmental impact of large racing events, and modernizing women's and men's pro cycling. These are areas where we can work together to be a positive force for change. This strategic partnership sets a new standard in sport and will help all the team's programs, as well as society as a whole."
Setting a new standard in sports partnerships
The two organizations are in complete tandem in the creation of Team DSM, with a shared goal to keep challenging through innovation and cooperation. The new partnership will help to create products that deliver better health through nutrition outcomes, as well as safer and more sustainable materials, which will ultimately translate into benefits for society at large. Team DSM will gain from DSM's advances in health, nutrition and cutting-edge materials, such as breathable water-resistant training jackets with Arnitel, or proteins, vitamins and probiotics for optimal gut health and immunity. At the same time, DSM will gain direct insights and feedback from some of the most demanding customers in the world – pro athletes – in order to better develop sustainable solutions that can help others remain strong, healthy and performing safely for longer.
Safety first with new bespoke apparel
Safety is at the core of DSM's entire business and a value already integrated into the team, after pioneering the use of protective material Dyneema into cycling wear to reduce abrasion injuries. The new partnership continues this focus, integrating Dyneema into more apparel and encouraging clothing manufacturers, other teams, and the sport's governing body to raise the standard of protective clothing. Team DSM riders will enjoy their very own specially crafted performance clothing. Using the very best fabrics and largest technologies, this will define an absolute new standard of race wear, producing the best performance clothing out there. DSM will also make available their extensive expertise in health and safety for riders' safety meetings and between pro cycling's stakeholders to create safer race conditions.
Peak performance from optimal nutrition
DSM and Team DSM are developing Team DSM's very own nutrition program for 2021. Using the most advanced expertise in nutritional, biological, analytical and data science gained from DSM's 2,000 scientists in 30 laboratories around the world, Team DSM riders will benefit from the best ingredients and latest nutritional advances. This includes the development of personalized nutrition plans and will champion the use of protein sources that are said to be more sustainable thanks to DSM's innovations.
Supporting anti-doping for a clean competition
The team has always worked to the intensified ethical standards of the Movement for Credible Cycling (MPCC), DSM says. DSM mirrors these values and will make even more resources available to protect clean athletes, it says. DSM will invest further into the additional anti-doping program that has been in place for the team since 2018, intensifying and increasing testing for all the Men's, Women's and Development programs. As a result, the National Anti-Doping Organization (NADO) of the Netherlands, the Doping Authority Netherlands or 'Dopingautoriteit', will increase the frequency of its WADA-standard testing of the team's athletes. This serves as a deterrent as well as increasing the chances of detecting anyone using prohibited substances, DSM adds. The anti-doping procedures remain the same, with this investment intensifying the frequency of testing far beyond what is required by cycling authorities, the company says. The results will also be added to the riders' biological passport.
Team Sunweb CEO (as from 1st January 2021, Team DSM CEO), Iwan Spekenbrink added: "We are really excited about 2021. We will be racing Scott's super-fast road bikes, equipped with Shimano and other top of the range components and accessories, so we will have the best support inside and out. Our team's specialists will work very closely with the teams of DSM, Scott and all our partners to help us be the best that we can be. In addition to this we also have Volvo on board for the new season. This is such a long-cherished dream and only motivates us more for the new year."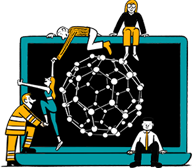 Business intelligence for the fibre, textiles and apparel industries: technologies, innovations, markets, investments, trade policy, sourcing, strategy...
Find out more