Opinion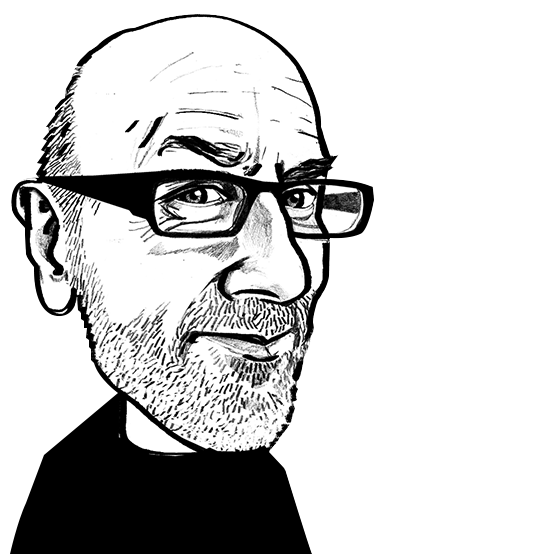 Techtextil and Texprocess North America: Roadmaps to Sustainability
Adrian Wilson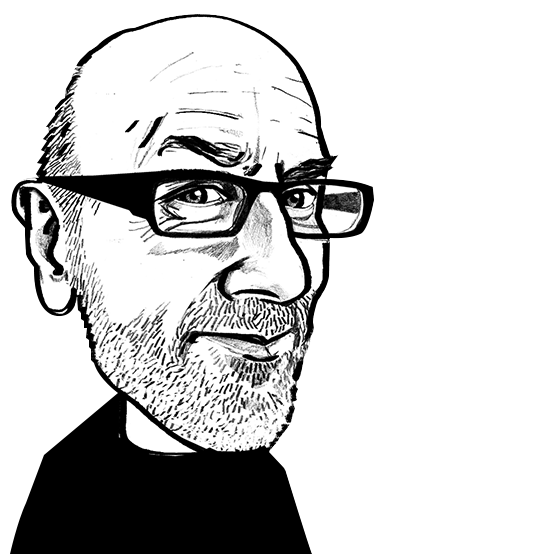 The latest Techtextil & Texprocess NA seminar brought together panellists from across the US supply chain to discuss the sustainable issues impacting the industry.
20th January 2021
Adrian Wilson
| Online
Taking part were Jimmy Summers of Elevate Textiles, Emily Gigot of SanMar, Rick Stanford of Baldwin Technology and Gunther Duschek of the Rudolf Group.
Elevate Textiles
Elevate Textiles (until 2019 International Textile Group) is a diverse set of leading textile companies comprising:
- A&E, the manufacturer and distributor of industrial and consumer sewing and embroidery threads and technical textiles, based in Mount Holly, South Carolina.
- Burlington, a long-established provider of apparel fabrics, as well as tailored, uniform, military, medical/cleanroom, contract fabrics and technical products, in Greensboro, North Carolina.
- Leading denim manufacturer Cone Denim, also in Greensboro.
- Threads manufacturer Gütterman, of Gutach-Breisgau, Germany.
- Safety Components, a provider of high-performance textiles for first responders, military, outdoor, marine and automotive end-uses based in Greenville, South Carolina.
As such, the group, with 15,000 employees, has some 25,000 customers in 100 countries on all five continents.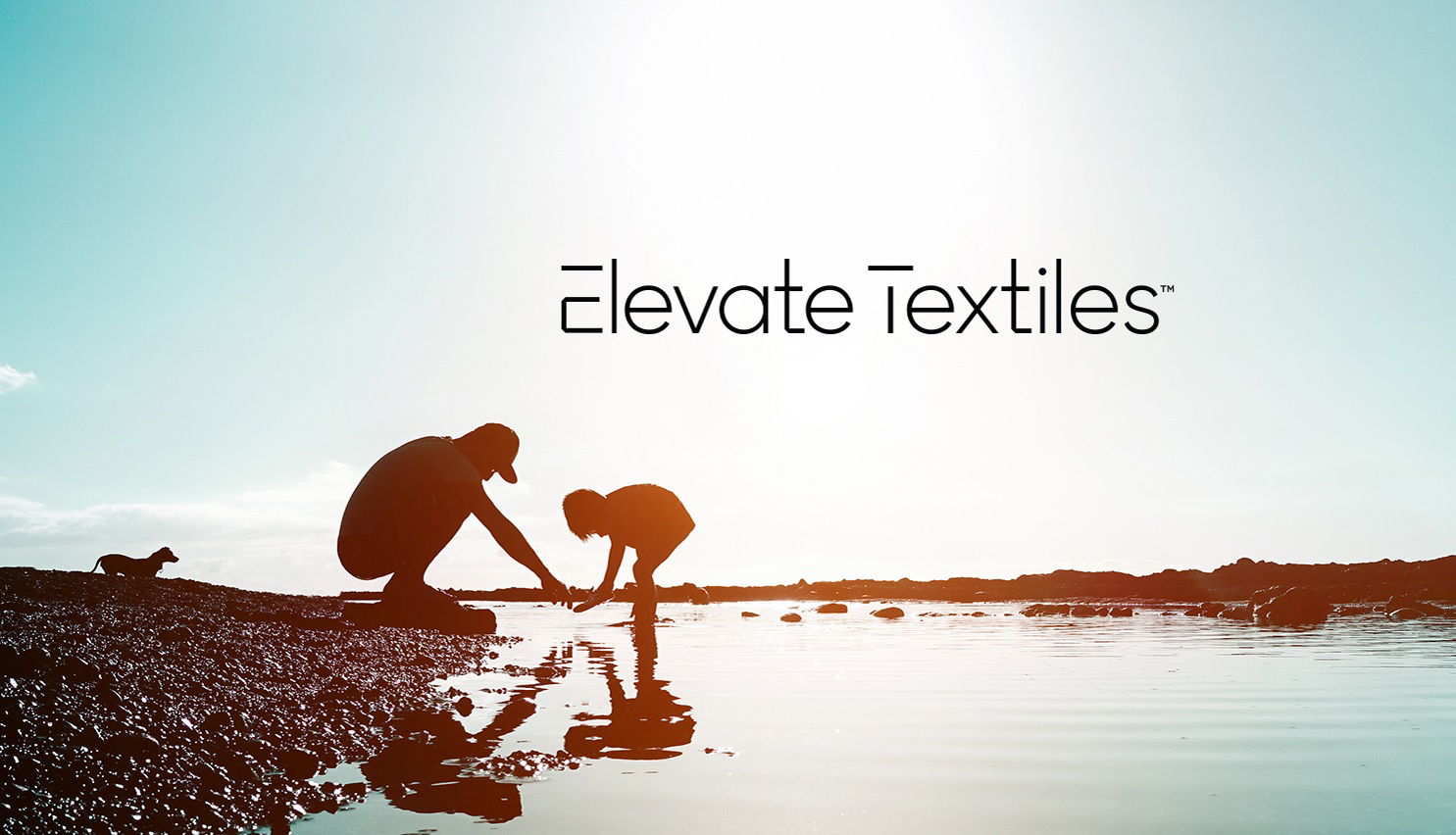 Milestones
Elevate is currently committed to achieving sustainability milestones by the year 2025 in three key environmental areas – fibres, water and greenhouse gases.
By 2025, Elevate brand products will be produced using at least 80% sustainably sourced cotton and 50% recycled polyester content and the group is also looking to reduce its water intensity by 25% per unit of production. It has set a specific greenhouse gas target of achieving a 2.5% per year reduction.
"Trust us" doesn't cut it
In opening the event, Jimmy Summers spoke of the numerous large goals that have been set throughout the industry for getting to a net zero impact on the planet, taking in green chemistry, recycled materials, circularity, water, energy, effluent, product safety and social responsibility.
"It can all make your head spin," he said. "The question is what can we do in 2021? People want to feel like they are making a difference and buying things not produced at the expense of others or the environment. Social media is meanwhile at the forefront and our industry is targeted. Sustainability is becoming a central part of everything that is offered, not the exception, and transparency, verification and traceability are now paramount.
"The days of green washing are certainly over and "trust us" doesn't cut it anymore. The problem is there are hundreds of different programmes we could become part of, and more standardisation would certainly help."
SanMar
SanMar, headquartered near Seattle in Washington is a family-owned brand specialising in apparel for the promotional products industry ranging from workwear and uniforms for Fortune 500 companies to those for local sports teams and promotional t-shirts.
With ten national distribution centres across the USA and some 5.5 million square feet of inventory space, it is offering 1–2-day delivery times to 99% of the USA, and as such, like Elevate is dealing with a considerable supply chain.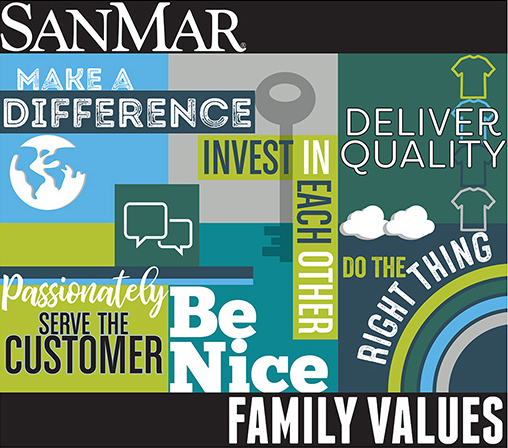 "In the past, SanMar has not shared its sustainable goals because it made us feel uncomfortable and we felt like we shouldn't do that type of thing," said Emily Gigot, "but now it's important to be transparent. As much as anything it helps our internal teams because bringing all the issues together is key. In order to make credible marketing claims it is necessary to improve how data flows between our supply chains, ourselves and our customers."
The brand is identifying materials from suppliers as preferred, she added, but 21 separate sustainability goals were being responded to within the company, adding to challenges.
Baldwin
Baldwin Technology, headquartered in St Louis, Missouri, is relatively new to the textile industry but was established in 1918. With 750 people employed at 21 locations around the world, it had a 2019 turnover of $165 million.
"Our first industries were for many years off-set printing and packaging machinery and we introduced our first system for textiles at ITMA 2015 in Milan, drawing on knowledge transferred from those sectors," said Rick Stanford. "Water consumption is obviously an issue in the textile dyeing and finishing sector, with 10,000 litres required to produce a pair of denim jeans and this was an area where we knew we could make a big difference."
A traditional 'wet-on-wet' dyeing and finishing line, he explained, usually contains two padders (baths) through which a textile is passed, the first for water, followed by squeezing before adding the finish chemistry and then drying.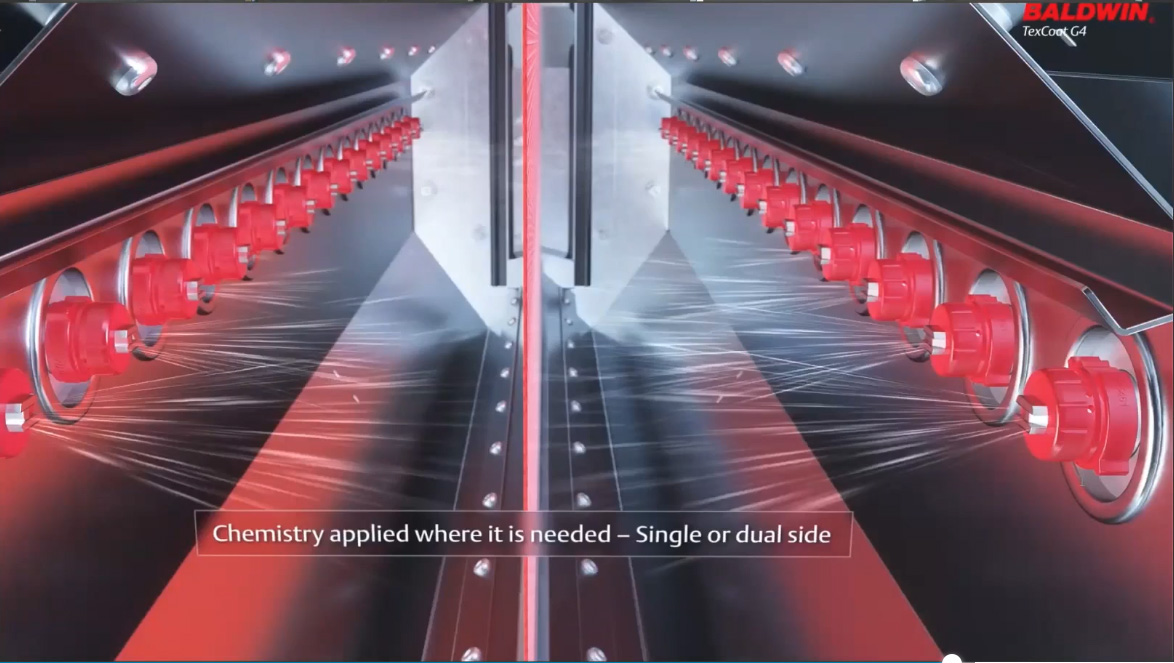 "The finish chemistry in the second bath contains a certain percentage of solids, with water as transport for this chemistry, all of which is evaporated, which takes a lot of energy and heat," Stanford said. "For colour changes, the baths must be emptied, cleaned and refilled each time, which is becoming more of a problem as batches get smaller and more production changes lower productivity.
Batch sizes are now down to 2-3,000 metres from the 50-100,000 metres of the past, he added.
"There can be between 50-150 litres of chemistry washed away with the wastewater and every time the machine stops it is left running at temperature."
Precision pulse spraying
Alternatives to 'wet-on-wet' dyeing and finishing systems based on padders include foam applicators, kiss rolls and spray dyeing, either by rotors or precision pulse technology, the latter being the technology Baldwin has introduced, drawing on experience from its off-set printing business.
The chemicals the Baldwin system can apply include both fluorocarbon and non-fluorocarbon durable water repellents (DWRs), antimicrobials, flame retardants, wicking agents, softeners and digital pre-treatments – in fact, anything that is sprayable.
Because the system is non-contact, changing colour doesn't entail having to clean all the equipment and add-on chemical amounts of between 20-80% can be adjusted "on the fly".
"Machines that don't stop are more efficient," Stanford said. "Making ten such changes over 24 hours is around 150 minutes, with the machines having to be heated up each time taking out more value. Over a year, this can have a big impact on production costs."
The spray can also be applied where it is needed, he added, on one or both sides of the fabric. There is no need for water repellency, for example, to be on both sides of a polo shirt, and it is actually preferable to not have it on the skin side, but to have a wicking treatment there instead, which is impossible with padder operations.
"From our point of view, brands and retailers are now actively seeking out new processes like ours. We are currently involved in projects with brands and retailers who, while not purchasing machines directly, are investing money to run our machines over months to calculate what can be achieved. This involvement is very refreshing."
Bio-Logic
A significant new development in finishing chemicals was introduced by Gunther Duschek of the Rudolf Group.
With 1,745 employees at 50 locations and an annual turnover of $300 million, Rudolf, headquartered in Geretsried, Germany, manufactures some 2,700 separate products globally, ranging from sizing agents to apparel care treatments.
Its new Bio-Logic water repellency treatments are the first to be based on plant extracts and natural waste products.
Up until 2000, Duschek explained, fluorocarbon (FC) products dominated in this water repellency, and because they perform so well, they are still needed in products such as medical gowns and firefighter's uniforms.
From 2002 onwards, however, due to health concerns, many FC-free products have been introduced, but these may sometime not be real alternatives, containing other hazardous chemicals such as polyacrylates, formaldehyde-melamine resins, paraffins, polyurethanes or silicones.
Biomimicry and studies of natural models such as lotus leaves or feathers played an important role in redefining the environmental impact of some textile chemistry and gave birth to the very first fluorine-free DWRs, but Rudolf's new Ruco-Dry Bio CGR, is the first DWR finish based on natural waste – by-products that accumulate during the processing of cereal grains in the food industry which would otherwise be disposed of.
As such, the active component is more than 90% bio carbon, while further ingredients are incorporated to not only boost the water-repellent performance, but also balance secondary features such as smooth runnability in production, breathability and fabric hand.
Ruco-Dry Bio NPE, meanwhile, the second new product in the Bio-Logic family, is made entirely from a mixture of materials derived from plants.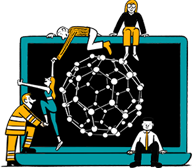 Business intelligence for the fibre, textiles and apparel industries: technologies, innovations, markets, investments, trade policy, sourcing, strategy...
Find out more