Fibres/​Yarns/​Fabrics
Thermore Ecodown Fibers Marble: Turning insulation into art
The Italian company's current Ecodown Fibers utilize the most advanced free fibre technology on the market.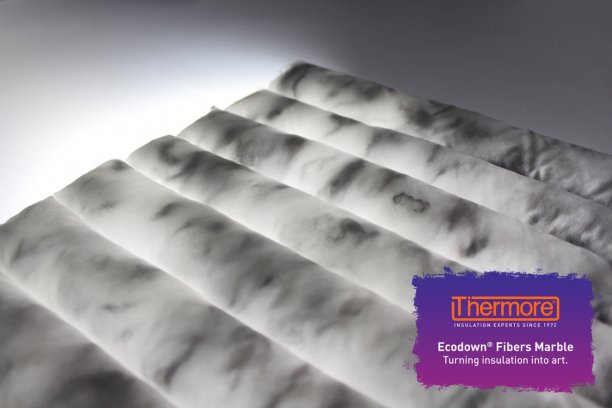 1st January 2020
Innovation in Textiles
| Milan
Sponsored Editorial
Thermore Ecodown Fibers Marble. © Thermore
For the past five years, Thermore has worked hard to develop the best possible free fibre technology. The Italian company's current Ecodown Fibers are very lofty, with a high fill power, durable, recycled and white. They utilize the most advanced free fibre technology on the market.
Giving garments unique visual interest
Speaking from the company's Milan headquarters, a spokesperson for Thermore commented: "We realized there was very little to improve, technically. There was only one thing that we could change with this product and it would make all the difference – and that was the way it looks."
"The progress in fabric technology now allows fabrics to be very resistant and so light that you can see through them. We felt the apparel world was ready for the next challenge - using insulation to give garments unique visual interest."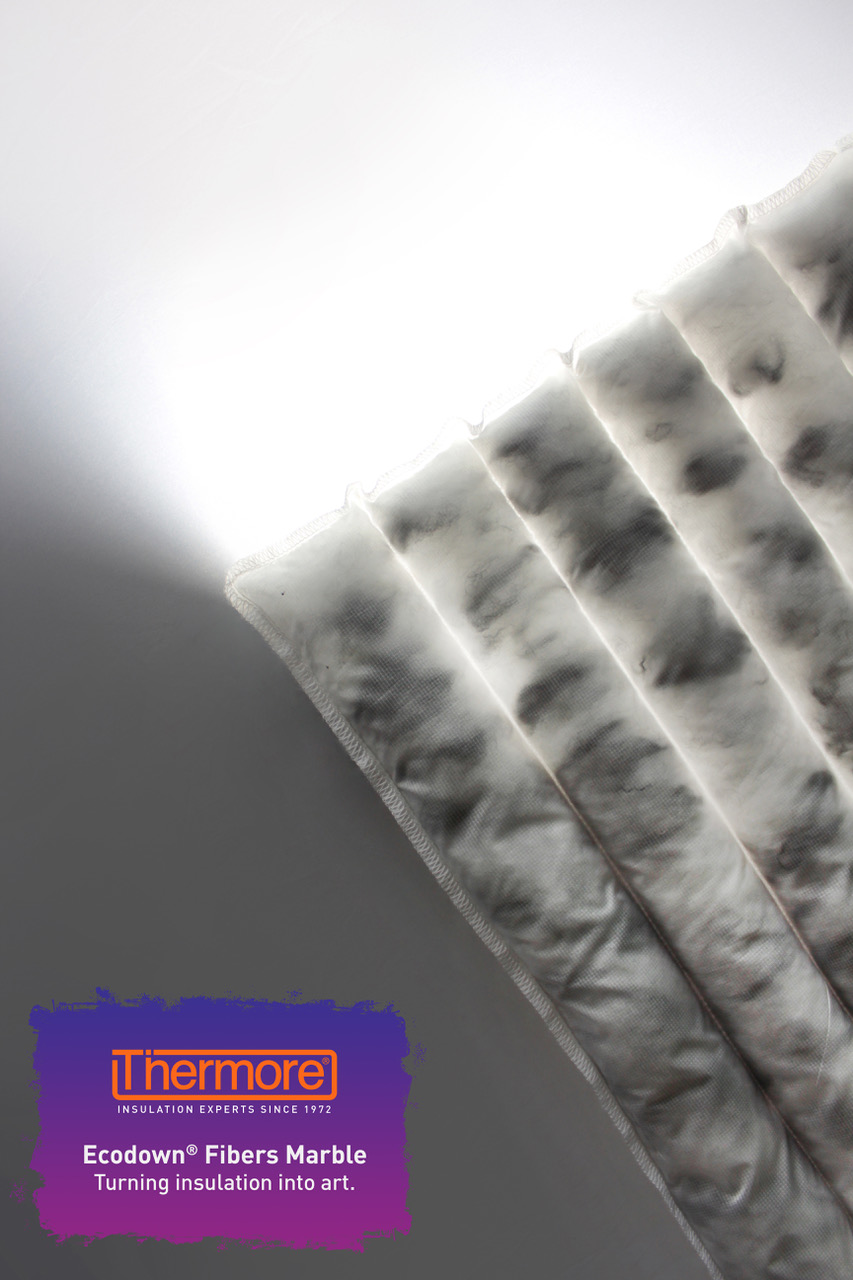 Thermore Ecodown Fibers Marble. © Thermore
Ecodown Fibers Marble
Thermore has now introduced its revolutionary Ecodown Fibers Marble, which the company says, brings insulation into a new era - it turns insulation into art!
"Words cannot describe this effect, so here are some photos," Thermore enthuses.
"Ecodown Fibers Marble is a true game changer in the apparel industry - jackets will never look the same, each garment will be unique, there won't be two identical garments."
Just like Art
"Why is marble so prestigious? Because there is no single piece that is identical to another, making each small piece of apparel a one of a kind. Just like art."
"Humans need to feel unique, and clothing is a way to express our personality through our appearance. We all want to be different. This is why Thermore created Ecodown Fibers Marble - you will never feel like you are wearing something ordinary, every jacket is a piece of art with a unique design."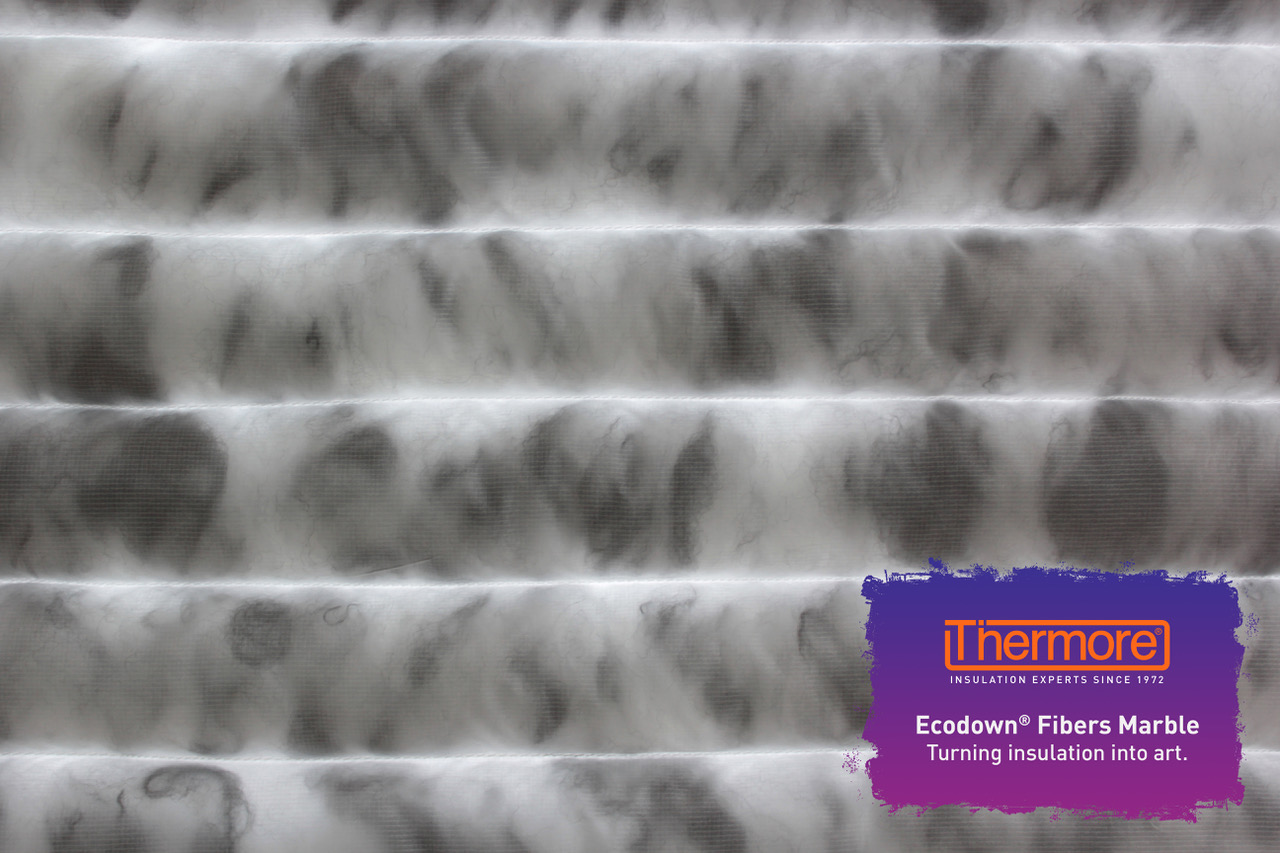 Thermore Ecodown Fibers Marble. © Thermore
Thermore is also introducing the new Ecodown Fibers Black product. It provides a 3D colour effect using light coloured fabrics. Additionally, it changes the hue of any fabric used, thus creating infinite possibilities and colours.
About Thermore
The company currently known as Thermore was founded by Lucio Siniscalchi in Milan, Italy, in 1972. Mr. Siniscalchi believed that there was a different way of doing things - a better way. The vision and entrepreneurial spirit from those early years are still the foundation for Thermore's business philosophy as it looks to the future.
Thermore has been at the leading edge in thermal insulation technology and continues to be a pioneer in the development of advanced fibres and innovative structures that help the body maintain its natural warmth.
Today, Thermore's corporate offices are still located in Milan, a city well noted as one of the leaders in global fashion and design. Milan offers the ideal setting for the Thermore R&D team to explore trends and introduce innovative products to the outerwear market.
Visit Thermore at upcoming trade fairs
ISPO
26-29 January 2020
Neue Messe Muenchen
Messegelaende
81823 Muenchen
Germany
Thermore Booth Number: C1-330
OUTDOOR RETAILER WINTER SHOW
29-31 January 2020
Colorado Convention Center
Denver, Colorado USA
Thermore Booth Number: 56030-UL
Further information
Thermore S.p.a.
Via Tortona, 35 - 20144 Milano – Italy
Tel. +39 02 00611711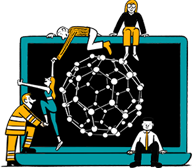 Business intelligence for the fibre, textiles and apparel industries: technologies, innovations, markets, investments, trade policy, sourcing, strategy...
Find out more