Making clothes has always been a labour-intensive activity. The industrial revolution mechanised and automated textile production in the 18th century, whilst the invention of the sewing machine in the following century moved the bottleneck to the cutting room. Computer controlled cutting machines solved this problem, however, the task of assembling the garment is still mainly left to the manual labour.
An Atlanta, US, based brand SoftWear Automation, launched in 2012, aims to change this by creating autonomous 'sewn good' worklines for home goods, footwear and automotive sectors. With its patented Sewbots fully automated technology, the company aims to geographically shorten the distance between manufacturer and consumer by utilising benefits of disruptive technologies.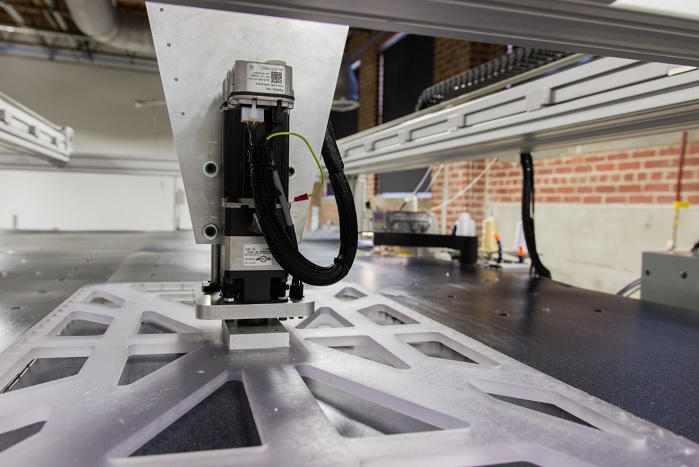 "In 2002, the Berry Amendment went into effect restricting the military from procuring clothing that was not made in the USA. Complying with the rule proved challenging due to a lack of skilled labour available in the US that only got worse as the current generation of seamstresses retired with no new talent to take their places. It was under these circumstances that the initial idea for Soft Wear was born and the company was launched in 2012," explained Chairman and CEO Palaniswamy Rajan.
"Since then, we have grown our team to 25 engineers and developers, delivered our first products in the US and are currently working on moving from worklines for home goods to launching our first fully automated workline solely for apparel production." The company initially received US$ 1.75 million grant from the defence department's Defense Advanced Research Projects Agency (DARPA) to produce a prototype of its automatic sewing machine in 2012. After that, SoftWear received a US$ 2 million grant from the Walmart Foundation/Georgia Tech and a US$ 3 million Series A from CTW Venture Partners in 2014. SoftWear recently closed a US$ 4.5 million Series A1, ultimately raising just over US$ 10 million in the past five years.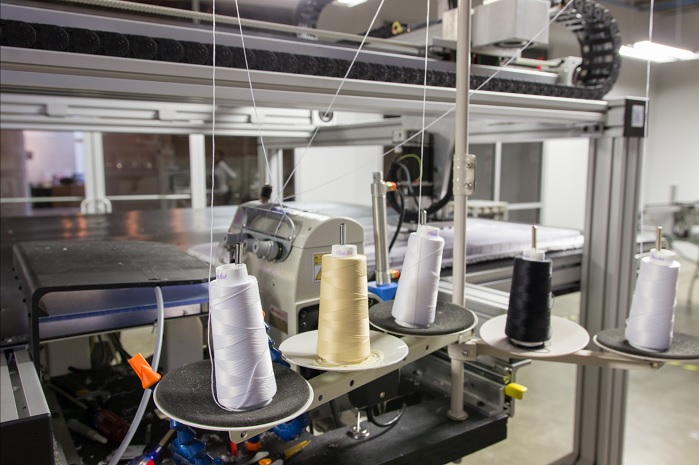 Shortening lead times
The company's Sewbots use a combination of patented high-speed computer vision and lightweight robotics to steer fabric to and through the needle with greater speed and accuracy than a human. Using Sewbot worklines customers are expected to be able to increase productivity while decreasing their overall defect rate. "They are also able to move their sewing closer to the end consumer or materials supply chain shortening lead times and reducing competitive pricing pressure without the need for chasing cheap labour all over the globe," said Mr Rajan.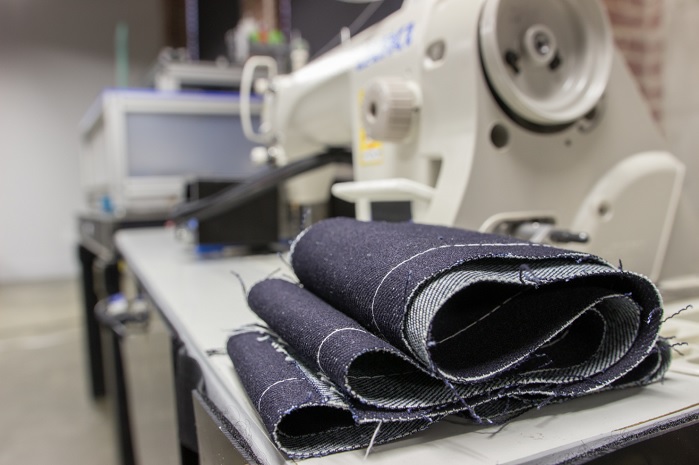 "Most current automation in textiles and apparel is single operation specific —focused on automating a particular process— and still requires an operator to feed and manage the machine. Right now, we are seeing a strong desire to shift from this process focused automation to full automation, going from fabric roll to finished good with minimal human interaction. This shift will drastically transform how and where we manufacture giving brands and manufacturers to move closer to their customers or their materials supply chain."
Currently, the company is developing a fully automated workline for T-shirts. "This line will go from cut piece to finished t-shirt without human intervention— save the machine operator managing our workline of course. When launched in the fourth quarter of 2018, this line will be capable of running 24/7/365 with a projected output of over 1 million shirts per year," explained Mr Rajan.
Sewbo robot
Another US start-up, Sewbo, based in Seattle, WA, was founded by a web developer Jonathan Zornow, who also believes he can offer a solution that would not only produce garments of higher quality, but could also help bring garment manufacturing back to US. "Our technology will allow manufacturers to create higher-quality clothing at lower costs in less time than ever before," said Jonathan Zornow, who invented the technology. "Avoiding labour issues and shortening supply chains will help reduce the complexity and headaches surrounding today's intricate global supply network. And digital manufacturing will revolutionise fashion, even down to how we buy our clothes by allowing easy and affordable customisation for everyone."
Despite widespread use in other industries, automation has made little progress in clothing manufacturing due to the difficulties robots face when trying to manipulate limp, flexible fabrics. Sewbo has addressed this issue by using a non-toxic polymer to temporarily stiffen fabrics, allowing the off-the-shelf industrial robots to build garments from a rigid cloth, just as if they were working with sheet metal.
The fabric panels can be moulded and welded before being permanently sewn together, and the water-soluble stiffener is removed at the end of the manufacturing process with a rinse in hot water. Patent-pending in 10 countries, the technology of temporarily stiffening fabrics can be used on a number of fabrics, including delicate materials, with the use of alternative low-impact treatments, except for impermeable materials, such as waterproof or coated fabrics, the manufacturer explains.
Assembling trousers for US military
Having secured several patents, which include the general concept of temporarily stiffened fabrics, as well as goods that have been assembled from the stiffened materials, and the method for applying the treatment and for manipulating the stiffened materials, Sewbo is now working towards commercialising its technology.
In October 2016, the company announced its plans to pilot its robotic process with Bluewater Defense, a leading manufacturer of uniforms and equipage for the US Department of Defense. The company produces 8,000 pairs of combat trousers a day, half of which are made in a Puerto Rican factory that employs 500 people who sew garments together. "It requires 64 operations just to make a single combat trouser," said CEO Eric Spackey. "If we can automate every two to three of those, it will make the process much more efficient."
According to Sewbo, the company is now in the research and discussion stages. "The military requirements are as strict as they are extensive, so there's a lot of work to make sure that this will be compatible with their needs," commented Mr Zornow.
New ARM Innovation Hub
This year, the Department of Defense awarded the 14th Manufacturing USA institute – the Advanced Robotics Manufacturing (ARM) Innovation Hub – to American Robotics. The eighth DoD-led institute, the ARM Institute joins the Manufacturing USA network in its collective effort to help revitalise American manufacturing and incentivise companies to invest in new technology development in the US.
Headquartered in Pittsburgh, PA, the winning consortium – comprised of state and local governments, industry, universities, community colleges, and non-profit organisations from across the country – contributed US$ 173 million, to be combined with US$ 80 million in federal funding. "The substantial cost matching reflects the importance the U.S. robotics community places on this institute and its value to US businesses, academia, and state and local governments," the organisation explained.
The ARM Institute joins the Manufacturing USA institute network, a programme with industry, academia, and government participants who co-invest in the development of cutting edge manufacturing technologies and capabilities.
Further reading
WHOLEGARMENT investment cuts labour costs and creates new opportunities for Sabry Maglieria