Sabine Anton-Katzenbach reports from the A+A Safety, Security & Health at Work trade fair in Düsseldorf, Germany.
The new dress at work is fashionable, cool and sportive. More than ever work wear and protective wear has been inspired by outdoor wear and sportswear thus adding elasticity, moisture management, UV-protection and anti-odour properties to a stylish look.
Still, there is enough space for further improvement. As to be seen widely at A+A 2013 in Düsseldorf working clothes are still getting tougher and even more stretchable. Additionally, the sector is giving sportswear´s three layer clothing system and its social compliance initiative a chance, making garments lighter and sustainability a topic of growing interest.
Thanks to the sportswear industry wearing comfort has become a matter of great importance in the apparel industry. Stretchable materials such as softshells and elastic denims made jackets and trousers become much more flexible and provided leisure wear with a new degree of activity. It did not take long and comfort became a big fish in the area of work wear and protective wear, too.
People got used to stylish and highly functional clothing in their daily life and were not about to dispense with its benefit during work. Consequently, work wear in a fashionable look and with new properties and features such as moisture management, breathability, stretch and ultra violet protection was on the rise at A+A 2007. Four years later, at A+A 2011, they had become standard for the entire sector: high performance has not only become an added value in work wear but in multifunctional protective wear too.
Fashioning at work
At A+A 2013, in turn, ergonomics, fit and style were the predominant issues in order to tweak wearing comfort. They made innovative textiles stand back and instead put patterns in front.

Enhanced by Gen Y's street wear style work wear disrobed its frumpy charm and made it on the catwalk. New colours like black, anthrazite, sand and brown come into play by replacing a solid and classical cornflower blue in favour of bicoloured styles. Pockets are torn from the inside to the outside where they play a major role as design patterns.
Braids made from reflective material complete a casual look, providing the clothes with additional safety functionality. Further on, waistband work trousers replace dungarees. Coats vanish in favour of jackets and vests. Shirts and blouses are being substituted by polo shirts, tees and hooded sweat jacket. Still, the fashioning of work wear has not come to an end yet.
New textures of fabric such as rip stop patterns and vintages are on the move breathing new life and a sportive look into cotton and poly cottons. Yet, protective clothing has been undergoing the same process because a growing number of employers request a uniform look of their teams independently from where their working places are and whatever degree of safety is required. Therefore clothing to protect against heat and flame, the thermal hazards of an electric arc, rain and chemicals, high visibility clothing and protective clothing for use in welding and allied processes has become much more stylish, yet neither forfeiting their health saving properties nor infringing upon regulations of international standards.
Light, durable, comfortable, protective
Although mostly fashion aspects set the tone at the trade show there were innovative textiles to be seen, too, on Düsseldorf's A+A 2013. Companies like US based Invista and DuPont presented some cutting-edge textiles for work wear and protective clothing.
In order to offer light-weight durability Invista featured its CORDURA® Lite Plus fabrics for work wear reinforcement. An increased filament density and lower denier per filament result in a higher coverage factor which is responsible for high abrasion resistance while offering a smooth, soft and supple fabric hand.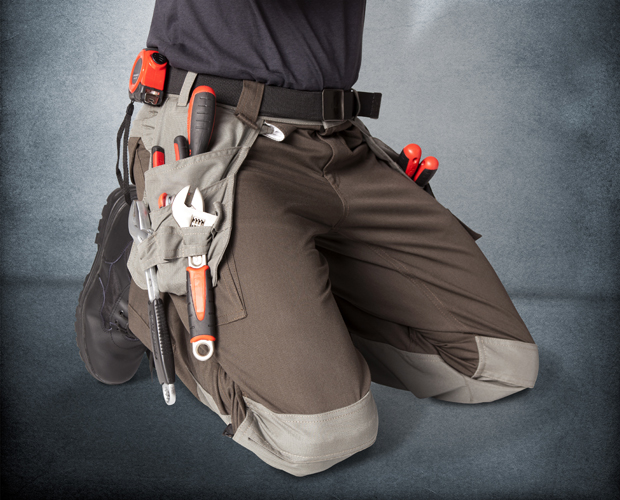 Responding to the work wear market's need of fabrics with a modern and popular appearance, comfort, light-weight and long-lasting durability the company in cooperation with Malaysia based Penfabric mill developed a range of fabrics made from an intimate blend of 75 percent cotton and 25 percent high strength nylon 6,6.
The so called Cordura® NYCO (nylon/cotton) Fabric Workwear range comes with or without mechanical stretch and on behalf of customers' needs is provided with functional finishes, such as odour control, UV resistance and wicking treatments. Technical denims are another piece of news from Cordura® brand. These highly durable fabrics come in different weights, colours, with and without stretch, with different hands and in fashionable constructions such as twill, canvas and Oxford.
Nomex® fabrics with multi-hazard protection are the latest coup of DuPont. The new fabric, Nomex® MHP, responds to a growing market for multifunctional cloths that protect against a variety of thermal hazards. A special blend of meta-aramide fiber [email protected] and para-aramid fiber Kevlar® (DuPont) provides a high degree of protection, durability and retains strength whilst remaining light, breathable and comfortable. According to DuPont Nomex® MHP has less shrinkage than FR treated cotton and current modacrylic blends, meaning a better fit and retention of fit, which is important for a lasting professional appearance. As softness, sliding, fluidity, falling and suppleness are among the fabric's properties, too, it fully satisfies wearers' need of high comfort.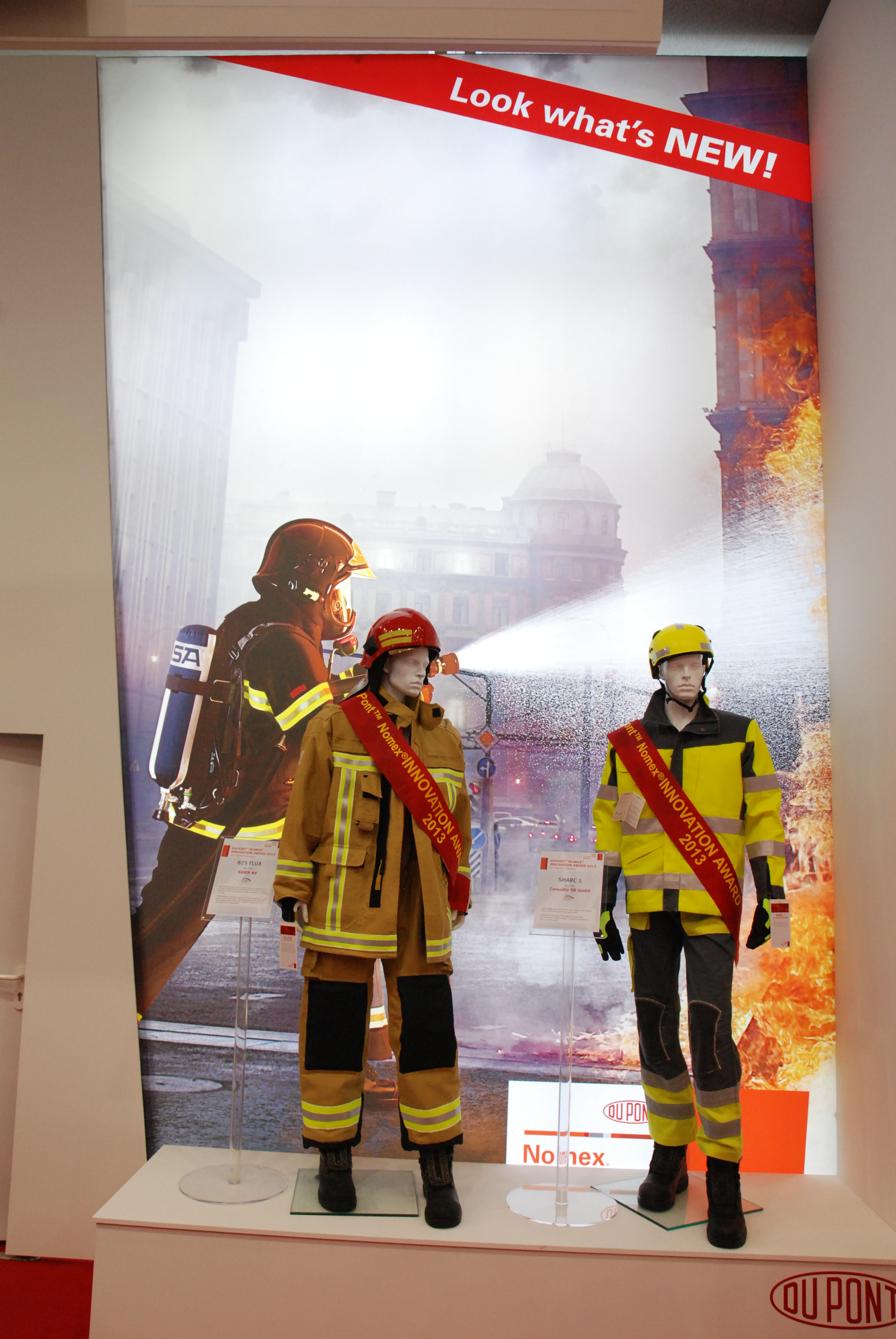 The impact of multi-layer systems
High performance is going to set another trend soon. Referring to DuPont's experience multi-layer apparel systems are on the move, setting new standards of comfort to protective wear. The technology of base and middle layer plus outer shell has been very successful in the outdoor and sportswear industry.
Permitting various combinations light-weight layers provide an ultimate climate condition and uncompromising wearing comfort at any time. This is why insulation by air layer technology will have a big influence on the design of protective clothing, too: although uniforms are getting lighter the degree of protection will increase. DuPont is going for the future trend and engineered a prototype of a base layer welding shirt. Due to the fibre's wicking properties and its good moisture management the knitted long sleeve shirt is made from Nomex® Comfort on the inside whilst a flame retardant viscose fibre is on the outside in order to repel molten steel.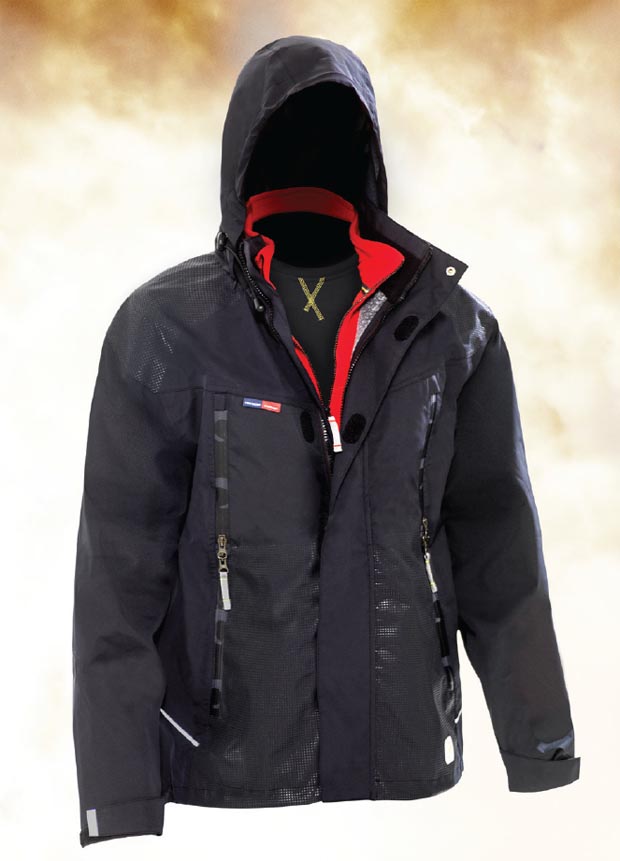 Although the multi-layer system seems to be 'dernier-cri', companies like the Scandinavia based Kwintet group gave it a start with their collection of work wear and protective clothing almost ten years ago. At A+A 2013 the company presented its latest innovation: a 3-layer work wear system with Cocona technology, which is based on the incorporation of natural active, carbonized particles that have micro porous structures into fibres, fabrics, polymers, and films. Kwintet's GEN Y Cocona collection is composed of short and long sleeve t-shits, fleece, softshell, outdoor and winter jackets made from polyester with embedded Cocona technology.
Keyword is sustainability
Yet, sportswear does have even more impact on work wear and protective clothing industry. The keyword is sustainability. This year at A+A, cradle to cradle certified work wear was presented for the first time ever. The cradle to cradle system is based on the idea that waste is food. According to this concept, all the materials that make up a product are reused in a worthwhile way and without loss of quality to source new products after that product's first life cycle.
Consequently, as innovation leader in the area of work wear fabrics Lauffenmühle from Lauffen (Germany) engineered "reworx" fabrics, which is composed of a biodegradable, mineral oil-based man-made fibre called "infinito" and Lyocell from Lenzing (Austria).
Bierbaum Proenen (Cologne, Germany) was the first company to present an entire collection made from the company's reworx fabrics on A+A 2013. Dutch Van Puijenbroek Textiel, too, went for the principle of cradle to cradle and designed a closed loop system with textile service providers in the Netherlands. When Van Puijenbroek provides its "Rework" work wear made from 100 percent cradle to cradle certified cotton textile rental services clean it using environmentally friendly techniques and repair or replace it if necessary. When work wear has to be replaced it is collected by specialists who take care that zips and buttons will be reused as raw materials for new products whilst cotton is processed into yarn or compost.
Unfortunately economically and socially friendly aspects have not yet been playing an important role in the sector. Nevertheless some companies marked a start by promoting organic cotton, recycled polyester and the cradle to cradle system, by supporting the Fair Wear Foundation or the Clean Clothing Campaign, by having signed to the SA 8000 or by integrating an environmental management system. However, when it comes to a higher degree of sustainability in the branch, there is still much work to be done.
Cert. eng. Sabine Anton-Katzenbach