27th July 2018, Stony Brook, NY
Forensic protection for US cotton
A $1.15 million order has been secured by Applied DNA Sciences, based in Stony Brook, New York, for its SigNature T platform technology to tag, test and track three US cotton varieties – Pima, Acala and Delta – in the upcoming 2018/2019 ginning season.
"We are pleased that ongoing efforts to build the market for tagged, traceable and sustainable cotton are converting into new orders across all three main US varieties, reflecting the recurring use of tagged cotton across the home textiles category," said Dr James A. Hayward, President and CEO of Applied DNA. "As brands and retailers continue to deploy strategies and technologies to ensure brand protection, label compliance and consumer assurance, our molecular taggant technology platform is ideally positioned to protect their supply chains by providing assurance of quality and provenance, and helps brands guarantee claims with certainty."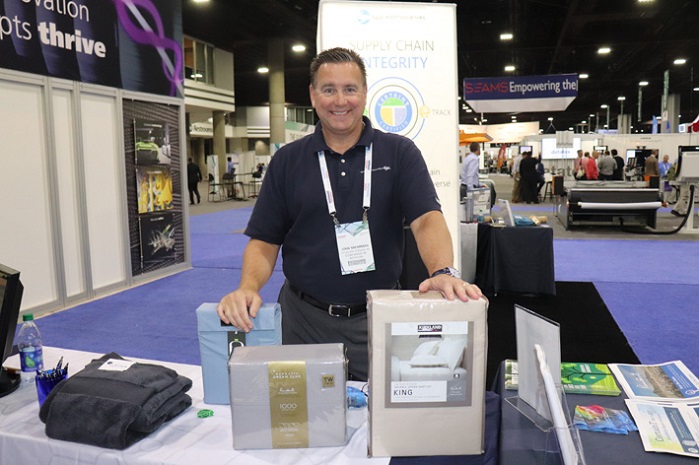 Since 2014, over 200 million pounds of cotton have been tagged, representing the source of a total end-to-end traceability solution that is substantiated by forensic test data.
Well over 5,000 DNA tests have been conducted on cotton tagged for the past four years.
SigNature T technology employs fully-automated DNA transfer systems that have been installed in nine gins, including one used this season to tag Australian cotton. The additional orders have not yet been received for the 2018/2019 ginning season.
"The database of information we collect from the tagging and testing of cotton fibre now reaches into the millions of data points covering bale identity, spray quality and supply chain testing metrics to ensure true cotton integrity that can be preserved from source to the retail level," said Dr Hayward. "The global implementation of proper controls for segregation of cotton at the gin all the way to finished goods ensures total traceability with no room for substitution."
Applied DNA is a provider of molecular technologies that enable supply chain security, anti-counterfeiting and anti-theft technology, product genotyping and DNA mass production for diagnostics, personalized medicine and therapeutics.
"These solutions and services help protect products, brands, entire supply chains and the intellectual property of companies, governments and consumers from theft, counterfeiting, fraud and diversion," explained John Shearman, Executive Director of Marketing at the recent Techtextil North America exhibition in Atlanta.
"SigNature DNA is the core technology at the heart of a family of uncopiable, security and authentication solutions, targeted a wide range of industries, including but not limited to, pharmaceuticals and nutraceuticals, textiles and defence materials, and DNAnet, for anti-theft and loss prevention, and digitalDNA, providing powerful track-and-trace. The products provide a forensic chain of evidence in large commercial ecosystems."
This article is also appears in...