Composites
Formax works with Gold Coast Yachts to develop all-carbon B53 catamaran
Custom carbon fibre fabrics developed by Formax helped Gold Coast Yachts achieve the challenging weight and engineering specifications.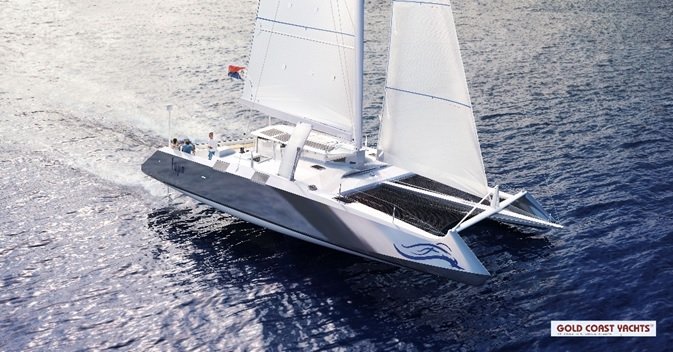 3rd March 2015
Innovation in Textiles
| Leicester
Formax's newly appointed US Business Development Manager, Philip Steggall, assisted the boat builder Gold Coast Yachts in achieving the challenging weight and engineering specifications for the B53 high-performance racer/cruiser. Custom carbon fibre fabrics developed by Formax were used in this project.
"The Formax fabric allowed us to get air out ahead of the resin front, instead of entrapping it within the laminate, as is done with wet bagging, and even with prepreg. That's how we hit the target weight, as well as the strength requirement, for this boat," said Rich Difede, Gold Coast Yachts' President.
As well as being a very fast racer for competitive sailing, the B53 is a high-tech, well-equipped cruiser with an overall length of 16.3 m. It has a displacement of 5500 kg, including most equipment. Gold Coast Yachts, located in Christiansted on St. Croix in the US Virgin Islands, is building its main structure.
Achieving laminate properties
The B53's designer Paul Bieker invited Formax's Philip Steggall, an experienced specialist in all processing techniques, to help decide which manufacturing process would achieve the laminate properties set out by the designer.
Although a number of composite build techniques for the boat are available, the concern for the boat builder was that it might not be possible to meet the weight and panel engineering specifications for the B53 through wet bagging.
Paul Bieker was also aware that successful resin infusion of carbon fabrics can be difficult, and prepreg would be very expensive, requiring costly materials, tooling and production equipment, and higher labour costs, the company reports.
Testing programme
Following a three-month testing programme in which Formax fabrics were used to build test panels using wet bagging and infusion techniques, the results from laboratories in the US and Canada demonstrated the superior properties of the infused panels.
The benefits included a 15% increase in compression strength, and Gold Coast Yachts was able to prove that it could meet the B53's weight, strength and stiffness specifications using infusion.
Key to this success was Formax's ability to develop custom multiaxial fabrics optimised for the infusion process, the company reports. For the B53 it engineered +45°/-45° biaxial carbon fabrics of 400 g/m2 and 300 g/m2 and a 0°/90° biaxial of 300 g/m2.
Stitched multiaxials
Stitched multiaxials perform better in infusion than woven or hot-melt bonded fabrics because they offer a z axis for air to escape through the thickness, resulting in fewer voids. The company also stitched a polyamide random monofilament web between the plies of carbon biaxial to offer a path for air to escape and resin to flow between the layers of carbon reinforcement.
Unlike a surface flow medium where the laminate is flooded with resin, microweb allows for an even flow rate of resin through the thickness and across the surface of the laminate. The web also boosts impact resistance and improves strength, according to the manufacturer.
"Some remain sceptical about the quality and properties of infused carbon laminates," commented Philip Steggall. "Our work with Gold Coast Yachts proves that infusion, when done correctly, yields a significant strength advantage. Part of the story is training of the personnel and part is material choice. Formax has infusion-specific materials and that's a huge help to customers."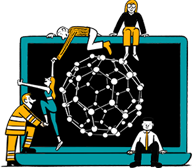 Business intelligence for the fibre, textiles and apparel industries: technologies, innovations, markets, investments, trade policy, sourcing, strategy...
Find out more