The biggest ever edition of Techtextil, the leading international trade fair for technical textiles and nonwovens, concluded in Frankfurt this month, hosting 1,477 exhibitors from 55 countries under the main theme Living in Space. More than 47,500 visitors from 114 countries, an increase of around 14% compared to 2015, made their way to Frankfurt this year.
This year, the leading exhibition demonstrated the wide range of applications for high-tech textiles and textile-processing technology from and for the aerospace sector, in cooperation with the European Space Agency (ESA) and the German Aerospace Centre (DLR). Opened by ESA astronaut Dr Reinhold Ewald, ESA Astronaut and Professor for Astronautics and Space Stations, University of Stuttgart, a special space-travel oriented exhibition area Living in Space attracted numerous visitors. The idea behind the area was to demonstrate the important role technical textiles play in almost every part of daily life, meaning they are also irreplaceable in space.
"High-tech materials based on fibres are essential in space travel when it comes to reducing the weight of space capsules. Every additional gram increases costs. Furthermore, textiles also save lives. Just think about astronaut suits. At the same time, materials that have been developed for space travel often find their way into daily life," said Dr Reinhold Ewald.
Future of textiles
The display in the Living in Space exhibition area revolved around four main themes: Architecture, Civilisation, Clothing and Mobility. The Space Habitat area, designed by star architect Ben van Berkel, gave insights into how construction can function in space and what a residential environment might look like on Mars. A range of products designed to maintain life, including geotextiles for growing plants and textiles for medical applications, energy generation and filtration, were presented. Lightweight structures for space capsules and membrane systems ventilation, as well as functional apparel textiles and space inspired fashion were also on display.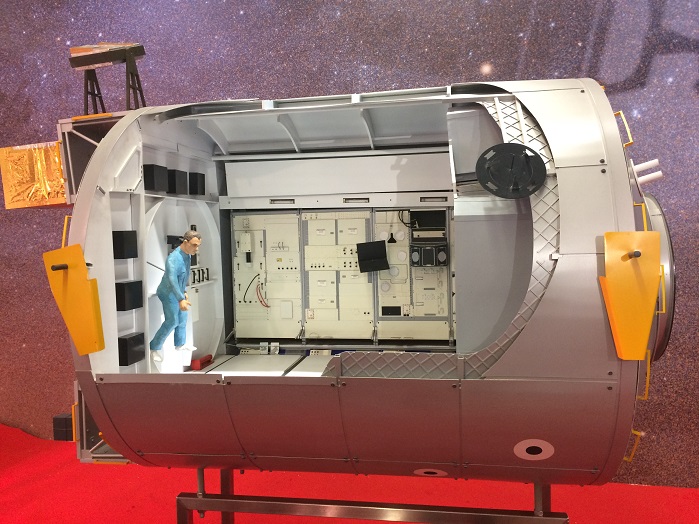 "Even today, textiles are dirt-repellent and have antimicrobial properties. High-tech fibres are used in implants just as much as they are in car tyres and in bridges; and so-called smart textiles provide light, heat and communication in the car, the home and for clothing," explained Olaf Schmidt, Vice President, Textiles & Textile Technologies, Messe Frankfurt.
"They offer the very best springboard for the next step: just as technical textiles can be found in every area of life on earth, the technical textiles and nonwovens sector will be providing the textile solutions that are necessary to move around and survive in space. That is why, this year, Techtextil exhibitors will be journeying into space as far as Mars."
Living in space
The highlight of the interactive area was a virtual reality journey through space to Mars that visitors could undertake and discover how technical textiles and their processing technology can make it possible to set up communities in space. "Space fascinates people all over the world. All our space missions are backed by many years of research and innovation in which new materials and processing technologies played a decisive role," said Frank Salzgeber, head of ESA Technology Transfer Programme Office (TTPO).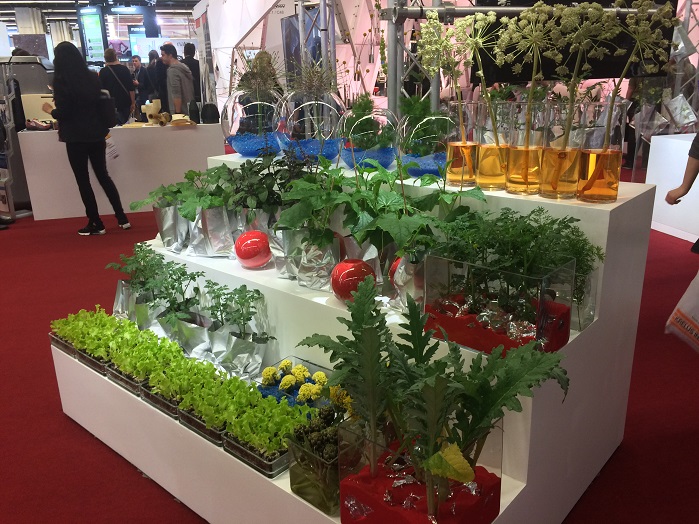 The film featured Outlast's Phase Change Material (PCM), a Certified Space Technology, designed to reduce overheating and sweat production. Initially developed for use in space in 2003, it is now applied in bedding, apparel and footwear.
The virtual reality tour also demonstrated the benefits of the artificial plant stalks developed by the Institute of Textile Chemistry and Chemical Fibres (ITCF) Denkendorf. Lightweight construction is made of compound fibre with carbon and glass fibres. Rigid, hollow, elastic and strong, it is designed to dampen vibration, whilst offering light weight and durability.
Material Gallery
The Material Gallery showed textile products and processing technologies from around 40 selected Techtextil exhibitors with links to space travel. On display was a sample of the mono-elastic knitted fabric with water based EVO coating, produced by Stahl Holdings for use in clothing and shoe uppers. Schoeller's brand Eschler Textil presented insular spacer fabric made of PES filaments, featuring cross and lengthwise running channels for optimised ventilation, for active cooling or heating in clothing.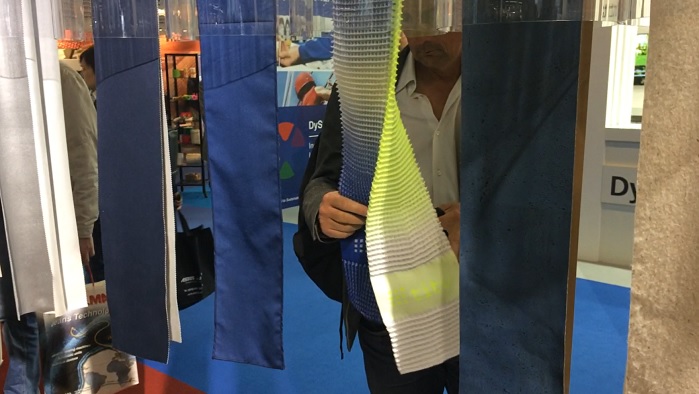 Karl Mayer Technische Textilien demonstrated a multiaxial knitted fabric sample made of carbon fibre, suitable for industrial applications in space due to its light weight, high performance and long life, the manufacturer explained. Alpex Protection exhibited its three-ply polyamide and PTFE membrance for light protection fabric for survival suits, offering high mechanical performance and a soft touch. Klopman's new K-Flame Xtra 245 softshell/ laminate, an inherently FR fabric developed with a windproof and rainproof breathable membrane, was also displayed in the special area.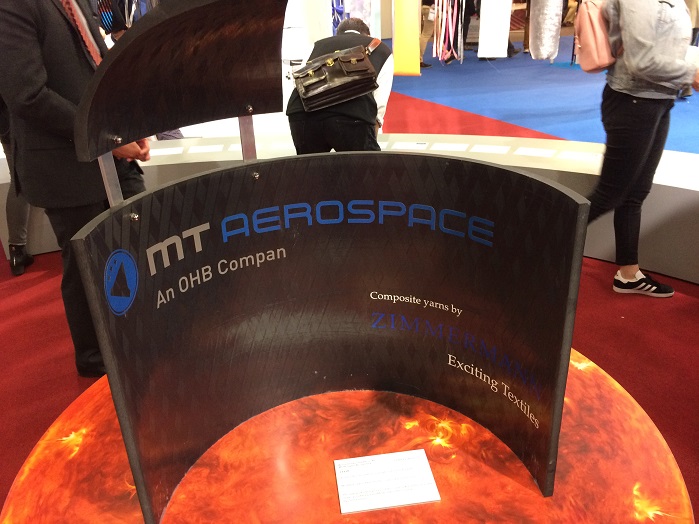 In addition, W. Zimmermann, a leading producer of elastic yarns used in knitted fabrics for compression and hosiery applications, was featured in a solid rocket motor case display. The solid-fuel booster rocket of the Ariane 6 was developed using new production process by MT Aerospace and modified carbon fibre roving by Zimmermann. At the exhibition, the company also highlighted smart fabrics made with its conductive silver yarns for use in medical applications, such as electronic muscle stimulation (EMS) units.
Fashion in Orbit
On display was also a capsule collection featuring innovative and creative designs, which was the final result of the first edition of the higher course Fashion in Orbit, supported by the ESA and developed by a group of international students.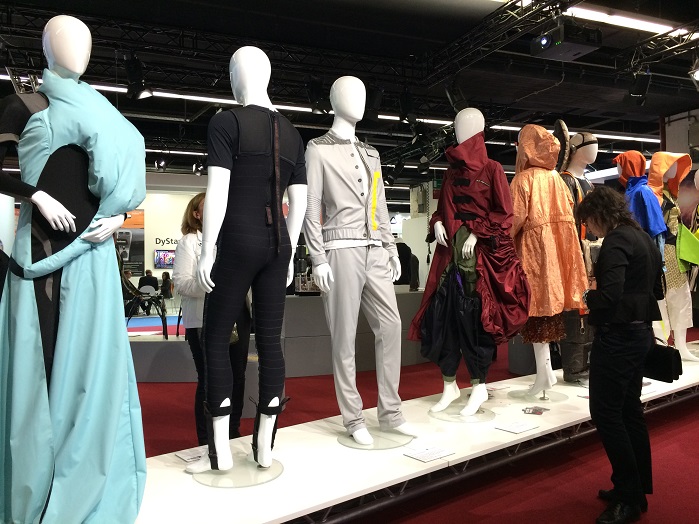 "The aim of Fashion in Orbit is to explore new visions of fashion in the age of technology taking inspiration by space and understand better how we can be more conscious of the transformation technology brings. We believe that space innovations will have a strong influence on how people behave and perform," commented Annalisa Dominoni and Benedetto Quaquaro, directors of Fashion in Orbit.
Textile innovations for cleanrooms
Satellites have to be assembled in a cleanroom. Cleanzone, an international trade fair for cleanroom technology, used the Living in Space area to demonstrate how production for space takes place. The special showcase used examples of space travel to provide a look at the variety of technical textiles. Participants included Fraunhofer IPA, which presented a film of a new, state-pf-the-art cleanroom that the institute developed for the ESA in the Netherlands.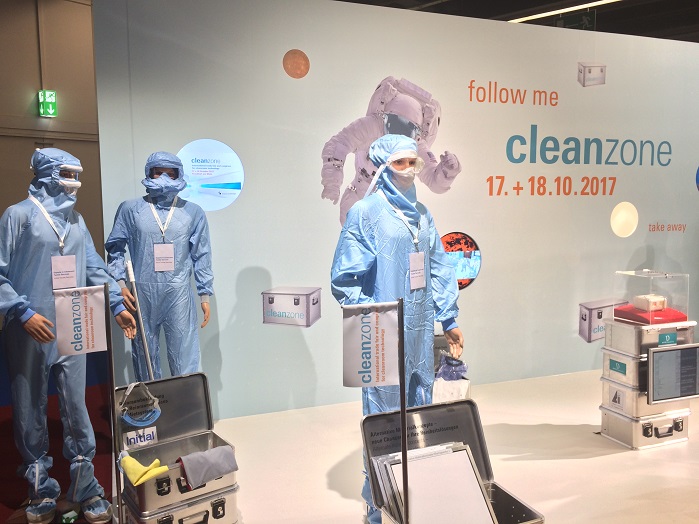 Visitors could also view cleanroom suits and mops offered by Initial Rentokli. Alsico Hightech demonstrated its material and design study for a cleanroom suit to show that high-tech and fashion do not have to be mutually exclusive. From cleanrooms to outer space is also one of the top themes at the Cleanzone trade fair in October.
Parachute fabrics for Mars 2020 mission
The space-oriented theme was also embraced by some exhibitors in the Techtextil halls. Heathcoat Fabrics woven and knitted fabric producer announced a project being undertaken with the NASA research department involving the development of parachute fabrics for the current Mars 2020 mission. Fabrics created under the DecelAir Superlight brand are currently undergoing rigorous testing at NASA.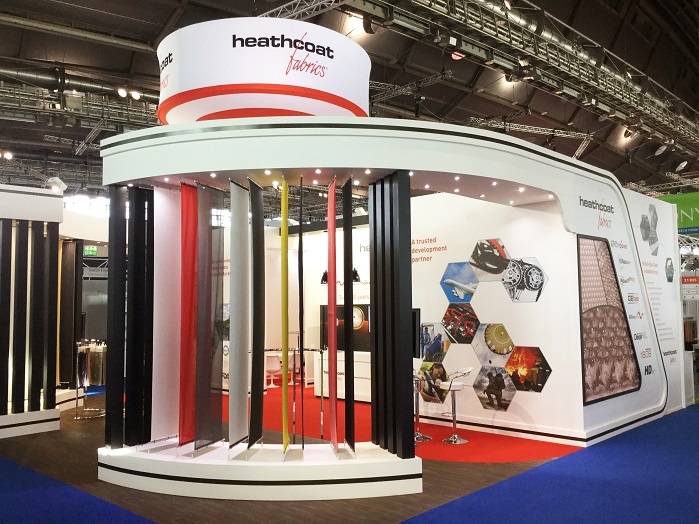 "We are working with the NASA research department to develop a fabric for use in the parachute for the next Mars rover landing in 2020. One of our products, fitting to this year's theme, was parachute fabric designed alongside NASA laboratories for use in the next Mars rover landing in 2020, incorporating our own Heathcoat Advanced Yarns for high strength, heat, and UV resistance," the company reports.
"It generated a lot of interest from the public who couldn't resist sampling some of our fabric that really is, out of this world. You can read more about us working with NASA's research team here."
Smart innovations
Stratasys, the 3D printing solutions company, was promoting additive manufacturing for aerospace at Techtextil. The company aims to deliver weight and fuel costs reduction, improved production efficiency and a flexible supply chain through its range of 3D printing materials for extreme aerospace environments, from clear and rubberlike photopolymers for functional prototypes to advanced production-grade thermoplastics.
Fritz Moll Textilwerke, a producer of elastic and non-elastic narrow fabrics and trims, was promoting its smart solutions for innovative applications. The company produces electrically conductive elastic and non-elastic narrow textiles, strings and nettings on special demand, based on copper and other conducting metals. The company was also promoting its patent pending Fausst project, knitting steel and composites together without the use of adhesives.
Statex Produktions & Vertiebs, a market leader in coated fabrics industry, was presenting a range of applications for its Shieldex brand. Its Shieldex textile sensors can be used to record force and pressure. The sensors are used in a TactileGlove sensory glove, by CITEC, Bielefeld University. The company is also involved in wound-monitoring projects, where the healing process of an open wound is controlled by a sensor.
Smart fashion on the catwalk
Launched successfully at Techtextil and Texprocess 2015, the Innovative Apparel Show showcased designs developed by young designers from universities for fashion and design from Germany, France, Italy and Portugal.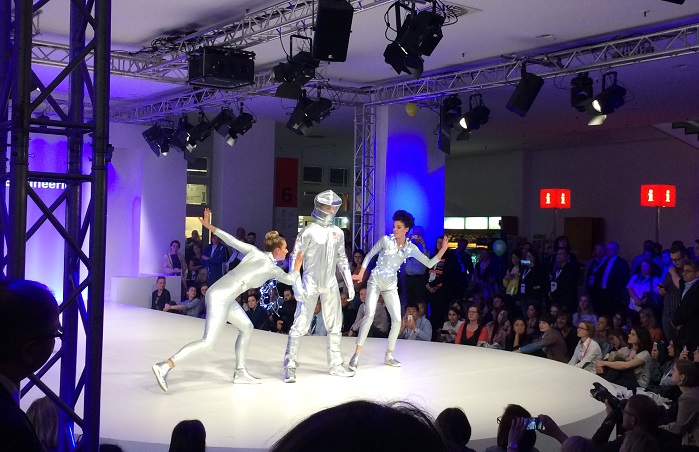 The show creations revolved around the subjects of textile effects, creative engineering and smart fashion, imagining the future of life in space.