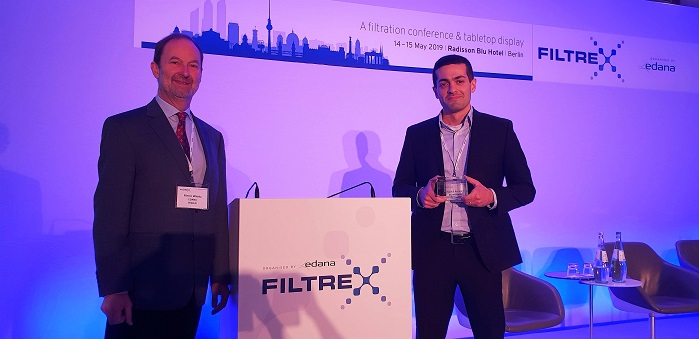 Dr Ing Mehdi Azimian, of Math2Market, receiving the award. © EDANA
Math2Market has won this year's Filtrex Innovation Award, the only award recognising innovation in the filtration industry, for its GeoDict software. The award recognises the efforts of all manufacturers of nonwoven based filtration products/elements and celebrate their continuous efforts for excellence and innovation. Votes were submitted confidentially by industry professionals attending Filtrex Europe, the nonwovens filter media conference and tabletop exhibition, being held in Berlin last week.
After each nominee presented a 10-minute showcase of their innovation, Math2Market was announced as the winner with more than 50% of the vote. This recognition of the industry is represented by a trophy featuring an artist's view of a filter media performance.
Math2Market was honoured for its innovative and easy-to-use FiberFind-AI module of Geodict software. This material simulator claimed to be the most complete solution for multi-scale 3D image processing and material modelling. FiberFind uses modelled nonwoven microstructures to train a neural network to label binder with artificial 3-D scans. After training, the neural network also recognizes the binder in 3D scans of real nonwovens.
"On behalf of Math2Market, it is a great honour to win the Filtrex Innovation Award 2019 in Berlin. This will motivate us to bring more and more innovative and practical features into our scientific software GeoDict. Many thanks to EDANA team for their great and professional organization of the Filtrex conference. A great place to learn and network," commented Dr Ing Mehdi Azimian.
"We are delighted to see the growing interest in the Filtrex Award, and the fact that nominees cover not only nonwoven filter media but also other steps in the supply chain is a great achievement in line with our vision for this contest," concluded Pierre Wiertz, General Manager of EDANA.
Other nominees shortlisted for the award were:
Extia 1000 by Ahlstrom-Munksjö, a 100% synthetic, highly durable, pulse cleanable filter media, designed to last longer in all operating conditions
micronAir Gas Shield by Freudenberg, developed to reliably protect passengers against harmful gases and unpleasant odours, and
Welstrat by Welspun, a singed and calendared specialty needlefelt, suitable for mid temperature ranges from 140° to 180°C
Learn more about the shortlisted innovations here – Nominees for 2019 Filtrex award announced.
This article is also appears in...