Fibres/​Yarns/​Fabrics
GKD hybrid mesh for industrial applications
Hybridisation offers two possible applications for nonconductive basic mesh designs.
10th November 2017
Innovation in Textiles
| Heslington
Whether the objective is to enhance the performance of components, reduce costs or counteract the limited availability of raw materials, reliable alternatives are much sought-after in many industrial applications.
GKD - Gebr. Kufferath AG (GKD), a market leader in application specific, high-performance mesh made of metal and other industrially weavable materials, provides solutions for plant engineering and the manufacturing industry with its custom-designed hybrid structures.
Thanks to the application-specific combination of different materials in one structure, hybrid meshes are said to enable decisive process improvements to be made. By intelligently combining the physical properties of the materials used, GKD develops new kinds of mesh structures that realise optimisation potential for individual customers. Alongside all metals and polymers, GKD also weaves materials such as aramid, ceramic, glass, natural products or textile fibres.
Hybrid meshes
Hybridisation offers two possible applications for nonconductive basic mesh designs. As such, a matrix of conductive materials can be integrated to act as Faraday components in order to provide shielding from electromagnetic radiation. GKD hybrid meshes also offer decisive added value in wear-intensive bulk-volume applications such as filtering process fluids. For heavily loaded surfaces, for example, the corners of filter leaves, GKD improves resistance through the partial use of hybrid mesh.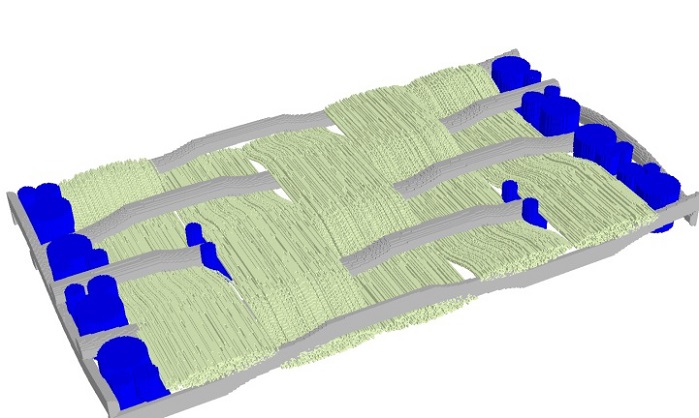 GKD combines a basic metal structure with a polymer material such as PTFE in a YMAX weave, which – unlike a pure metal structure – also helps achieve finer filtration rates more reliably. Another positive effect is that material costs are lowered by around 50%, the manufacturer reports. Compatibility with flexing cycles to fit the process in question, mechanical strength, temperature resistance or surface properties individually adapted in line with adhesion properties or cleaning behaviour are further typical examples of the process advantages offered by hybrid meshes.
Furthermore, the plastic or elastic forming properties can be altered in certain directions by selecting specific materials and changing the diameter of the metallic cross section. This makes hybrid mesh ideal as a high-performance shatter and fracture protection solution.
Up to ten material components
Despite the numerous proven advantages of hybrid meshes, they are not often considered by users. "One reason for this is probably a general lack of knowledge of weaving technologies and their fields of application. As a result, the option of hybridisation is unknown – and therefore also the unique solutions of GKD," the company explains.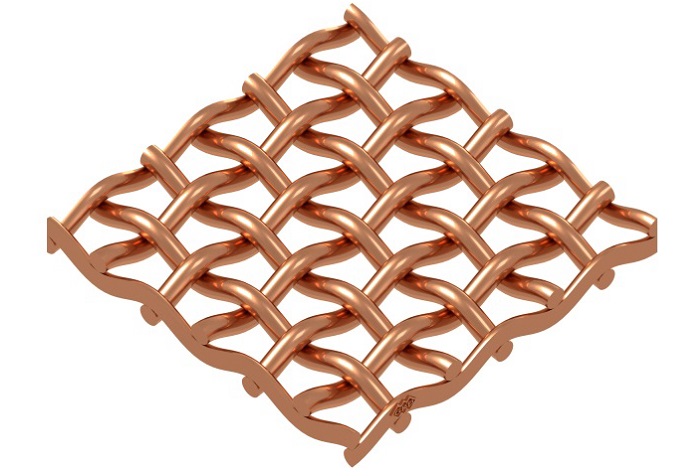 "The success of all GKD meshes is based on their application-specific development. As such, the virtually limitless range of materials that can be integrated in hybrid meshes greatly expands the range of solutions offered by conventional metal or synthetic mesh. For GKD, the only factors limiting the combination of materials are the customer's specific application conditions."
Thanks to a highly specialised network of suppliers built up over the course of many years, GKD also obtains materials such as ceramic in weaveable form. This is used to create custom-developed hybrid mesh using high-end weaving technology.
Everything from a single source
The feasibility of the solutions proposed by the Development department is tested by technicians with regard to material selection, weave type, mesh width and machine availability. GKD answers weave- and design-related questions using simulations.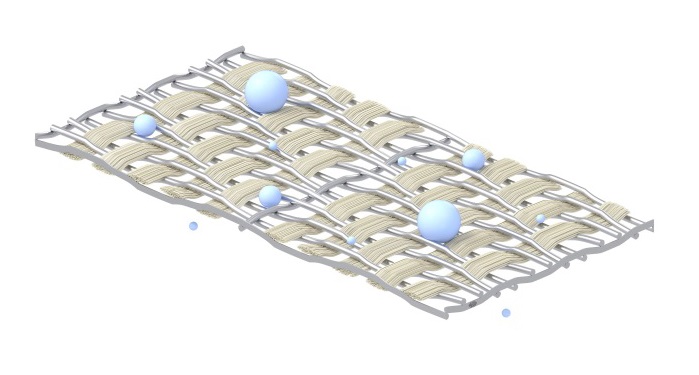 For this purpose, the GKD experts use a model created in the integrated simulation environment GeoDict to calculate properties such as strength, permeability or thermal conductivity. If the developed solution meets the customer's technical and economical expectations, the first test weaves are performed.
Thanks to this end-to-end weaving expertise and an integrated production environment, a custom-developed hybrid mesh is theoretically ready for series production within just a few months. "As such, hybrid meshes from GKD offer a variety of options for improving the efficiency, reliability and cost-effectiveness of processes and products," the company reports.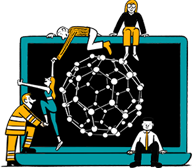 Business intelligence for the fibre, textiles and apparel industries: technologies, innovations, markets, investments, trade policy, sourcing, strategy...
Find out more