From new methods of make to previously unimagined end uses and test criteria, the world of textiles is expanding at an astounding rate. The Industrial Fabrics Association (IFAI) Expo, held in Charlotte, North Carolina October 18 – 21, brought together exhibitors of advanced textiles, specialty fabrics, and shade and weather related textiles, along with many of the technology providers involved in the processing of textiles from concept to commercialization.
New standards in testing
A day-long seminar in textile testing covered basic fibre, yarn, and fabric testing as well as the development of new criteria and tests for advanced textiles such as protective fabrics, wearable electronics, and other new functionalities.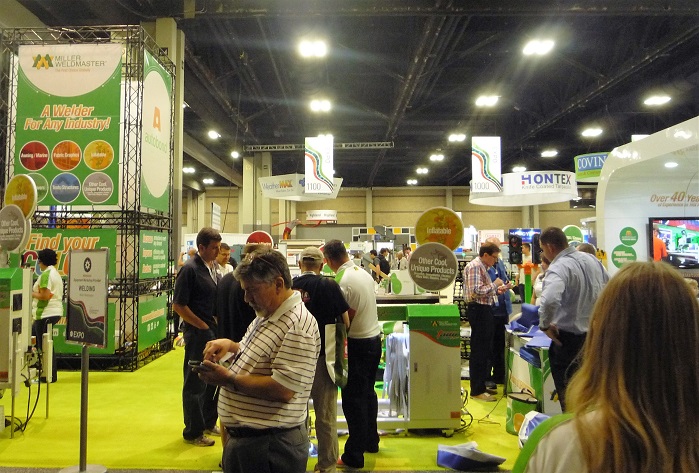 For example, protective textiles for military and first responders should be tested for ergonomics, enabling the wearer to perform the job at hand, as well as for safety, according to Dr. Emiel DenHartog of the textile protection and comfort centre at North Carolina State University (NCSU).
The testing of textiles and components in the lab is meaningless without testing the safety system in the field, he believes. But while laboratory tests are conducted under controlled environments, field testing for comfort requires different, more subjective criteria.
"New fabric technologies are much needed, but need to be developed with the human body in mind," suggested DenHartog.
The development of wearable electronics, or e-textiles, also requires a new way of thinking about testing, according to Dr. Jesse Jur of NCSU's textile engineering, chemistry, and science department. "What happens to textiles made with conductive materials in the human scenario of wear, wash, and repeat?" he questioned.
The testing program was offered in cooperation with NCSU and IFAI Advanced Textiles Source, and could be combined with lab time with exhibitors on the floor to earn a certificate as credit towards the NCSU Textile Technology Certificate Program.
Creating value with new materials
Exhibitors within the Advanced Textiles segment of the show featured innovative chemicals, polymers, and components engineered to meet the demands of technical and industrial textiles—such as space suits for any potential human mission to Mars.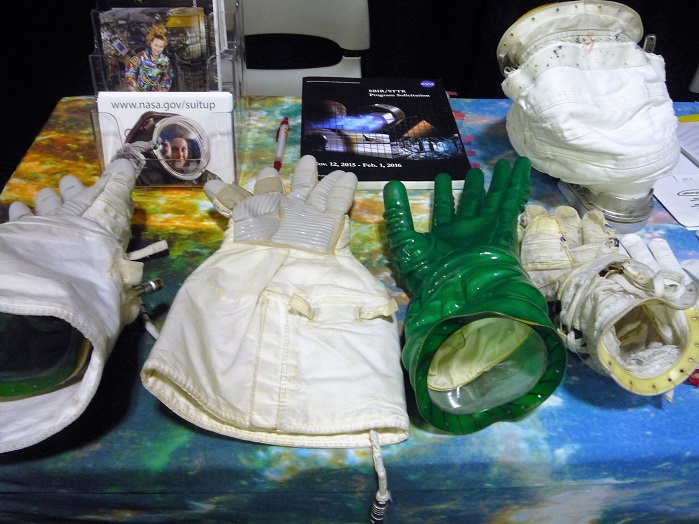 At the NASA stand, contractors for the NASA Langley Research Center and the Johnson Space Center outlined some of the criteria for these future fabrics, including thermal insulation, dust resistance, flammability, and long-lasting odour solutions.
"There's no laundromat in space," commented Henry Tang, senior materials engineer for Aerodyne Industries at the Johnson Space Center.
Lubrizol Advanced Materials introduced an expanded portfolio of water-based, durable coating technologies offering moisture management, abrasion resistance, or stretch control. For example, a "comfort" polymer creates a hydrophilic surface on the interior of a fabric, directing the movement of moisture from the inside to the outside.
The stretch control coating, applied to key areas of a garment, controls fabrics where they might be prone to over-stretch (as in too-tight yoga pants). The abrasion-resistance polymer is an ideal alternative to abrasion-resistant panels for outerwear, footwear, or other end uses.
Bolger & O'Hearn, a specialty chemical company from Fall River, Massachusetts, has brought a new PFC-free water repellent to market. Called Altopel F3® (which stands for fluorine-free finish), the products use a novel crosslinking system that results in excellent repellency and wash durability, achieving a spray test rating of 90 after 50 washes.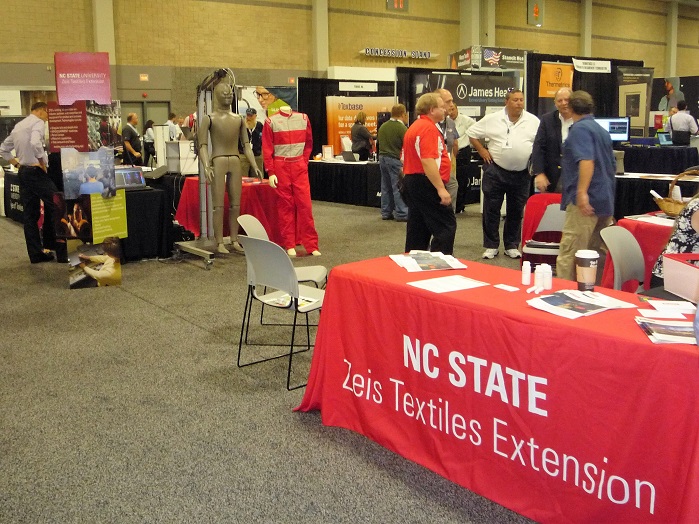 "We think we have the best-performing water repellent product in the market," said Shawn Honeycutt, sales manager for Bolger & O'Hearn. Altopel F3 will be marketed by Concept III.
In the rapidly growing area of wearable electronics, the critical factor is the development of conductive yarns and fibres. Marubeni America Corporation's Electro-Yarn claims to be the world's first conductive thread, created by coating a polyester multifilament with carbon nanotube on the surface of each filament, creating a network of conductive filaments.
The filaments can be customised, and offer durability and resistance to bend fatigue. The filaments are twisted together to create Electro-Yarn, which can be used as a sensor or signal cable/wire, or to create e-textiles.
Controlling the supply chain
The IFAI Expo Advanced Textiles sector also hosted a number of technology suppliers focusing on the growing demand for speed-to-market and sustainability within supply chains. One such technology is the Signature® T DNA tagging and testing system for textiles from Applied DNA Sciences (ADNAS).
The molecular DNA tagging of cotton fibre at the gin is creating a new level of security for the complex cotton supply chain. ADNAS' recent collaboration with Palmetto Synthetics and Techmer PM, which tags polyester at the pellet stage, brings certainty of provenance to synthetic fibres for the automotive and active apparel markets.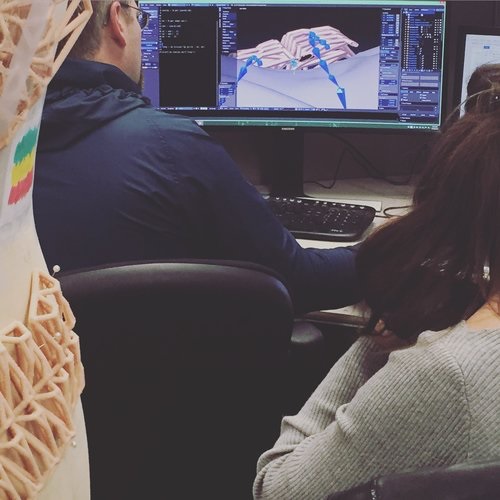 According to MeiLin Wan, VP for textile sales at ADNAS, DNA tagging of synthetic fibre for automotive interiors inhibits counterfeit "after sales" of auto parts. "We feel it could be a huge area."
A number of companies offering expanded digital and automated solutions to supply chain issues were on the floor as well. Seiichi Nakaya, president of Shima Seiki USA, pointed out that many brands are saving time by bringing prototyping, sampling, and production back onshore, close to the consumer.
Shima's SDS-ONE APEX3 3D design system enables the virtual development of knitting, textile, print, and apparel; integrating with the company's flat and WHOLEGARMENT knitting machines and advanced inkjet printers to create finished garments.
"The 18-month development cycle is killing the apparel business—the supply chain is too long," insisted Nakaya.
Gerber Technology, a provider of integrated technologies and automation enabling shorter and more limber supply chains, debuted its latest technology called AutoMatch™, a layout and cutting solution that uses advanced digital imaging to ensure that stripes, plaids, and other complex designs will match from one cut piece to the next.
Targeting the furniture industry, the AutoMatch system requires a single operator, minimising waste, saving time, and taking human error out of the equation. Bill Grindle, Gerber CMO, indicated that AutoMatch also holds potential for the made-to-measure apparel industry, which is undergoing an on-line renaissance in the menswear market.
Gerber's AccuMark 3D visualisation technology is another digital solution, importing patterns, textiles and avatars to create and fit virtual sample garments. The system was recently used by designer Danit Peleg to develop a line of 3D printed garments, propelling textile innovation to the next level.
"We want to understand 3D printing, even if it is counter-intuitive," said Grindle. "How do we move forward to printing garments? Let's be ready."