Research/​Development/​Education
Graphene to transform our everyday life
Discovered at The University of Manchester in 2004, graphene is a 2D material, consisting of a single layer of carbon atoms.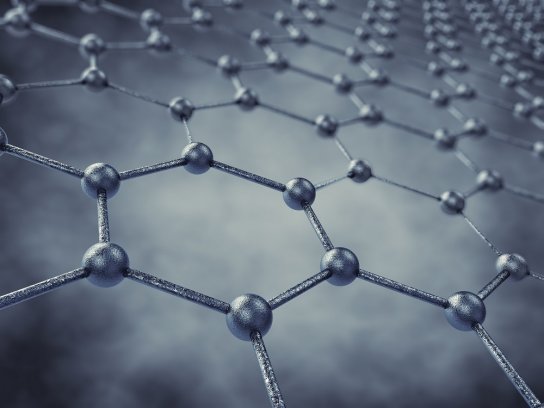 4th December 2017
Innovation in Textiles
| Manchester
After years of cooking in the labs, the first graphene-based products are beginning to enter a variety of end-use markets from automotive and sports, to fashion and smart textiles, offering qualities like mechanical strength, flexibility, light weight, electrical and heat conductivity.
Discovered at The University of Manchester in 2004, graphene is a 2D material, consisting of a single layer of carbon atoms arranged in a hexagonal lattice. Some of the currently developing applications of graphene include super-thin flexible electronics, cars, wearable tickets, robotic hands, medical devices, batteries, e-tattoos and fitness trackers, smart packaging for foods, smart branding to guarantee the authenticity of a product, as well as water, soil and air purification systems.
Whilst a number of companies like Directa Plus have already managed to incorporate graphene into commercially successful products, the study of graphene continues to be an ever-evolving field of research. Last month, a team of researchers at the University of Arkansas, US, found strong evidence that the motion of graphene could be used as a source of clean, limitless energy.
Studying graphene
Paul Thibado, Professor of Physics, University of Arkansas, has taken the first steps toward creating a device that can turn this movement into electricity. He predicts that his generators could transform the environment, allowing any object to send, receive, process and store information, powered only by room temperature heat. "Self-powering enables smart bio-implants, which would profoundly impact society," explained Prof Thibado.
Meanwhile, Manchester scientists recently used graphene water filter to demonstrate the capabilities of graphene-oxide membranes, turning whiskey clear. Previously graphene-oxide membranes were shown to be completely impermeable to all solvents except for water. Now, researchers have shown that we can tailor the molecules that pass through these membranes by making them ultrathin.
This new research allows for expansion in the applications of graphene based membranes from sea water desalination to organic solvent nanofiltration, also boosting the filtration efficiency by increasing the solvent flow rate. "Chemical separation is all about energy, various chemical separation processes consume about half of industrial energy usage. Any new efficient separation process will minimise the consumption of energy, which is in high demand now," said Professor Rahul Nair at the National Graphene Institute.
A quest for clean water
Following a massive investment from the UK government, Manchester remains the hub of graphene. Sebastian Leaper, from The University of Manchester, won the Eli and Britt Harari Graphene Enterprise Award last year to develop graphene membranes in water filtration systems. "I am currently using some of the prize money to build a small pilot system, which will enable me to test the membranes beyond the lab scale and play around with different configurations," he said.
"I have also been in contact with scientists from Almeria, Spain who work with solar desalination technology. It may be possible to work with them in future to build up some robust data on the long-term suitability of the membranes and how they perform under different operating conditions."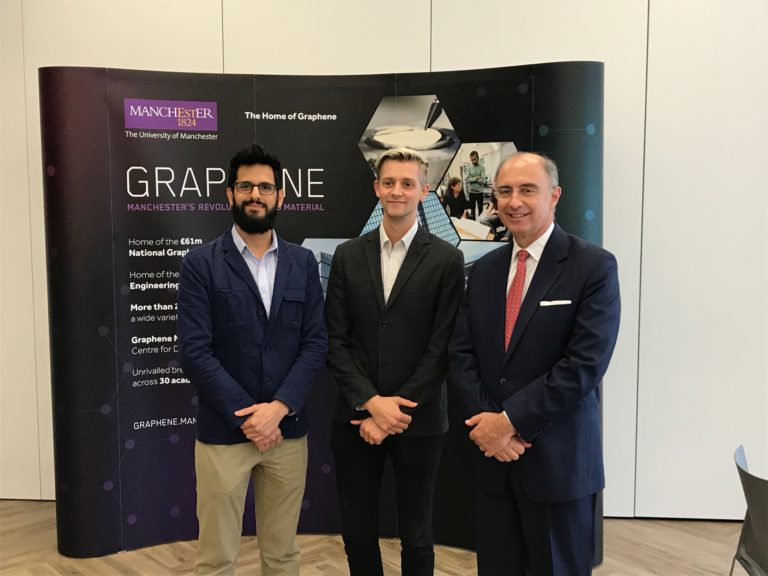 "Using a graphene membrane in the desalination process can help improve the process and fine-tuning its properties can overcome some of the challenges associated with desalination as it can allow water to permeate through them with hardly any resistance. This uses less energy and is not susceptible to clogging. Untreated water can also be used in the membrane, making it low maintenance."
Directa Plus
Directa Plus, a producer of a new generation of graphene-based nanomaterials, also used unique properties of graphene to develop the graphene-based system for tackling environmental emergencies – Grafysorber Decontamination Unit, which contains a proprietary plasma machine that is able to produce on site all the Grafysorber needed to clean up water contaminated with the harmful hydrocarbons contained in oil spills.
The company also recently completed the first phase of a study to better understand the possible uses of graphene membranes in the textiles sector. In February, the company was awarded a grant by Lombardy regional government to carry out further research into graphene for textiles and fashion.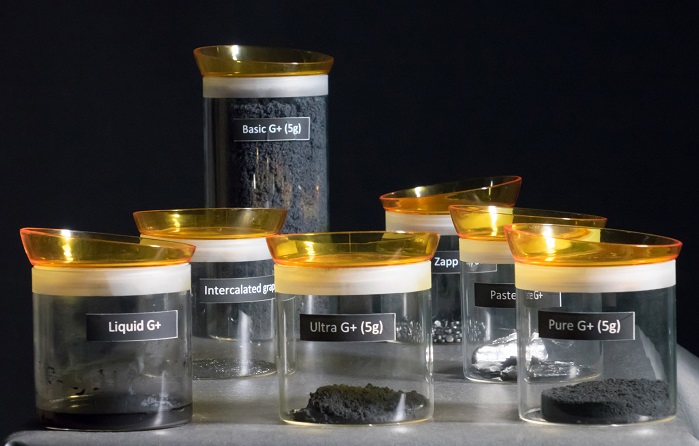 "Directa Plus is delivering tomorrow's materials in today's products. By this, I mean that graphene has significant potential for growth in the textiles market, but we can already benefit from some of its qualities. In particular, Graphene Plus can significantly improve thermal regulation when used in textiles, providing the user with a much greater level of comfort," said Giulio Cesareo, Chief Executive Officer of Directa Plus. "Because consumers place great value on wellness and comfort, which can be enhanced by the incorporation of Graphene Plus, we believe there are significant opportunities in sportswear and workwear, but also in city wear – where technology meets Italian design, fashion and attitude to elegance."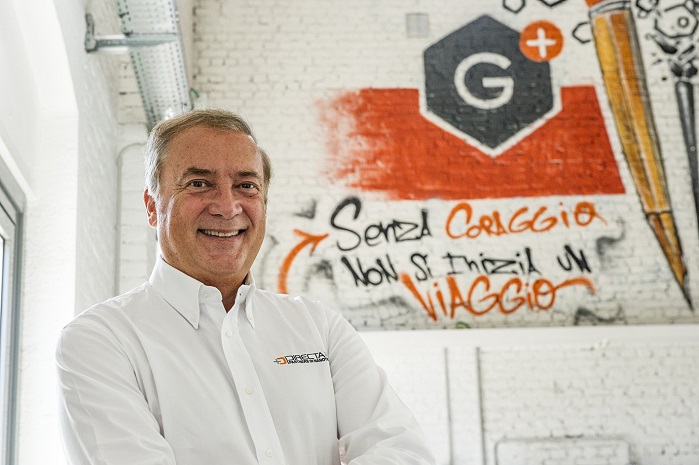 The company's G+ products offering thermal conductivity have already been adopted by brands like Deewear, an Italian-based sportswear company, Alfredo Grassi, a leading manufacturer of customised protective clothing, workwear and uniforms, Eurojersey, an Italian brand of high quality warp-knit technical fabrics.
Wearable technologies
In recent years millions of people have adopted the use of wearable technologies. Devices that monitor everything from heart rate, to weight and sleeping patterns have now become the norm in our daily lives, making e-textiles a key opportunity for future growth. Researchers from The University of Manchester, led by Dr Nazmul Karim at the National Graphene Institute have demonstrated the first all inkjet-printed graphene e-textiles.
This is expected to enable the printing of flexible, comfortable and potentially more environmental friendly graphene wearable sensors on a garment by using simple inkjet printing technique. "Further research and development would even enable printing of tiny micro energy storage devices on a flexible garment that can power next generation wearable devices," National Graphene Institute reports.
"One of the fundamental challenges not only for the e-textile industry but also the electronics industry is the further miniaturisation of electronic devices. Graphene and the wider 2D materials family have the potential to provide solutions to these problems."
Transforming fashion?
Taking a creative approach to the use of graphene in smart textiles was a London based fashion house CuteCircuit, led by the Creative Director Francesca Rosella. The company presented its Graphene Dress, commissioned by Intu Trafford Centre, in January. The company worked closely with the scientists of the National Graphene Institute at the University of Manchester to produce special graphene substrates used in the innovative dress, which is responsive to the breathing of the wearer.
"The dress has a graphene enhanced stretch sensor that captures the breathing pattern of the wearer. The data is stored into a real-time database, a powerful microprocessor analyses the data and depending on the depth of the breath taken by the wearer changes the colour of the dress' LED decoration," explained Francesca Rosella.
"When the wearer takes a shallow breath, the LEDs turn from orange to green, for a deep breath the LEDs change from purple to turquoise. The LEDs are placed on a transparent, but highly conductive, graphene element, so it looks like the LEDs are floating on the model's body."
"This is a fantastic project, graphene is still very much at its infancy for real-world applications and showcasing its amazing properties through the forum of fashion is very exciting," said Dr Paul Wiper, Reasearch Associate, National Graphene Institute.
Challenges
Although it offers a great scope of applications and possible benefits, including providing an environmentally more sustainable solution when produced as water based inks, for example, graphene still raises questions about whether it can be produced on an industrial scale. "One of the biggest challenges related to the use of graphene based dispersion and other 2D material based dispersion is the quality of the material – the community believes the quality is not high enough, and therefore, this type of material is not suitable for electronics," said Prof Cinzia Casiraghi, Professor in Nanoscience, School of Chemistry, The University of Manchester.
According to Giulio Cesareo, CEO of Directa Plus, the main challenge of the industrial production of graphene based products is being able to supply them of a consistent quality and morphology that meet the requirements of large supply chains, including at the right price point. "However, thanks to our unique manufacturing process and approach to how we work with our clients, this is a challenge that we have been successful in overcoming," he commented.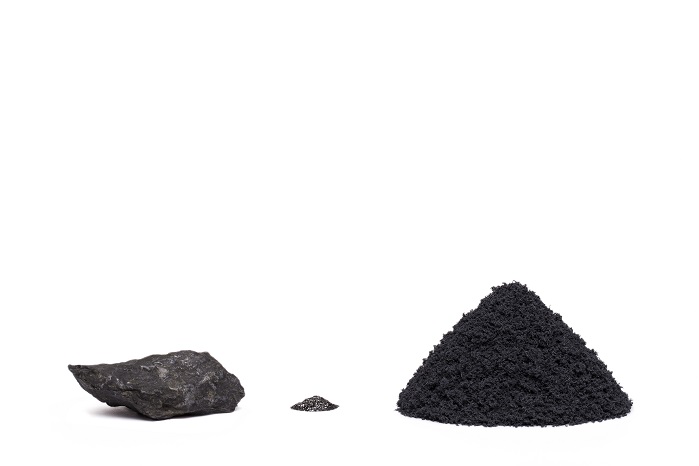 "Graphene cannot be mass-manufactured yet, so we had to work closely with scientists to create graphene sheets in a shape and size that we could use in our dress design. This took lots of time and very complex processes to be carried out to achieve the perfect balance between a working technology and a beautiful looking garment," added Francesca Rosella. "We are fascinated by the idea of the graphene being very lightweight, extremely conductive, and transparent. In the future we might use the same system for sportswear and ready to wear garments in the CuteCircuit collection."
Further reading
Interview with Giulio Cesareo, CEO of Directa Plus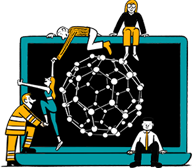 Business intelligence for the fibre, textiles and apparel industries: technologies, innovations, markets, investments, trade policy, sourcing, strategy...
Find out more