13th September 2019, Albstadt/Mumbai
Groz-Beckert to score at Techtextil India 2019

SiroLock. © Groz-Beckert
Groz-Beckert will be represented with its product sectors Felting and Carding at the upcoming Techtextil India trade fair for technical textiles and nonwovens, which takes place from 20-22 November in Mumbai.
In the Felting product sector, the company will be presenting its new base material combined with a patented manufacturing process, called dur. The company plans to extend the dur version to the complete product range, soon. At Techtextil India visitors learn about their benefits.
Within the traditional nonwovens industry, Groz-Beckert's Gebecon felting needle provides advantages regarding the surface quality of the final product and optimised needling parameters. At the show visitors will be presented details of the patented shape of working part of this needle with a man-sized needle exhibit.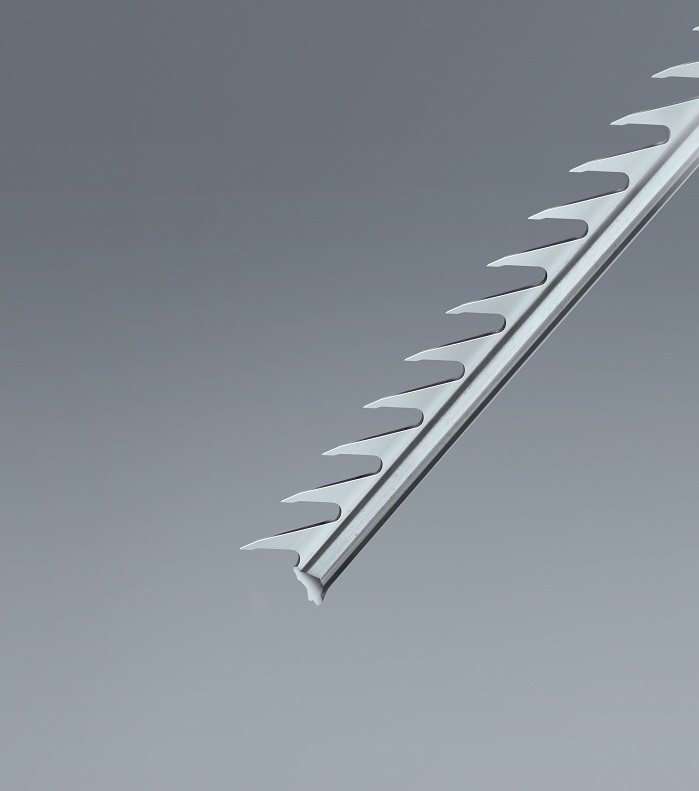 EvoStep. © Groz-Beckert
"The company also has such an exhibit ready for spunlace customers: coming along with absolutely homogenous jet creation with large impelling force and excellent entanglement Groz-Beckerts HyTec P jet strip ensures the very best productivity, quality, and efficiency. Compared to conventional jet strips, the new material possesses a much greater hardness which causes longer usage time in production," the manufacturer explains.
With the Carding product sector, Groz-Beckert completes its portfolio for the nonwovens industry. At Techtextil India visitors can directly compare different tooth geometries: the worker and doffer wires SiroLock and EvoStep, for example, are designed to ensure improved fibre control and web quality. SiroLock also impresses with performance enhancements in carding, while the EvoStep card clothing emphasises on saving raw material.

Gebecon. © Groz-Beckert
In addition to Groz-Beckert's presentation at the Techtextil in Frankfurt earlier this year, Mumbai's visitors have the possibility to learn about the new doffer and worker wire SiroLock plus. It combines a reduced rib height of the interlock card clothing with an improved strength of delicate card clothing teeth and a further optimized tooth geometry. These new properties are not only effective in achieving reduced fibre fly; they also ensure a more uniform and homogeneous web, the manufacturer concludes.
This article is also appears in...