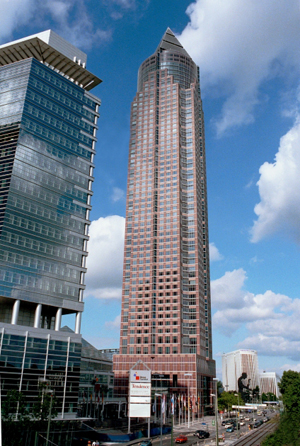 If someone wants to catch up on technical textiles the Frankfurt trade show Heimtextil is a perfect place to identify their diverse application areas because carpets, interior sun protection, mattresses and bedding strongly depend on them.
But it is no place to discuss technical features of specialty textiles, except at the booths of fibre mills, which exhibit at Heimtextil to present their latest developments for the house and home textile sector.
Heimtextil in Frankfurt is an annual trade show for house and home textiles where retailers used to place seasonal orders, inform themselves about the latest trends and scan the fair for new suppliers.
Exhibitor numbers for Heimtextil have dropped and from 2009 to 2010 the deficit amounts to more than 10 percent. With the objective of promoting the trade show into new target groups the organization team of Messe Frankfurt established events for the contract business, arranged lectures and competitions and installed trend forums, of which one was dedicated to new products in the bedding area. Interestingly, it was full of technical textiles for practical use.
Fragrances for relaxed sleep
Aromatherapy is dedicated to wellness-applications which are based on the virtue of fragrances. The scent of flowers, plants and fruits are applied to a textile's surface in order to create a specific atmosphere of well-being. Lavender is one of the most popular fragrances because it has a pleasant odour which is stress relieving and anti depressant. To prevent the oily perfumes from evaporation they become encapsulated and are fixed on the fabric by a resin.
Then the wall of the microcapsules must be ruptured either by pressure or shear stress, freeing its content. Once the ingredient is delivered the empty microcapsule no longer participates in the process which is a disadvantage when a permanent effect is required. Although the aromatic effect is not durable the technology is being applied to beddings and mattresses, promising a comfortable sleep.
Temperature balance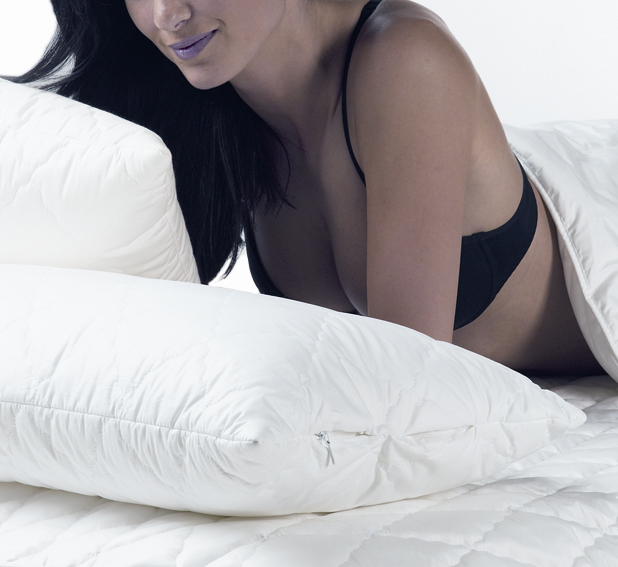 Another technology based on encapsulation is also spreading into the world of pillows and duvets. In order to create better regulation of temperature fluctuation, so called phase change materials (PCM), which were developed for NASA, entered the world of textiles.
PCM is a collective term for materials which are capable of changing their state of matter within a certain temperature range from solid to liquid and from liquid to solid. So that PCMs can be physically incorporated into textiles they are enclosed in mechanically and thermally stable microcapsules which can be applied to fibres, nonwovens and fabrics or can be added into coatings, foam and fibres.
These tiny PCM microcapsules which have been set to a particular temperature range react to caloric (thermal) variations. At a certain temperature their aggregate conditions change from liquid to solid or vice-versa. If the body temperature or the outside temperature rises, the excess warmth is stored.
When the temperature drops, the previously-stored warmth is released again. After a start at Heimtextil 2004 the technology of temperature balance has become more and more used in bedding, because it helps to balance the temperature phases of the body during sleep.
Clima balance is not a singular topic for PCM technology but can be achieved by high-end confection, too. A two-ply duvet, presented at Frankfurt for the first time, proved that fundamental research from the Sleep Disorders Center of the University of Regensburg can lead to a new approach in the bedding industry.
Similar to traditional Duo duvets, the duo-ply product from Gebr. Sanders in Bramsche (Germany) consists of two super-imposed layers, so that even at a lower fill capacity superior heat insulation can be achieved. Furthermore, the duvet is tension-free and fits exactly to the body. In conjunction with various sizes, inlet-designs and filling types there are a thousand ways to design a very personal duvet.
Hygiene on the rise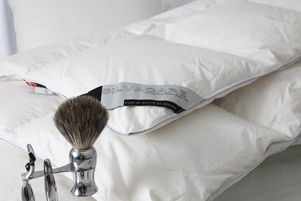 Allergenic and antibacterial protection is another topic in the bedding area. Nomite has long been a well-known brand for anti-allergen pillows and bed-spreads offering the ultimate protection against mite and house dust mite allergy.
A tight weave of a down-proof fabric works as a barrier preventing the house dust mites from penetrating the fabric. Meanwhile a new generation of hygienic bedding finds its way into the market. It promises to eliminate smell, to neutralize dust mite problems and to prevent the growth of mould, mildew and fungi.
By finishing the inlet with silver ions the colonization of microorganisms on duvets and pillows can be repelled. On the other hand the filling itself can feature an antimicrobial effect, too. So an antimicrobial silver deposit is built up on down and down feathers.
Furthermore, the effect can be applied to the inlet by weaving technology either by a silver coated weft or by using a maximum of 5 percent silver covered X-Static yarn. For applications in the contract business hygienic fillings are made from antimicrobial man-made fibres such as Trevira bioactive. Besides their impact on microorganisms they can be laundered by textile rental services without loss of their original properties.
Odour reducing zinc
At Heimtextil 2010 a brand-new antibacterial fibre based on the chemical element of zinc was launched by Smartfiber AG from Rudolstadt (Germany). The new cellulosic fibre is characterized by skin caring and gentle to the skin properties and reduces odours due to zinc, which not only is an important part of the human nutrition but also is vitally important to the skin. Thus, it strongly enhances the body's defences against infection and the healing of inflammation and wounds.
Inserted into the fibre, zinc as a component of skin-building enzymes acts directly on the skin and does not have to find its way into the skin by ingestion. The new fibre is certified by Eco-Tex standard 100, product class 1 (for baby products) and can be blended with all kind of fibres and has already been processed into a mattress cover.
Light weight bedding for travellers
Limited storage capacity is a well known problem for campers. The lightest down comforter in the world, which was presented for the first time ever at Heimtextil, now puts an end to the problem. It weighs 280 grams in total, which is attributable to an ultra-light polyamide yarn with a denier close to spider-silk and filling from goose down. The quilt at a size of 135cm x 200cm is foldable to notebook-size.
New cellulose fibres for carpets
Tencel 'botanic carpets' is a new slogan from cellulosic fibre producer Lenzing from the Austrian town of the same name. The company succeeded in developing cellulose fibres with a tailor-made diameter and adequate length to fulfil the demands of carpet production. The fibre is characterized by excellent moisture management which helps to optimize the indoor environment and prevents from electrostatic charging.
Carpets made with Tencel can also effectively combat the formation of mould and are resistant to mites, whereas wool and protein fibres have to be protected by chemical anti-mite finishing.
Breathable memory foam
Suprelle Memory was also introduced at Heimtextil 2010. It is an ergonomic, but not pre-formed pillow with pressure-relieving qualities similar to viscose foam produced by Advansa. The memory effect is ensured by a combination of very fine, short cut polyester fibres, made from a new polymer, and a special covering.
This combination ensures that the pillow temporarily adapts to the head and neck region without restricting the sleeper's freedom of movement. The good humidity management and breathability of the filling material and covering avoid sweating and provide a good microclimate.
Sabine Anton-Katzenbach
Our correspondent, textile finishing specialist Cert-eng. Sabine Anton-Katzenbach provides technical consultancy services for the textile and apparel industries through her company, Büro für Textiltechnische Beratung. She is also an accredited journalist and her clients include companies from the chemical, fibre, textile and apparel industries, textile service companies, marketing agencies and publishers.