Bill Smith reports from Florida
IFAI, the Industrial Fabric Association International represents the interests of a broad range of industrial or technical textiles, producers and suppliers - and their Expo 2013, and the accompanying Advanced Textiles conference, held October 23-25 in Orlando, FL, well demonstrated those efforts. Over 5300 registrants from 65 countries helped IFAI continue its "track record of great success."
The roots of IFAI go back over 100 years when canvas product manufacturers got together for mutual benefit. The National Canvas Goods Manufacturers Association became the Canvas Product Association International (CPAI) in 1957, setting standards still used today for FR for tents and other consumer items) and in 1966, in recognition to many non-canvas areas within the industry, to what it is today the IFAI.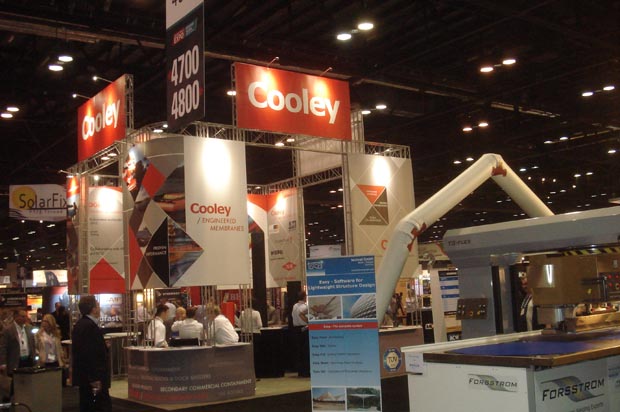 Along the way, they adjusted to the changing technology and as they progressed they began specialized interest groups (now 10) and 3 country groups to address concerns of new and growing areas, including such things as graphics and printed signage, narrow fabrics, geosynthetics (an area now with its own trade show), automotives, textiles in architecture, safety and performance textiles, among others.
In recent years, they have increasingly included more of the higher-end, advanced textiles, crossing over so many boundaries. While the majority of their membership, and it is a membership organization, is related to fabrication of items of technical textiles, for many markets, they have reacted to the fast changing of technology and new markets, adapting them into their product lines.
The membership of IFAI, vendors as well as fabricators and users are where things "get done", markets are explored and opened, things happen, ensuring the future of the industry, and IFAI represents them all. Far from being a "stodgy old industry", it is vibrant, adaptive, and growing. Of importance, IFAI is more than just a show, they are involved in helping in building of the industry for the future.
Graphics and signage
Case in point, the graphics and signage area, a rapidly growing area, now being revolutionized by ink-jet printing. It has become production and cost effective, especially for shorter runs, with the ability to produce specialty, one-off designs in minutes. Development of very wide widths, fabric and printing machines, with special finishes on the fabrics, and robust inks, have made possible new applications and markets.
Working with chemical companies and ink producers, many IFAI members developed and produced those special fabrics and coatings to accept the new printing inks, including those for ink-jet printing. Many of its members fabricate those items into billboards, signs, banners, and a host of other items. IFAI co-located with the SGIA (Specialty Graphics Imaging Association) for the first time this year. There was a lot of synergy between the two groups, SGIA and IFAI, with a number of companies displaying in both areas.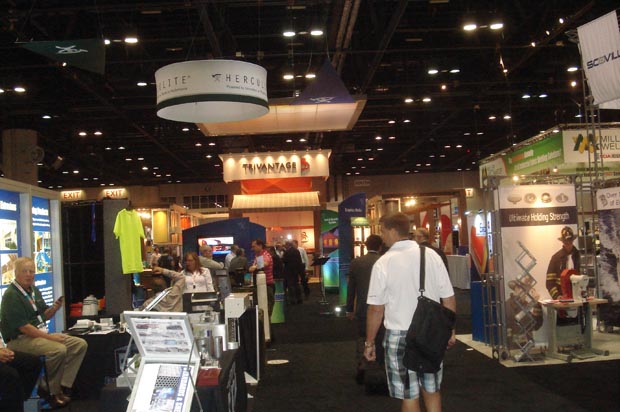 Pete McKernan, President/CEO of Herculite Products, Emigsville, PA, a major laminator for a variety of markets, feels it added a lot of diversity to the Expo, benefitting both IFAI and his company. Herculite was among those having a booth at both shows.
As to business outlook, McKernan is outwardly positive. The "reshoring" of companies coming back from Asia to NA to manufacturing is for real, he feels, saying "Those who have been successful in the last 10 years should be optimistic for the future."
Advanced textiles
For the first time, IFAI had a "separate" area for "advanced textiles" - a new concept where many high performance, existing and emerging technologies were being showcased. It was a "show within a show", with 50 or so exhibitors located together within the floor.
Todd Lindemann, Vice President, Conference Management , says advanced textiles are such an important part of the industry and deserved a place to highlight many of the new developments. It will be tweaked and refined, he says, for future shows. Some of the specialty and/or new projects being developed within the industry included nanotechnology, carbon, sustainable finishes, extreme temperature fabrics, and the like; many perhaps not "routine" or mainstream yet, but certainly will be as they are refined, become more cost effective, more known, and readily available.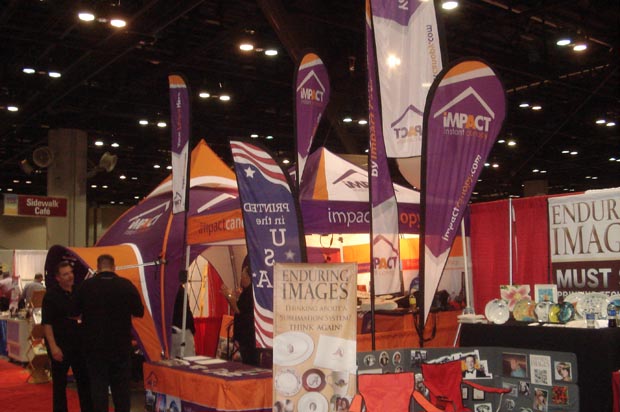 There were, of course, many products shown, many "improved"products, many new-to-the-market items, and some groundbreaking. Space permits discussing only a couple.
Nanotechnology is more than a buzzword to those In the advanced area. Typical of those was
C-Voltaics, (www.c-voltaics.com ) a Houston, TX, start-up, an off-shoot of the University of Houston research, showing "a robust, transparent, self-cleaning hydrophobic nanocoating (SCHN™ - pronounced "shun") that can be used to keep many types of surfaces clear, clean, stain resistant and dry without affecting the fabric or substrate properties."
CEO, Prof. Shay Curran,explained the process to be a co-valent, cross-linked nano treatment that was self-cleaning - and fluorocarbon-free. The clear coating can be applied at production speeds to 1½ meters per second, not only textiles, woven, knit, or nonwoven of a variety of fibres, but can be applied to wood, brick, grout, plastics, metal, etc., keeping them stain free. "Others claim to be transparent, but try putting their treatment on a black fabric – ours will be invisible," says Curran.
Nearby was Nyacol Nano Technologies, Inc., Ashland, MA - a provider of colloidal dispersions such as antimony pentoxide for treating fabrics for FR, they had a new technology applying nano sized particles polymerized into a polyester fibre of 1 denier per filament for a clear coating that did not wash off. The treated fibre absorbs near infra-red energy, the body doesn't, and emits far infra-red energy, resulting in a fibre with a durable finish that provides exceptional warmth when made into a fabric. The non-hazardous (REACH registered) water based dispersions finish contains particles from 5 to 30 nanometres (5 to 30 billionths of a meter) in size, and provides FR properties (www.nyacol.com ).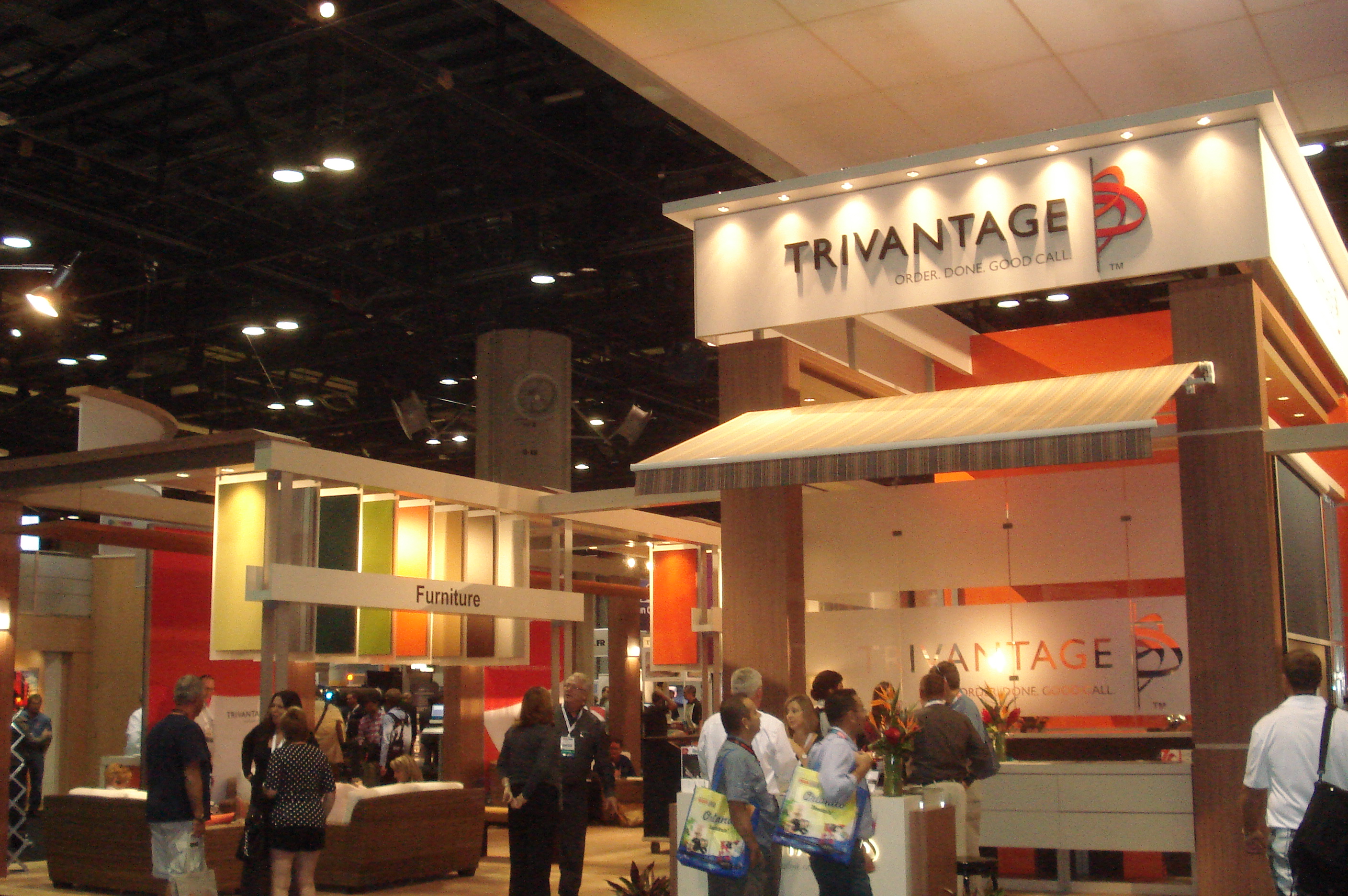 Antimicrobial and antibacterial control is a topic of great interest. It seems everything we touch is desired in antimicrobial forms. TRA, Thomson Research Associates of Canada, presented Ultra-Fresh™ and Silpure™, antimicrobial treatments that can be easily applied to a wide range of fabrics, and plastics, coatings, and films, to prevent bacteria and fungi growth. Such growths results in stains and odours, reducing the useful life of fabrics while maintaining freshness in performance and intimate textiles.
TRA was a winner in the peer-voting Showstoppers area in the "Chemicals, Coating and Compounds" area. Rich Kinney, U.S. National representative, says Silpure is different from similar silver based antibacterial products; it contains ultra-fine crystals that release silver ions at a controlled rate only when the conditions for bacterial growth exist. By controlling the size and shape of the particles during production, fabric discoloration that can occur with other silver antimicrobial products is avoided.
Sustainability
Sustainability and recycling is a major concern in the industry and much effort goes to that area. Typical of these was Phifer, (www.phifer.com ), a major producer of sun control screening. Phifer showcased Geobella™, a new line of performance indoor/outdoor cushion materials made of fibres of recycled post-industrial olefin waste. Yarn production is claimed to require less energy, produce less waste, and can be recycled up to 10 times. Phifer also showcased a line of solar heat control fabrics of vinyl coated polyester yarns with bio-based plasticizers of Dow Chemical's ecolibrium™. The product provides a lower carbon footprint, is phthalate free, and recyclable in a standard vinyl stream.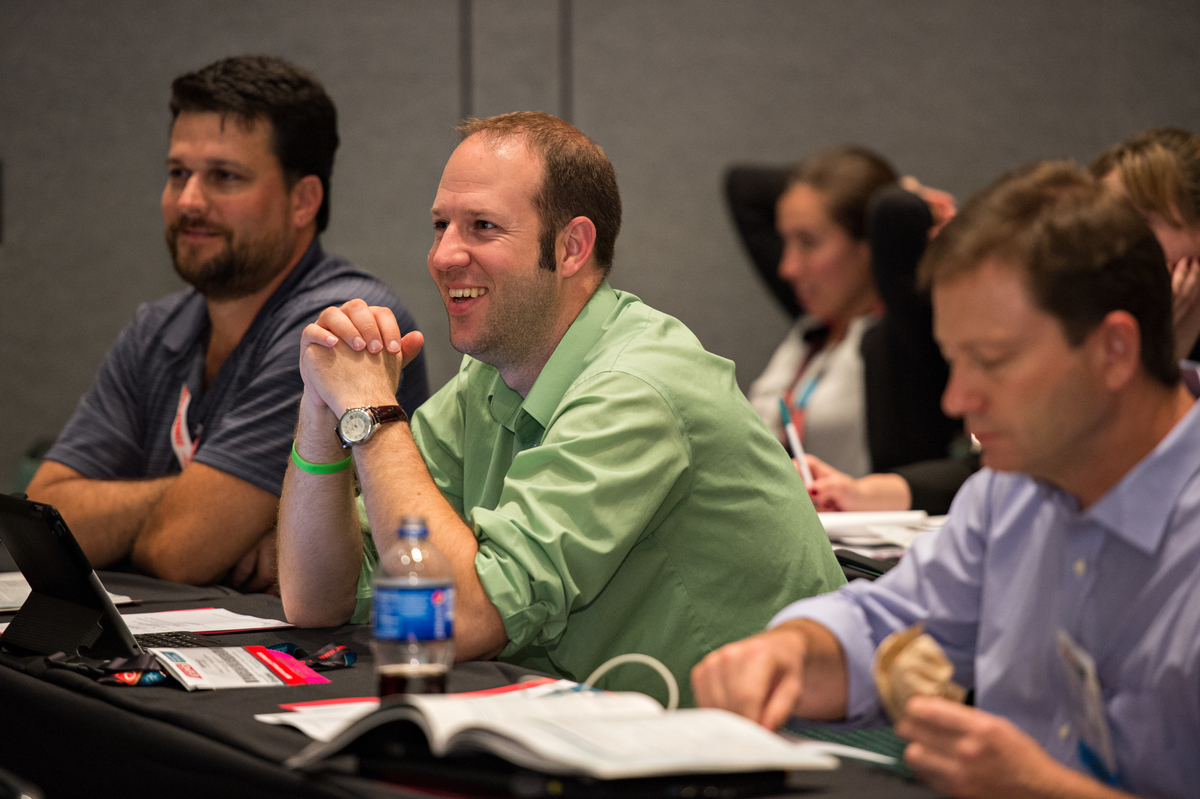 The Advanced Textiles conference highlighted areas such as smart textiles including those with garment-integrated sensors for health and activity monitoring, electroluminescent technology, fabrics that have built in solar cell capabilities, and auxetic materials designed to protect against blunt force, yet remain soft and flexible when not needed.
In another track, surface modifications, fabrics with built-in insect control, and RF weldable olefin coated fabrics. A newly developed woven rope product was introduced, said to provide a number of benefits over braided materials. A paper
on textile recycling pointed out how waste recyclers segregate different types of waste for greatest yield when sold for use in other areas. There was even one on how smart textiles enable smart soccer – with wearable fabrics with sensors to keep track of performance of athletes on the field.
Mary Hennessy ([email protected] ), in her second year as President/CEO of IFAI thinks co-locating with other complimentary groups is a good idea, though it can be difficult to get together with the right groups who want to meet at the same time and location. IFAI plans to pursue appropriate collaborations in the future. "If it meets the needs of our members, exhibitors and attendees, we're interested."
Hennessy recognizes the diversity of the industry presents challenges for a broad-range group like IFAI. There are many markets and constituencies to address. One group may want one thing, another something else, but IFAI strives to bring all the players together to accomplish a mutual goal; the health, perpetuation, and growth of the industry.
IFAI is a not-for-profit organization. Unlike many for-profit trade shows, the monies made at IFAI events like the expos go into promotion of the industry, developing more programming and resources for its membership. IFAI invests all profits generated by its 7 magazines, its websites, and trade shows, to advance the industry, addressing concerns and supporting member companies.
All in all, it was a good show, a very good show. After 101 years, it gets better and better – as does the industry.
Bill Smith