Composites
AVK honours composite innovations
New constructions and processes based on carbon and glass fibres.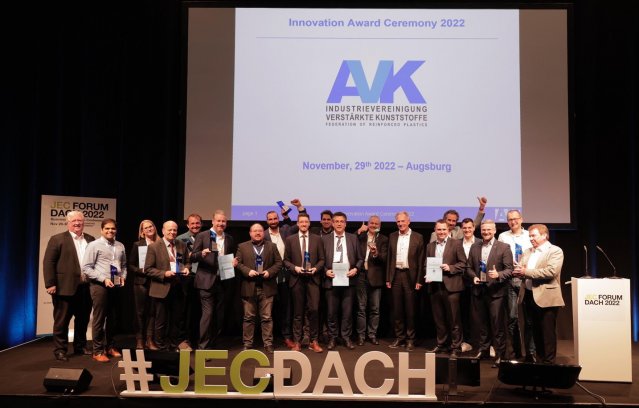 1st December 2022
Innovation in Textiles
| Augsburg, Germany
AVK, the Frankfurt-headquartered Federation of Reinforced Plastics, presented 2022 Innovation Awards to nine companies, institutes and partners during the JEC Forum DACH held in Augsburg, Germany, from November 29-30.
A professional jury composed of engineers, scientists and trade journalists presented the awards for 2022 in three categories – Products and Applications, Processes and Methods and Research and Science.
Products and Applications
First place in this category went to Lamilux Composites for Sunsation, a UV-resistant glass-fibre reinforced plastic (GRP) face sheet for caravans and other vehicles and structures. The gelcoat technology offers up to 20 times better UV resistance for outdoor applications making it far more durable, while also requiring less maintenance and increasing trade-in value. In its manufacturing process, Lamilux attaches great importance to energy efficiency and environment-friendly production.
CL Restrap from Carbo-Link AG came second with its pre-tensioned shear reinforcement for concrete girders through flexible, prestressed carbon fibre tapes wound in a loop.
In order to effectively reinforce concrete beams for shear stress in civil engineering – to shift the shear failure mechanism of a system to ductile flexural failure – an 'active' system is required, meaning the entire girder needs to be wrapped and prestressed with the help of a tensioning belt. The CL Restrap system for this applicatiopn consists of several very thin, unidirectional tapes that can be flexibly wound around tight radial sections and lashed around the concrete structure like a tensioning belt. Carbon fibre reinforced plastic (CFRP) is ideally suited for this purpose – with the right fibre selection, it allows minimal stiffness combined with maximum strength. This results in a substantial pretensioning path, so that any reduction of pretensioning through concrete creep is extremely low.
Third place went to automotive supplier Borgers for its three blue label-branded products – a textile wheel arch liner made entirely from ocean plastic, a mono-material for car boot trim enabling OEMs to create cars with maximised material efficiency, and a fine dust absorber that can be fitted into a wheel arch liner.
All products are made without waste and are fully recyclable.
Processes and Methods
First place in this category was awarded to the rod laying technology developed by BaltiCo, created with an additive manufacturing process which expands the potential application of composites. Unlike conventional methods, which predominantly focus on two-dimensional structures, BaltiCo's process involves the mounting of spatially-optimised composite lattices to form extremely powerful load-bearing structures.
The individual strands are laid out using robotic technology, resulting in superb reproducible quality coupled with excellent productivity of over 120kg per hour. Thanks to the almost unlimited layout options for grid structures, the relevant components can be optimised and allow for extremely lightweight construction. The process requires virtually no consumables or auxiliary materials and therefore makes a major contribution to protecting the environment.
Second place went to Schmidt & Heinzmann with Pole Position, a camera positioning system for polarisation imaging – detecting the positions and orientations of carbon fibres. It will eventually be used for cutting and stacking layers in the automated production of CFRP components. The camera system leverages the polarisation properties of carbon fibres, measuring it by each pixel. A newly-developed software application then separates the resulting image into polarised and non-polarised areas. This makes it possible to hide the background and measure the contours of the components. The new process permits accuracies up to ± 0.38 mm, reducing the cutting of edges in the individual layers by up to 85%.
In addition, subsequent stages in the process such as trimming can be omitted, saving materials, energy and money.
Third place went to SensXPERT from Netzsch Process Intelligence, a process optimisation solution to increase efficiency, driven by material data. SensXPERT combines real-time material data from the tool with machine learning software for analysing material behaviour. The technology allows continuous process optimisation and an increase in production efficiency of up to 30%. The sensors inside the tool provide transparency and real-time insights into the process, so that the operator can respond to deviations in the material and avoid rejects.
Science and Research
First place in this category went to the Institute of Textile Machinery and High Performance Textiles at the Technical University of Dresden for spherically curved fibre-reinforced plastic composite components made from near-net-shape fabrics. Based on the development of Jacquard looms that allow the direct weaving of spherically curved complex geometric structures, it is possible to integrate locally-varying lengths of yarn into the fabric structure simply by deliberately varying the weaving of the fabric. This makes it possible to produce completely new types of fabric without draping – especially spherically curved fabrics, but also large-format spiral and curved fabrics. Based on the established interdependencies for such direct weaving as well as a calculation programme for weave allocation and a model for shaping the fabric structure, it is possible to derive the manufacturing parameters from a CAD model of the desired preform and then to create it. The technology can be used on any Jacquard loom with an additional attachment, and the preform geometry is determined purely by controlling the loom. The preform geometry can occupy the full working width of the loom. The technology has been validated using the reinforcement structure of a spring dome mount and the production of a hemisphere for use in radome antennas.
Second place was awarded to the Leibniz Institut für Verbundwerkstoffe in Kaiserslautern for its HyKoPerm measurement system which allows an industry-specific characterisation of textile impregnation behaviour.
In wet compaction and compression RTM (resin transfer moulding), resin is pressed into a textile layer structure in the thickness direction. It is then compacted, and simultaneous resin flow, textile deformation and curing impedes any robust process design. HyKoPerm measurement technology reproduces the process under simplified conditions but without losing any of the industrially-important parameters. A defined injection pressure is applied to the layer structure. Sensors monitor all relevant process variables, including the overall compaction and the displacement of individual layers. A complementary simulation, fed by the test data, calculates the exact distribution of fibre volume content. To accommodate the spectrum of manufacturing processes, there is a measuring cell for low injection pressure of up to 10 bar and another for high pressure of up to 200 bar. The outcomes are used as input for process simulations and process design.
Third place went to the Technical University of Munich, for the manufacturing processes for a tension-strut-supported pressure vessel that can be adapted to suit a given space.
The innovation comprises a manufacturing process for space-adapted pressure tanks for hydrogen storage in fuel cell electric vehicles (FCEVs). As FCEVs have a low level of market maturity, they are still rather expensive for the end customer. One way to reduce costs is to use common vehicle architectures for hydrogen and battery-powered vehicles, resulting in a flat, cuboid installation space for the hydrogen storage system. As prismatic structures are subject to tensile stress under internal pressure, tension struts are built into the interior of the tank. Adding such reinforcements poses a number of challenges. The attachment of the struts to the tank wall is crucial, as the main point where forces are applied that counteract the internal pressure. The four-step process offers the option of manufacturing a CFRP tank with integrated tension struts, using the established filament winding process. As the reshaped strut ends are firmly secured in various layers of the CRP laminate, the load can be applied to suit the fibres. The research is part of a project called Polymers4Hydrogen.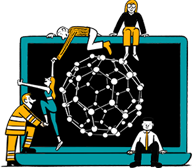 Business intelligence for the fibre, textiles and apparel industries: technologies, innovations, markets, investments, trade policy, sourcing, strategy...
Find out more