Opinion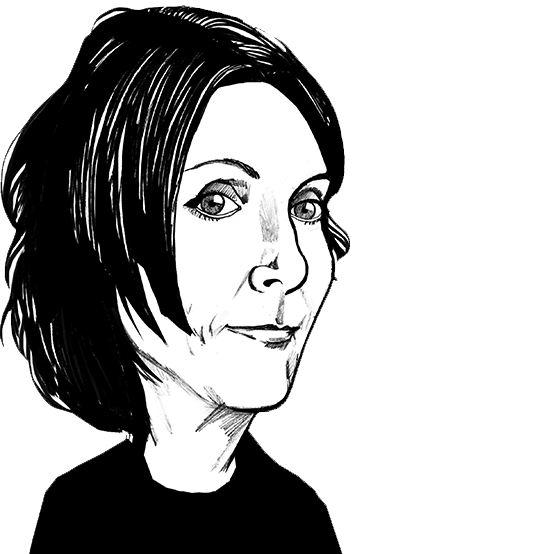 Beauty and function meet sustainability at Performance Days
Anne Prahl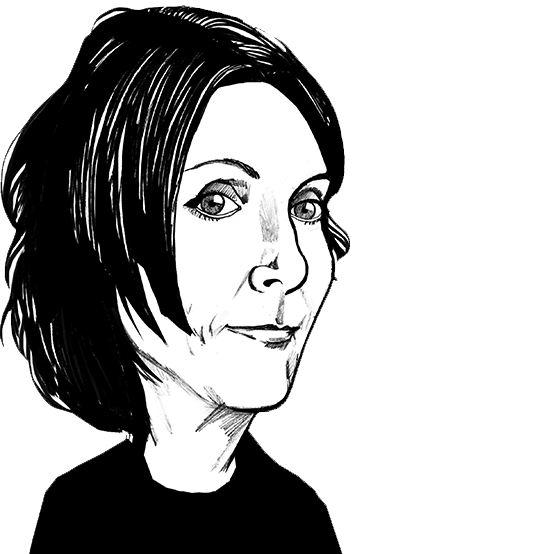 The focus of this season's functional fabric fair Performance Days was on updates for Winter 2020/21 and new ideas for Summer 2021.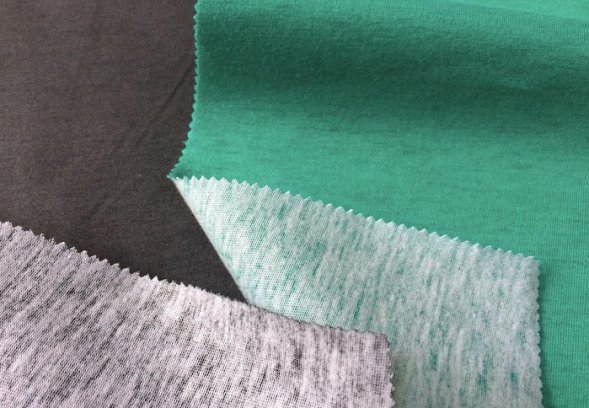 22nd May 2019
Anne Prahl
| Munich
Tintex experimental colour coating on cotton. © Anne Prahl
The focus of this season's functional fabric fair Performance Days was on updates for Winter 2020/21 and new ideas for Summer 2021 and the overarching focus topic of 'The Beauty of Function' provided a creative framework for the latest developments in performance sportswear and so-called athleisure fabrics.
The beauty of function was convincingly demonstrated by innovation around appealing handle, surprising textures and surfaces, super lightweight and transparent materials, eye-catching functional prints and bonded, laminated and quilted contrast layers. However, as the concept of beauty needs to go deeper than first impressions to consider the environmental impact of the fabric during manufacture, wear and end-of-life, it is important to continue the search for more sustainable options, such as renewable, bio-based and recycled materials.
Considered naturals
A noticeable trend was the exploration of natural and renewable fabrics for the functional fabric sector, as fabric companies presented textiles made with raw materials including organic cotton, wool, kapok, hemp, linen, tencel and soybean fibre. Although in most cases these natural and renewable fibres are blended with synthetics to provide durability and additional performance features, such as Hemp Fortex's 15% hemp and 85% recycled polyester loopback fleece, there is also a definite trend to keep fabrics 'clean' and free from synthetic elements.
Tintex has been exploring less harmful ways to colour natural materials for several seasons and their experimental colour coating process provides an attractive aesthetic similar to melange, while saving 90% of water compared to dyeing. The company are also one of the first to collaborate with start-up ColorZen, who are part of the Fashion for Good scaling programme. ColorZen is an innovative, patented pre-treatment to cotton fibre that allows the dye to lock into place, without the use of toxic chemicals, while reducing water use and salt. In addition, Tintex showcased a selection of biodegradable and extremely soft handle fabrics, which have been developed together with NGO Drip by Drip to drastically reduce the water footprint and eliminate the use of toxic chemicals.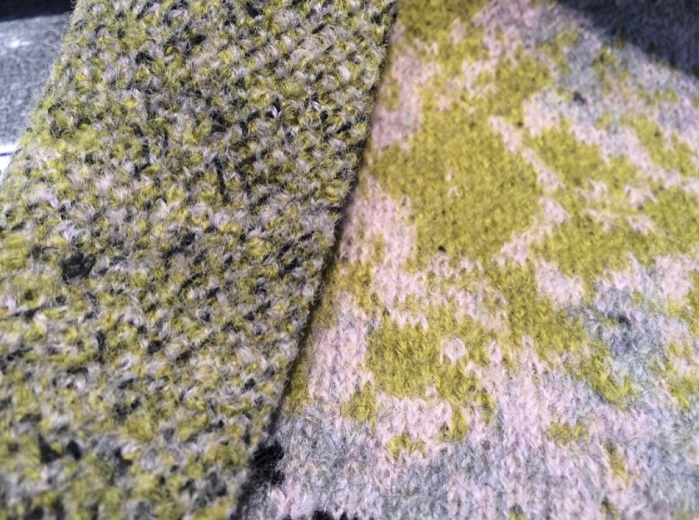 Schoeller GmbH & Co New Felt. © Anne Prahl
Schoeller GmbH & Co's GOTS certified New Felt celebrates the power of wool as a performance material and is intended as a softshell capable of odour control, thermo regulation and UV protection. Another company pushing the boundaries of bio-based materials in the active market are Brugnoli, who presented a striking 3D jacquard knit made from castor bean derived polyamide and created with its proprietary Br4 textile technology.
Mesh innovation
Thygesen & Birk are specialist in developing wool and wool polyester blends for the performance market and their 100% merino wool mesh is a great choice for designers aiming for an active look without having to choose synthetic materials. In addition, their wool cationic dyed polyester blend combines next-to-skin softness and a striking surface design with the ability to manage perspiration.
Thygesen & Birk 79% wool, 21%CDPL and 100% wool mesh. © Anne Prahl
One of the more unusual fabrics on show was Solis' jacquard mesh, which was created by weaving together a fine nylon with a thicker polyester yarn to create a distinctive camouflage-like surface, contrasting fine see-through with solid melange areas. According to Solis this fabric could easily be created with recycled yarns.
Solis Fabric Tech 86% polyester, 14% nylon. © Anne Prahl
Engineered warmth & comfort
Following on from their quality 'Desired Terry', which enjoyed much attention at Performance Days in November 2018, Little King showcased new fabric developments as part of their FUTURE WARMTH collection.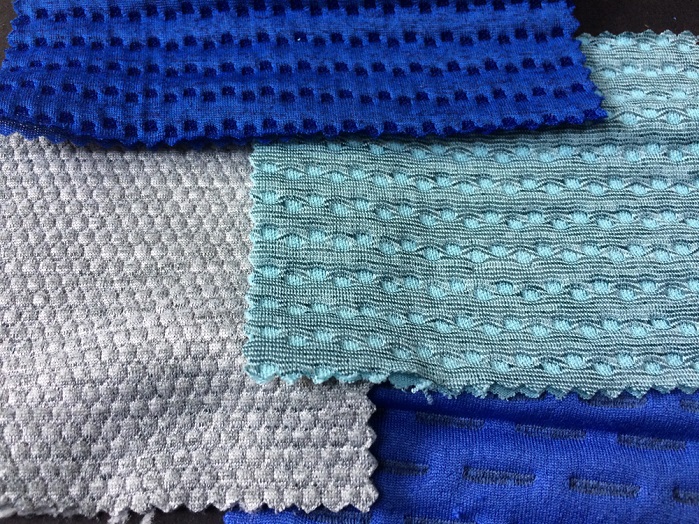 Little King INLAY fabrics, FUTURE WARMTH collection. © Anne Prahl
The collection comprises thermal performance fabrics, which replace brushing with innovative construction, in order to reduce microfibre shedding during wear and washing. Little King presented their INLAY qualities, which get their thermal properties from a cavity between upper and lower air pockets to store heat, as well as a selection of spacer inspired fabrics, which the company proposes as an alternative to fleece. Little King are research members of the EOG Microfibre Consortium and are currently involved in testing some of the methods developed for testing microfibre shedding, in order to contribute to the long-term goal of re-engineering materials to eliminate the problem alltogether.
Outlast temperature regulating recycled polyester. © Outlast Technologies LLC
Outlast's well-know phase-change materials (PCM) technology is able to absorb, store and release heat to optimise the wearer's comfort. The company recently launched their first product made from 100 % recycled polyester textiles or PET bottles, which meets the Global Recycle Standard (GRS). In addition, further products made from renewable materials for other components of the technology are planned to expand the company's portfolio in the near future.
Camouflage updates
Camouflage continues to be a strong theme, be it for woven or knitted fabrics, performance or athleisure products. BIHQ's Bodyknit illustrates how camouflage can be interpreted in a highly tactile manner, while offering performance features, such as extreme comfort, UV protection and quick drying.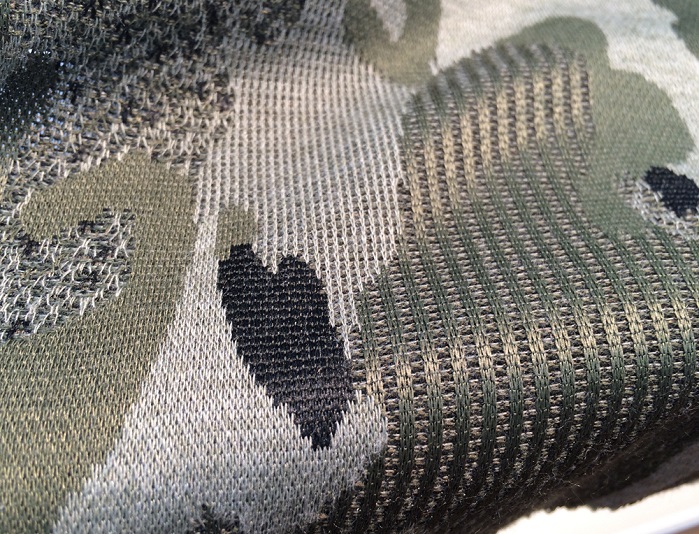 BIHQ 44% PES, 43% recycled polyester, 9% CV and 4% Elastane. © Anne Prahl
Hyperbola's tonal camouflage print on polyester and recycled polyester is invisible until it comes into contact with water. Due to its breathable lamination, this fabric is suitable for jackets, pants and shorts requiring an element of surprise.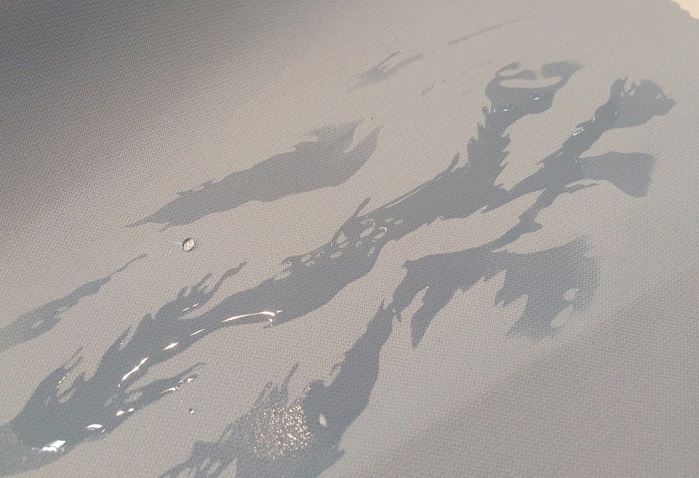 Hyperbola 48% polyester, 52% recycled polyester. © Anne Prahl
Ultra lightweight
Super lightweight woven fabrics were the talk of the fair, as the popularity of lightweight shells and down jackets is growing both for performance and fashion collections. Weighing in at 18 g, Green Threads' award-winning nylon ripstop was hailed as the world's lightest down-proof fabric in the market, while TORAY's mini ripstop was only slightly heavier at 21 g.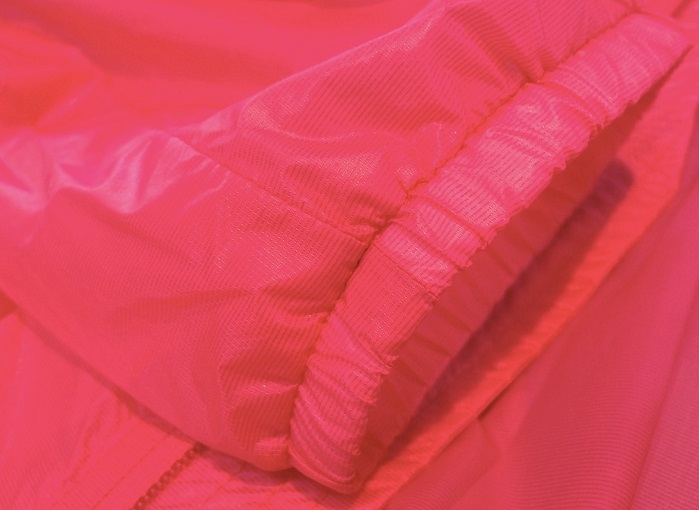 TORAY 100% nylon mini ripstop. © Anne Prahl
TORAY presented an impressive range of lightweight fabrics and concept garments, including cycling and running shells, as well as premium down jackets. As presented in the Performance Forum, Schoeller AG's nylon and silicone down-proof fabric was a little bit heavier at 33 g but boasts an eye-catching semi-transparent graphic grid structure, an unusual take on the traditional ripstop aesthetic.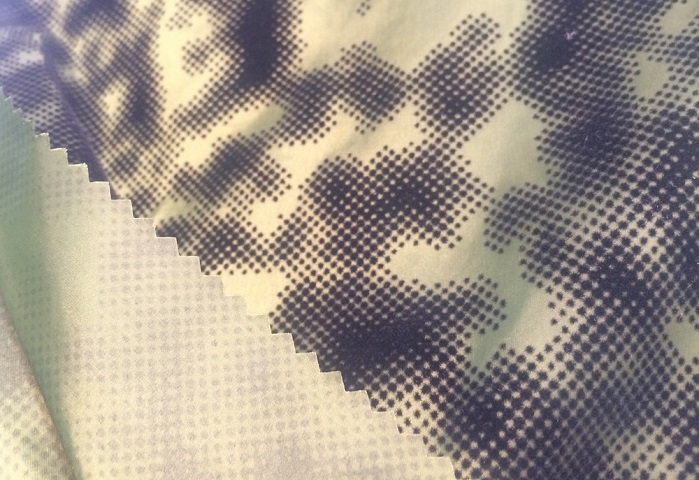 Hyperbola 100% nylon with internal flock print. © Anne Prahl
Hyperbola's 64 g, 100% nylon fabric flock print illustrates the trend for applying flock and other textured prints on the skin-side of lightweight shell fabrics, in order to avoid the garment sticking to the skin during exercise, as it may be worn on top of a t-shirt or vest. Another example of this approach was Solis' 100% nylon shell with a dotted flock design printed on the membrane.
While technical and aesthetic innovation in this category is exciting, in the future designers will be looking for more sustainable options, such as TORAY's 30% bio based water repellent polyester or Berg Outdoor's repurposed second-grade parachute fabric seen at ISPO.
Crinkled & papery surfaces
Another omnipresent trend for woven fabrics was crumpled and paper-like surfaces and one of the most eye-catching examples is Mectex's NoxFlow Combo, which has a lightly creased and worn-in looking fabric face, contrasted with a heat-retaining metallic foil on the back.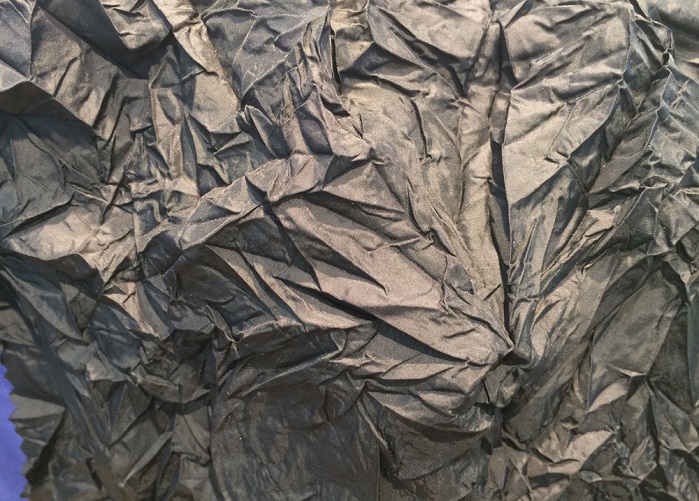 Bristex 100% PES recycled. © Anne Prahl
Bristex's 100% recycled polyester fabric is suitable for lightweight, packable shell jackets, thanks to a fluorocarbon-free finish and being windproof, while Tohei Tsusho's waterproof, windproof and breathable 3-layer fabric Ventex Coral displays a subtly crumpled surface reminiscent of antique tanned leather.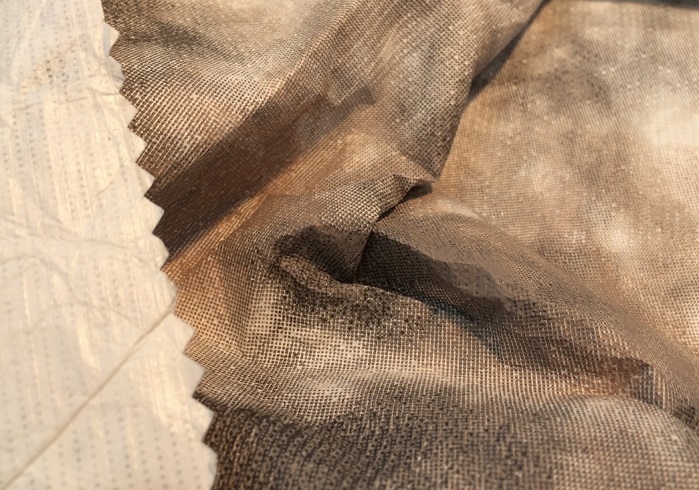 Hyperbola 100% PE recycled. © Anne Prahl
Hyperbola's version of the crinkled surface theme utilises paper-like polyethylene fabric, enhanced by an abstract print adding to the textured appearance. The result is a lightweight, tear-resistant, durable and windproof fabric suitable for jackets and accessories, which could be recycled at end-of-life.
Another great interpretation of this trend is Honmyue's nylon fabric, which thanks to a remarkably convincing digital print appears paper-like and crumpled, while being completely flat on the surface. This material is abrasion-resistant and water-repellent and suitable for use in soft equipment such as bags and backpacks, for which it was recently given the ISPO Textrends Best Product award.
Honmyue digitally printed polyamide fabric. © Anne Prahl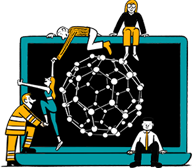 Business intelligence for the fibre, textiles and apparel industries: technologies, innovations, markets, investments, trade policy, sourcing, strategy...
Find out more