Technology/Machinery
French machinery collaborative developments discussed at Techtextil
Four association's members and a guest speaker, Pascal Denizart, CEO of CETI based in Lille, presented during the press conference.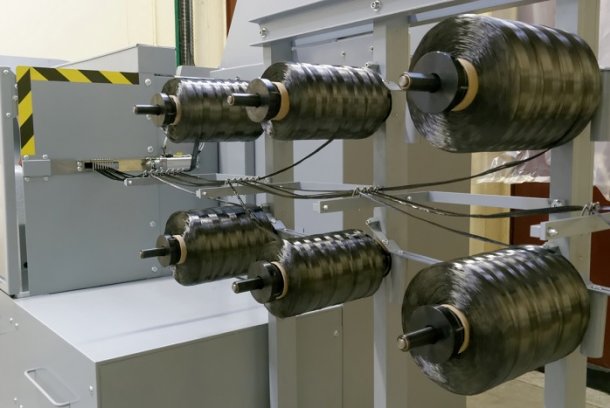 8th June 2017
Innovation in Textiles
| Courbevoie
UCMTF, French Textile Machinery Manufacturers Association, has presented French Textile Machinery Manufacturers' partnerships with their customers at last month's Techtextil, to identify the textile producers' technological needs to design and develop innovative textile products, how the best solutions could be found, and more. Four association's members and a guest speaker, Pascal Denizart, CEO of the European Centre of Innovative Textiles, the CETI based in Lille, presented during the press conference.
"Innovation comes both from new technologies and the market's demands," said Evelyne Cholet, UCMTF Secretary General. "The French textile machinery manufacturers are quite strong in long fibre spinning, yarn twisting and control, heat setting, carpet systems, nonwovens, dyeing and finishing, air and recycling processes."
"We are proud of our strategy to offer customised solutions, and not only off the shelves machinery, to focus R&D on our customers' requirements, to offer cost effective, reliable, and environment friendly machines."
N. Schlumberger
N. Schlumberger is a leader in spinning lines for processing long staple fibres. It proposes three processes to produce long staple top of technical fibres: carding, stretch breaking and crush cutting. Patrick Strehle, Sales Director of N. Schlumberger, presented several long-term partnerships with company customers.
First included a Taiwanese customer producing clothes, sleeves, ropes and tapes from metal fibres. The objective was to produce sliver of 100% stainless fibres from tow of 8 ktex finesses from 8 to 12 microns, in order to process yarn count Nm 6 to 16. NSC experience with stretch breaker model S 200 was used to develop a special model FB20.
Laroche
Laroche, in Cours, near Lyon, is a leader in textile recycling and nonwoven machinery. Elias Junker, an Area Sales Manager, described how a recycling and nonwoven eco-friendly solution was tailor made for NovaFibers (Grupo de Todos) in Guatemala.
NovaFibers had organised a logistics in the US to collect second hand clothes and transport to Guatemala to resell them but many of these clothes could not be sold for a second life even at very low prices and then had to be thrown to waste. The challenge was to find a sustainable alternative.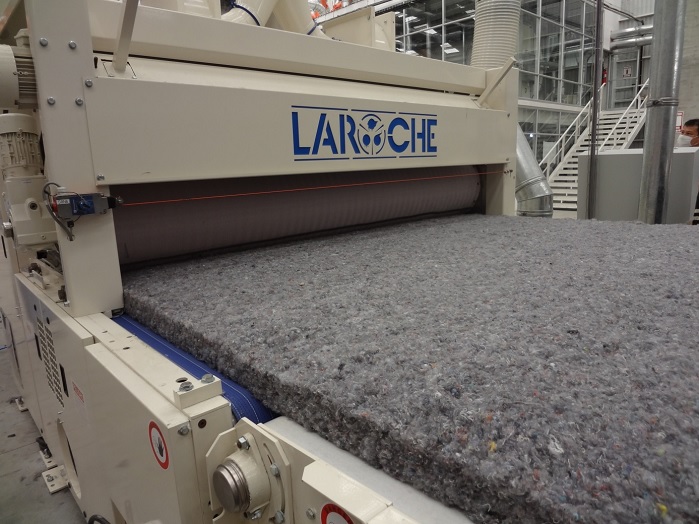 NovaFibers and Laroche worked together; clothes were sent to Laroche demo room in Cours, recycled into fibres to produce nonwovens which were sent to Guatemala to check if were marketable. Then, Laroche designed a complete line for NovaFibers. Now, NovaFibers imports in Guatemala second hand clothes from the US, resell part of them, and the rest is recycled into regenerated fibres which become the new materials to produce airlay nonwovens.
Superba
Hubert Tretsch, Superba marketing manager, explained how a new yarn style was developed in collaboration with a leading Turkish carpet manufacturer. Superba is a French company based in Mulhouse (Alsace). It is a leader in saturated steam heat-setting machinery required for high quality carpet yarns. Member of the VandeWiele family of companies, Superba offers complete lines to produce carpets.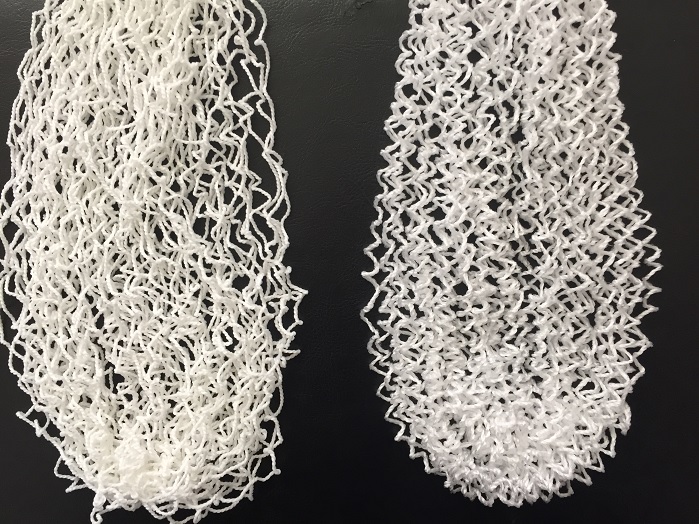 The demand was developing for textured (frieze) yarns, but the yarns produced with the existing machines showed too high frieze effect, too randomly curved. The collaborative project between Superba and its Turkish customer started in 2013. A prototype was developed with which the customer produced sample yarns and carpets which were tested both from a technical and a marketing points of view. Thanks to the positive feedbacks from the field, the machine was improved and by 2015 the whole process was completed.
Dollfus & Muller
The manufacturer of key original machinery spare parts supplies textile dryer belts and endless special felts to technical textile manufacturers. David Fauconnier, sales director of Dollfus & Muller, presented three key belts and felts developed in close partnerships with European textile machinery manufacturers.
One of them is an innovative non-marking and non-sticking dryer belt specially developed for thermobonding ovens for the process of nonwovens. This mesh belt available up to 5.2 meters wide has no fibre sticking at the belt joint which avoids web degradation, according to the company.
CETI European Centre of Innovative Textiles
CETI is a disruptive textile innovation and applied research centre for future trends and needs, adapted to the environment. "A place to design, prototype, experiment new products, or material for the global textile chain," explained Pascal Denizart, the CEO. During the conference, CETI and the German association IVGT announced that CETI and IVGT had signed a cooperation agreement.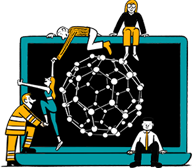 Business intelligence for the fibre, textiles and apparel industries: technologies, innovations, markets, investments, trade policy, sourcing, strategy...
Find out more