Opinion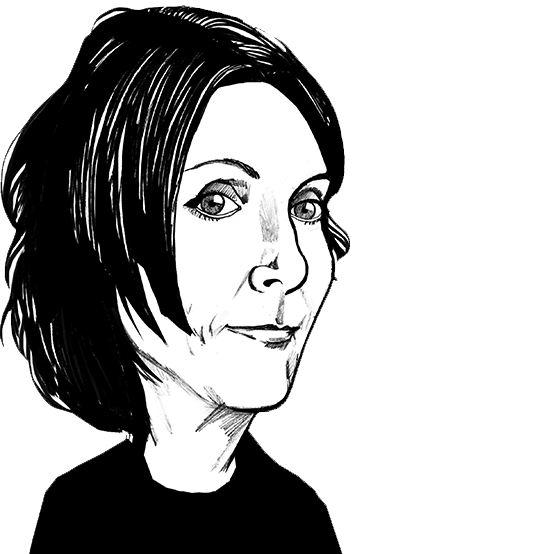 ISPO 2018: Textile and technology trends
Anne Prahl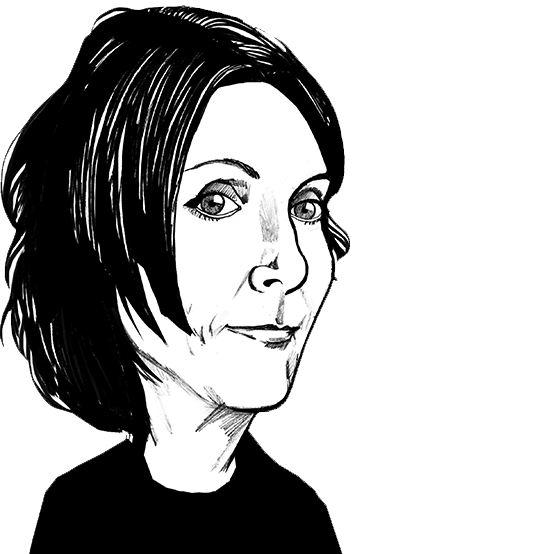 Over 2700 exhibitors, including sports, outdoor and snowsports brands presented their products and technologies during ISPO Munich 2018.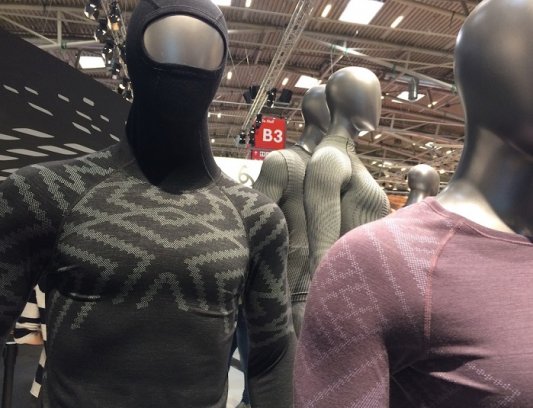 5th February 2018
Anne Prahl
| Munich
Over 2700 exhibitors, including sports, outdoor and snowsports brands as well as machine, textile and garment manufacturers, presented their products and technologies during ISPO Munich 2018. Key textile and technology trends included innovations around natural and engineered seamless knitting, seam-free bonding technologies and lightweight synthetic and natural alternatives to down insulation.
Seamless knitting: Natural & engineered performance
Body-mapped and seamless sportswear continues to be a major focus, as many exhibitors showcased their textile and product innovations. ODLO's sports underwear range Futureskin, a collaboration with Zaha Hadid Design, displays a futuristic aesthetic and benefits from Organic Body Mapping, which enables climate control, advanced moisture management and enhanced freedom of movement. In contrast, the company's Natural Kinship range has a more traditional appeal, created by embedding graphic patterns through a sophisticated seamless jacquard weave construction. The styles offer supreme comfort, odour resistance and temperature regulation, thanks to the blend of performance and natural fibres, which contains 57 percent extra fine merino wool.
The natural performance theme was also apparent at garment manufacture level, as Cifra, one of the world's leading warp knit seamless producers, presented performance garments created with Merino wool and Tencel. The company is well known for its Warp Knit Seamless technology, which creates body mapping through engineered jacquards with open mesh details to provide breathability, but the addition of natural and renewable fibres into the mix brings additional design opportunities. Merino wool offers inherent odour resistance and moisture management, as well as being able to provide thermal insulation. When combined with Tencel, garments have a pleasing touch, while offering additional inherent moisture management to ensure comfort and freshness during a variety of sporting activities including yoga.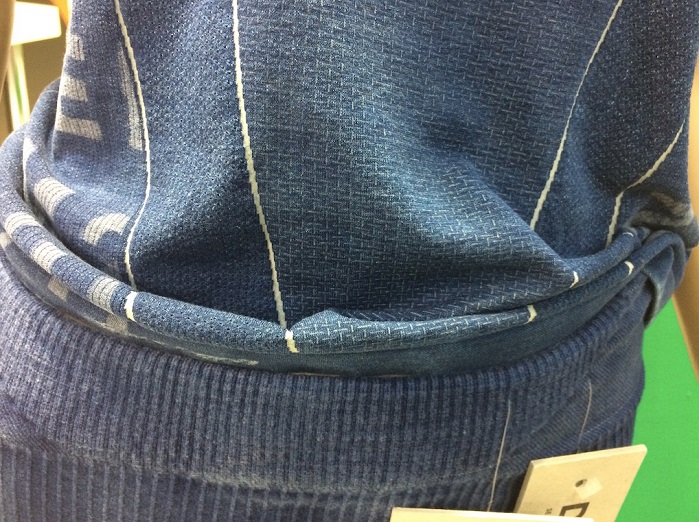 Seamless knitting machine supplier Santoni showcased a collection of garments, which was developed in partnership with Lenzing, Tonello and Unitin. Combining Santoni's seamless knitting expertise with Unitin's indigo knits made with Lenzing's Tencel fibres and sustainable washes treatments from Tonello, the pieces demonstrate exciting opportunities for body-mapped, denim-inspired sportswear and fashion. Functional features include superior moisture wicking and temperature regulation enabled by a unique Tencel two-layer construction and engineered body-mapping for ultimate ventilation.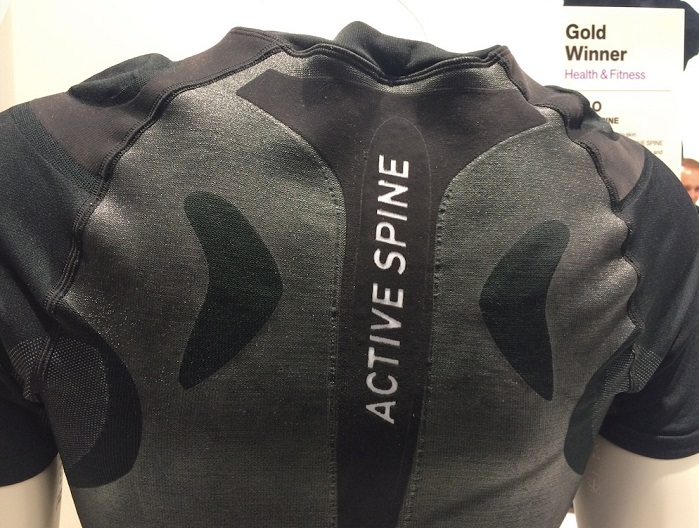 ODLO's next-to-skin performance baselayer Active Spine, which was a Gold Winner in the health & fitness category, combines advanced biomechanics with seamless knitting to provide an active posture control system, which enables the athlete to control their posture to improve their performance as well as wellbeing during recovery.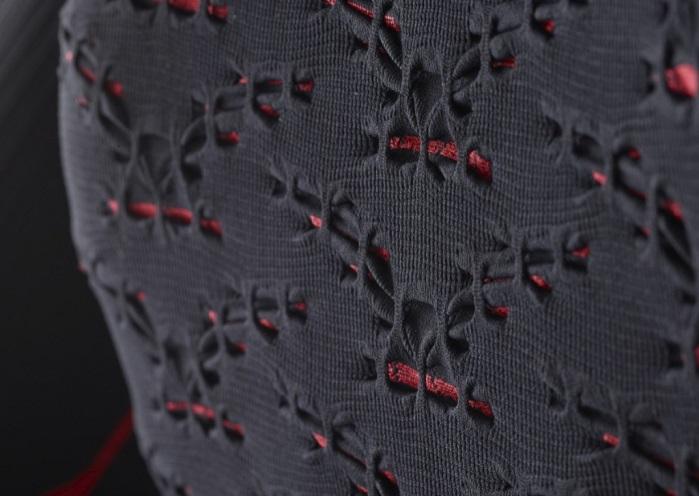 An ISPO Gold Winner in the snowsports category, Energy Accumulator EVO ThermoSyphon by X-BIONIC allows the athlete to maintain optimal performance levels for longer, thanks to the technology's ability to covert sweat into energy. The unique, three-dimensional knitted construction allows the wearer's sweat to be channelled through the X-shaped ThermoSyphon structure. As a result the physical state of sweat changes from liquid to steam, which enables improved moisture management and vertical ventilation.
Santoni presented another example of innovative use of seamless knitting; utilising their Mecmor open panel circular knitting machine, the company have re-engineered the knitting process to produce 3D knitted footwear uppers, which benefit from a range of features. Thanks to the ability to mix different yarns and map specific areas of the uppers with meshes, the final product boasts lightness, improved stretch, better form fitting and breathability. In terms of sustainability, as one machine produces all sizes of fabric there are limited and controlled wastages and the process can be used for recycled yarns too.
Seam-free bonding technologies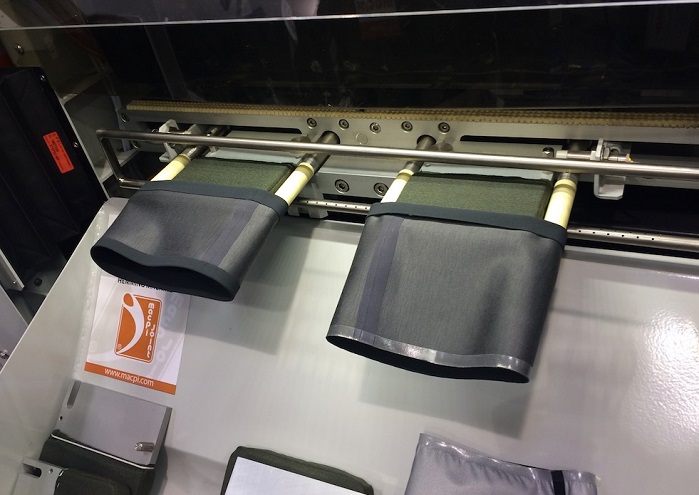 Macpi Bonding Division exhibited a comprehensive range of solutions for stitch-free applications, including seam-sealing machines, bonding carousels and a cuff-bonding machine. The company's electro-pneumatic bonding machine for cuffs has two heated plates with independent temperature control, a device to cool the pieces after the bonding cycle and an intuitive touch-screen control for parameter programming and data saving. Also included is a wide range of templates, which can easily be interchanged to avoid machine downtime. This technology works on synthetic as well as natural fabrics.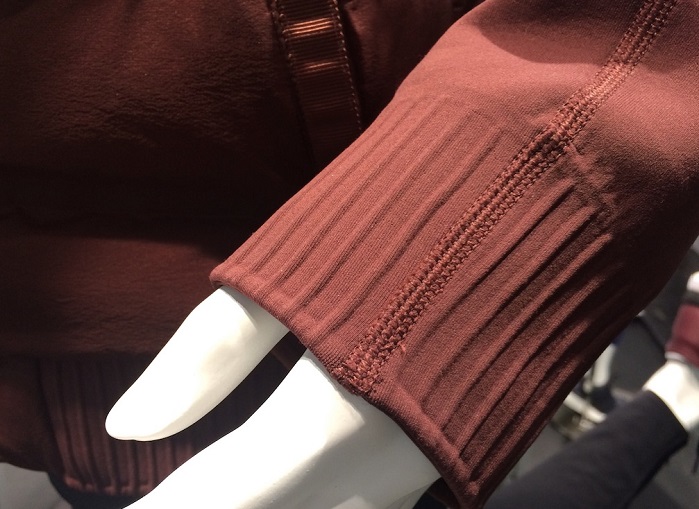 Bemis Associates, a manufacturer of thermoplastic adhesives, films and coatings presented their diverse range of Bemis Sewfree bonding solutions by showcasing an innovative range of garments and samples. The company's Versafilm technology adds stretch to hems and cuffs without any bulk, as this is particularly relevant for layering systems in performance sportswear.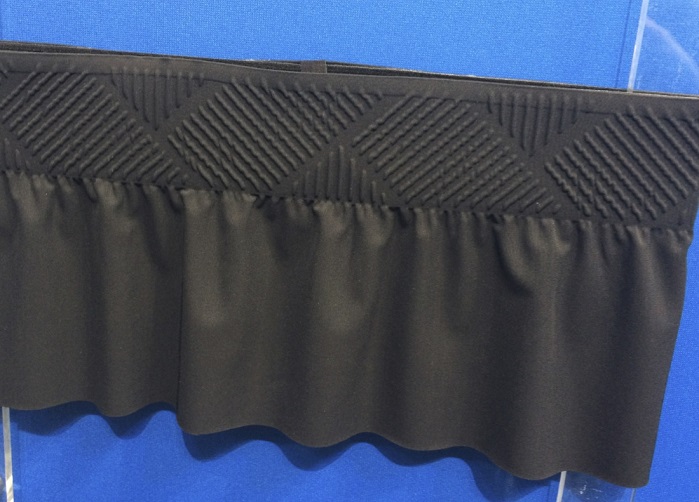 Also inspiring was the concept wall displaying design ideas and samples for engineered and functional gathering details, which enable freedom of movement and comfort, while adding a lifestyle look to performance garments.
In order to demonstrate the benefits of their Sensitive Fabrics, Eurojersey presented a new activewear collection on their stand. The pieces further utilise New Textile Technologies' innovative and patented 'SensElast Seamfree' technology, which is based on a process of elastomeric coating and bonding. The tape is directly applied to Sensitive Fabrics, a process which is described as having the ability to further enhance the properties of the fabric to create more comfortable garments as well as additional features and unique designs.
Insulation materials: Synthetic & natural down alternatives
The focus for insulation materials continued to be on reduced weight and bulk with special attention to down-free products. PYUA s 'snug-y 2.0' mens' hybrid fleece jacket, a Gold Winner in the snowsports category, utilises the innovative new synthetic insulation comfortemp fiberball. This product was developed by Freudenberg Performance Materials as an alternative to down and is the world's first padding made from continuous fibre balls, combining the benefits of loose material and metre goods. As a result, designers have more creative freedom in respect of quilting details, as they do not have to worry about material migration. In addition, this insulation material is 80% recycled and was therefore a perfect choice for PYUA, who have the long-term goal to turn all used PYUA jackets into new jackets at end-of-life.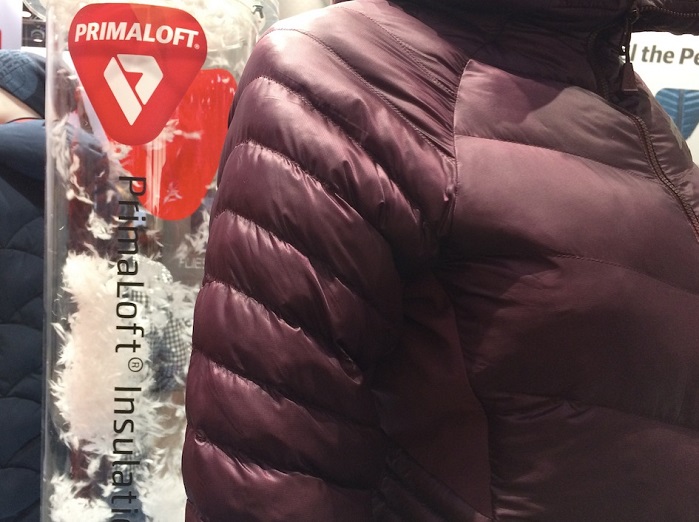 Insulation specialist PrimaLoft first presented their synthetic, hydrophobic PrimaLoft Black Insulation ThermoPlume at ISPO 2017 and this year demonstrated the successful commercial uptake for winter 2018/19 with a range of garments by companies including Montane and inov-8. The insulation utilises a blend of water-resistant PrimaLoft fibres in the form of small, silky plumes, which collectively provide a loose-fill insulation to rival the properties of natural goose down.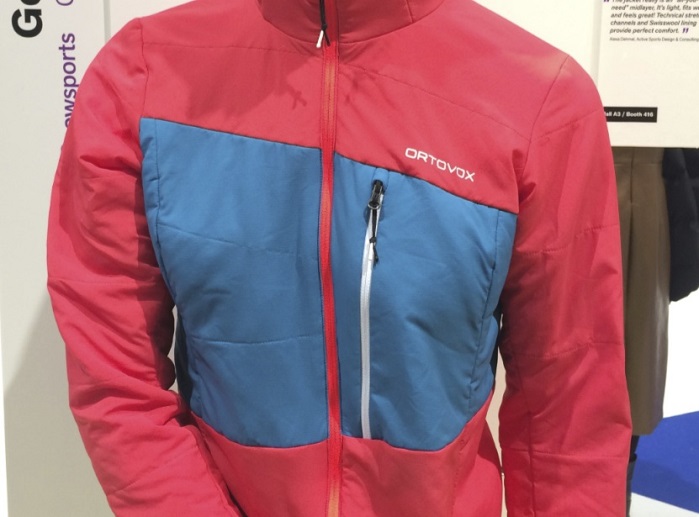 Another alternative to natural down is wool and Swiss company Ortovox's midlayer Swisswool Tec Stretch Zebru Jacket, Gold Winner of the ISPO Award 2018 in the snowsports segment, is equipped with a Swisswool lining constructed with technical stretch channels to provide compact and elastic insulation.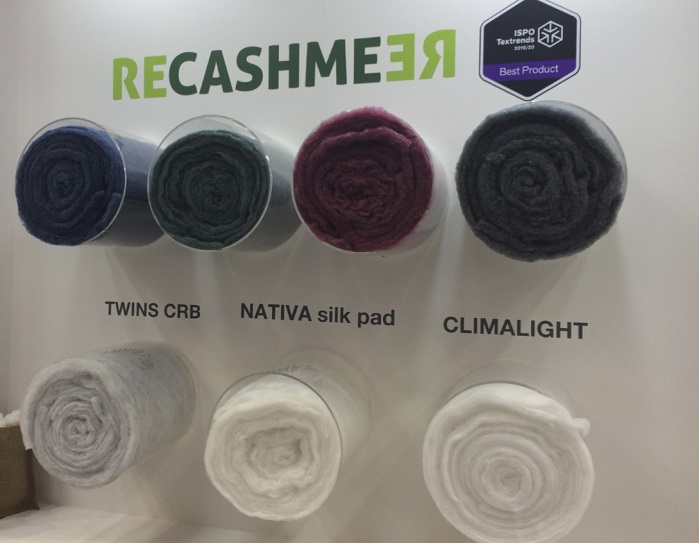 Also noteworthy is the trend towards recycled wool insulation, as RECASHMERE insulation by Imbotex won Best Product award at ISPO Textrends 2019/20. Comprising 90 per cent recycled cashmere (made from old cashmere sweaters) and 10 per cent biosynthetic PLA, the product is available in a number of weights and applicable for outer apparel, jackets, footwear, sleeping bags and gloves. Another innovative solution for recycled insulation is Re:Down, which is recycled from down and feathers extracted from post consumer goods and reused as filling material in apparel and sleeping bags.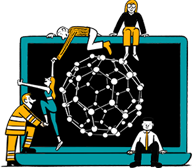 Business intelligence for the fibre, textiles and apparel industries: technologies, innovations, markets, investments, trade policy, sourcing, strategy...
Find out more