Industry Talk
Myant partners with Canadian expert for dentistry PPE innovation
The types of PPE under development include both washable textile masks intended for support staff in dental practices, and washable textile-based respirators...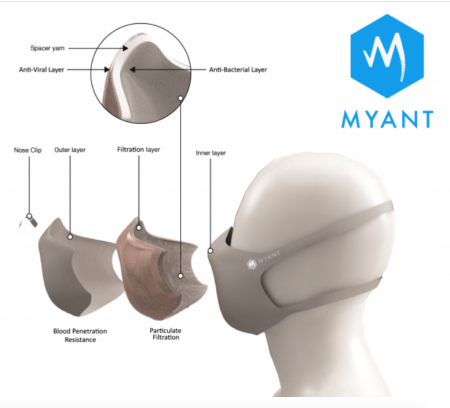 28th May 2020
Innovation in Textiles
| Toronto, Canada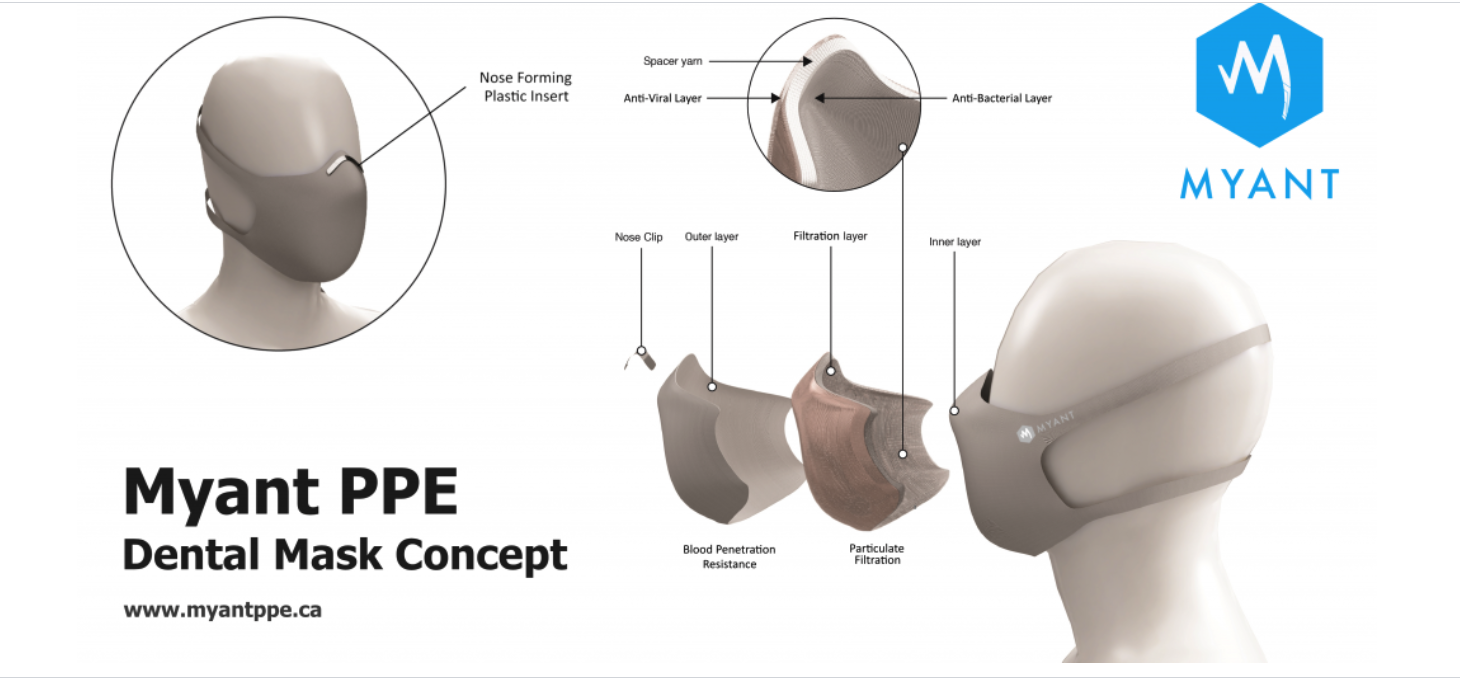 © Myant.
Myant Inc., a world leader in Textile Computing, has announced a partnership with Dr Natalie Archer DDS, a recognized Canadian dental expert, to collaboratively develop a new line of personal protective equipment (PPE) designed to address the extreme risks that dental professionals face as they reopen their practices to serve their communities.
The types of PPE under development include both washable textile masks intended for support staff in dental practices, and washable textile-based respirators that meet NIOSH N95 standards for dental professionals who work in critical proximity to patients.
Risks for dental professionals
Social distancing is one of the basic ways to mitigate the spread of the coronavirus, with health officials advising people to maintain distancing of two metres with others. With governments progressively reopening their economies and allowing businesses to begin serving their communities again, the challenge of maintaining two metre distancing will become a potential source of danger for both front-line workers and for those that they serve.
"This is especially true for people working in the dental industry whose work environment is literally at the potential source of infection: the mouths and noses of their patients," Myant said in an article on its website. "An analysis conducted by Visual Capitalist, leveraging data from the Occupational Information Network, suggests that dentists, dental hygienists, dental assistants, and dental administrative staff are among the professions and support staff at the highest risk of exposure to coronavirus. Their work requires close proximity / physical contact with others, and they are routinely exposed to potential sources of infectious diseases."
"The public health risk is magnified when you consider the volume of patients coming in and out of a dental practice," Myant adds. "Consider the contact tracing challenge if a single asymptomatic dental hygienist tests positive for COVID-19. That dental hygienist may work in a practice with two dentists, a billing coordinator, a receptionist, and perhaps three other dental hygienists who each see 100 patients a week (with each patient coming with a loved one in the waiting room). It is clear that dental professionals will need to be among the most vigilant in our communities when it comes to the adoption of effective PPE in order to protect themselves and society from a potential second-wave of the virus."
Partnership to drive innovation in dental PPE
Recognizing this challenge Myant, the textile innovator that pivoted to innovation in PPE as a response to COVID-19, has partnered with one of Canada's pre-eminent dental experts to design a line of PPE geared specifically to meet the challenges that dentists, other dental professionals and their staff will face, in the Post-COVID normal. Dr. Natalie Archer DDS was the youngest dentist ever elected to serve on the Board of the Royal College of Dental Surgeons of Ontario and served as the governing body's Vice President between 2011 and 2012. As a recognized and trusted subject matter expert on dentistry-related topics, she is regularly asked to speak to the public in the Canadian media. Dr. Archer will be working closely with the Myant team, advising on the design and the certification process for a new line of PPE for dental professionals currently under development.
Reflecting on her motivations, Dr. Archer told Myant: "Dental professionals feel a tremendous responsibility to get back to serving their communities, but as both members and servants of the community, we must be safe and responsible for both patients and the people that treat them. Like other dental professionals, I am concerned about maintaining levels of PPE."
"With disposable PPE I feel there will always be a concern of running out, the expense, uncertain quality, not to mention environmental concerns because of all of the waste. Also, there is a real problem with the discomfort that currently available PPE poses for dental professionals who typically work long shifts and whose work is physical. I am excited to be innovating with the team at Myant to address the real world clinical problems that we are facing now in dentistry by producing PPE that is protective, comfortable, and reusable, which will help all of us stay safe and allow us to do our jobs."
The PPE for dental professionals will be designed and manufactured at Myant's Toronto-based, 80,000 square foot facility which has the current capacity to produce 340,000 units of PPE a month. Plans are underway to expand that capacity to produce over one million units per month as communities across Canada and the United States start looking for ways to re-open in a safe and responsible manner.
"This new development highlights the agility with which Myant is able to operate, rapidly integrating the domain expertise of our partners to unlock the potential behind our core textile design and commercialization capabilities," said Myant Executive Vice President Ilaria Varoli. "Textiles are everywhere in our daily lives and we look forward to working with partners like Dr. Archer to make life better, easier, and safer for all people."
Ilaria Varoli, EVP, Myant Inc.(c) Myant.
Further information
For consumers interested in purchasing non-dental PPE, please visit www.myantppe.ca.
For B2B inquiries about Myant's non-dental PPE, please contact us at [email protected].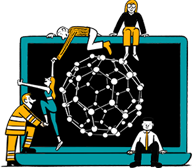 Business intelligence for the fibre, textiles and apparel industries: technologies, innovations, markets, investments, trade policy, sourcing, strategy...
Find out more