Paid content
Industry Talk
Surface attraction in driverless vehicles
A vehicle's interior will assume a much more dominant role in consumer expectations.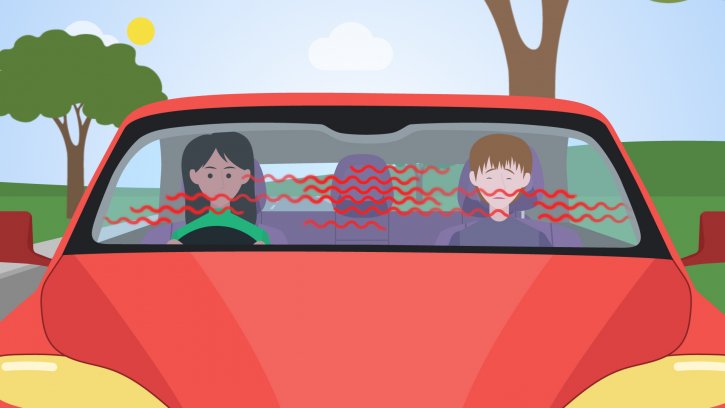 2nd November 2022
Innovation in Textiles
| Cambridge, United Kingdom
The jury is out on the timeline for the introduction of autonomous or self-driving vehicles, especially in the USA, where billions of dollars have been pumped into both development programmes and shares in up-and-coming market entrants, with the expectation that progress would be rapid.
Silicon Valley and the tech industry's explosion of activity in this field initially caught the traditional OEMs on the hop, leaving them with a somewhat stark choice. They could either surrender a lucrative portion of business and risk ending up becoming mere sub-contractors, making the shells to which sensors and software are added, or treat the technology companies as suppliers and learn how to build autonomous vehicles in-house.
Objectives
Not surprisingly, they went for the second option, but it should be noted that the two industries have very different objectives and agendas. The wish of the established automotive industry is naturally for business as usual, with car ownership continuing to grow, which now seems unlikely in the long term. The unstated goal of the tech industry, meanwhile, is the complete elimination of car ownership and its eventual substitution with fleet-owned autonomous vehicles as a super-networked global public transport system.
How these two very different objectives will be reconciled is the story yet to unfold, but Crunchbase, which tracks start-up valuations and investments, observed in a recent report on the market that self-driving technology companies in the West experienced a funding boom in 2020 and 2021 which has now stalled. The honeymoon, it seems, is over.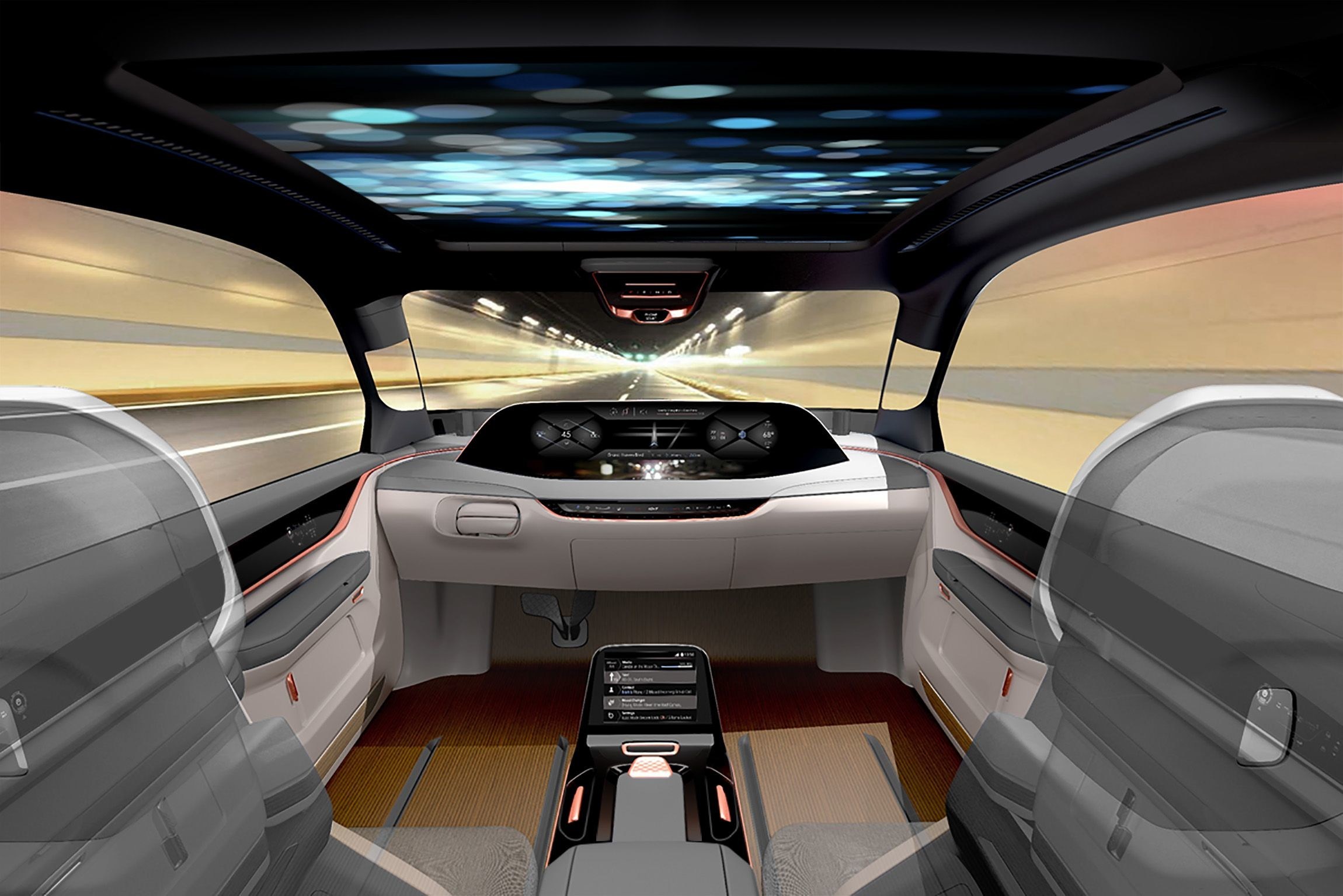 Robotaxis
China, however, has approached this market from an entirely different angle and actively paved the way for driverless cars since first introducing detailed legislation, permits and special zones in 2015. In August this year, a number of companies received permits to operate robotaxis and eight major cities are currently trialling the driverless ride-hailing services.
According to analyst Nomura Holdings, China's share of the autonomous vehicle market will be worth around 50% of its overall estimated value of $237 billion in 2025.
Whatever the timeframe, self-driving cars will inevitably become a reality and what is clear, is that once the market starts taking off, a vehicle's interior will assume a much more dominant role in consumer expectations.
For a number of years now, the major OEMs, as well as their Tier suppliers in the automotive interior textiles space such as Adient, Faurecia, Grupo Antolin and Yanfeng, have been exploring the concept of the car's interior as the new living room, with adaptable new seating configurations, integrated connectivity and a dual emphasis on in-car entertainment and surface materials.
Naturally, post-Covid-19, overall cleanliness, safety and odour inhibition have become further essential requirements.
Microsuedes
In conventional automotive interiors in recent years microfibre-based artificial leathers or microsuedes – the most famous being Alcantara – have made major gains and are now the preferred option to natural leather for many leading car manufacturers and their customers. There is no reason to suspect this trend won't continue with the advent of autonomous vehicles.
The benefits microfibre-based artificial leathers or microsuedes provide include breathability, softness and scuff resistance – which will be very important in the predicted rise of shared mobility. They also allow flexibility in seat and component assembly and can take bold colours.
As a result, they are now commanding premium prices, but nevertheless the Chinese market is now going absolutely mad for them.
Made to order
While taking the lead in the development of autonomous vehicles, however, there is another notable distinction between the expectation of China's consumers and those in the USA and the West – an aversion to the so-called 'new car smell'.
A recent survey of Chinese consumers by UK-based chemtech Aqdot revealed a very strong interest in improving in-car air quality by reducing VOCs (volatile organic compounds) and removing the new car smell. The survey found that 77% of car owners in China would – wisely – be more likely to buy a brand-new car that did not have the smell.
VOCs, in any case, are known to be detrimental to health and rapidly being phased out where possible.
Unique applications
All interior materials need care, of course, and Aqdot's AqFresh is a versatile new additive technology for them that is set to have a profound impact on improving vehicle indoor air quality.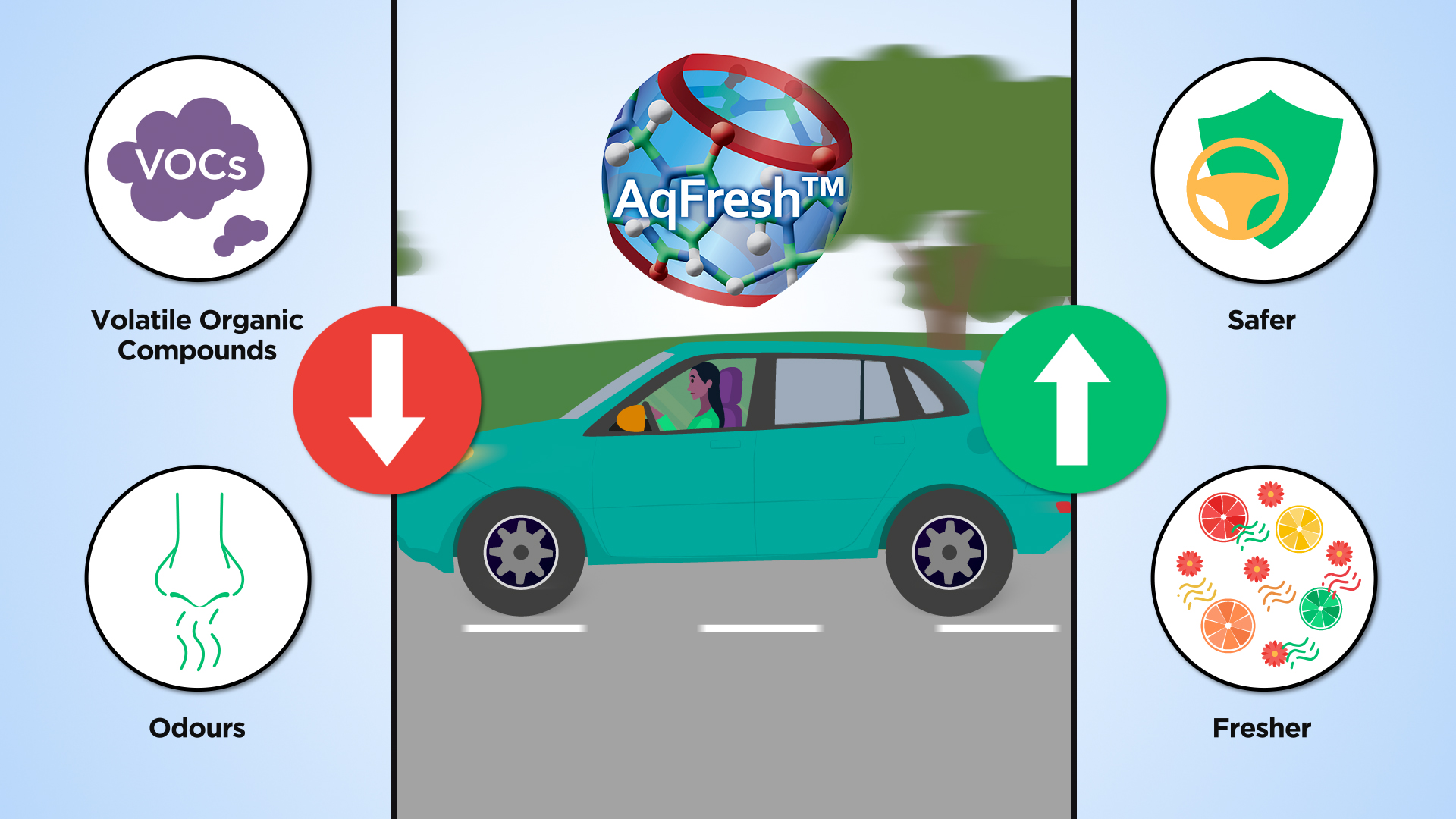 The supra-molecular powder has been incorporated into nonwovens, coated textiles and plastics that are typically found in automotive interior parts and proven to significantly reduce their VOC and odour emissions. The patented technology utilises Cucurbiturils – barrel-shaped molecules with a hollow hydrophobic cavity and polar portals, enabling them to tightly bind a wide spectrum of unwanted molecules.
This unique technology can be applied to surface materials through dry impregnation as well as by spraying and padding during the finishing process to capture a wide range of pollutants and malodours, while being unaffected by normal changes in environmental conditions and non-toxic.
AqFresh has also been proven to be effective in rigid plastic parts such as PP for dashboards, into which it can be incorporated via compounding or polymer masterbatch. It has been added into the manufacturing process of PVC coated textiles and VDA-270 sensory panel tests clearly demonstrate a reduction of odours of 1-1.5 points.
In short, it's the perfect solution for ensuring the indoor air quality of any new vehicle and the safety of its interior surfaces – whether extruded like plastics, cut from leather hides or spun from yarns.
Watch the AqFresh automotive interiors 3D video…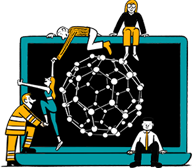 Business intelligence for the fibre, textiles and apparel industries: technologies, innovations, markets, investments, trade policy, sourcing, strategy...
Find out more