Industry Talk
Urgent strategy needed for textiles and clothing, says Euratex
This year must be a turning point for the European textiles and clothing industry, association says.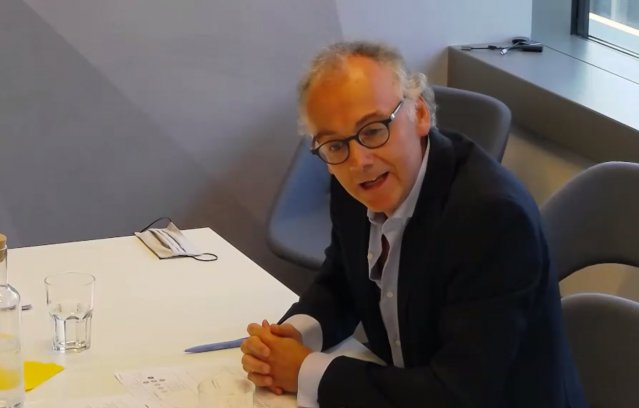 9th April 2021
Innovation in Textiles
| Brussels
Euratex – the Brussels-based European textile and clothing industry association – is concerned that the Covid19 crisis may soon be followed by disruptions in global supply chains, affecting the competitiveness of the industry.
Economic data up to December 2020 reflects a dramatic contraction in both the demand and production of textile and clothing caused by the pandemic.
Over the full year 2020, EU sales of textiles fell by –9.3% and clothing sales by –17.7%, compared with 2019.
Imports of personal protective equipment including facemasks, especially from China, climbed from a value of €1 billion in 2019 to €20 billion in 2020.
The crisis was particularly severe in the middle of the year, with production losses of over 50%.
Towards the last quarter of 2020, business activity recovered for the textile industry (+1.6% compared with the previous quarter), but further deteriorated in the clothing sector (-6.8%), as a result of the decline in consumption expenditure and the slowdown in non-essential activities.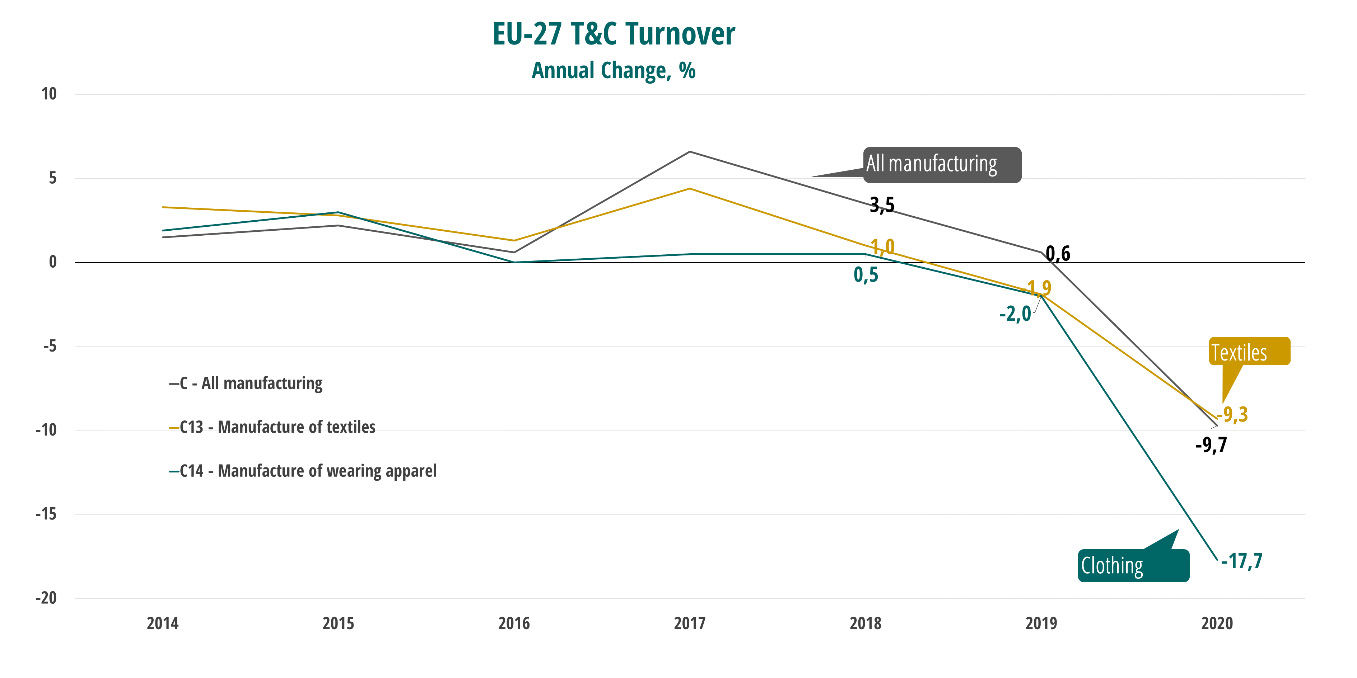 Looking at trade performance, EU exports fell by 13.6% in 2020 with a steep decline for all of the top ten export destinations.
EU imports increased by +5.5% in 2020. This increase was mostly due to the import of personal protective equipment including facemasks, especially from China – up from a value of €1 billion in 2019 to €20 billion in 2020.
Recovery signs
Looking forward, a March 2021 EU Business Confidence Indicator showed an upward trend in the textile industry (+3.8 points), and a modest recovery in the clothing industry (+1.6 points). The Employment Expectations Indicator also revealed an increase.
These signs of recovery, however, are being jeopardized by recent turmoil in the textile and clothing supply chain, raising the prices of textile fibres and dyestuffs, as well as transport costs. In addition, there is a negative impact on CO2 prices and political turmoil in some important sourcing countries such as China and Myanmar which is creating uncertainty, adding to the challenges of the corona pandemic.
Euratex believes 2021 will be a critical year for the competitiveness of the European textile and clothing industry and a forward-looking EU textiles strategy, which offers the right policy mix and support instruments for SMEs, is essential.
"European textiles and apparel companies have shown great resilience and flexibility during this pandemic but continue to face global challenges," said director general Dirk Vantyghem. "Now is the time to design a modern framework to support these companies in their transition process. We need to focus on promoting innovation, offering support towards digitalisation, creating robust supply chains, and ensuring a level playing field."
The EU Textiles strategy is expected for to be issued in the third quarter of 2021 and while it will put a strong focus on sustainability and circularity, Euratex believes the strategy must take a broader perspective and ensure long term competitiveness.
With around 160,000 companies employing 1.5 million workers, the EU textile and clothing industry is an essential pillar of the local economy across many EU regions. With over €61 billion of exports, the industry is a global player successfully commercialising high added value products on growing markets around the world.
Working together with EU institutions and other European and international stakeholders, Euratex is focused on clear priorities – an ambitious industrial policy, effective research, innovation and skills development, free and fair trade, and sustainable supply chains.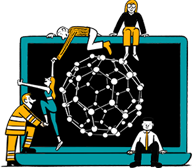 Business intelligence for the fibre, textiles and apparel industries: technologies, innovations, markets, investments, trade policy, sourcing, strategy...
Find out more