Coating/​Laminating/​Bonding
Intelligent Hybrids offer new solution for DWRs
Nano-Care Deutschland has developed Intelligent Hybrids, composed of PFC-free chemicals conforming with the Greenpeace campaign Detox and the ZDHC programme.
19th March 2018
Innovation in Textiles
| Saarwellingen
Nano-Care Deutschland, a leading specialist in the production of ready-to-use high-tech coatings, based in Saarwellingen, has developed Intelligent Hybrids, composed of PFC-free chemicals conforming with the Greenpeace campaign Detox and the ZDHC programme, to provide new hope for sustainability in the market for durable water repelling textile coatings (DWRs).
"The big advantage of hybrid technologies lies in their ability to combine positive features by eliminating the disadvantages as far as possible," said Oliver Sonntag, CEO.
"Many fluorine-free products are highly restricted in their application and performance. Intelligent Hybrids allow us to achieve excellent results on a wide range of textile fibres including polyamide, polyester, viscose, cotton, silk, leather and wool as well as on their blends. Our formulations have been developed to meet the requirements of the outdoor sector."
Legal restrictions
The use of durable water repelling coatings is subject to constant change. Whereas at the introduction of textile equipment fluorine-free hydrophobics were used for impregnating textiles, predominantly fluorocarbon products were used in the second half of the 20th century. Right up to 2012, their high efficiency and low-cost application served as an argument to justify the ecological risks – long-chain C8 fluorocarbons (PFCs) break down to PFOS and PFOA – two emissions proven to be "bioaccumulative", "persistent" and "carcinogenic".
The legal restrictions on C8 technology resulted in a move to shorter C6 fluorocarbons. Although their ecological balance on emissions is slightly enhanced, they cannot be seen as a sustained solution for decontaminating the textiles industry – since 2012, Greenpeace has been pleading for change to fluorine-free products in the outdoor sector with their campaign Detox.
Intelligent Hybrids
The Intelligent Hybrids products are said to show an outstanding resistance to washing cycles and to chemical cleaning. In addition, the combination of different base technologies allows special features such as LAD (laundry-air-dry), the company reports. "Nature itself provided us with the idea of developing hybrids from silicon dioxide nano-technology, paraffins, waxes, resins and silicones: as in evolution, genetic diversity leads to superior ways of living," said Mr Sonntag.
Besides water and dirt repellency, Intelligent Hybrids have further potential, according to the manufacturer – they are able to be used as a booster for oil and alcohol repellency to minimise fluorine usage.
Applications
"Intelligent Hybrids allow us to use short-chain C6 technology whilst achieving C8 performance. We are currently also working on products to improve C4 polymers – with the aim of being able to offer in future a C0 in this sector. Until then our products will reduce to a minimum both the chain length and the quantity required," commented Mr Sonntag.
"Especially in those areas where oil repellency is imperative, the restrictive regulation around C8 technology forces many industrial sectors to increase their C6 content. This is neither sustainable nor cost efficient – and it is exactly here that Intelligent Hybrids will constitute an advantage both for the environment and the cost issue."
One example is the Nanoflex F-Bond system, which was launched on 7 February 2018. This product is composed of a silica backbone, a modified C6 polymer, and process additives, which give level 8 performance according to ISO 14419 on polyester and 7 on cotton with normal Foulard/padding commercial application and subsequent curing at temperatures over 150°. The product has been certified with the Eco Passport standard 100 by Oeko-Tex.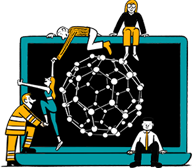 Business intelligence for the fibre, textiles and apparel industries: technologies, innovations, markets, investments, trade policy, sourcing, strategy...
Find out more