Technology/Machinery
Jakob Müller to present latest technology at Techtextil Frankfurt 2015
The company will showcase its NH2 53 2/130, electronically controlled, narrow fabric needle loom, used to produce illuminated window blinds.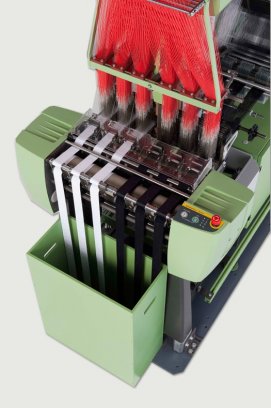 2nd April 2015
Innovation in Textiles
| Frick
Swiss based Jakob Müller AG, the leading manufacturer of woven and knitted tapes and webbing, woven ropes, woven labels and technical textiles, will exhibit at the upcoming Techtextil trade fair that takes place from 4-7 May in Frankfurt.
The company will showcase NH2 53 2/130, electronically controlled, narrow fabric needle loom, COMEZ ACOTRONIC 8B/600, an electronic crochet knitting machine using compound needles, and UV60 – RS, a fully automatic wrapping machine for rolls and coils.
Window blinds with LED elements
Light as a decorative element is becoming increasingly important for the interior design. By combining vertical window blinds with LED elements for indirect and dim lighting, for example, a special room atmosphere can be created.
Vertical windows blinds are woven structures. In order to integrate LED-elements continuously during the weaving process, thin and flexible LED-threads or LED- cables are required. Such LED-threads have been developed in different projects at Textile Research Institute Thuringia – Vogtland e. V. (TITV), Greiz.
Vertical windows blinds have been woven on an electronically controlled needle weaving machine, type NH2 2/130 in co-operation with Jakob Müller. The weaving machine as well as an illuminated window model will be shown on Techtextil fair.
Electronically controlled narrow fabric loom
The electronically controlled narrow fabric loom NH2 53 2/130 will be displayed at this year's Techtextil as enhanced (reinforced) version of NH2 53. With weaving system Z5, it is suited for light to medium-weight elastic and non-elastic narrow fabrics with unlimited repeat lengths.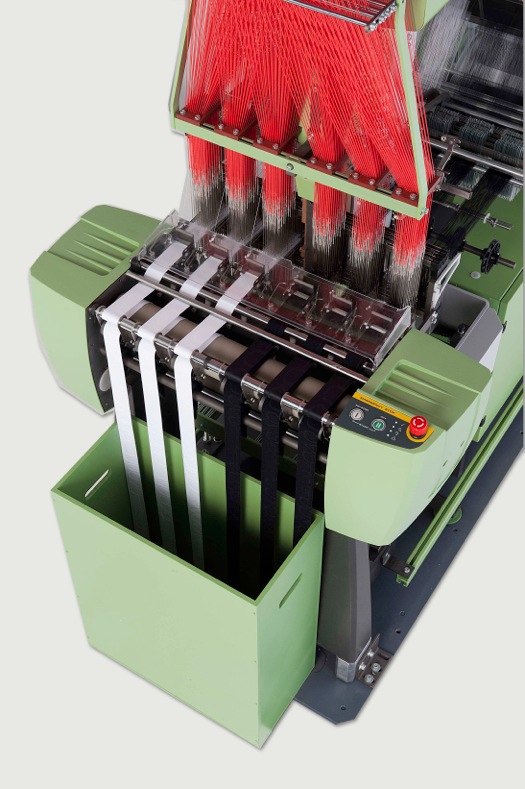 The NH2 53 is an electronically controlled loom for the weaving of elastic and non-elastic narrow fabrics. Electronically controlled shedding takes place via linear motors mounted directly on the healds. These replace pattern chains and drums and permit both unlimited repeat lengths and pattern changes in minimum time.
As compared to conventional needle looms, the NH2 53 is fitted with considerably fewer mechanical parts, which results in less wear and a cut in energy consumption of around 35%. A maximum of sixteen harness frames are available for patterning.
Warp crochet knitting systems
COMEZ ACOTRONIC 8B/600 is a high-efficiency, electronic crochet knitting machine that uses compound needles for the production of a wide range of ribbons, laces and technical textiles, both elastic and non-elastic.
Compound needles are said to make the machine highly versatile, as in addition to classic synthetic yarns (polyester, polyamide) they allow the processing in the warp of natural yarns (cotton, wool) and special fibres (Kevlar, fibre glass, carbon).
COMEZ ACOTRONIC 8B/600 is fitted with the DATA CONTROL CONTROLLER, which manages all essential machine functions, monitors production data and enables the realization of lengthy pattern repeats. According to the manufacturer, the number of lines available for each pattern is virtually unlimited. Patterning is carried out and programmed by exclusive PC textile software.
Automatic cutting and winding device
The UV60-RS is designed as a flexible and fully automatic winding system for a wide range of applications. Its flexibility fits well to the requirements of the above mentioned winding applications and also covers a wide range of winding dimensions up to roll/bobbin diameter of 500 mm, the company reports.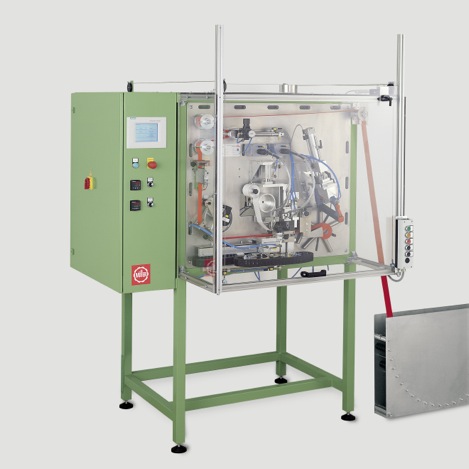 The UV60-RS is said to obtain high process reliability and avoid the typical textile problems, such as knots, roll/bobbin deformation, tension variations, loops or distortion.
According to the manufacturer, the main features of UV60 RS include:
Wide variety of different winding formats possible (flanged bobbins, cartridges, cassettes, winding with tube core and coreless)
Roll winding between side discs in full automatic mode for the uniform distribution of winding tension across the winding diameter and an equal control of tape tension
Precise bobbin winding by tape guides heading up to the very winding point of the bobbin with precise traverse control and automatic height adjustment of tape guide
Fully automatic winding operation, beginning from supply of empty tubes/bobbins up to final stacking of wound-up rolls/spools enables operator-less manufacturing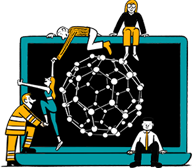 Business intelligence for the fibre, textiles and apparel industries: technologies, innovations, markets, investments, trade policy, sourcing, strategy...
Find out more