11th September 2017, Glen Raven, NC
New Pendleton by Sunbrella collection released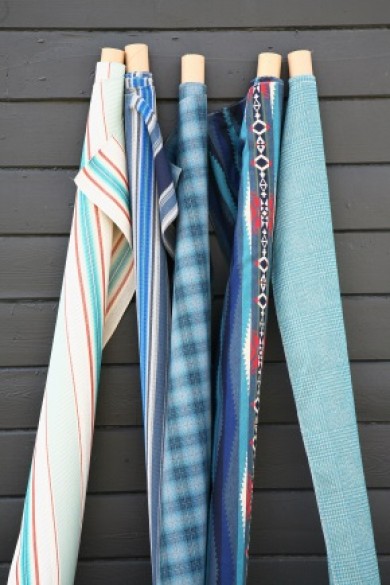 The new Pendleton by Sunbrella collection, inspired by the "plains of American history", is now available through Pindler, a leading fabric sourcing specialist. "The collection tells the story of those who walked the land before us, a sunset painting a colourful palette, and the mountain range creating texture underhand," the company reports.
Pendleton by Sunbrella was born from the idea of bringing two heritage brands together, combining Pendleton Woolen Mills' distinct aesthetic and the enduring performance qualities of Sunbrella fabrics – easy care, fade proof, and bleach cleanable.
Collection
"Pendleton by Sunbrella allows for so many styling options, from traditional to contemporary and mountain retreats to coastal havens," said Esther Chang, senior designer for Glen Raven Custom Fabrics, the makers of Sunbrella. "Working alongside the Pendleton team to recreate classic Native American patterns was a refreshing and exciting experience, and we're so excited to see it come to life with the design trade."
Following a launch to the manufacturing trade at High Point Market this spring, the exclusive collection at Pindler includes 44 fabrics and is grounded by four patterns: Lahaina, Eagle Rock, Canyonlands and Zapotec. The patterns are supported by a range of textural solids and coordinating patterns.
Patterns
Lahaina combines traditional tribal-influenced designs from the Hawaiian mainland with blue and turquoise representing the waves of the beaches near Lahaina, Maui. Outlined in a sawtooth design, the pattern evokes the power and challenges of the surf.
Named after a mountain summit in Apache County, Arizona, Eagle Rock incorporates Native American design elements and weaving traditions of the Southwest. The pattern features a defined centre element highlighted against a solid background and reflected side motifs on a striped ground, exhibiting an artful sense of movement.
Inspired by Utah's tall pinnacles of rock that form breath-taking vistas along the skyline, Canyonlands uses a modern ombré weave to create rich layers that mimic the movement of sunlight dancing across the canyons.
Zapotec gets its name from the Zapotec Indians of Oaxaca, Mexico, who established a tradition of weaving colourful cloths using natural dyes from plants and animals. The pattern features classic geometric designs and elegant simplicity.
Design trends
"Partnering with both Pendleton and Sunbrella is a designer's dream," said Elise Connor, director of design for Pindler. "We are very excited to present this collection to the design trade which combines two major design trends, the iconic designs from our American heritage and performance fabrics, both in high demand within the marketplace."
Pendleton by Sunbrella fabrics are available at Pindler locations across the country.
This article is also appears in...