Interview
Interview with Kevin Young, Vice President of Corporate Development at Web Industries Inc.
Web Industries is a precision converter of materials used in personal and home care products, such as diapers, feminine hygiene and adult incontinence products.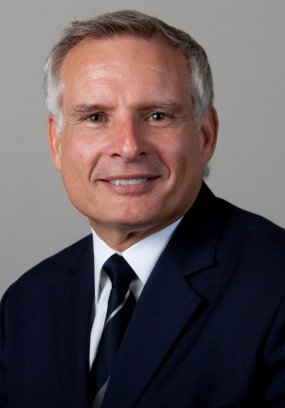 31st March 2020
Innovation in Textiles
| Marlborough, MA
Web Industries is a precision converter of materials used in personal and home care products, such as diapers, feminine hygiene and adult incontinence products. Innovation in Textiles sat down with Kevin Young, the company's Vice President of Corporate Development, to find out more about the business and its recent investments.
Innovation in Textiles (IiT): Thanks for taking the time to talk to us Kevin. You are capable of formatting nonwoven textiles, paperboard, film, foam and foil for industrial purposes. Can you tell us more about those capabilities?
Kevin Young (KY): Web Industries recently invested in large format traverse winding, also known as spooling, capabilities that benefit manufacturers of personal and home care (P&HC) products by optimizing their production processes, increasing uptime and cutting costs. In order to benefit from spooled formatted materials, some brands or private labels will need to invest in equipment that accommodates the spools. However, return on this investment is fast, usually between one and two years, and then the savings all fall to the manufacturer's bottom line.
We also have two wide-format, eight-color flexographic presses that enable customers to achieve product differentiation through the incorporation of multi-color graphics into their products, and we can process materials to add unique functional coatings and inks on the substrate, such as those that change color in response to specific conditions like heat or moisture.
Beyond that, we offer high-precision narrow-width slitting. We really have no limitations on how we can provide custom-formatted, or slit, nonwoven, paper, paperboard, film, foam and foil materials. This includes handling materials having unique features designed in by the manufacturer, such as those for absorbency, without degrading quality when they run through our processes.
IiT: Web Industries is an employee owned company. Can you tell us about the merits of that and how it came about?
KY: Our founder, Bob Fulton, attributed the company's achievements to his employees and wanted them to share in the business' success. It's important to note that employee-ownership is not merely a passive perk of working at Web. Our employee-owners are actively involved in creating a future for themselves and their families by producing and delivering quality products to customers on time, while benefiting the business as a whole as well. Being employee-owned makes us not only the stewards of our business, but the stewards of our customers, and it has been shown that employee-owned companies having a highly engaged workforce outperform their peers by 5 – 7%.
From a management perspective, Web has a board of directors just like any publicly traded company, and our management team ensures that the business complies with all regulatory requirements. Web's employee stock ownership plan (ESOP) is governed by the rules of ERISA, The Employee Retirement Income Security Act, which protects the interests of employees enrolled in benefit plans and ensures that employees receive the pensions and group-sponsored welfare benefits that have been promised by their employers.
IiT: Web Industries has made large investments recently in its capabilities to supply traverse wound nonwovens to the personal care market. Can you tell our readers more about that?
KY: We need to constantly innovate to stay ahead of the competition and to provide our brand-owner and private-label manufacturing customers with new ways to optimize their processes. One example is Web's design of the extra-large spool. This is an intellectual property we developed that enables our customers to streamline their manufacturing by reducing the number of changeovers necessary, which increases uptime and reduces waste in their processes.
Because of price compression, the P&HC market has traditionally been highly receptive to new ideas. The industrial market is somewhat different, but at some point they will realize needs to optimize as well, particularly if demand is high and competition tough. We already have a case in point in the building and construction sector, specifically with a roofing material company. In the past, this business had relied on roll pads to store formatted material. By leveraging large traverse-wound spooling, they achieved a seven-fold increase in their roofing material manufacturing throughput. We foresee more opportunities as industrial companies using roll pads realize that if they retrofit their equipment to accept large-format spools they can enjoy the same magnitude of advantage.
IiT: Last year you announced the launch of your 8-color printing and large format spooling capabilities. What does this entail and what are the market opportunities here?
KY: Eight-color printing is opening new markets for Web industries in sectors such as feminine care and adult incontinence where we were previously able to get by with one- and two-color printing. As demand increases for these products, P&HC companies are looking to differentiate what they bring to market. Multi-color printing allows them to produce a stylish, more fashionable product.
With diapers for babies and kids, the primary marketing issue has been around getting licenses to print Disney or Marvel characters. With adult incontinence, nobody wants to be embarrassed by evidence of their wearing a diaper. Products that are thinner, comfortable, quiet and discreet, and almost invisible help make folks wearing them feel more like they have on underwear, and multi-color designs and graphics can contribute to that sense of well-being.
IiT: Your most recent news announced your new "variance-in-repeat" capabilities (see – Web Industries new printing capability enhances product appeal). How important is this for Web?
KY: This is another example of Web Industries innovating to meet needs in the marketplace.
Briefly, variance-in-repeat creates multiple repeat designs in the same print run. This delivers marketing and production advantages to manufacturers of personal care items such as adult incontinence wear, feminine care products and diapers. With conventional nonwoven material printing and formatting services, product manufacturers seeking variations in design need to order several different rolls, each carrying a repetitive and uniform design, process the rolls on separate lines and then collate them.
Our "variance-in-repeat" printing capabilities streamline manufacturers' production by incorporating multiple different repeating designs on a single roll of nonwoven material. The printed roll can run on one personal care product manufacturing line, offering variety and simplicity.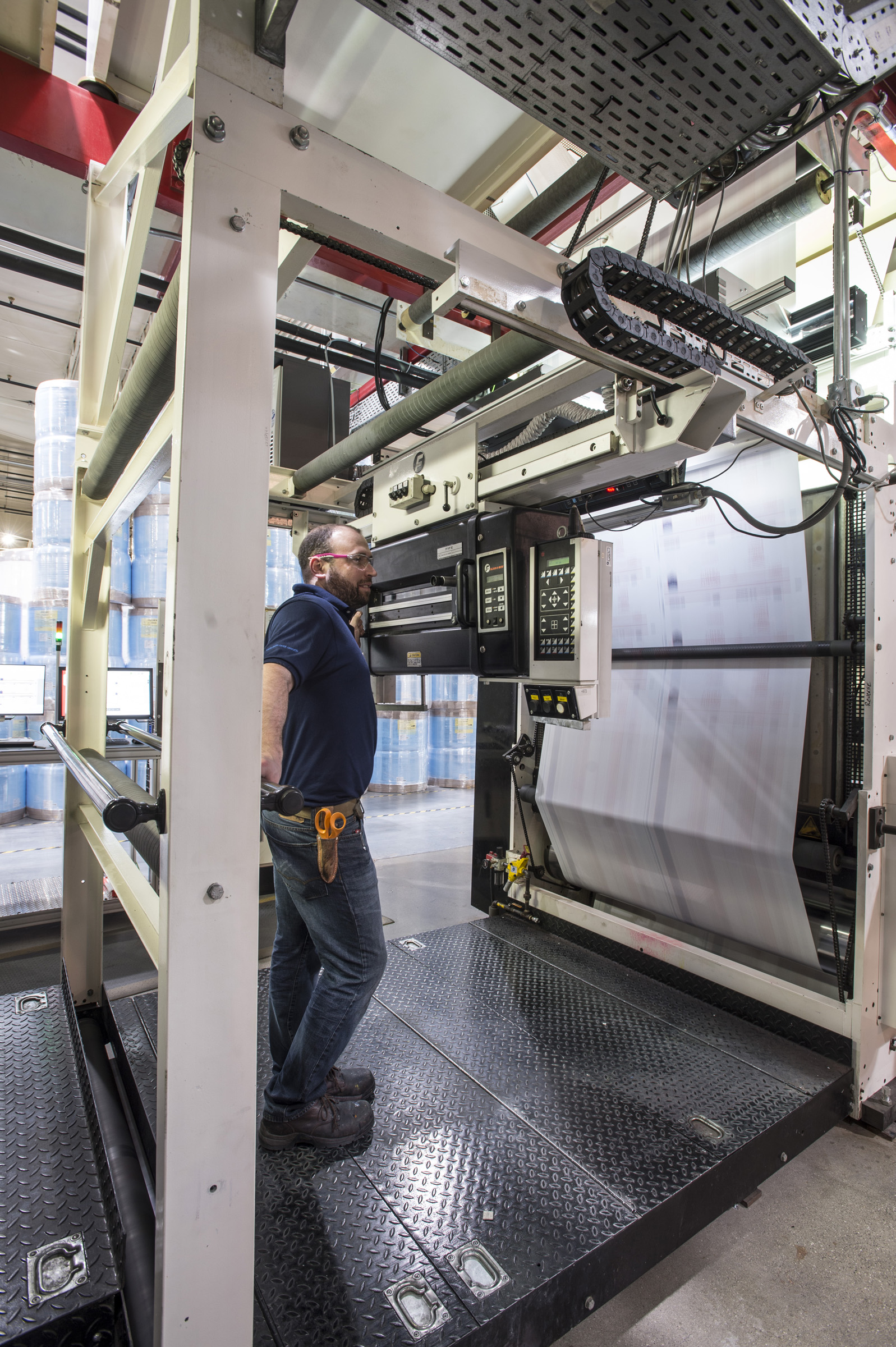 Web Industries' variance-in-repeat printing streamlines manufacturers' production by incorporating multiple different repeating designs onto a single roll of printed flexible material. © Web Industries Inc.
IiT: Sustainability is the biggest single issue in the industry today. What's your long-term vision for the company in that respect?
KY: We look at sustainability as a continuous improvement scenario. Every day we ask: How do we reduce waste in our processes? How do we design our new equipment to be more efficient? How can we use less power?
We ensure that everything we do is in keeping with environmental rules and regulations. We've taken every step and measure to make sure we comply with all environmental rules and regulations, such as installing thermal oxidizers on our Ft. Wayne, Ind., plant equipment. And we recycle material wherever possible.
In addition, we have reduced our packaging footprint. We are delivering products in excellent condition, but with less packaging.
IiT: Thanks for the insights Kevin. We wish you all the best for the future.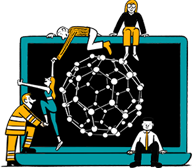 Business intelligence for the fibre, textiles and apparel industries: technologies, innovations, markets, investments, trade policy, sourcing, strategy...
Find out more