Interview
Changing the game in performance denim
As part of its partnership with Invista's Cordura brand and Lenzing Tencel, Artistic Milliners has debuted its latest denim collection SuperCharged Noir.
30th May 2018
Innovation in Textiles
| Wichita, KS
As part of its ongoing partnership with Invista's Cordura brand and Lenzing Tencel, Artistic Milliners has debuted its latest denim collection SuperCharged Noir at Kingpins in Amsterdam, last month. A new collection is a bold, black performance denim portfolio inspired by 5S performance attributes, powered by Cordura brand and Tencel fibre technologies.
Cindy McNaull, Global Cordura brand and Marketing Director, Tricia Carey, Director of Global Business Development at Lenzing, and Ebru Ozaydin, SVP of Sales and Marketing at Artistic Milliners, discussed the future of performance denims.
Tell us about the inspiration behind the new collaborative SuperCharged Noir collection.
Tricia Carey: After researching the wants and needs of today's consumers, we set a goal to bring a powerful, dark denim to the marketplace. In combining Tencel Modal Black and Invista nylon 6,6 Black SDN fibre technology, we knew we would be able to achieve that product. The collection not only addresses the need for a long-lasting black colour, but also touches on the other trends we see consumers are looking for today, including softness and sustainability.
How has the partnership with Cordura brand, Artistic Milliners and Tencel continued to evolve, and what can we expect to see in the near future?
Ebru Ozaydin: At Artistic Milliners, we believe in the power of collaboration. Today, we all need each other to create new technologies and better products for a smarter consumer. The development cycle is continuous, which leads us to learn from each other and share our experience and collective wisdom. We created the SuperCharged Noir denim collection with Cordura brand and Tencel fibres by implementing the latest in smart and sustainable fibre technology, which we feel will be the next evolution in performance denim.
TC: Together, we share the same belief that innovation begins with collaboration. Initially, this partnership began with just a soft technology, Tencel, in combination with long-lasting Cordura fibre to translate the two technologies into a softened strength solution. Now over the years, it has evolved into studying the unmet needs of the consumer and solving new problems for a new generation.
Cindy McNaull: Over the years, our collaboration has proved that together we are dedicated to using innovation to bring new groundbreaking products to the marketplace. Through our continued partnership, we're able to bring together our collective strengths and challenge ourselves to offer the innovative and eco-efficient solutions of tomorrow. The next evolution we're going to be revving up is the motorcycle market. We're going to be bringing forth not only an abrasion story but complementing that with extremely high tear strength.
What performance attributes do the SuperCharged Noir denims have, and what makes these fabrics different than others on the market?
EO: The SuperCharged Noir collection was inspired by five components, via its 5S technology: stay-true colour, enhanced strength, engineered soft comfort, sustainable innovation and performance stretch. The fabrics are designed to stand up to the challenges of an active lifestyle to combine durability and flexible comfort.
CM: By integrating our latest state-of-the art Invista nylon 6,6 Black SDN fibre technology we're able to bring a new dimension in stay true colour and enhanced strength and abrasion resistance to the collection, while Tencel fibres and Artistic Milliners complement those attributes with added colour fastness, softness, sustainability and stretch. This collection introduces a different angle that the marketplace has been aiming for: a durable fabric with added colour-fastness to help clothes look and stay newer longer. The collection is infused with colour-fastness locked in at the fibre level for excellent shade consistency and long-lasting vibrancy.
Who is the target market for these denims – any particular segments?
TC: For this collection, it's really about having value and versatility – especially since these features are important for both men's and women's offerings. Over the past several seasons, we've seen more interest in black denim, whether it's for trucker jackets, dresses, or regular five-pocket jeans. And with that, we've seen the consumer looking for a product that stays black after multiple washes, providing that benefit of a lasting product. Here, what we're trying to do is provide that value and really make sure that the supply chain can bring that innovation to the retailers, the brands, and ultimately to the consumer.
EO: The SuperCharged Noir collection aims to reach both "fashion" and "workwear" brands, as well as kidswear designers, who are looking for a durable, comfortable and responsible denim product for their customers.
What are consumers looking for in today's latest denims?
CM: Today's consumers are on the move, with a constant need to transition from one place to the next. They are seeking versatile products they can wear throughout the day; products that are not only soft, but durable and strong also. And as the needs of consumer's change, we have to adapt our fabrics as well. For us as consumers, it's about the way a product looks and feels, but also a product that can provide the option for continuous wear and use while maintaining its durable quality. Following today's consumer trends, we are able to take our Cordura Denim portfolio and innovate to meet unmet needs and performance requirements that we have been hearing from the marketplace.
EO: The denim market is multi-segmented, with each segment having different shopping habits and expectations. Therefore, there is not one single type of consumer we cater to. In general, they look for authentic products elevated with technological advancements that are produced responsibly.
Further reading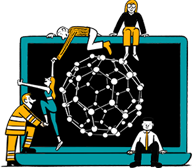 Business intelligence for the fibre, textiles and apparel industries: technologies, innovations, markets, investments, trade policy, sourcing, strategy...
Find out more