Interview
Microban has more ways to stop the stink
Debra Cobb interviews Microban President Pablo Perella-Berdun on Rebranding Odour Control.
7th September 2016
Innovation in Textiles
| USA
Debra Cobb interviews Microban President Pablo Perella-Berdun on Rebranding Odour Control
A 30-year global leader of the science of odour control, Microban International, Ltd., offers a wide spectrum of solutions found in consumer and commercial products, building materials, and textiles. Headquartered in North Carolina, the company recently relaunched its global textile business at the August Outdoor Retailer Summer Market.
At its helm for a little more than a year, Microban president Pablo Perella-Berdun is bringing a fresh outlook to an industry that is sometimes under-appreciated.
What drew you to Microban and the business of odour control?
PPB: I grew up in Argentina, and my family was in the textile business. In Argentina I worked for South American textiles and footwear giant Alpargatas. Later I joined Kimberly-Clark's personal care products subsidiary in Argentina. I came to the US in 1999 and, after completing my MBA, took roles of increasing responsibility within Kimberly-Clark, which uses Microban's technologies for a number of solutions.
Microban has great technologies, great innovation, and global capabilities to service our brand partners. In 2011 we were bought by Barr Brands International, an employee-owned company, with leading home care and improvement brands in North America. All of our owners share the same commitment in developing products to care for individuals and the home.
Our vision is to be an indispensable innovation engine for our customers, a trusted ally for supply chain partners, and a great place to work for our employee-owners.
Growing up in a country with great diversity (from the Iguazu Falls to Ushuaia), you learned to love the outdoors. Our family's latest adventure was the Inca Trail and Machu Picchu in Peru. If you love the outdoors, you are a demanding consumer, putting technologies to the test over and over. There is no coming back to change equipment. Brands have to deliver the performance-value equation, and that is why I went to Outdoor Retailer: to learn and get inspired.
How do your technologies work?
PPB: Our customers come with a need in mind, asking "can you help us?" They tell us about their consumer, brand value proposition, and concepts for fabrics. We work with them to develop and optimize a solution, taking into consideration their need for efficacy, wash durability, processing conditions, and cost effectiveness.
A key advantage Microban provides is that we are not tied to one technology; we develop and commercialize a variety of solutions, each with customized functionalities that deliver longer-lasting freshness, broadly compatible with current manufacturing processes and efficient for brand partners.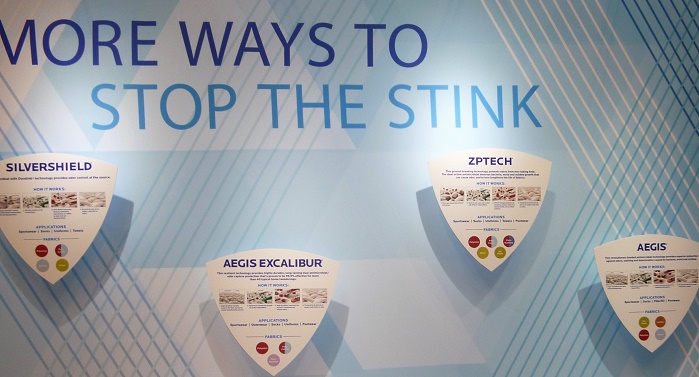 One of our latest platforms, Scentry®, is not an antimicrobial; it captures and neutralises the compounds that create malodours on fabrics. It adsorbs them until released in the wash. Scentry® complements Aegis®, ZPTech®, and Silvershield®. These are our different antimicrobial treatments, which focus on inhibiting the growth of odour-causing bacteria. This reduces the "permastink" on textiles, particularly on synthetics used in performance apparel.
How do you counter the critics of antimicrobial chemistries?
PPB: Innovation in performance is only part of the equation. Microban is focused on safety; our biocidal-based products are approved by the European Chemicals Agency (ECHA), China, and the Environmental Protection Agency (EPA) in the US. We align our processes and materials with bluesign® and OEKO-TEX®. We go out and get dirty with manufacturers all over the world, in order to support brands seamlessly when incorporating Microban solutions into supply chain wherever they manufacture, and ensure compliance with all regulations and best practices in the industry.
However, I firmly believe that all of us in the industry must do more to educate and to improve transparency. We work with universities, regulatory agencies, and industry associations and working groups. Because we are operating globally, we see all sorts of product claims, and often wonder where they came from and how they were tested and substantiated. Nowadays, there are several accepted antimicrobial industry test methods for odour measurement in washable textiles including AATCC 100, ISO 20743, and JIS 1902.
We are currently working with the American Association of Textile Chemists and Colorists (AATCC) regarding an industry-wide standard for odour measurement with Drager Tube testing, with clear guidance for its use.
Why are you repositioning Microban?
PPB: Today's consumer is more demanding. It is very interesting to see the similarities between millennials and baby boomers who love the outdoors. They research everything online and have the same demand. They want products that have it all: fashion, performance, and sustainability.
In addition, odour control is a global demand. There is a growing middle class in emerging economies becoming more attuned to the idea of odour-control. We are thinking ahead to what these consumers will need in the future, and we need to interface with the brands serving them.
Microban is the protection that lasts. We have a new brand identity, and we are launching a new website in October, along with revamped marketing for our brand partners. We now have a much more robust toolbox for communicating the features and benefits of our proprietary textile technologies including ZPTech®, Scentry®, Aegis®, and Silvershield®.
In addition, we will be introducing three new Scentry® products next year, and expanding our global textile team with more experts to support the brands, the mills, and our distribution partners.
Our "Fresh Bar" at Outdoor Retailer gave attendees a chance to compare malodourous apparel and footwear fabrics treated with Microban® technologies against untreated fabrics. The looks on their faces made the results very clear.
It's not about chemistry – it's about freshness and confidence – and Microban has "more ways to stop the stink."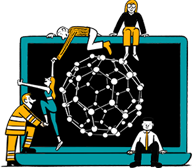 Business intelligence for the fibre, textiles and apparel industries: technologies, innovations, markets, investments, trade policy, sourcing, strategy...
Find out more