Invista, an owner of the Lycra fibre brand and one of the largest producers of fibres and polymers, has collaborated with Calik Denim, an integrated yarn and weaving factory that supplies multiple international brands, on new denim fabric solutions.
Featuring innovative stretch denim solutions powered by Lycra fibre, the collaboration seeks to integrate quality ingredients with the latest fabric concepts, resulting in innovative solutions for brands, retailers, and ultimately, the consumer.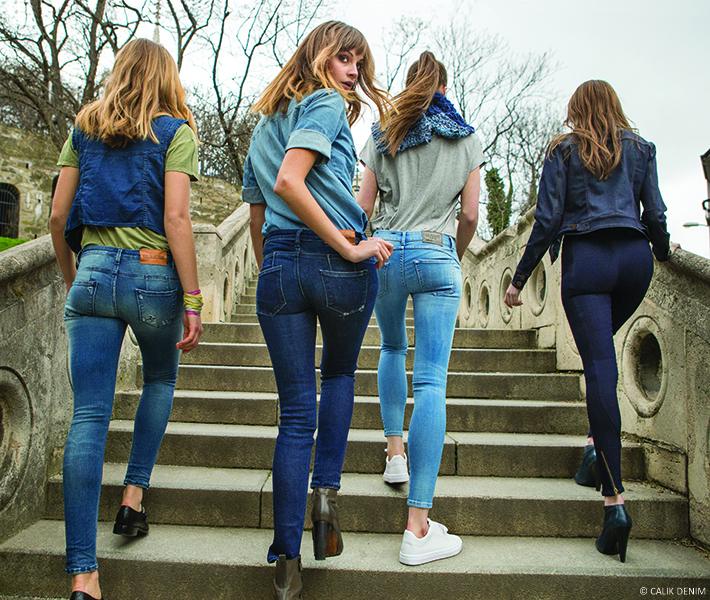 Fabrics were showcased at the Calik Denim stand and at a dedicated seminar, hosted jointly by Calik and Invista on 18 May. Visitors to the stand were presented with a visual display of garments illustrating their latest performance concepts using different Lycra branded technologies.
Performance denim
Working together with the Lycra brand, Calik Denim aims to amplify the performance element of denim and change the expectations and industry standards of what stretch fabrics can do.
Following the success of its Elastech concept introduced last season to help jeans keep their shape and avoid bagging, Calik Denim has moved this to the next level with Circular Elastech, a multi-angular stretch denim design powered by Lycra dualFX technology both in warp and weft. Lycra dualFX yarn incorporates Lycra fibre for super stretch and Lycra T400 fibre for better recovery.
"Our aim is to create a new standard in denim. In the past, bi-stretch fabrics had a natural tendency to grow in the seat and knee areas after repeated wear. Circular Elastech with Lycra dualFX technology gives a genuine full range of motion, while conforming to the wearer's body to enhance their freedom of movement," commented Hamit Yenici, Managing Director of Calik Denim.
Curve fabric concept
Calik Denim also unveiled its brand new Curve fabric concept, which uses Lycra dualFX fabric technology. Curve aims to optimise the power of a high-elasticity jean giving a more balanced proportion to the body and helping the wearer achieve a more slender look.
"Our consumer research continues to find that comfort, fit, and shape retention are key purchase motivators for denim garments. Invista technologies, paired with Calik's excellent fabric design and performance attributes, address these key consumer needs," commented Jean Hegedus, Global Segment Director for Denim, Invista Apparel.
This article is also appears in...