21st November 2013, Appleton, WI
IPS Testing to offer full flushability testing services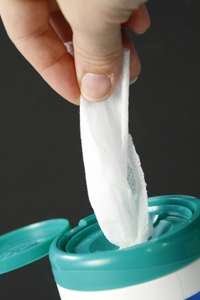 Wisconsin-based IPS Testing has become one of just two independent labs in the US and North America to administer industry-initiated testing standards on behalf of suppliers and manufacturers, in an effort to educate consumers about which disposable wipe products are truly flushable.
IPS Testing offers a full array of paper and pulp, personal care and non-woven testing and just completed a major lab expansion to offer all seven tests outlined under the recently streamlined and updated Flushability Guidelines.
The standards are set forth by the Association of the Nonwoven Fabrics Industry (INDA) and its European Disposables and Nonwovens Association (EDANA) affiliate.
Do not flush
IPS Vice President Chris Reitmeyer explained: "With these new protocols in place, the intent is to determine which wipes will properly pass through the waste and sewer systems and better educate consumers through a universal labelling system."
The 4,000 square-foot facility addition at IPS Testing houses the custom-designed stations and equipment needed to simulate the real-life flushing scenario from toilet bowl to drain-line and through disintegration.
According to a Code of Practice directive within INDA's Flushability Guidelines, if a product fails any test within the seven-step series, it will immediately be deemed un-flushable and require standard 'Do Not Flush' labelling.
Sewer system clogging
The flushable wipes industry continues to grow at a rapid pace and Reitmeyer said its products have often been misrepresented as the source of the problem for waste and sewer system clogging.
He noted that wipe products that meet the protocol outlined by INDA and EDANA are able to adequately break down through the flushing process. Things like diapers, baby wipes, paper towels, hand towels, feminine care items and other materials are not. These non-flushable items are the bulk of what is discovered when evaluating clog masses.
Responsible practice
Kyra Dorsey, chair of the INDA Flushability Task Force, commented: "A study of municipal waste water systems shows that over 90% of the material found in clogs consists of articles that were never intended to be flushed. This issue can only be addressed by educating the consumer."
Reitmeyer said: "At this point, testing is voluntary. Manufacturers are on board with it and want to do the right and responsible thing by ensuring their wipe products meet all flushability standards."
With equipment installed and validated, IPS testing is now accepting work requests for flushability testing.
IPS Testing
IPS Testing serves as an independent testing laboratory for many industries including paper, pulp and print materials, nonwovens, medical supplies, personal care and absorbent products, food packaging, and allied industries.
IPS Testing combines physical and analytical testing along with interpretive data analysis to offer clients testing services that help improve and ensure the quality of their products.
This article is also appears in...