Around 80,000 visitors from 120 countries visited ISPO last month. © Innovation in Textiles
ISPO Munich, the world's largest trade fair for sporting goods, welcomed around 80,000 industry visitors from 120 countries last month. A total of 2,943 exhibitors showcased their products and innovations, an increase of 5% over the previous year. The share of international exhibitors also set a record at 89%, with the largest participant groups by country being Germany, China, France, Great Britain, Italy, Taiwan and the US.
This year, the show occupied 18 halls of the Messe München exhibition centre and focused specifically on creating a consumer-centric environment that encourages valuable connections and helps accelerate the global evolution of sports. The show's layout provided widened centred aisles, dedicated focus areas and reduced height of the stands to better accommodate visitors' and exhibitors' interaction and engagement.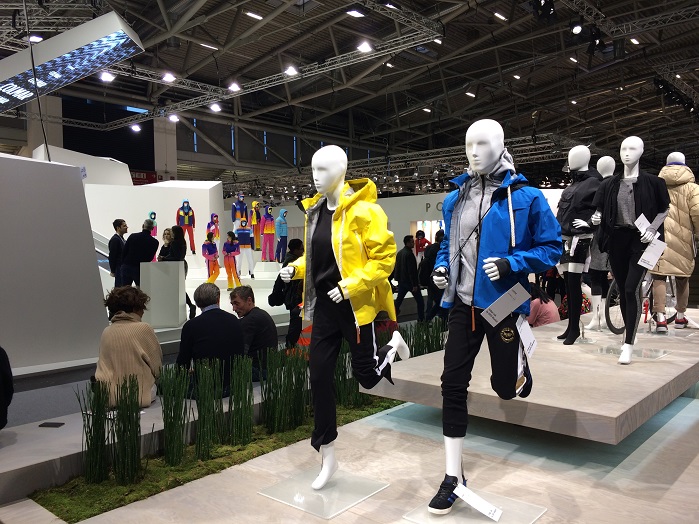 Organisers widened centred aisles and provided dedicated focus areas. © Innovation in Textiles
To drive the sports business and innovation, the organisers have particularly focused on the events programme this year, which included the enlarged ISPO Munich Sports Week, taking place for the second time and featuring more than 170 events. The highlight was the ISPO Munich Night Run presented by BUFF on 2 February, an event that drew a record number of about 650 participants. "It was a great race and the perfect way to start the year," said Florian Neuschwander, a professional runner who won the event.
Women in sports
Women are expressing more and more interest in different sports – from winter sports, to fitness and CrossFit, to martial arts. And the influence they have on the sporting goods industry is growing too, shaping the new, inclusive brand narratives. Last month, Nike celebrated "crazy" female athletes in a powerful ad, narrated by Serena Williams. Therefore, it was not surprising to see that among focus topics this year at ISPO was women in sports. Promoting a number of women sport events, ISPO Women's Lounge, powered by Frauen verbinden, took place for the second time, attracting large crowds to its special events programme.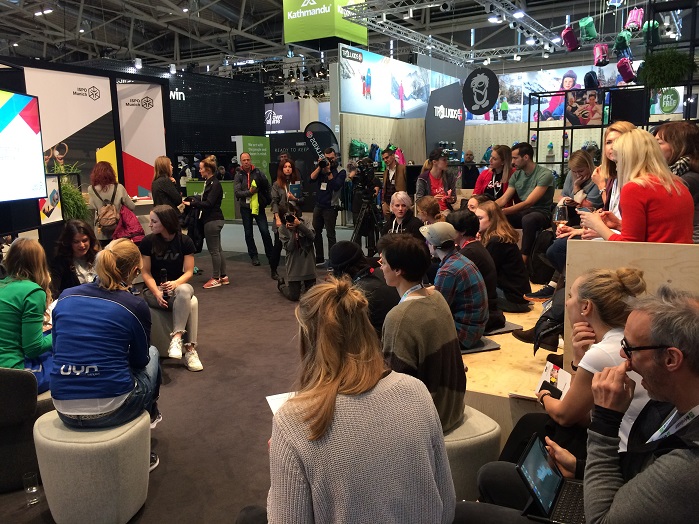 ISPO Women's Lounge. © Innovation in Textiles
The lounge organised talks with a number of female executives, athletes and famous personalities in sports sector. These included Corinna Umbach, Brand Developer and founder of CU Brand Spirit, a marketing and retail expert, Aline Bock and Anne-Flore Marxer, professional snowboarders and film makers, Lorraine Huber, Freeride World champion, Maria Elena Rizzieri, Blizzard Tecnica Global Leader of the Women to Women project, and more.
The programme focused on discussing product and sales marketing for the target group women in the sports industry, implementation of women campaigns, body positivity, empowerment and entrepreneurship, women in management positions and female influencers as figureheads of sport brands. In addition, ISPO hosted selected Experts4Women guided tours, visiting selected brands that are exhibiting products and services especially for women. Finally, looking at opportunities and potential in gender marketing, experts outlined various options for addressing target groups during ISPO Academy podium discussion.
Textile trends take more space
ISPO Textrends forum provided all the latest trends and innovative materials for sports and outdoor clothing at a glance. Presented in a compact and accessible way, the textile platform featured over 458 innovative products spanning 10 different categories for the Autumn/Winter 2020-2021 season.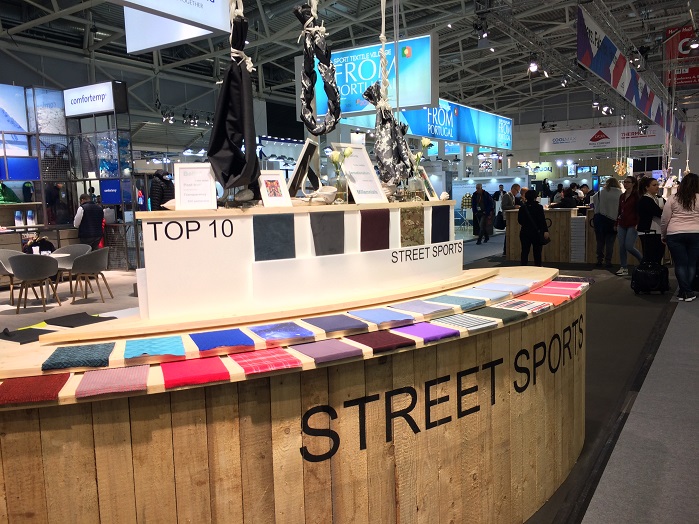 ISPO Textrends forum. © Innovation in Textiles
"ISPO Textrends is the place for companies to start sourcing," said Louisa Smith, international textile trend consultant. "One area that has grown since the last edition of the show is Street Sports. As traditional textile manufacturers are pushing the creative side of the garment design and production, experimenting with new yarns, fabric construction and exciting innovation, we see an increase in demand for fabrics with higher performance that don't compromise the look. Growing number of women consumers is also driving this diverse offering, with their demand for the crossover of fashion and streetwear."
"Another key factor in selecting materials is sustainability. Many companies are promoting their eco-friendly products and services, cleaner production processes at the show. And their numbers increase every year. Sustainability is not a trend – it is here to stay."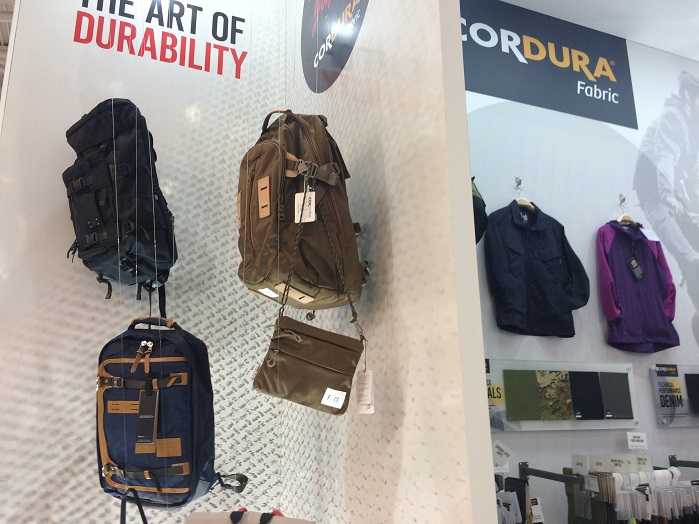 Crafted in Japan display by Cordura. © Innovation in Textiles
Insulation is proving incredibly popular this year – recycled, cashmere, polyester, hybrid blends, and more. Another sector that has grown significantly is Soft Equipment, such as footwear and especially backpacks that are taking a more dominant place in consumers' wardrobe. At the show, Cordura featured a Crafted in Japan display featuring backpacks and travel bags made in Japan using Cordura durable fabrics, featuring brands like F/CE, Milesto, and MSPC Master-Piece.
The new wellness
With the global trade wars, tariff threats and rising concern over sustainability and wastage, everything anti-trade is gaining traction, according to David Shah, a leading trend setter. Streetwear is becoming the new luxury, counterfeiting, irony, casualisation and protest are on the rise, optimistic and bold colours – neons, reds, corals, yellows – dominate latest collections, materials, styles and textures are mixed in new ways, and the industry is embracing new concepts of modest fashion. Blue, purple, grey and pastels are expected to be the key colours in future collections, channelling a holistic approach to the new idea of wellbeing, embracing comfort and open-mindedness.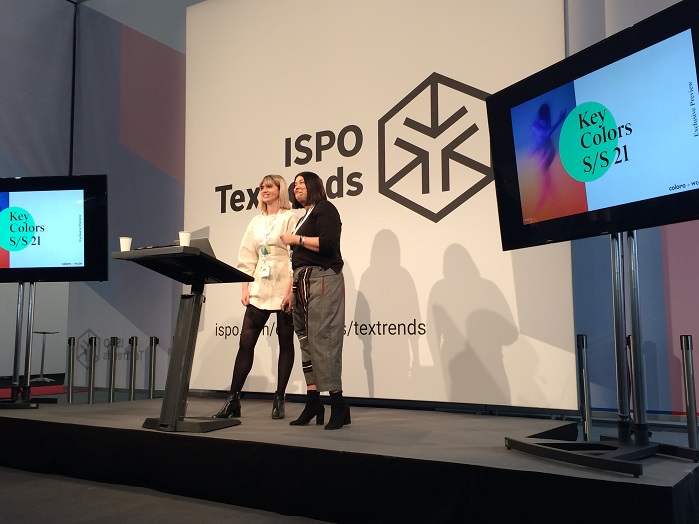 Joanne Thomas, Head of Content at Coloro, and Clare Varga, Director Active (Sport) at WGSN. © Innovation in Textiles
As people are becoming more open with expressing their emotions, the colour psychology is moving into sportswear. Joanne Thomas, Head of Content at Coloro, and Clare Varga, Director Active (Sport) at WGSN, presented the exclusive preview of the Spring/Summer 2021 colours for the sportswear and activewear industry. The five main colours were selected to represent the different emotional states of an active person, and these vary from a 'futuristic, tech-inspired' mint green, to an 'immersive, emotional' blue, 'energising' mix of orange and coral, 'calming' lemon yellow, and 'minimalistic' grey.
Knitted innovations
Karl Mayer presented its latest developments, showcasing a number of functional, warp knitted meshes for leisurée, fashion, sports and athleisure, as well as fabrics with textile electrodes, engineered spacer textiles with 3D patterns, air-permeable jacquard designs and sporty lace fabrics.
Shima Seiki's SVR123SP computerised knitting machine. © Innovation in Textiles
Shima Seiki exhibited at the ISPO Brandnew Village, demonstrating its state-of-the-art SVR123SP computerised knitting machine for producing hybrid inlay fabrics and knit samples for shoe uppers and apparel applications. Lonati and Santoni also presented their knitting machines, including the Goshoes single cylinder socks knitting machine and the X Machine offering multiple possibilities in the knitting of unique Intarsia patterned goods and shoe uppers.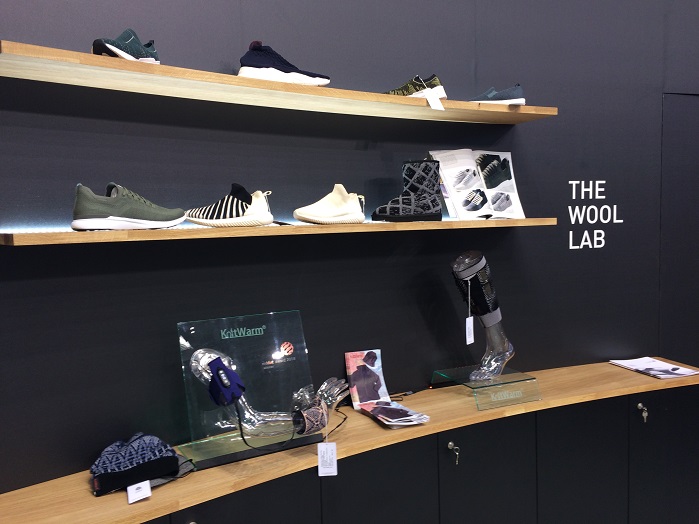 The Wool Lab Preview Spring/Summer 2020. © Innovation in Textiles
On show was a wide range of knitted garments for sportswear applications. Portugal's Clothius, for example, offers technical garments made using Santoni technology, such as the EVO 4J 8-feed single jersey electronic circular knitting machine. Cifra, a leader in the production of warp knit seamless apparel, presented the Thermo collection with infrared rays, and Thermolite and Emana yarns by Fulgar. The Woolmark Company promoted its project dedicated to knit-tech – Knitwear Evolution, developed in cooperation with knitwear design students. The sample yarns produced in collaboration with Stoll, Zegna Baruffa and Südwolle have been included in The Wool Lab Preview Spring/Summer 2020.
Cifra's Thermo project. © Innovation in Textiles
Cordura presented its Cordura Nyco Knits, engineered with military-grade Invista T420 nylon 6,6 staple fibre blended with cotton. Eurojersey launched its new 2019 advertising campaign Free the Form at the show. In addition to the latest Sensitive Fabrics collection, the company also presented its new Absolute Move collection of Sensitive Fabrics for sports bras powered by Lycra Sport technology.
Smart solutions
Isko presented its latest innovation Isko Vital at ISPO. The woven compression technology platform showcased 18 different bottom silhouettes to provide inspiration on ISKO Vital possible end uses, such as cycling, high impact training, yoga, wellness, post exercise recovery and travel. "Starting from state-of-the-art technologies, the designing of this collection has been a very stimulating project," said Jacqueline Haeberle, Designer. "Different styles, with a sleek, modern and contemporary look, show the platform's extreme adaptability in terms of product development."
Isko Vital collection. © Innovation in Textiles
clim8 demonstrated its CES and ISPO 2019 award winning technology for base layer applications that allows the wearer to regulate temperature so that they can reach their thermal comfort. "In other words, we provide heat only when it's needed," explained Florain Nicoud, Marketing and Operations Manager. On show were garments by Odlo. The heating elements are specifically knitted into the sensitive 'cold zones' to create a warming sensation at the abdomen and the kidney area. Thermal sensors monitor and regulate temperature intelligently and adjust it to the wearer's personal needs – pre-defined on a dedicated app.
KnitWarm, based in Hong Kong, presented a patented self-heating textile that boasts softness, flexibility and breathability, which heats up within 30 seconds to offer instant warmth by plugging into a portable power bank. Among other products, the company showcased its 4-in-1 jacket that consists of two jacket layers that zip together.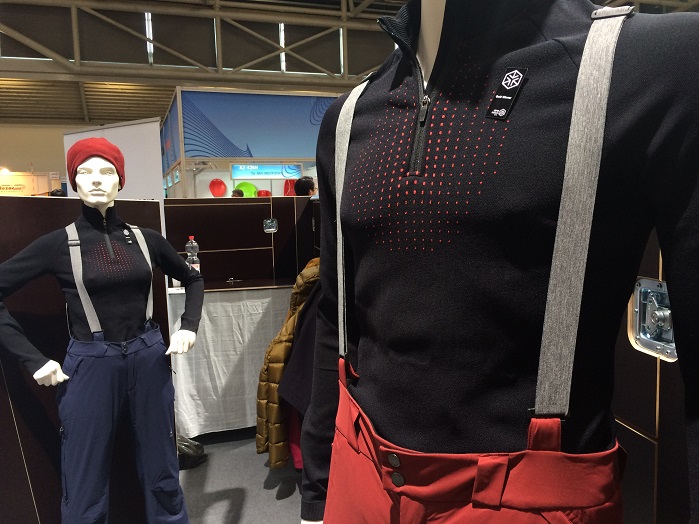 clim8's thermal sensors technology in garments by Odlo. © Innovation in Textiles
Kymira, a producer of human-powered infrared sportswear, showcased its latest technology. Kymira's KYnergy technology is designed to increase the wearer's circulation, tissue oxygenation and cellular metabolism, which is said to boost energy production, aid pain relief and speed up recovery times.
Noble Biomaterials, a leader in antimicrobial and conductivity solutions, also presented its smart innovations, with its X-Static, XT2 and Circuitex technologies at the show. With Lululemon athletica as one of the company's biggest customer using X-Static technology, the company has grown since its inception to expand its applications beyond medical and include apparel, sports and more. X-Static harnesses the power of silver to create a technology that inhibits the growth of bacteria on fabric, eliminating human-based odour for the life of the garment.
Top newcomers
ISPO Brandnew, the world's largest platform for young sports companies, presented a number of smart innovations this year. In the Wearables category, Norm, from Germany, was selected by ISPO jury for its magnetic connectors on a conductor track system that allow easy installation of e-modules, turning an outdoor jacket into a smart garment.
The ISPO Brandnew award ceremony. © Innovation in Textiles
In the Apparel category, Careydesign, from China, presented functional urban garment made of a new Nano RGO-blended fabric with integrated temperature control via app. Maaree, from the UK, developed a high-impact sports bra with Overband technology for reducing upward motion during exercise. Patronace, from Germany, presented lightweight fashion wear with an abrasion-resistant skin protection system designed for urban mobility. UK's Skapya's convertible jacket featured a pocket system that fits the jacket itself while maintaining access to small items. StandOUT SUP Wear, from Slovenia, featured a lightweight, breathable and flexible neoprene wear for standup paddlers. Ryzon, from Germany, presented a triathlon suit made of hydrophobic Teflon fabric with friction-free seams. And finally, Saola, from France, was selected for its sustainably produced light outdoor shoes that support wildlife preservation projects.
The next edition of ISPO Munich, the world's largest multi-segment trade fair for the sports business, will take place from 26-29 January 2020.
Further reading