Debra Cobb reports
Horticulture in the Netherlands is big business. Not only is the country an international leader in flowers, plants, bulbs, and food products; it is also in innovator in solutions for greenhouse horticulture. According to the NL Agency, a division of the Ministry of Economic Affairs, Dutch greenhouses cover an area of more than 10560 km2, with a focus on technologies that facilitate energy efficiency and adaptability to climate change.
A new Netherlands-based company called Elasol, established in 2012, has developed one such technology that uses an innovative elastic, warp-knit textile in an intelligent system to help balance sunlight, shade, temperature and humidity.
Chance encounter
A chance encounter some twenty years ago between a greenhouse grower and a textile engineer—who also happened to be trained in electro-technology—brought to light a recurring problem for growers: how to regulate the supply of sunlight in a glass house. Existing screening systems, which either opened or closed completely, resulted in drafts as well as fluctuations in temperature and humidity that could damage delicate plants.
The textile engineer, Leo Jasper, imagined an elastic cloth that would automatically stretch or retract to control the amount and angle of light. The screen would need to combine a robust elastic fibre that was also UV resistant, with an easily adjustable structure that would provide more or less sunlight or shade as required, in an automated system that responded to available light.
In 2006 Leo Jasper formed his own management consultancy, CONTECHMA BV, specializing in textiles and based in Heerlen, where he continued his search for an appropriate yarn and textile structure for his project. Babs Jasper, a biologist, joined her father in 2011 to develop marketing and customer management for the company.
UV resistence is key
According to Ms. Jasper, finding the right elastomeric fibre with high UV resistance was the key to the project, as the screens are expected to last ten to fifteen years in a greenhouse. The silicon-based elastomeric fibre Muriel™, originally developed for the medical industry, is far more robust than the UV-resistant elastane developed for the swimwear market. "These fibres are completely different," she explains.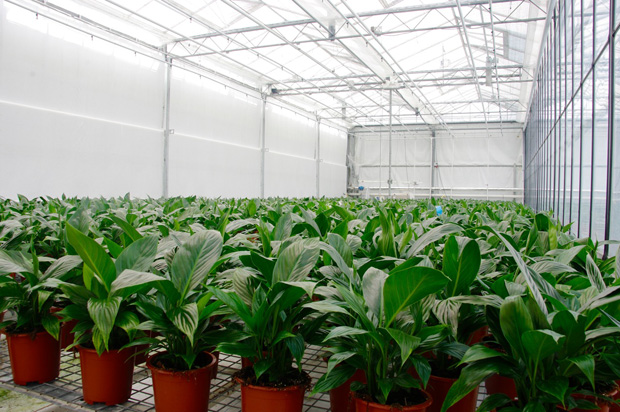 Once the yarn was developed, Mr. Jasper moved forward with a marketing plan, and began researching his idea with university experts, farmers, and textile companies. Penn Textile Solutions, based in Paderborn, Germany, became his partner in the project. "The most important reason for going to Penn TS was the matter of trust, and that we work in a similar project-based fashion," confirms Ms. Jasper.
Knitting equipment manufacturer Karl Mayer, which supplies Penn TS with machinery, also joined in the development efforts. "They listened and understood what we wanted, and were able to specially adapt a machine to make the structure."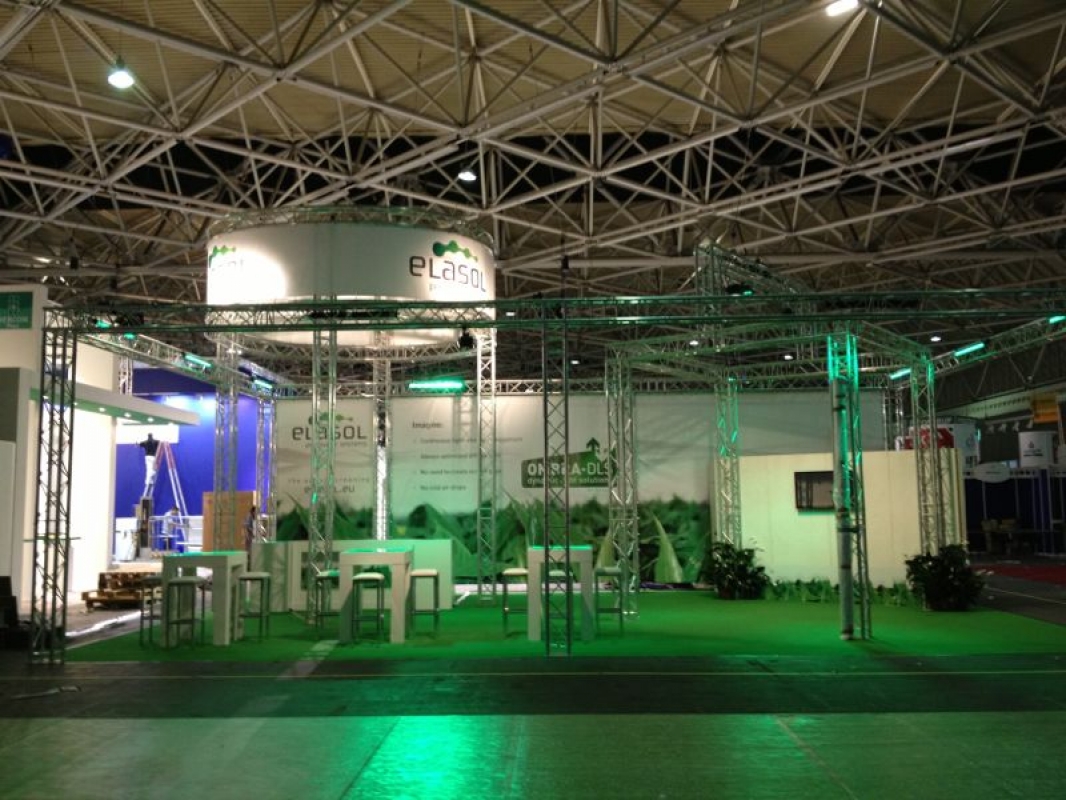 The OMBRA-DLS® dynamic light system was initially introduced to the horticulture trade at the 2011 HortiFair in Amsterdam 2011, where it was nominated for the International HortiFair Innovation Award. In 2012 Elasol was born as a joint venture between Elasol D as the production factory (Penn TS, Germany), and Elasol NL (Contechma, the Netherlands), the marketing and sales organization in the Netherlands. Elasol presented itself as a new partner for horticulture at the 2012 HortiFair.
An automated, light-sensitive climate control system for greenhouses from PRIVA, an international provider of technologies for indoor environments, was fine-tuned to work with the OMBRA-DLS®. Tested at Wageningen UR's optical lab for hemispherical light permeability, as well as in a greenhouse cultivation trial, Elasol's system also performed well in tests for resistance to UV rays, heat, moisture permeability, mold resistance, and burst strength.
Elasol D (Penn TS) knits the screening fabric in the EU from raw materials sourced in the EU, and manufactured as sustainably as possible. No chemical follow-up treatment of the screen is required, and the elastic yarns are used without oil. Ms. Jasper points out that the screening is also fire-resistant, and will not form burning drop or smoke.
Pro-solar system
Elasol describes its system as "pro-solar" in its ability to work cooperatively with the power of the sun. At the moment the system is targeted to the horticulture of ornamental, shade-loving plants. A commercial trial will take place shortly in a 1000 m2 greenhouse for orchids, which have a reputation for being particularly sensitive to changes in the environment.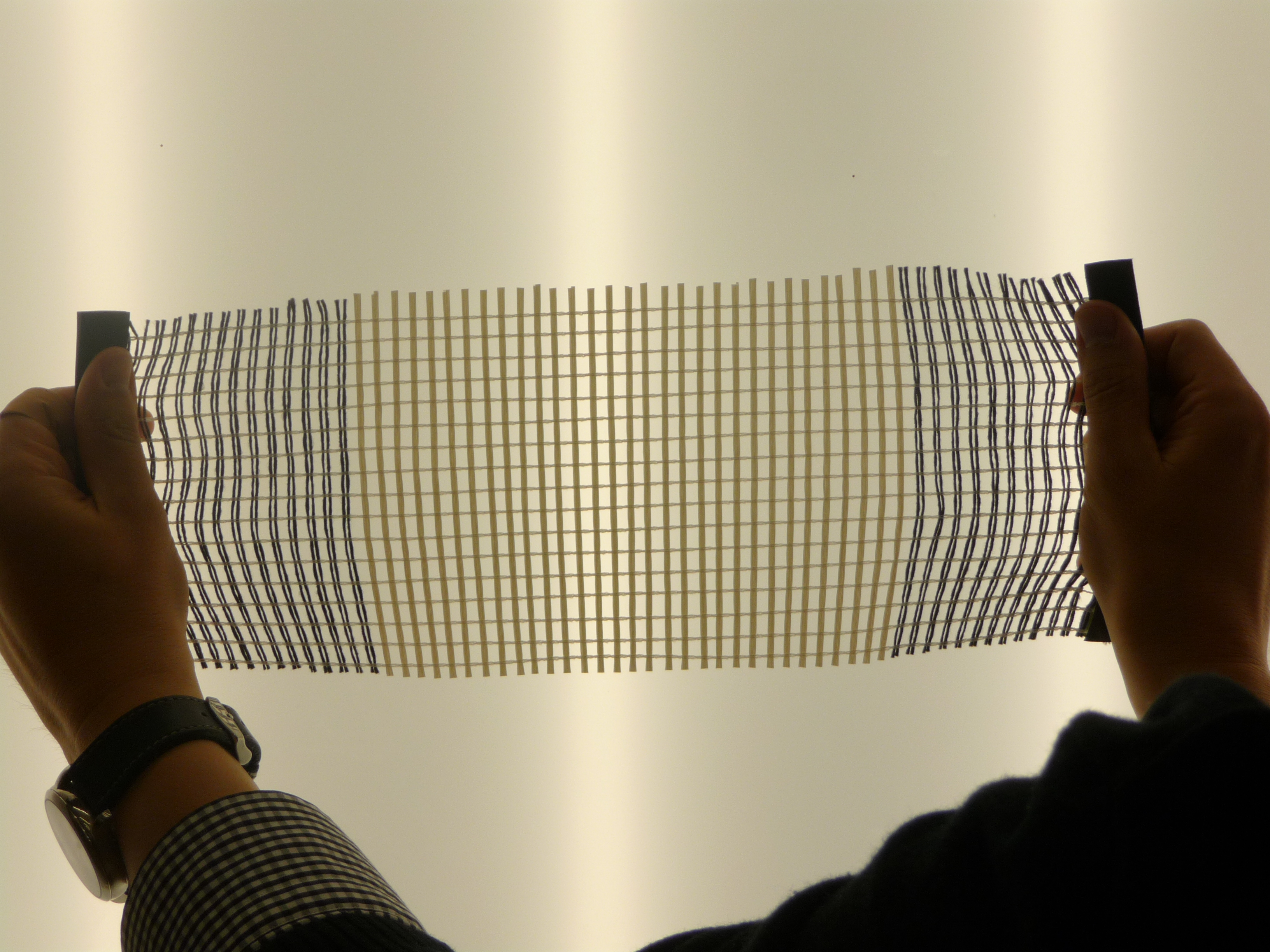 Ms. Jasper clarifies that through its constant regulation of light and shadow, the OMBRA-DLS® system also helps to maintain temperature and humidity within the greenhouse. "With controlled temperature and humidity, the food intake also changes," Ms. Jasper believes, "and you can grow more beautiful plants under these conditions."
Highly impressed with the project, the Technical Textiles Business Unit of Karl Mayer has decided to feature the OMBRA-DLS® system at the Karl Mayer stand during Techtexil 2013 in June. According to a press release from Karl Mayer, the OMBRA-DLS® solar textile combines elastic warp yarns with slit-film yarns that are inserted from a magazine weft insertion unit. The openings in the mesh can be varied by stretching and relaxing the net, so that the amount of sun and thermal radiation can be adjusted as required.
Watch the video to see how OMBRA-DLS works in a greenhouse . . .
The Jaspers will be in attendance at Techtextil, along with members of the Elasol G (Penn TS) team. "We want to show that with innovative partners and an open mind you can develop an innovative product," states Ms. Jasper.
As a company, Elasol is committed to contributing to a better quality of life by offering innovative solutions for cultivation under glass, as well as for residential, marine, and working environments. Ms. Jasper believes that the OMBRA-DLS® may have further applications in food crops. "While our first focus is on ornamental plants, crops such tomatoes also need protection, especially in countries where there is strong sun in the summer."
"We need to go step by step," she maintains. "In the greenhouse the costs are high, and much depends on the light screen. There are high demands and expectations." With its innovative approach and use of technical textiles, Elasol and its OMBRA-DLS® system would seem to have excellent potential for greenhouse growers and other end uses.