15th October 2018, Ann Arbor, MI
Kraig Biocraft prepares for first shipment to Vietnam
Kraig Biocraft Laboratories, a leading developer of spider silk-based fibres, is finalising the details of its first shipment of the company's proprietary recombinant spider silk silkworm eggs to Vietnam. The company is coordinating the details of this shipment with senior officials within key central Vietnamese government ministries, as well as senior leadership within Quang Nam province.
Kraig Labs will be working, in cooperation with leading sericulture experts in Vietnam, to demonstrate the performance and capabilities of the company's developed silkworms, as it moves to expand the production of its recombinant spider silk from pilot to full scale production.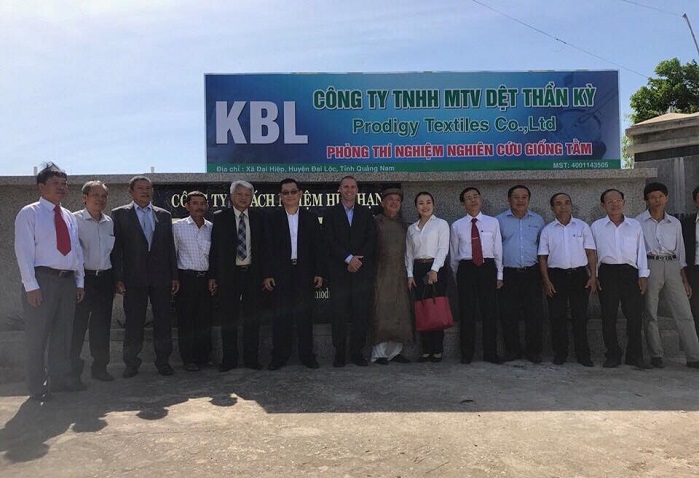 "This shipment is a pivotal moment for Kraig Labs and a breakthrough in the commercialisation of spider silk," said the company's COO Jon Rice. "The company and our team of consultants in Vietnam, led by Ken Le, have worked tirelessly to make this shipment possible."
"Due to the unique nature of this project, we have had to work hand-in-hand with government officials in Vietnam to develop the required regulations and protocols. With all of the approvals in place, we are excited to be finalising this first shipment, as we kick off the next phase of commercializing our spider silk technology."
The company expects to have all of the required documentation for this shipment completed within the next two to three weeks and expects to be raising its silkworms in Vietnam in the fourth quarter.
The company announced the establishment of its new Vietnamese subsidiary, Prodigy Textiles, in April this year. Kraig Biocraft Laboratories, a fully reporting biotechnology company, is a leading developer of genetically engineered spider silk-based fibre technologies. The company says its genetic engineering research has succeeded in developing a practical and cost-effective technology for producing recombinant spider silk-based fibres on an industrial scale.
This article is also appears in...