4th April 2018, Ann Arbor, MI
Kraig produces largest spider silk cocoons in its history
Kraig Biocraft Laboratories, a leading developer of spider silk-based fibres, has successfully produced the first recombinant spider silk cocoons from the new line of hybrid transgenic silkworms recently created at its Michigan production and research facility.
This new hybrid line was created by combining one of the company's best performing recombinant spider silk lines with a commercial strain, resulting in the largest cocoons in the company's history. The first-generation cocoons from this hybrid cross have exceeded the company's expectations with some cocoons nearly twice as large as the original spider silk line cocoons.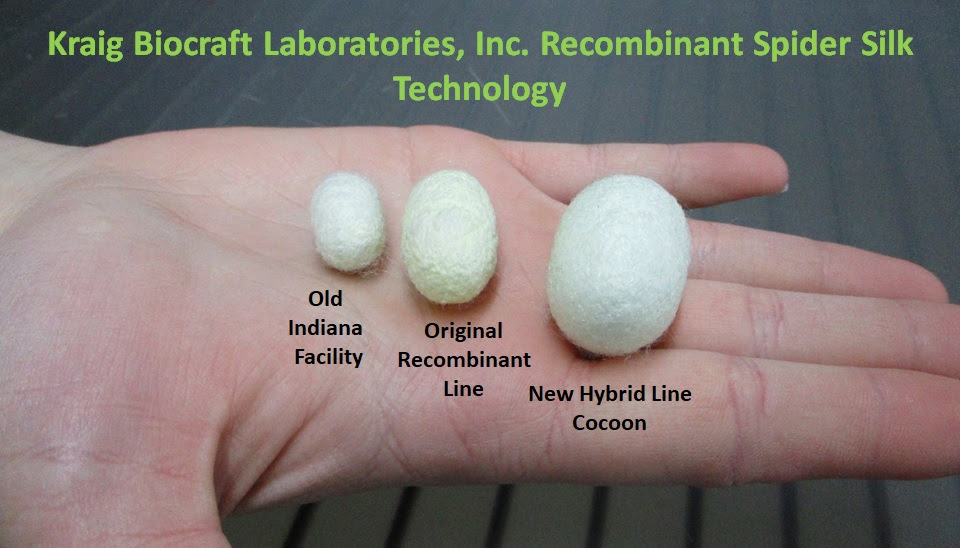 These larger cocoons are said to reduce operating and handling costs throughout the production process and yield longer silk threads. Mechanical performance testing of this new hybrid spider silk line is expected to begin shortly.
"Crossing our recombinant spider silk silkworm lines with larger traditional silkworm lines is an element of both our research roadmap and commercialization plans. The results we've seen from this first crossing confirm the benefits of those strategies," said Jon Rice, COO.
"The size of these new hybrids is beyond what we expected in a first-generation hybrid and we are very interested to see how performance testing results compare to the original silkworm lines. We anticipate creating many additional hybrids, over the coming quarters, combining the performance of our spider silk lines with these larger commercial strains. We expect these efforts will increase our production efficiency and lower our cost to produce recombinant spider silk."
The company received a contract worth of up to US$ 1 million, for the development of high performance fibres for protective apparel applications in July 2016. Under the fully funded base effort, the company will deliver ballistic shoot packs constructed from its proprietary Dragon Silk material for performance testing.
These shoot packs will be tested and evaluated for critical soldier protective applications including ballistic impact. If awarded, the option phase will significantly expand this work with the US Army, the company reports.
This article is also appears in...