8th August 2017, Obertshausen
Large project paves the way for Prodye-R
Karl Mayer Rotal, a leading manufacturer of textile machinery including parts, attachments, and accessories, is making a name for itself with the new Prodye-R indigo dyeing machine and a huge project in the rope dyeing sector.
One of the biggest companies involved in making-up denim clothing in Turkey, the Taypa Group, is cooperating with Karl Mayer Rotal on a large project in Algeria. A textiles complex for producing textiles and apparel will be built on an area of 250 hectares in this North African country, creating 25,000 new jobs. The planned annual output is 60 million metres of fabric per year.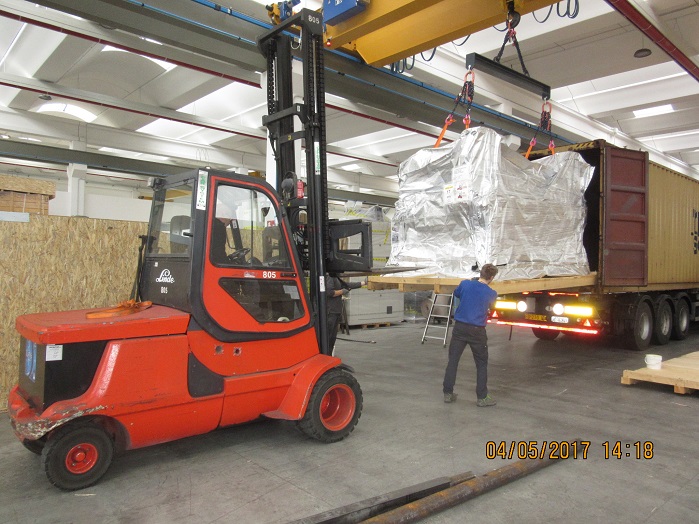 In December 2013, Taypa set up a joint venture with two state-run Algerian textiles companies to implement these plans. In the first stage of this project, in the province of Relizane, eleven integrated factories, mainly for producing jeans and other apparel fabrics, will be set up by the spring of 2018.
Karl Mayer Rotal will supply the warp preparation technology for producing denim. The first large shipment left for Algeria in the middle of May 2017. Sixty containers were needed to ship the Prodye-R machines alone.
Rope dyeing
Italian subsidiary of Karl Mayer developed the Prodye-S indigo dyeing machine to cater for the fashion segment of the denim market. The "S" stands for Slasher dyeing, a dyeing process in which the yarn is wound onto warp beams. On the other hand, there is rope dyeing – which is normally used to produce genuine/standard denim – in which the yarn is dyed in rope form.
Compared to conventional machines available on the market, the Prodye-S slasher dyeing machine reportedly guarantees a much lower water consumption, less waste, and deeper, brilliant indigo shades. The proportion of dyestuff out of the total yarn weight is 5.5% maximum, according to the manufacturer. The production rate can also be doubled when processing lightweight denim fabrics.
Karl Mayer Rotal's new Prodye-R indigo dyeing machine is said to be able to deliver all these benefits and can also be used in the genuine/standard segment of the denim business.
Increased efficiency
The Prodye-R indigo rope dyeing machine operates with just eight dyeing units to produce deep, pure shades with a dye application of up to 5.5% of the yarn weight. The short-wet zone reduces the bath volume by up to 25%. Furthermore, when changing the ball, the warp length remaining in the machine, which is unusable, can be reduced by 20%.
Overall, the machine uses less energy and water and fewer chemicals, the company explains. In fact, the water consumption can be reduced by roughly 30%. The programmable cans, into which the dyed ropes are laid in a precise arrangement, also make the long chain beaming process more efficient, according to the manufacturer.
This article is also appears in...