Invista, owner of the Lycra, Thermolite and Coolmax brands, and an innovation leader in the legwear segment, has introduced three latest hosiery innovations at the fifth edition of Lycra Fiber Moves conference that took place in Lake Como, Italy, on 18 October, marking the brand's 60th anniversary. Held every two years, this exclusive event attracts around 200 representatives from leading knitters, coverers, distributors, brands and retailers to learn about new market insights and trends, as well as Invista's latest technologies for socks and hosiery.
"Legwear is a very important market for Lycra. But ten years ago, we sat down and realised there is no seminar for this segment," said Alistair Williamson, Sales Director at Invista, during his opening address. "There are events happening around the world for people working in the sportswear industry, like ISPO, or denim, such as Kingpins, which takes place in Amsterdam next week, but there has been nothing for those involved in hosiery."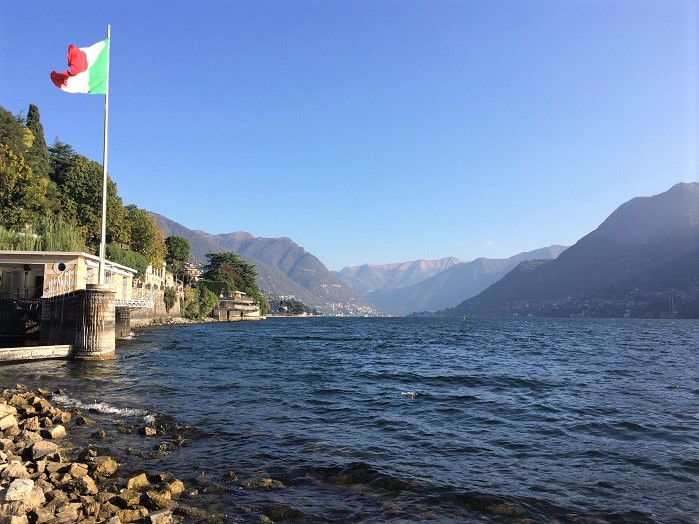 "So, we decided to create a space where we can showcase our new innovations and invite speakers to give their insight on important things, like what is happening in the economy, in the environment, e-commerce, digitalisation and so on. So, in 2009, Lycra Fiber Moves was born, and we had our first event in Verona. The feedback was so good that we decided to organise another one two years later. It took place in Barcelona, coinciding with ITMA, and we had another one in 2014, and one in 2016, and here we are today, for the fifth edition, in 2018."
More than just a fibre
For 60 years, Lycra fibre has redefined how clothing feels and revolutionised the fashion industry. From its beginnings as a rubber alternative in corsets to being used by a gold-winning team in the Olympics and in the Apollo space suit and to dominating the hosiery and underwear markets, Lycra fibre now boasts more than 200 types in its portfolio, with many segment-leading innovations.
"Seventy percent of the products we sold in 2017 were new to our product line since 2010," said Robert Kirkwood, Executive Vice-President of Marketing and Technology at Invista. "Collaborating has been key to driving business growth for consumers and raising consumer awareness."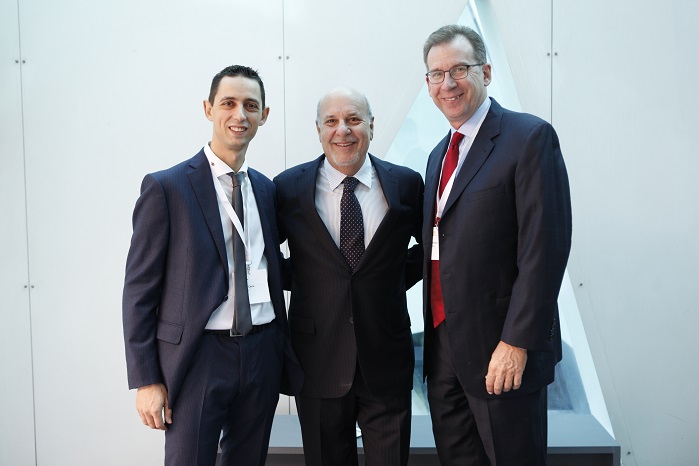 The key message of this year's conference was that Lycra is "more than just a fibre". The focus was on innovation, as well as creating a positive experience for a new generation of consumers. "The Lycra brand name has been associated with game-changing, market-driven innovations that have redefined what's possible for 60 years," said Sybille Bald, Global Segment Leader – Legwear at Invista. "In 90% of cases, innovation in hosiery happens here, at the beginning of our value chain. It can be technical – thanks to faster machines, new knitting technologies, new materials – it can also be driven by legislation, a lot of it also happens in the distribution – with the new channels and shopping patterns, augmented reality and other tools that alter the modern consumer experience – and it is also greatly influenced by the consumer themselves, who can actually tell you what they like and don't like."
Celebrating women
"Lycra also constantly works on improving existing technologies, based on the consumer feedback, and addresses changing market requirements," said Sybille. These include the change in sizes of global female consumers globally and the need to stay current with a modern and functional range of products available for different shapes and sizes. "This is the first year that we included plus-size models in the trend-forecasting campaign and on the catwalk," said Anne Marie Commandeur, Stijlinstituut Amsterdam, who presented Lycra legwear trends for 2019.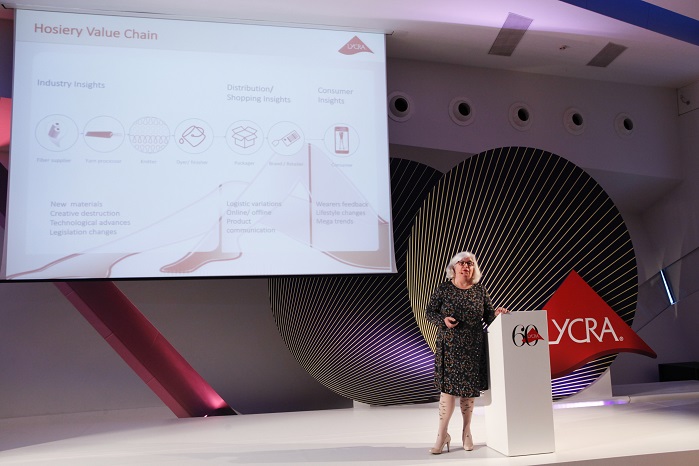 This also resonates in the new global consumer marketing campaign called Lycra Insiders, developed with Refinery29, a leading digital media and entertainment company for young women, which launched earlier this month to "celebrate different women, their stories and insights", according to Karie Ford, Global Brand and Communications Director at Invista.
Focus on millennials
Alison Angus, Head of Consumer Lifestyles at Euromonitor, introduced the attendees to the millennial consumer and megatrends shaping the industry during the conference. "Millennials are a large challenging consumer segment, driven by values that are important to them and looking at brands for transparency and authenticity. They are tech-savvy, like to find bargains and are increasingly more eco and ethically conscious. They are also driven by meaningful experiences, not products alone," she said. "In Europe, over 80 million of millennials are female, representing an important target audience for hosiery brands."
"Companies need to support these modern-day consumers and inform them, tell them their stories and be transparent and honest, engage and use their platform to build trust."
Apparel retail and the consumer journey were discussed by Miles Agbanrin, Senior Analyst at Euromonitor. Focusing on the diversification of channels and how digital technologies complement the traditional store-based shopping experience, he described a modern omnichannel landscape, characterised by price transparency, frequent channel-switching, varied consumer journeys and accelerated engagement, urging brands to consider these in order to succeed in the complex retail environment.
Lycra Fusion True To You
Lycra Fusion True To You technology, a patent-pending innovation allowing the creation of transparent 3D hosiery that delivers a natural-looking shine to the legs, made its debut at the event. The innovation is a combination of a new Lycra Fusion yarn with new 3D knitting construction, therefore combining the 'no ladder' benefits to the fit and uniformity, all in a natural shine sheer hose.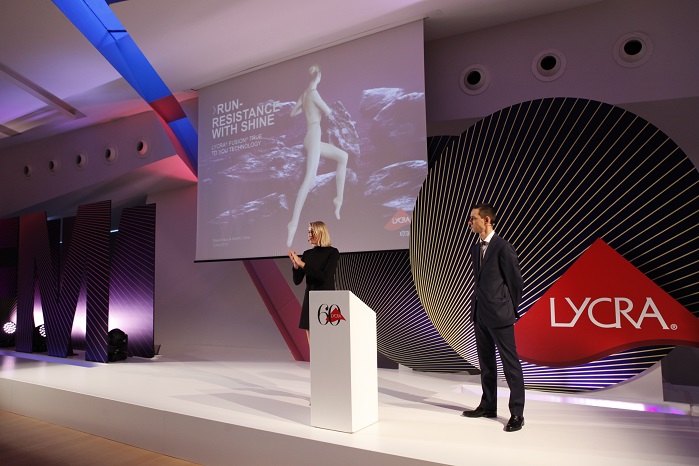 A new hosiery construction makes possible the creation of run-resistant, ultra-sheer hosiery. With Lycra Fusion True to You technology, knitted courses of covered Lycra Fusion fibre alternate with courses of bare Lycra Fusion fibre that is plated with polyamide. "This has been one of our greatest challenges of the past few years, and our team had been working hard to develop this solution. So, today we believe that we have solved this challenge, and we are really proud to present to you Lycra Fusion True to You," said Marie Braun, EMEA Marketing Manager at Invista.
Thermolite FIR technology
Jenifer Strong, Senior Marketing Account Manager at Invista, presented the launch of the new Thermolite FIR technology – a spun dyed black fibre embedded with special ceramic pigments that absorbs the wearer's infrared radiation and reflects it back to them as heat energy. This improves the body's heat retention and keeps legs warmer, longer. Knitted with Lycra Black technology, it fulfils consumers' expectation for true black leggings that won't fade or wash out after wearing or washing.
"In 2016, we began looking at black, durable and warm hosiery that was knit with a small cylinder knit machines. The initial work was done using near-infrared technology, which harnesses the power of the sun. Now, there are often sunny winter days, but often, there are cloudy, cool and snowy days; also, the winter, women are wearing dresses or boots that would prevent the hosiery from being exposed to the sun," she said. "So, we began looking at far-infrared (FIR) technology, where you, the wearer, are the energy source to generate warmth."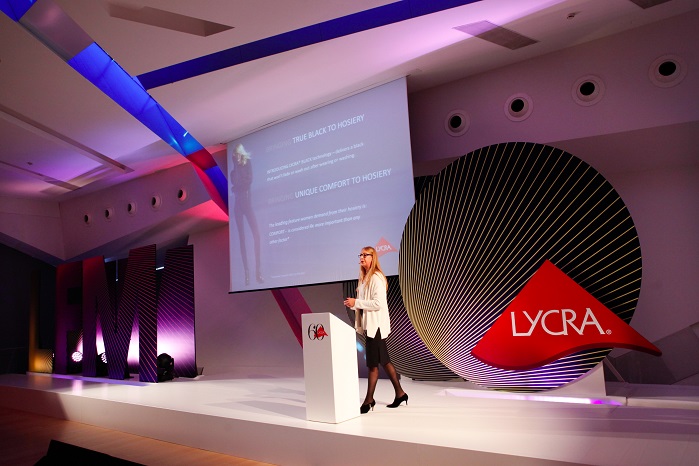 The body heat-activated technology absorbs and reflects FIR and to raise skin temperature by around 1°C. The technology can last for the life of a garment and does not wash off. In a blind study, of those who noticed a difference, 74% felt their legs were warmer of much warmer with Thermolite FIR fibre as soon as they put on the garment.
Lycra Made To Fit You
The third technology that was introduced during Lycra Fiber Moves, was Lycra Made To Fit You technology, originally created for knee-highs, which has been expanded to offer the same benefits to stay-ups (thigh-highs). The key to delivering enhanced comfort and fit is the top band's construction, which is engineered to fit a variety of thigh shapes. The hosiery stays in place all day without roll over and dig in, so the wearer experiences a "second skin" effect that will appeal to new consumers and revitalise the category, the brand believes.
The objective of the work that has gone into developing this technology was to address the main concerns women have with stay-ups, which are an uncomfortable band that also does not stay in place. The aim was to introduce a new band that boosts comfort level, extends the season into the summer months for regular users of hosiery and attracts new consumers who are willing to try something new.
Lycra Made To Fit You technology uses a patent-pending construction that can be knitted on a standard hosiery machine. It features a single-layer tube with a special knit structure on the edge to limit roll-over, no need for the band to be sewn on, and better colour match between the hose and band because they are no longer separate pieces.
Coming in 2019
Jane Gwyther, Marketing Segment Manager of Legwear at Invista, announced "one of the biggest launches in many years" at the event. To be introduced to the market next year, the Lycra Sheer Sensation technology is based on the existing technology that was developed in 1991. "In the traits it gave an improvement that could be felt throughout the supply chain, such as aspects of the processing of hosiery, but most importantly, it was the consumer that could feel the difference," she said. "This long-lasting fit, the comfort it gave and the improved elasticity – this new polymer really gave a woman a new sense of confidence."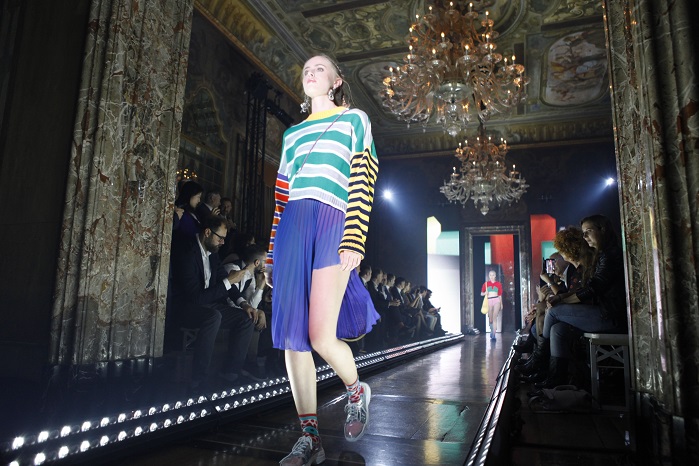 "In 2013 we launched Lycra Living Lights technology, the same polymer, Lycra 162C, with the same stress-strain curve, but with the added benefit of being able to bond with acid dyes with no expected washfastness downside. This new dyeability helped the Lycra fibre become more invisible, creating a better match to the natural skin tone. Next year, we will launch the next evolution, Lycra Sheer Sensation technology. Still with the same important polymer, but with additional attributes that we know will bring further enhancements, also to the millennial consumer."
Further reading