Opinion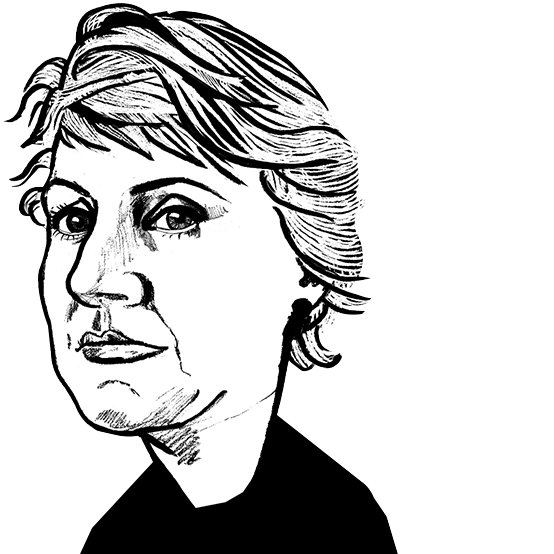 Growth potential for textiles in Flexible Hybrid Electronics
Marie O'Mahony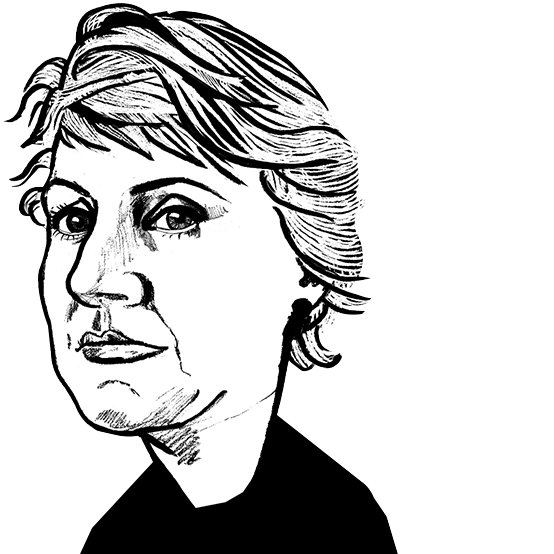 Dr. Marie O'Mahony reviews this year's LOPEC 2023 conference and trade fair.
15th March 2023
Marie O'Mahony
| Munich
Flexible printed hybrid electronics (FHE) is a growing market for the textiles industry. LOPEC, the annual conference and trade show held in Munich each Spring is a showcase for innovation.
LOPEC 2023 was held at the ICM – International Congress Center Messe München from February 28 to March 2 with 168 exhibitors from 25 countries and more than 2,300 visitors from 43 countries setting an exhibitor record according to Dr. Martin Lechner, executive director at Messe München.
The conference brought together a mix of vertical and horizontal markets that few trade shows can manage to attract. To give an idea of the range, speakers included Holst, Sun Chemical, Brilliant Matters, ICI – Printability and Graphic Communications Institute, as well as BMW, Pirelli and Microsoft. Exhibitors were focused on technology and material manufacturers, research institutes and universities. Textiles have a growing presence within the ecosystem. This is being driven by market demands such as transport and wearables, as well as advances in technologies that are drawing fibres and textiles further into the FHE ecosystem.
One of the challenges in printing electronics onto textiles is the fabric's rough texture – relative to some other substrates such as paper or plastic. The surface morphology is dictated by the fibre structure and the fabric's form in addition to any stretch. The surface texture can require a thicker coating that brings implications for the comfort, flexibility and cost.
Annika Gambke from the Textile Research Institute Thuringia-Vogtland (titv) discussed powder coating and cold plasma spraying technologies in her presentation as new coating techniques with promising potential. Powder coating is applied as a loose powder mixture containing a binder polymer and functional pigment to produce broad or fine structure with the laser fixation process allowing for a high degree of design flexibility. A good range of textile substrates can be used, which is not always the case in printed electronics using textiles.
The functional pigments that can be applied include electrically conductive, after-glow, magnetic and electroluminescence. Cold plasma spraying technology uses very small particles (<20mm) to enable low jet temperatures. The advantage of this process is that no vacuum or wet chemical treatments are used. It also offers a high deposition rate and freedom of design with precise and diffuse lines possible. Compositions can also be layered to apply different functionalities and it is possible to coat ready-made clothing pieces with conductive webs and foils allowing a good level of flexibility in connecting LEDs. Both coatings have achieved positive results in kink resistance as well as torsion and bending as well as laundry tests.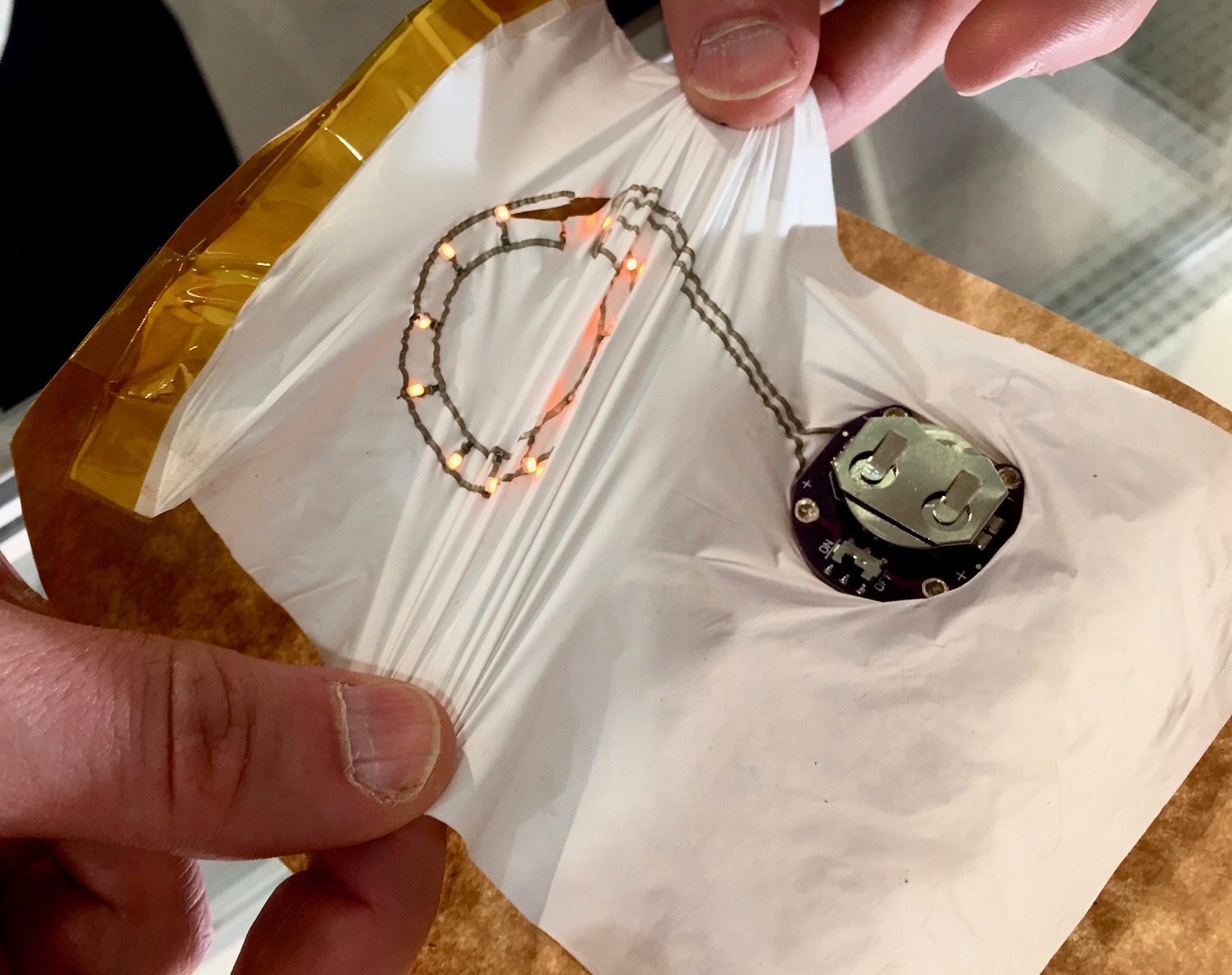 There is a strong demand for stretch sensors, particularly in wearables, medical, health and wellbeing, with sensors commonly backed with polyurethane and placed directly onto the skin and in other instances they are placed on another material that acts as a substrate, including textiles.
Peter Zalar from the Holst Centre/TNO provided a good overview of the approaches, challenges and outlook highlighting market opportunities from implantable devices to electronic skin and soft robotics. In some instances, the solution is in the material structure, using a 'rigid island' approach for example. These can be produced in a number of ways, such as the formation of stand-alone structures using for example a stretchable electroluminescent fibre or polyvinylidene fluoride (PVDF) sensing and energy harvesting fibres.
Textiles can also act as a substrate for conductive fibres, or alternatively, the fibres can be incorporated into the knit or weave structure. Direct printing is also possible, but the porosity of the fabric structure can present a challenge depending on the intended use. Here mechanically sensitive electronic layers are placed on non-stretch rigid islands with stretchable connections. Wired together using a mesh-like matrix, these are lightweight and capable of bending out of plane to accommodate strain.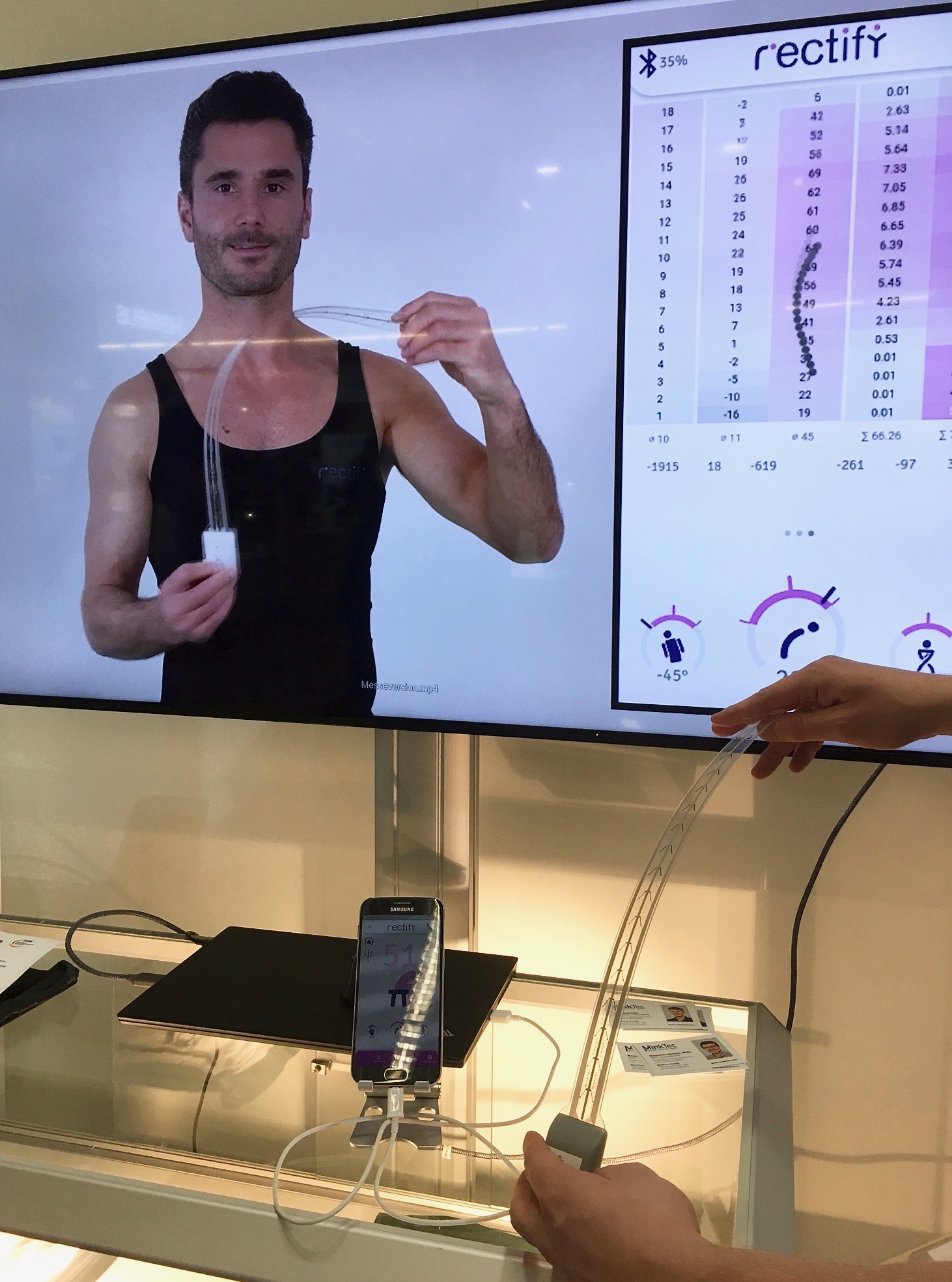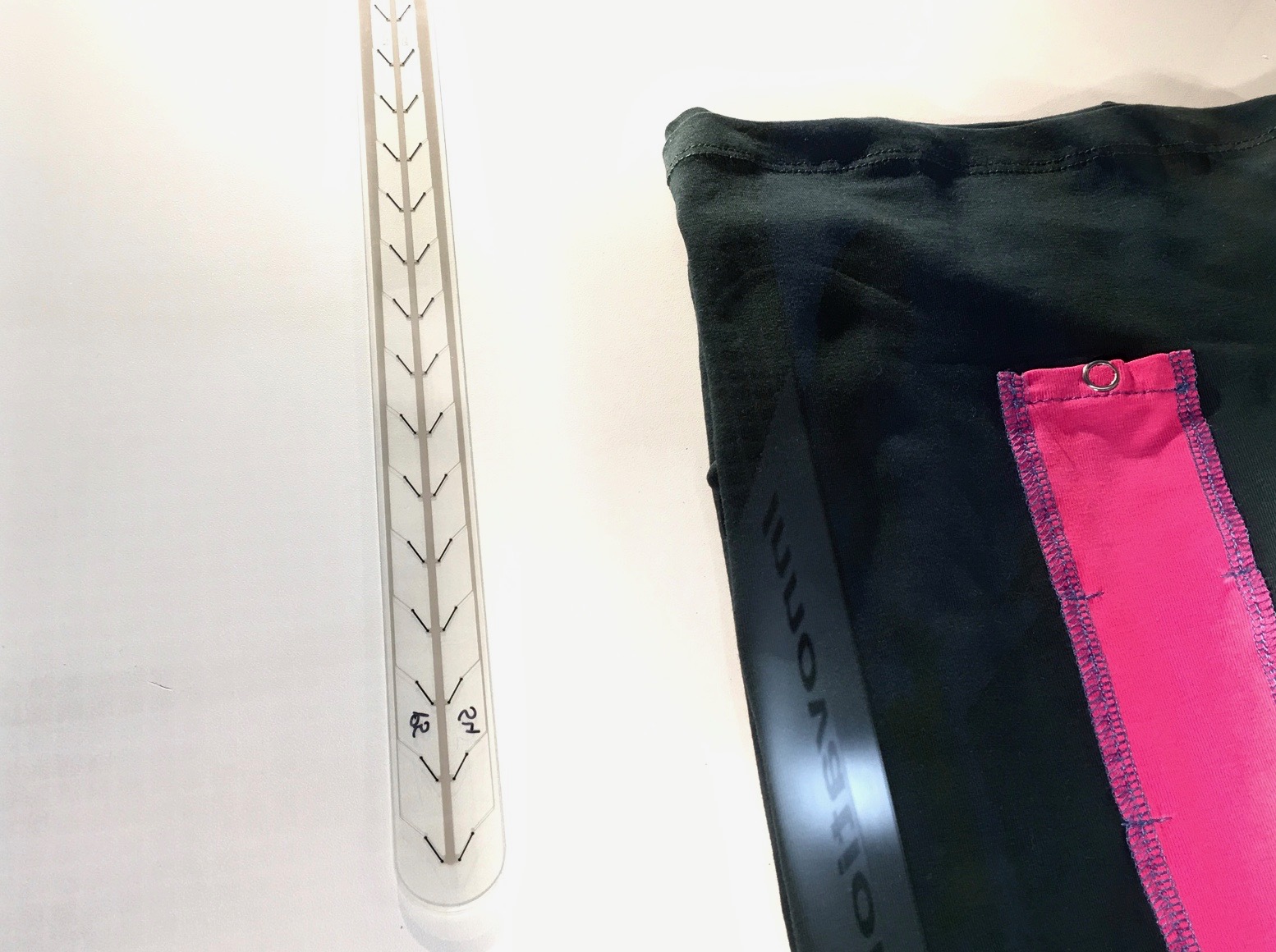 Start-ups in this field are proving to be very agile both in the development of technology and materials as well as new products. In Germany, MinkTec are developing printed flexible sensors for 3D applications. The FlexTail sensor is foil-based and has the flexibility to allow for the measurement reading of directional bending. This is done using multiple strain sensors fabricated using screen printing intended for cost efficient batch and potentially mass production with a proprietary evaluation algorithm to enable a real reconstruction of the shape.
The technology was demonstrated at LOPEC in a real-time spine tracking wearable. Inserted into the vest is a 60cm long sensor strip containing 28 individual measuring points. A wireless data transmission allows for communication using a range of devices, with a battery providing power to the unit that lasts for around two days. In addition to the posture-correcting prototype, the company see many other applications for the technology where spine curvature needs to be measured such as Virtual Reality (VR) applications and motion control in robotics.
Sustainability is a challenging issue, not least because of questions around the nature of reporting and green statements as pointed out by ICI- Institut des Communications Graphiques et de l'Imprimabilité's Chloé Bois in her short course on sustainability as it relates to printed and organic electronics.
In her presentation, Associate Professor Esma Ismailova, Mines St Etienne, speakers focused on bioelectronic textiles used for functions such as diagnosis, monitoring, actuation, telemedicine and e-healthcare. They have developed disposable printed sensors that can be used for multimodal monitoring for e-health. A prototype for a disposable e-mask uses an integrated conductive polymer-based sensor inkjet printed onto the inner layer of the nonwoven mask. The mask monitors for humidity accumulated during use as a way of tracking its continued integrity while being worn over a long period. It acts as a method of on-body sensing, monitoring the wearer's respiratory rate to detect any breathing difficulties that might indicate a sign of infection such as COVID-19.
Incremental changes are allowing for much of the opportunities that we are seeing for textiles within Flexible Hybrid Electronics. Advances in manufacturing technologies make it possible to print and apply coatings to a greater range of textiles, or new fabric morphologies that make textiles more receptive and robust. Alongside this, we are seeing the growth of markets such as medical, health and wellbeing that are creating a demand that is focused on finding solutions for very specific human needs – from patient to worker to carer, from hospital to workplace to homecare.
About the author
Dr. Marie O'Mahony is an industry consultant specialising in smart and advanced textile technology and market trend reports for global clients ranging from SME to government level. She was an invited presenter at LOPEC2023 speaking on 'Smart textiles for health and wellbeing – challenges and opportunities', on Wednesday 1st March 2023.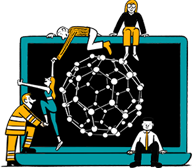 Business intelligence for the fibre, textiles and apparel industries: technologies, innovations, markets, investments, trade policy, sourcing, strategy...
Find out more