Interview
Innovation means change
At the recent Techtextil show in Frankfurt, Adrian Wilson spoke to Dr Frank Heislitz, CEO of Freudenberg Performance Materials.

11th June 2019
Innovation in Textiles
| Frankfurt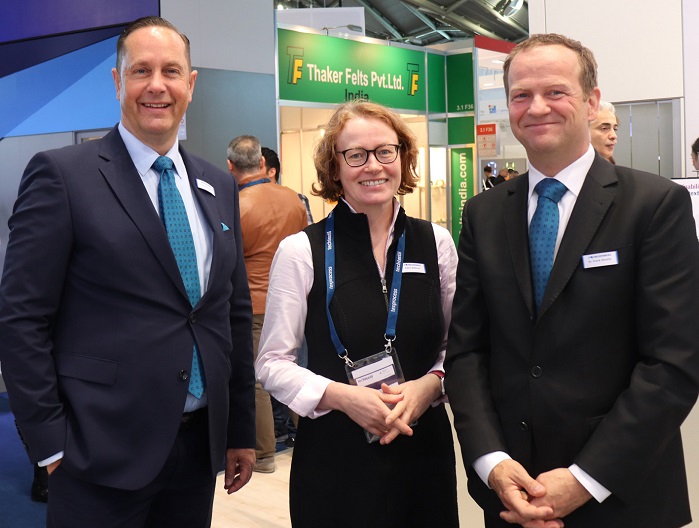 Pictured at Techtextil 2019 in Frankfurt is Dr Heislitz (right) with Freudenberg Performance Materials head of global communications Holger Steingraeber and media relations manager Katrin Böttcher. © Adrian Wilson
At the recent Techtextil show in Frankfurt, Adrian Wilson spoke to Dr Frank Heislitz, CEO of Freudenberg Performance Materials.
When we spoke around this time last year, you had only recently assumed the role of CEO of Freudenberg Performance Materials. Your aim was to visit as many of your 23 production sites worldwide and discuss concrete aims. Did you succeed, and what are the key findings you can share now?
Frank Heislitz: Yes, I'm happy to say I have got to visit almost all the sites. I really believe communication at all levels is essential for our future success so the last year has all been about meeting people and listening to them and experiencing/seeing how they react. It makes me proud to say that we have highly motivated people and engaged teams who hold the power to solve the challenges of the market. And I'm not going to stop this – it may not be every year, but I stressed during my visits it wasn't just a one-time thing.
How did Freudenberg Performance Materials perform in 2018, and how do you think 2019 will compare?
FH: In a nutshell: It was a solid year. We have been able to grow our business very positively and we are pleased that our customers have been looking for the new technological solutions that we have introduced. At the same time, there have been big challenges with raw materials, caused not just by the oil price but by shortages along the entire supply chain last year.

Fuel cell vehicles are now at the stage of the first solutions for vehicles such as forklifts. © Freudenberg
In 2019 we face uncertainty with the prospect of higher import duties in certain markets, China's slowdown and other issues, so we will have to wait and see and prepare ourselves at the same time. Currently, our customers are looking for market clarity.
Where are the current challenges and opportunities?
FH: One big opportunity is certainly in the changes taking place in the automotive industry and the development of new mobility solutions. We have a wide range of materials that will find new applications here, starting from our existing ranges for acoustics and underbody shields, etc., and moving to entirely new areas. We have been an early responder here, and started developing our gas diffusion layers, for example, around twenty years ago, but in the past two years they have really started to gain traction in the market. Innovation means change and we are ready to move with the changes.
What is your personal take on where the automotive industry is heading, and where will Freudenberg Performance Materials – and the wider Freudenberg Group – be involved?
FH: What's a little surprising is how quickly this industry is changing. If you had asked me about it two years ago I would have predicted it would take ten to fifteen years for any serious impact to be felt, but now, in part because of the diesel controversy, things have accelerated considerably and different solutions are gaining momentum. The battery-driven electric vehicle will only be the first move and I believe there will then be a second wave with fuel cell vehicles, where we are now at the stage of the first solutions for buses, trucks, passenger cars and forklifts.

Freudenberg believes the battery-driven electric vehicle will only be the start for new mobility. © Freudenberg
Consumers don't want to change their behaviour, which is a downside of battery-driven electric vehicles, and fuel cell vehicles will be a lot closer to what people have come to know with conventional combustion engine cars.
Similarly, what are you looking to achieve in the medical field in the next few years?
FH: I am confident that our latest medical products will provide future growth, not in the traditional wound care markets but in the advanced sector. It's a fact that the population is getting older and with that comes the rise of chronic diseases to which advanced wound care products enable faster healing processes. We now have some very sophisticated products in this field with combinations of nonwovens, foams, gels and coatings.
You are perhaps one of the biggest processors and users of recycled polyester. What are the main applications for rPET in your production programmes?
FH: We started many years ago to remove plastic from our waste streams, initially introducing building materials made from recycled PET back in 1991. We have constantly expanded our products containing recycled PET, and carpet backings with 95-100% recycled content have been very well accepted by the market. Recent introductions have included waddings for outdoor clothing applications with a high percentage of recycled content, as well as complete underbody shields, each containing recycled polyester deriving from 30-40 bottles. Unfortunately, the collection systems for PET waste are still not sophisticated enough in many countries. This is a challenge that needs to be resolved.
Finally, as UK citizen working for European companies, I have to ask how you see the Brexit situation eventually unfolding. Where are Freudenberg's chief activities in the UK, and what is the strategy they are adopting?
FH: I don't think Brexit will have a big impact on our business. Our UK operations are primarily making medical products and well prepared. However, a lot of our customers are situated in the UK and are becoming increasingly nervous and expanding their inventories. From an overall economic point of view it is certainly not helping, and there is still chance it could trigger a slowdown in Europe. Let's hope not.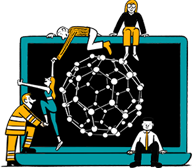 Business intelligence for the fibre, textiles and apparel industries: technologies, innovations, markets, investments, trade policy, sourcing, strategy...
Find out more