2nd October 2017, Grimsby
New SAF products on display in Shanghai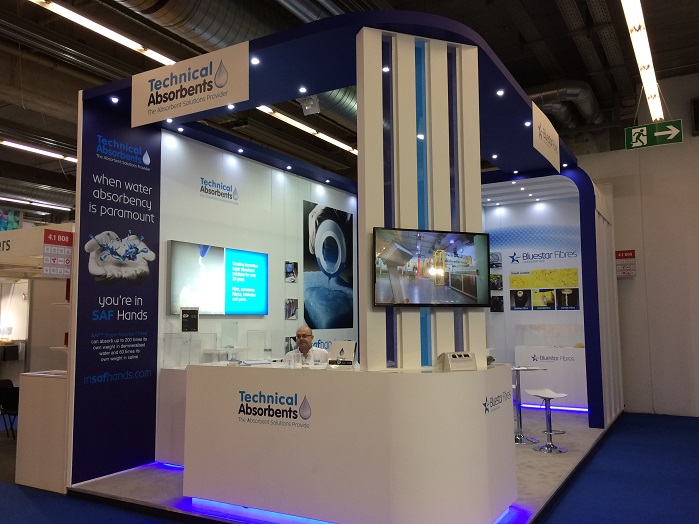 Technical Absorbents (TAL), the UK based manufacturer of super absorbents and nonwoven materials, will display its new products at SINCE, Asia's largest nonwovens exhibition, which is set to take place in Shanghai, China, next month.
Since it started in 1986, SINCE has become the most important nonwovens exhibition in the Asia region. This year, it is expected to welcome over 450 exhibitors and 25,000 trade visitors, representing a wide range of industries, from hygiene and filtration to apparel and home furnishings.
Technical Absorbents has been creating super absorbent solutions for numerous application areas since the 1990's. It has its own needlefelt development line and it also works with a large network of converters to create nonwoven fabric solutions to meet specific customer requirements.
On display
At SINCE, Technical Absorbents will be promoting a new washable nonwoven fabric technology that was launched at INDEX earlier in the year. The material, when used as a core within protective outer materials, can be laundered and dried with minimal absorbency loss, according to the manufacturer.
Such a fabric has been developed as a solution for different industry sectors including hygiene and apparel. "There are also many other potential applications for the fabric that are yet to be explored," says the company.
The company has also added a range of lowers basic weight fabrics to its portfolio, which have been developed with external converters. Ranging from 20-80gsm, the new fabrics are a fantastic addition for those customers searching for cost effective thinner fabrics that still offer high levels of absorbency.
Direct communication
"Asia is of huge geographic importance to us at Technical Absorbents," explained Commercial Director Paul Rushton. "There is already a good understanding of SAF in the region and exhibitions like SINCE allow more effective and direct communication with interested parties, and so it is essential that we have a presence."
"Over the past few years, we have further developed our super absorbent product offering, and we are looking forward to some interesting discussions during the event."
This article is also appears in...