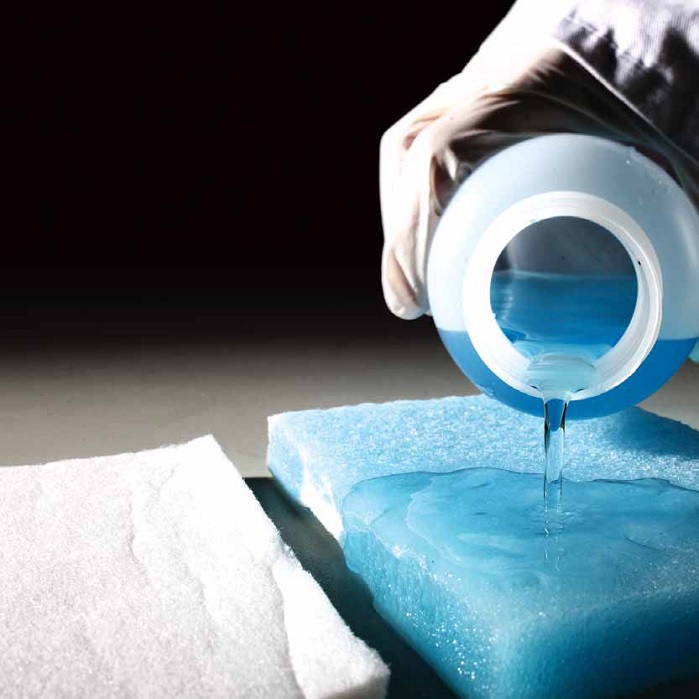 Superabsorbent SAF fabrics have been developed as a solution for different industry sectors including hygiene and apparel. © TAL
Techtextil is the next exhibition on the calendar for Technical Absorbents (TAL), the UK based manufacturer of super absorbents and nonwoven materials. Hailed as the main technical textiles and nonwovens trade fairs, the event in Frankfurt is expected to be the biggest in the exhibitions. In 2017, it attracted over 33,000 visitors, and so TAL is preparing for a busy four days in May.
The main focus will be the promotion of the company's growing range of superabsorbent SAF fabrics – predominantly its innovative washable or high-durability products, which, since launch, have attracted a large amount of interest from a variety of market sectors. The material, when used as a core within protective outer materials, can be laundered and dried with minimal absorbency loss. Such a fabric has been developed as a solution for different industry sectors including hygiene and apparel.
"There has been an incredible amount of interest in our SAF washable fabrics," explained Dr Mark Paterson, Product Development Director. "The soft and conformable nature of the fabrics makes them ideal for everything from washable intimate wear to moisture management layers within apparel items."
"These fabrics are just one example of how we have taken our unique core SAF fibre and, through creative product development, realised a unique fabric which can be integrated into a number of different products that require moisture containment/management."
"Innovation is at the heart of everything we do as a company. Events such as Techtextil not only allow us to promote the wide range of uses for all our SAF technologies – fibres, fabrics and yarns – but also discover new opportunities for its application within the industry of technical textiles."
SAF was first manufactured in the early 1990's. Since then, sales have increased year-on-year and the applications in which it is used have diversified. This growth has been supported by the development and sales of nonwoven fabrics, and the company has also had significant commercial interest in superabsorbent yarns from different industries.
TAL will also join hundreds of other companies at the International Engineered Fabrics Conference and Exposition (IDEA) event in Miami, FL, who will be presenting their latest ideas and innovations to over 7,000 visitors from 25-28 March 2019.
This article is also appears in...