12th April 2017, Mönchengladbach
Monforts delivers new texCoat coating line to Italian customer
Monforts Textilmaschinen has delivered its Montex texCoat coating unit, along with a new Montex 8500 stenter, to Italy based Tessitura Oreste Mariani Spa plant in Gissano, just outside Milan.
The flexible texCoat unit aims to allow the company to carry out both knife over air and knife over roller coating based on simple and user-friendly PLC techniques, with on-screen visualisation for all operating modes and recipe management for many different coating processes, all integrated into the proven Qualitex 800 control system of the Montex stenter.
Personalised manufacturing
Tessitura Oreste Mariani Spa specialises in high-end linings for luxury handbags and shoes, as well as umbrella fabrics, which for many years were the company's sole stock-in-trade, until imports from Asia made this business less tenable. The company's response was to diversify, initially into sun umbrellas and garden furniture, and later expanding its range to include fabrics for luxury leather goods.
"This change in response to the market was something of a revolution for the company because until then we had been making standard fabrics based mainly on nylon and producing bulk orders," said Gaia Mariani, Business development and Sales Director. "
"In moving successfully into the luxury brands market, we had to review our entire operation and focus on many different types of fabric construction and designs, while at the same time shortening our production cycles and enhancing our packaging and distribution operations. We now work with many of the famous luxury brands and 90% of our manufacturing is personalised for them, based on discussions with their designers about how best to adapt the fabrics in our regular collections for their specific leather goods."
The company says the latest finishing line will help further strengthen the company's position. It is some 43 metres long and at its heart is the six-chamber Montex stenter and texCoat coating unit.
New features
The Montex 8500 stenter is distinguished by several new features, including a newly designed operator's platform with improved access, a new and improved visualisation with modern 'slider effect' on bigger 24-inch screen monitors and the Eco Booster heat recovery module.
With the Qualitex 800 visualisation software, 'fingertip' control features offer smart phone-type techniques for the machine operators and ensure smarter operating procedures. Additional benefits allow the operator to compose and pre-programme the 'dashboard' of the monitor to personal requirements and preferences, the manufacturer explains.
Construction of the line for Mariani started last year. It has been operational for some months, but the company is still working to further exploit the maximum benefits from it. "In many ways, it's a lot simpler for the operators because everything is electronically controlled. One major benefit with the new stenter, for example, is complete electronic control of the tension at all times, and the same applies to temperature," said Andrea Mariani.
Electronic technology
"We use a range of temperatures for our different finishing steps and each chamber of the stenter can be individually optimised. In a way, it's a little like changing from an old-fashioned desk phone to an iPhone for us – although relatively easy, it takes time to familiarise yourself with everything that's actually possible," continued Andrea Mariani.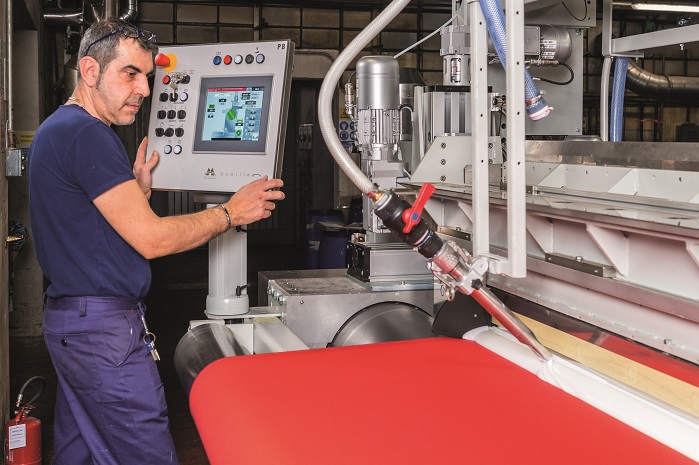 "Because the new Monforts technology is completely electronic, the adjustments for differing weights and fabric constructions are immediate and instantly compensated for, in terms of tension control, humidity, machine speed and all other parameters," he concludes. "We are learning to totally trust this technology."
This article is also appears in...